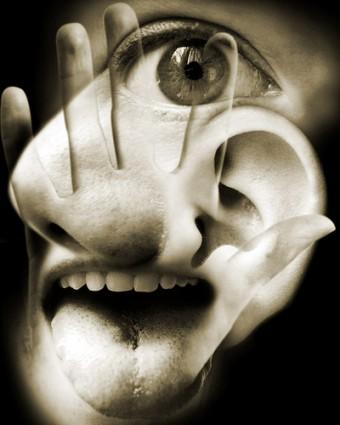 Since Aristotle wrote in "Metaphysics," "Of all the senses, trust only the sense of sight," vision has been the favored sense in Western cultures.  
Recently, however, writers and scholars have been establishing interdisciplinary groundwork for new sensorial studies by opening intellectual thought to senses other than sight.
On Friday and Saturday, "Coming to Our Senses: Sensory Experience in Literature and Film," sponsored by graduate students in the Department of French Language and Literature in the U.Va. College and Graduate School of Arts & Sciences, will explore films and works of literature that provoke the traditional five senses (hearing, smell, taste, touch and sight), as well as the range of other lesser-known senses such as balance, pain, orientation and intuition.
"Coming to Our Senses" is the first graduate student conference organized by the French department that involves participants from other institutions. Scholars from a variety of academic backgrounds, including art and media studies, are coming from many different French and North American universities.
Sage Morghan, a Ph.D. student in the French department who will present a paper and moderate a panel at the conference, worked with committee members last semester to formulate the conference topic.
"We wanted to incorporate a multitude of perspectives on the subject of the senses in film and literature in order to present its versatile application in the field," Morghan said.
The conference is free and open to the public. All panel discussions will be held in Nau Hall, room 211.
Critics in literary studies – and more broadly in the arts, humanities and social sciences – are becoming more attuned to the experience of the other senses, not just in critical theory, but in the cultural trends of the West, especially in advertising and online or interactive media.  
Through research and teaching, literary scholars and theorists have been focusing on the wealth of sensory experiences embedded in works of fiction and the visual arts that appeal primarily to the senses of touch, taste, hearing and smell.
Specific works of classic literature, for example, have consistently evoked multiple senses, including Charles Baudelaire's "Flowers of Evil," Marcel Proust's "Remembrance of Things Past" and J.K. Huysmans' "Against Nature." These writers used language as a tool to induce synesthesia, the blending of sight, sound, smell and touch – what the French poet Baudelaire called "correspondences."
Further, media theorist, scholar and artist Laura Marks in her books "The Skin of the Film" and "Touch" has even proposed a type of film criticism in which cinema becomes a tactile viewing experience.
U.Va. graduate students in the Department of French Language and Literature, who organized the event, will serve as moderators for the conference's six panels, which include "Do You Hear What I Hear?," "Trusting Your Senses," "Pain and Trauma," "Taking It All In: Multisensory Experience," "Seeing Clearly" and "Bodies of Meaning, The Meaning of Bodies."
Panel topics will include discussions of films by Jean-Luc Godard, Agnes Varda, Alain Resnais and Bertrand Bonello, as well as literary works by Alain Robbe-Grillet, Madame de Lafayette, Gustave Flaubert, Jean-Paul Sartre, Gheikh Hamidou Kane, Samuel Beckett and Yves Bonnefoy, among others.
Cheryl Krueger, associate professor of French, will deliver the conference's keynote address, "Toxic Perfume: Under the Skin and Through the Page," on Saturday at 4:30 p.m.
A complete schedule, descriptions of the panels and panel participants can be found here.