Two chemical engineering students and a human biology major from the University of Virginia have been named 2019 recipients of the Goldwater Scholarship.
Chelsea Li, of Oakton; Jonathan Zheng, of Manassas; and Karl Westendorff, of Pfafftown, North Carolina, were recently announced as scholarship winners by the Barry Goldwater Scholarship and Excellence in Education Foundation. Each will receive up to $7,500.
The scholarship, for second- and third-year students, focuses on science, engineering and mathematics majors. About 300 scholarships are awarded nationwide.
"We are thrilled for Chelsea, Jonathan and Karl," said Andrus G. Ashoo, director of the Office of Citizen Scholar Development, the fellowships office of the University of Virginia. "It is a testament to their curiosity and commitment to research and to their hard work during the application process.
"I also hope this gives a measure of encouragement to the many undergraduate researchers in chemical engineering and biology to consider the Goldwater in the future," Ashoo said. 
During the last five years, UVA astronomy, biological engineering, chemistry, mathematics and physics students have received Goldwater Scholarships. The scholarship program, which honors the late U.S. Sen. Barry Goldwater of Arizona, is designed to foster and encourage outstanding students to pursue careers in the fields of mathematics, the natural sciences and engineering.
A closer look at the winners:
Chelsea Li
Li, a third-year human biology major, is researching populations of neurons in the dorsal motor nucleus of the vagus in the brain, stimulating them and observing their pathways and functions in the mouse model, particularly in terms of pancreatic insulin secretions.
"This research has profound implications for the treatment of diabetes, and this methodology can be used to characterize countless regions of the brain to identify how they connect and what they do," Li said. "I am also working on a part of brain called the post-inspiratory complex that plays a role in the breathing cycle and is hypothesized to contribute to sudden infant death syndrome."
Li said while she appreciates the financial support the Goldwater Scholarship will provide her, more important is the access that it gives her to a network of scientists – plus the confidence to pursue her goals at the highest levels.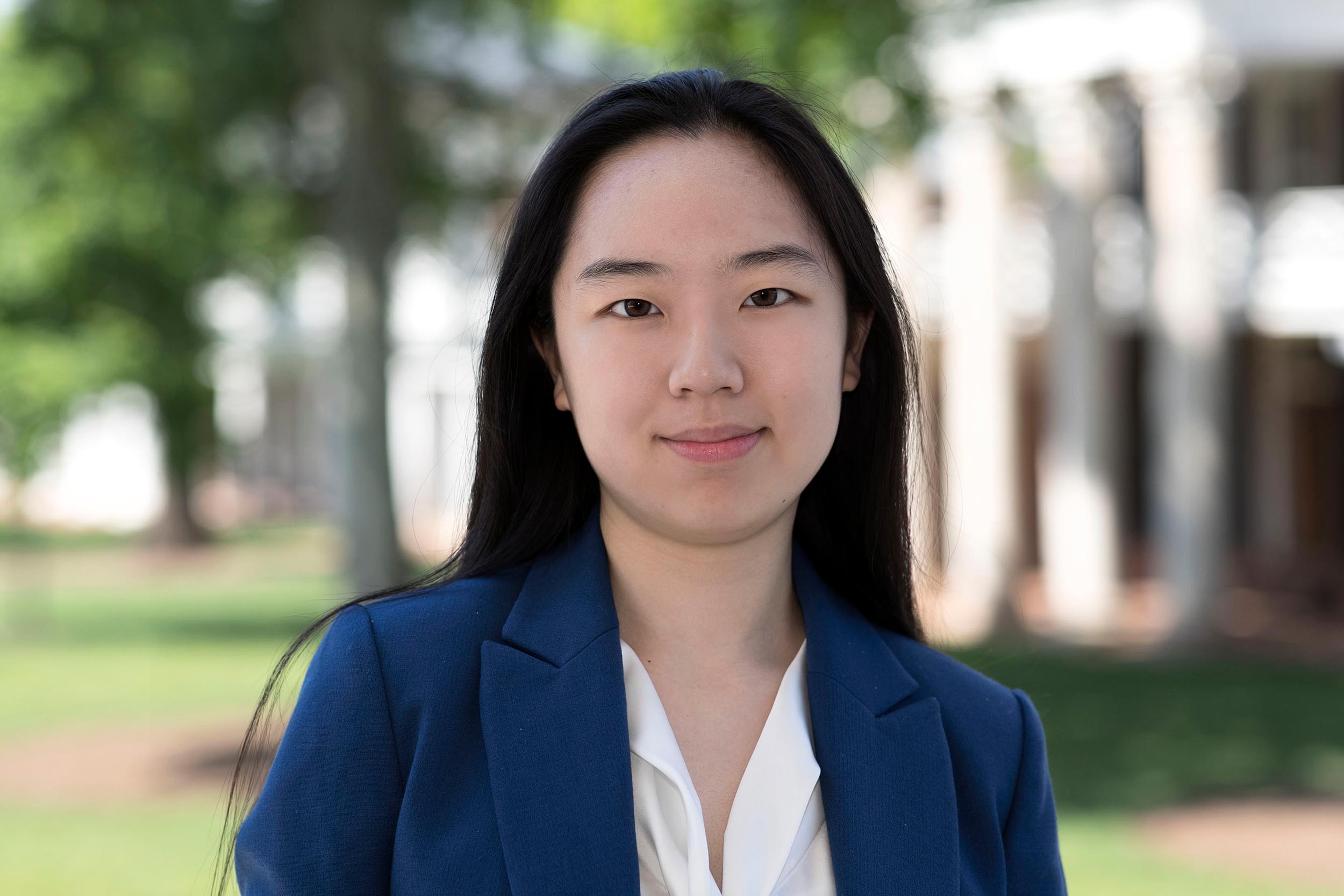 Chelsea Li's research fits into a busy schedule that also includes serving as a volunteer firefighter and EMT, doing science outreach at local elementary schools and serving as vice chair on UVA's Diversity Engagement Committee.
"I have done a lot throughout my time here at UVA, and I have found that research is my passion," she said. "The Goldwater Scholarship is the most prestigious undergraduate scientific research scholarship, and I am honored that they have selected me as someone they see promise in and are willing to invest and support in a research career."
An Echols Scholar, Li has also received the Randolph Preston Pillow Scholarship; the Helping Hand Scholarship, for outstanding service and high academic achievement; a Harrison Undergraduate Research Grant; a Double Hoo Research Grant; a College Council Minerva Grant to fund scholarly projects; an Ingrassia Family Research Grant for independent or faculty-directed research; and a Jefferson Public Citizen Award for research and service projects.
She is a researcher working in labs in the biology, biomedical engineering and neurological surgery departments. Also a Madison House volunteer, she is a founder and head program director of the Creative Learning After School and Summer Program; a program director with Madison House Medical Services; a member of the Madison House HELP Line Outreach Team; president of the AED Premedical Honor Society; a member of the Raven Society; student member of the Disability Advocacy and Action Committee; former vice president of College Council; and former vice chair of the Diversity Engagement Committee in Student Council. She is also a firefighter-EMT at the Seminole Trail Volunteer Fire Department and an intern with Code Ana, a program that prepares schools for medical emergencies.
A graduate of the Thomas Jefferson High School for Science and Technology in Fairfax County, she plans to pursue both a medical degree and a Ph.D.
"I am looking toward a career in basic and translational research and clinical practice," she said. "I also hope to spearhead and participate in public health service initiatives, as well as teach at the university level."
John N. Campbell, an assistant professor of biology, is impressed with Li's accomplishments in and out of the laboratory.
"In the lab, her intellect, energy and fearlessness are a formidable match for any research project," Campbell said. "She is currently leading two projects in the lab, one of which was initiated by her own discoveries.
"Outside the lab, Chelsea makes time to support her community, from being a volunteer firefighter and emergency medical technician to doing science outreach at local elementary schools, to serving as vice chair on UVA's Diversity Engagement Committee. Somehow she manages to do all this while maintaining dean's list status."
Jonathan Zheng
Zheng, a third-year chemical engineering major with a minor in materials science and engineering, is working on developing nanomaterials to improve processes in the energy and chemical industries. His primary research is with methane, the main constituent of natural gas and a major byproduct of oil drilling, which is difficult to transport and store.
"My research is in developing catalysts that can convert methane to easily transportable chemicals such as methanol, thereby mitigating the environmental impact of handling methane from natural gas and oil extraction," he said. "I chose to study catalysis at UVA because it combines my love of materials science with challenging chemical engineering problems that face society today.
"The particular project I am working on right now was proposed by graduate student Gordon Brezicki, whom I closely worked with under the Double Hoo Research Grant. The project has involved me in the synthesis, testing and characterization of new catalysts."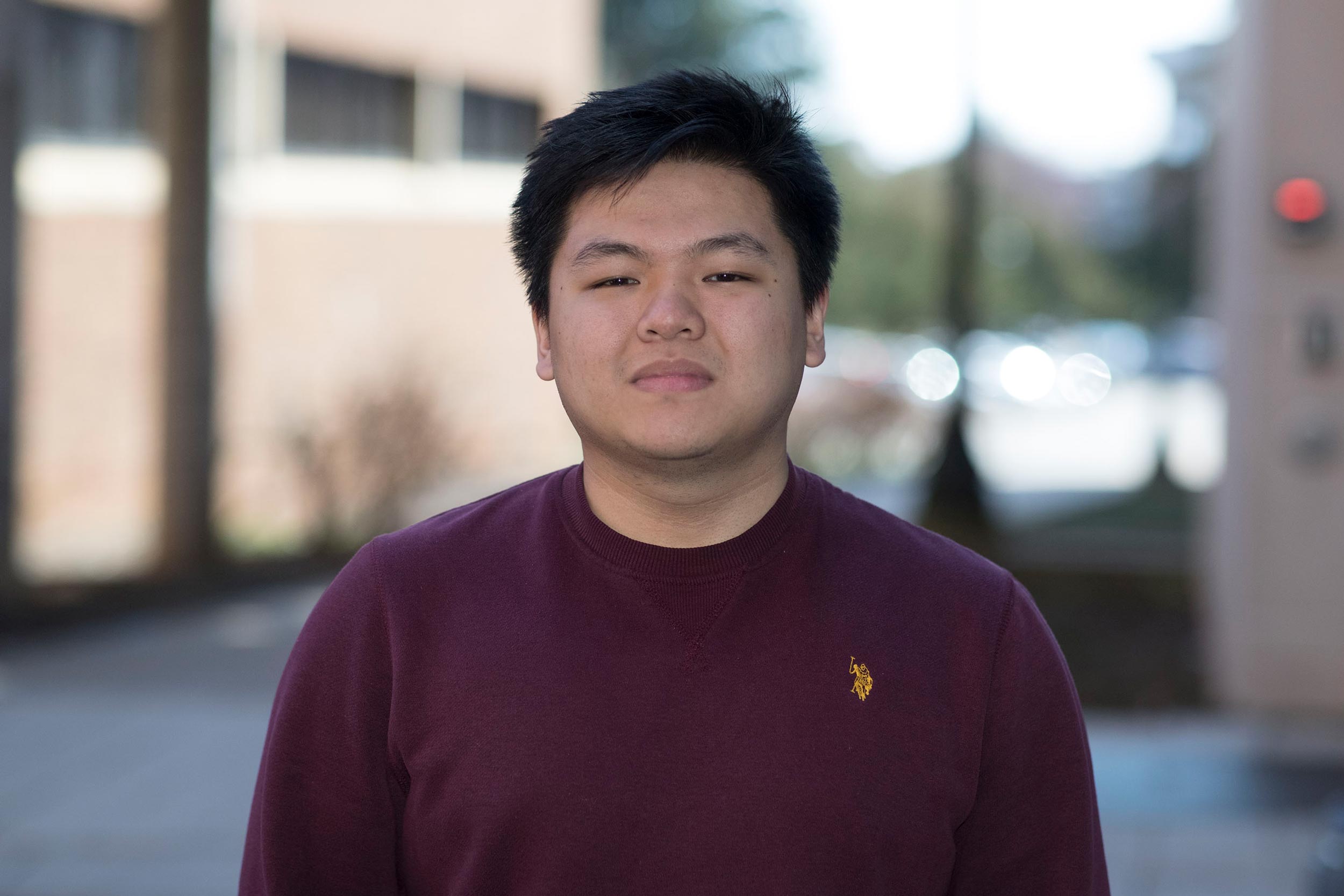 Jonathan Zheng's research has already been published in one of the nation's top scholarly journals for catalysis, and helped his mentoring professor land a National Science Foundation grant.
A Rodman Scholar, Zheng has also received a Double Hoo Research Grant and a grant from the nanoSTAR Undergraduate Summer Research Fund. He is president of the Virginia Alpha chapter of Tau Beta Pi, the national undergraduate engineering honor society; vice president of the American Institute of Chemical Engineers at UVA; and a member of the Raven Society. He is a teaching assistant in the chemical engineering department and will be a Lawn resident in the fall. He is past editor-in-chief of The Spectra: The Virginia Engineering & Science Research Journal, and past president of the Society of Asian Scientists & Engineers at UVA.
A graduate of Thomas Jefferson High School for Science and Technology in Fairfax County, Zheng plans to pursue a Ph.D. in chemical engineering or a related field, with aspirations of leading a research group to develop materials for applications in energy.
Robert J. Davis, Earnest Jackson Oglesby Professor of Chemical Engineering, said Zheng has had extensive experience in his laboratory, where he has conducted research with graduate student Gordon Brezicki.
"He participates in my lab activities as if he were one of my graduate students," Davis said of Zheng. "His independence was demonstrated last fall semester, when Gordon spent an extended period of time with collaborators in Berlin. Jonathan synthesized and evaluated his new materials as potential catalysts while Gordon was away. Both students are hard workers and get along well with the entire lab team."
Zheng's original Goldwater essay focused on his research with graduate student Jiahan Xie, who also worked in Davis' laboratory, working on new catalysts based on earth-abundant metals as replacements for expensive platinum catalysts. Zheng was a co-author on a research paper published in the journal ACS Catalysis, one of the leading catalysis journals in the world. His research with Xie also led to a new research grant funded by the National Science Foundation for Davis' laboratory to continue studying these new catalysts.
"I am grateful to be surrounded by people who encourage me to keep learning and improving," Zheng said. "I've learned as much from classes as I have from the intellectually diverse, creative, thoughtful students and faculty at UVA. Receiving this award gives me the confidence to continue pursuing a career in research. I'm inspired to face new challenges and set higher goals."
Karl Westendorff
Westendorff, a second-year chemical engineering major, is researching organometallic complexes and materials.
"These materials are characterized by their carbon-metal bonds, and I research their applications in gas adsorption, crystallization processes and de-aromatization reactions," Westendorff said. "These areas of research have implications in industry and in drug development. I believe they will become extremely relevant in the future's solutions to modern problems.
"They're challenging areas to work in, but I enjoy the challenge and solving the different types of problems I face when researching them."
A Rodman Scholar, Westendorff is also the recipient of a Harrison Undergraduate Research Award. A graduate of the North Carolina School of Science and Mathematics, Westendorff plans to pursue a Ph.D. in chemistry or chemical engineering.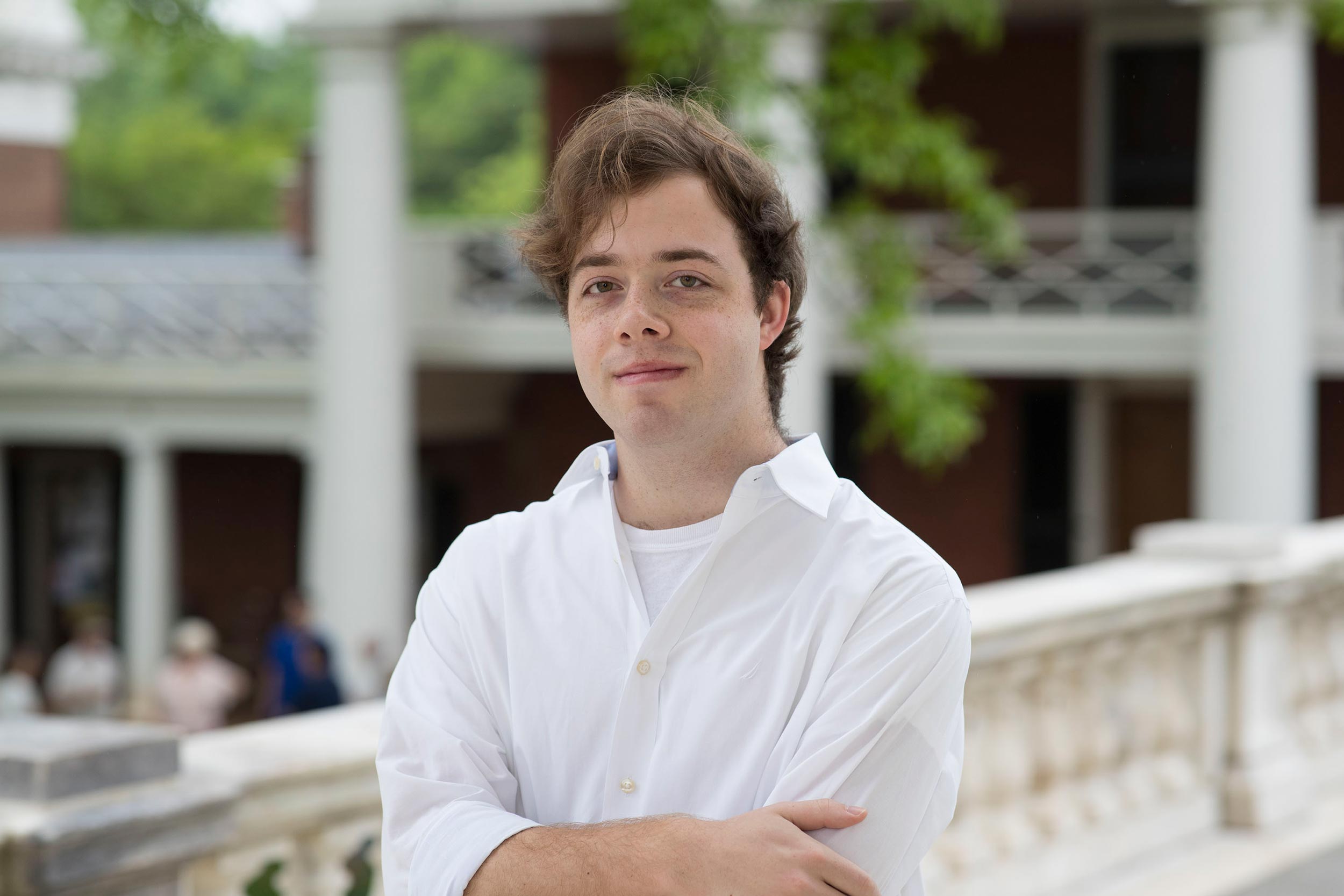 Karl Westerndorff began doing research in high school and was listed as a co-first-author on a research paper published within a year of joining chemical engineering professor Gaurav Giri's lab.
"I want to conduct research at the intersection between theory and application in organometallic chemistry, while teaching at the university level," he said.
Westendorff has been working in assistant chemical engineering professor Gaurav Giri's laboratory since he arrived at UVA, building on previous research experience in high school.
"Karl has taken two courses from me, one of them a graduate-level course in crystallization," Giri said. "He is a brilliant scholar with a co-first-authored publication within a year of joining my group, and he is currently working on an independent project for metal-organic frameworks." 
Westendorff said the Goldwater Scholarship would strengthen his résumé for graduate school and that the application process has made him a better communicator of his work.
"I'm incredibly honored to be recognized among so many amazing candidates, and I'm even happier to be able to represent my mentors so well," he said. "This award really belongs to them, and is really a statement on how fortunate I have been to learn under so many brilliant researchers."
Article Information
May 13, 2019
/content/goldwater-foundation-taps-three-uva-undergraduate-researchers