Samuel V. Lemley, a Ph.D. student in English at the University of Virginia, likes to think some of his Sicilian ancestors might've seen an unusual light streaking across the sky in early July nearly 200 years ago: the Great Comet of 1819.
Lemley doesn't know that for sure, but from the genealogical history his grandfather gathered, he knows some of his relatives were living on the Mediterranean island at the time. (Sicily eventually became an autonomous region of Italy.)
When he decided to collect books to supplement the information about this branch of his family tree, Lemley found an interesting volume published at the time by Niccolo Cacciatore of the Royal Observatory of Palermo, complete with a fold-out map of the weeks-long visibility of the massive comet's path. It's part of an impressive collection of early printing from Sicily that won him the top prize in the National Collegiate Book Collecting Contest in October.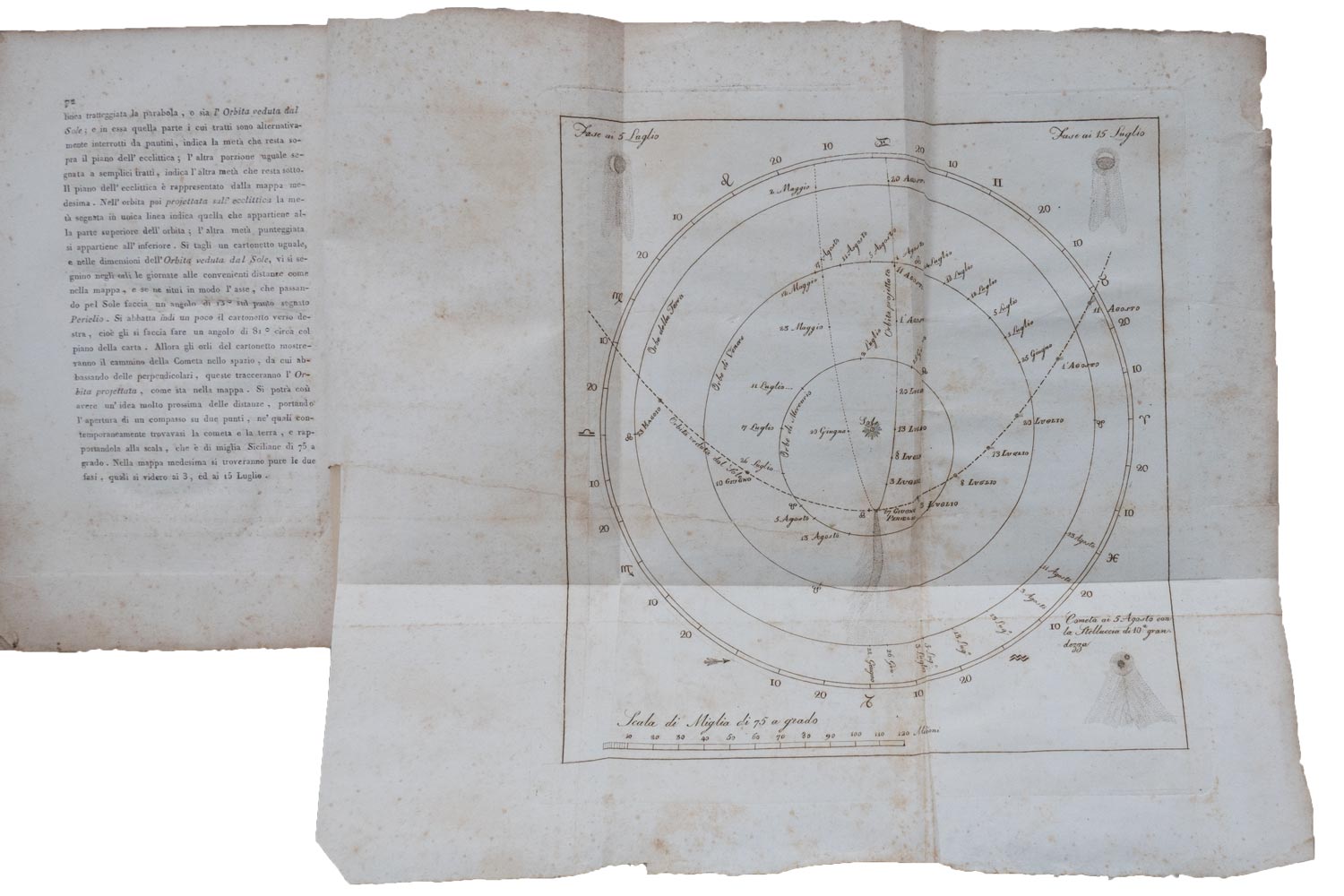 From a book in Sam Lemley's collection, this fold-out map records the path of the Great Comet of 1819. (Photos of collection items by Samuel V. Lemley)
"My grandfather did a huge amount of work over decades to compile the genealogy of our ancestors from Sicily," Lemley said. "I thought I might contribute to his work and represent my family's ancestral culture with this book collection.
"Books in Sicily were being bought and sold – and read – when my ancestors lived there. That really fascinates me," said Lemley, who grew up in the California foothills near Sacramento.
In addition to taking the top prize at the national contest, Lemley won first place earlier this year in the UVA Bibliographical Society's Student Book Collecting Contest, a $1,000 prize that he used to supplement his collection. The national award, presented at a Library of Congress ceremony in October, came with $2,500 and a year's complimentary membership to the oldest society for bibliophiles, the Grolier Club in New York. A $1,000 gift also went to the UVA Bibliographical Society.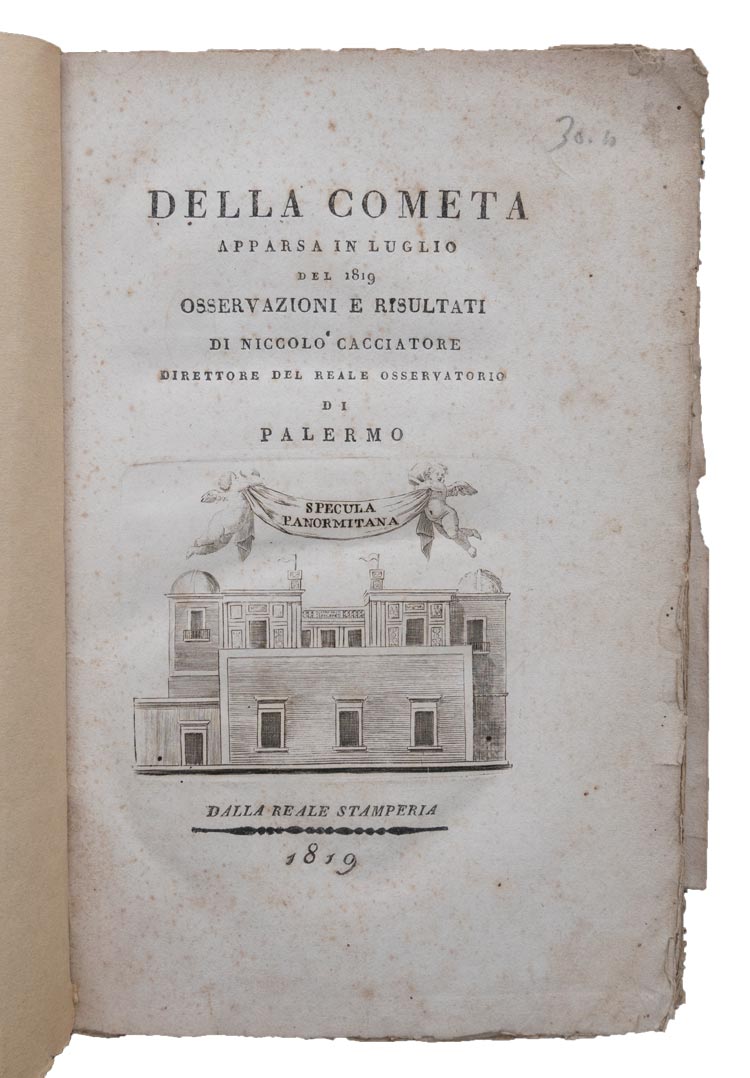 This slim volume focuses on the Great Comet of 1819, as seen from the Royal Observatory of Palermo, which had "an important (if under-recognized) place in the history of astronomy," Lemley said.
"Biblioteca Genealogica: Sicilian Printing, 1704-1893" – captured in a booklet Lemley produced with text and images to show samples from the collection – contains a range of items, from a treatise on how to deal with the plague to a mid-19th-century handwritten homily for Christmas.
In describing his rationale for the collection, Lemley wrote that it "offers a representative sample of Sicilian printing and ephemera from the 18th and 19th centuries, a period in which my maternal ancestors lived in the Sicilian provinces of Palermo and Agrigento. The chronological limits, 1704 to 1893, reflect the years for which genealogical records (births, baptisms, and deaths) for the Militello and Marchese families survive: Gabriele Militello, my earliest documented ancestor, was born in Bivona in 1704; my great-grandfather, Pietro Marchese, was born in Pollina in 1893. These are the genetic bookends of my Sicilian family tree and the figurative bookends of this collection."
Lemley first got interested in old books when he worked in the University of North Carolina-Chapel Hill's rare book collection as an undergraduate. He then went to the Palmer School in New York City for a master's in library science, where he delved into the world of rare books and collecting. He set his sights on UVA for his Ph.D. because of its strong English department and bibliographical society, which focuses on books as physical and historical objects.
From UVA English professor David Vander Meulen, who teaches courses on bibliography and textual editing, Lemley learned about "book collecting as a scholarly imperative and an intellectual activity in its own right. My participation in David's seminars on bibliographical subjects – along with his intelligence and generosity of spirit – underwrite my collecting," he said.
"Book dealing is an ancient profession," Lemley said, adding that he finds it intimidating and exciting at the same time. "It's an amazing world. The collectors and dealers are characters in the best sense: they have a depth of learning, a certain style, and are all unique spirits."
In 2013, he began working for – and still does occasionally – antiquarian book trader W.P. Watson, who is based in London. Lemley researches the provenance of manuscripts and rare books and works at rare book fairs in New York, London and California.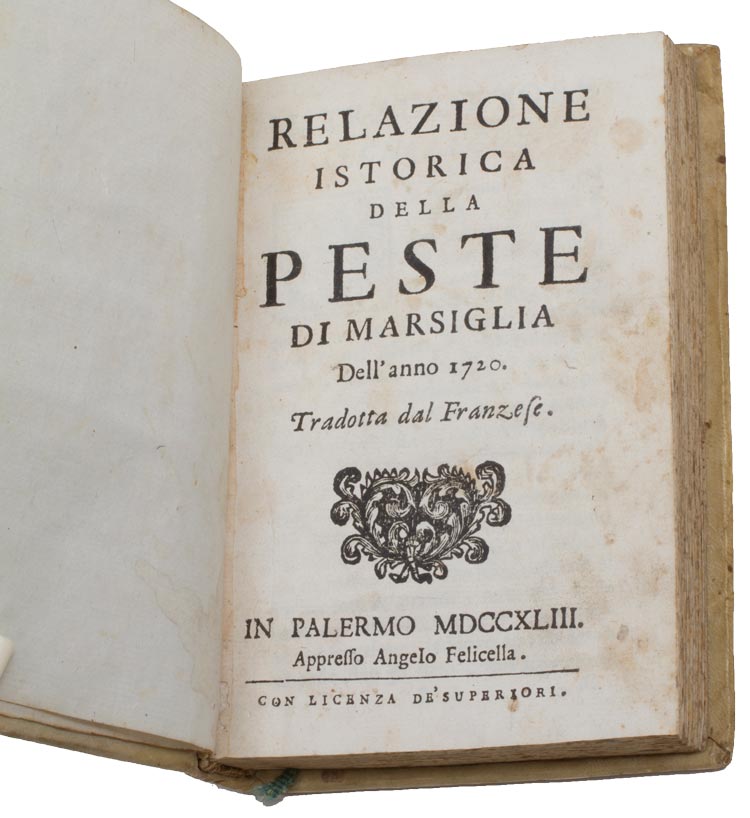 This book, translated from French into Italian, is a historical account of the 1720 plague in Marseille.
Lemley found the first book for his collection in New York City. Published in Palermo in 1743, it's a historical account of the 1720 plague in Marseille, translated from French into Italian. Outbreaks of bubonic plague were common in port cities like Marseille and Palermo, he said.
One of his most recent acquisitions came from a trip to Sicily in 2015 to reconnect with some cousins. He found a bundle of manuscript pages in a Palermo flea market that included a priest's handwritten sermon about Christmas. He thinks it's from around 1825, but the pages have no date or name.
"Hauntingly, the text of the manuscript is unrecorded elsewhere," Lemley wrote about it. "This document thus carries a scribal record of a voice that echoes still across two centuries or more."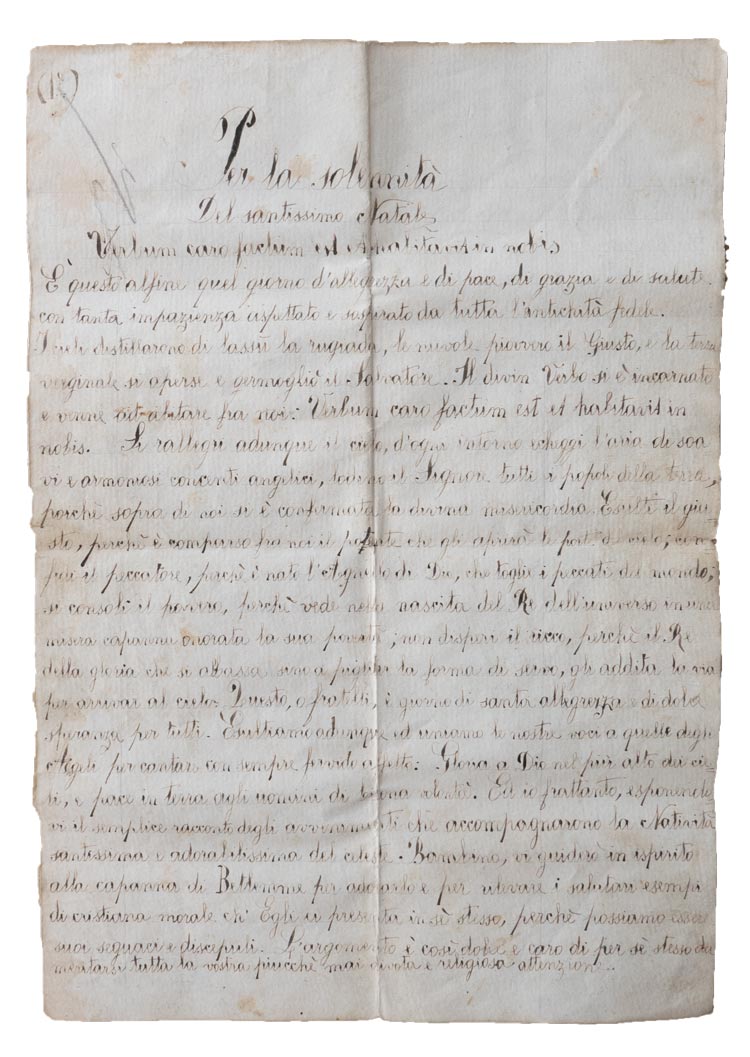 Lemley found this 19th-century handwritten sermon about Christmas while visiting Palermo, Sicily several years ago.
"Part of the collector's impulse is to keep things from getting lost," he said. A collection like his demonstrates both the fragility and durability of the past.
David Whitesell, a curator in UVA's Albert and Shirley Small Special Collections Library, was one of three judges for the Bibliographical Society's local contest. He said Lemley's collection adds cultural knowledge that genealogy alone would not provide.
"Sam's entry in particular impressed us for the originality of the collection's focus, and for the added dimension it brings to the collection's books and manuscripts," he said, adding that this year's contest was very competitive. "As Sam expressed it, the collection contains 'material products of my ancestral culture' that, through the physical evidence of how they were constructed and then used, illuminate his past in ways that his family's extant documentary record cannot."
Whitesell said the UVA judges, who included Barbara Heritage, associate director and curator of collections at the Rare Book School, housed in Alderman Library; and Frederick G. Ribble, a local scholar of English literature and book collector, noticed a new trend in student book collecting.
"For many students, their collecting is an activity in self-exploration, and their collections are a means of expressing their identity," Whitesell said. "It's interesting, and refreshing, to see the present cohort of college students expanding the traditional definitions of book and manuscript collecting in innovative ways."
Article Information
November 9, 2018
/content/grad-student-recreates-world-his-ancestors-rare-book-collection