As the University of Virginia's Class of 2021 walked the Lawn this past weekend, the graduates carried with them many academic accomplishments.
The graduating class included 204 Echols Scholars, who participate in unique communal programming to cultivate academic, social, and cultural development; 44 Harrison Undergraduate Research Award recipients, who conduct independent, mentored research; 34 Jefferson Scholars, students who best exemplify excellence in the areas of leadership, scholarship and citizenship; 33 Rodman Scholars, the honors program for the top 5% of each class in the School of Engineering; 14 Double Hoo researchers, a program under which undergraduates and graduate students conduct research together; six Ridley Scholars; two Gray/Carrington Scholars; and a Gilman Scholar, Goldwater Scholar, Kenan Researcher and Astronaut Scholar.
Here is a look some of the University's newest alumni:
Karl Westendorff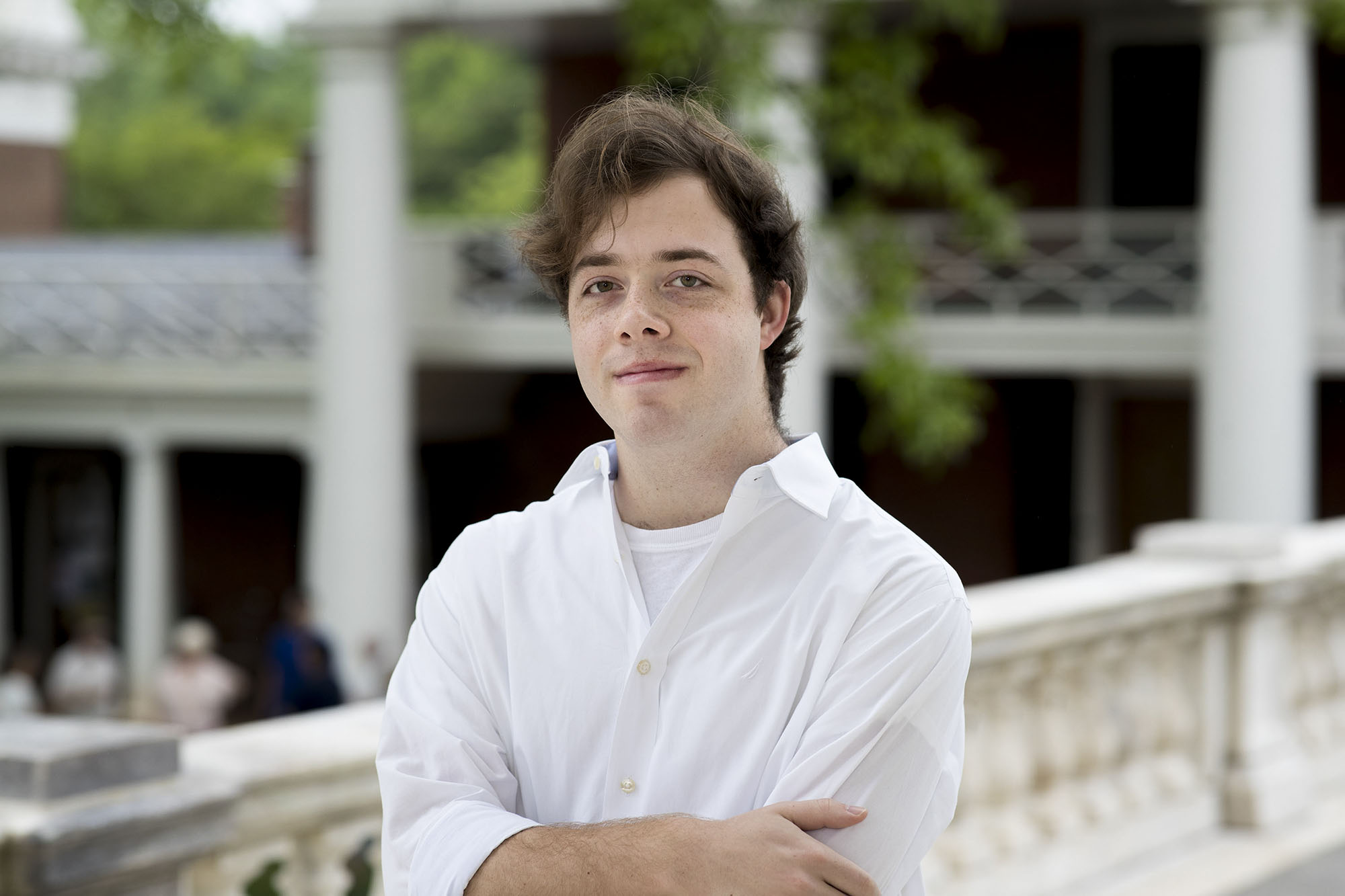 Westendorff, who graduated as a chemical engineering major, fits into several of these categories. He is an Astronaut Scholar, a Goldwater Scholar, a Rodman Scholar, a Harrison Undergraduate Research Award recipient and the recipient of the UVA Engineering Outstanding Student award.
The Pfafftown, North Carolina, native focuses his research on inorganic chemistry and its applications.
"I absolutely love to see how seemingly minute chemical phenomena can make large impacts on applications, and so I really enjoy the roles of scientist and engineer together," he said. "I also really enjoy combining both experimental and computational data, because it provides a broad understanding of the systems investigated. I've spent my research experience in the past few years in both areas because I see it as a holistic way of viewing chemistry and its applications.
"Before I decided to major in chemical engineering, I was actually really considering aerospace engineering as a major. I think it would be really cool to go to space. I built model rockets in high school and helped manage a team at my high school, and those were really amazing and memorable times."
Westendorff has worked with W. Dean Harman, professor and chair of the Department of Chemistry.
"Karl's ability to learn new scientific concepts and experimental techniques is truly remarkable," he said. "He is well-versed in current topics in science and effortlessly integrates new ideas into a sophisticated framework of understanding. The depth of his questions and insights is astonishing. His ability to assimilate new concepts and his analytical skills are on par with some of my best Ph.D. graduate students."
Harman said Westendorff's scientific curiosity drives his research and course work.
"I don't quite know how he manages it all, but he continued to work on his engineering degree, take advanced physical chemistry courses for fun, and to conduct meaningful research in two different research groups," Harman said. "He and his graduate student mentor had a manuscript describing some of their work published in the prestigious journal Nature."
Westendorff is listed as a co-author on several papers from Harman's lab, where he completed key calculations to support its synthetic work.
Westendorff has also received is a Canty Research Grant and an Excellence in Research Award and is a member of the Raven Society.
UVA Engineering Outstanding Student Awards
Each year, faculty and staff of the School of Engineering nominate fourth-year students for the UVA Engineering Outstanding Student Awards, recognizing outstanding academics, service and leadership to the School and University. The awardees are presented with an engraved Revere bowl. The recipients in this year's graduating class were:
Rob Schwartz, Systems Engineering.
Josh Eiland, Systems Engineering.
Rebecca Della Croce, Biomedical Engineering.
Rita Anane-Wae, Biomedical Engineering.
Karl Westendorff, Chemical Engineering.
Emma Stephens, Civil Engineering.
Gray/ Carrington Scholars
Gray/Carrington Scholarships are awarded for personal integrity, achievement, leadership and humility in the memory of Arthur Powell "Pete" Gray IV and Edward Codrington Carrington Jr. The recipients in this year's graduating class were:
Ja'Mel Isaiah Reed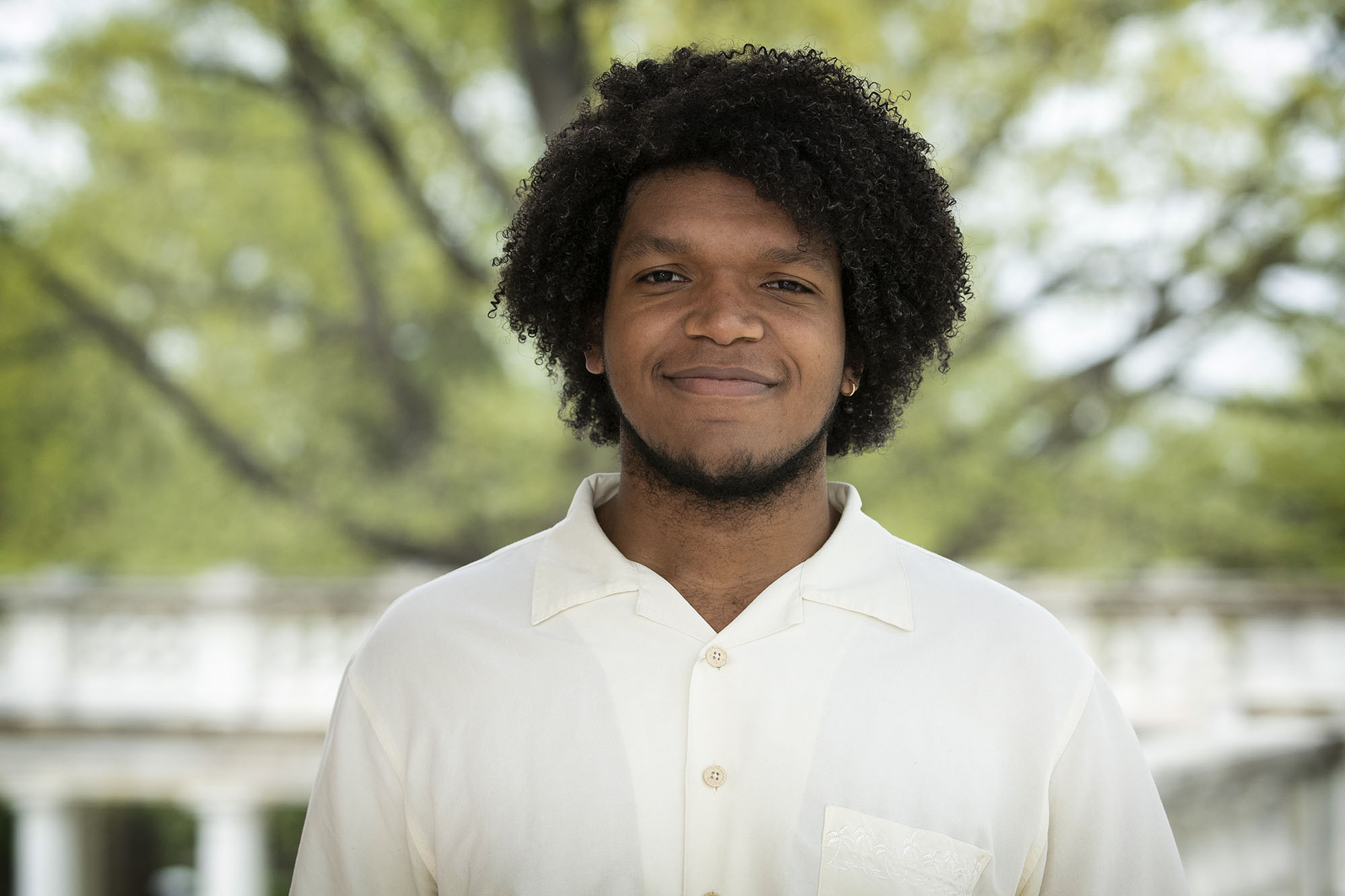 Reed, of Middlesex County, graduated with degrees in the English department's Area Program in Poetry Writing and in cognitive science, with a concentration in linguistics. He was also an Echols Scholar and a Ridley Scholar. He was vice chair for selections and a resident adviser within Housing and Residence Life; probationary chair for the University Guide Service; a Meriwether Lewis Institute for Citizen Leadership Fellow; an Office of African American Affairs Peer Advisor; and a member of the Student Council's Board of Audit and Management.
Laurel Carolyn Ivory
Ivory, of Surfside, Florida, majored in women and gender studies and provided leadership in many aspects of student life. She was a four-year starter in goal for the UVA women's soccer team and member of the team's Leadership Council. She was also an executive board member of Student Athletes Committed to Honor; a mentor through Student Athlete Mentors; a volunteer and team leader for Athletes in Action; and a member of the All-Atlantic Coast Conference Academic Team.
William R. Kenan Jr. Endowment Fund of the Academical Village
The William R. Kenan Jr. Endowment Fund of the Academical Village awards summer grants supporting students who conduct research projects that increase public understanding of the original precinct of the University, designed by Thomas Jefferson.
Sophia McCrimmon of Richmond, a double major in American studies and English, with a minor in historic preservation, researched the social histories of the 10 pavilion gardens surrounding the Lawn in UVA's Academical Village as a Kenan Scholar.
"These unique spaces have a multifaceted history, from their original function as sites of enslaved labor to their contemporary role as landscaped gardens," McCrimmon said.
McCrimmon conducted historical tours with the University Guide Service.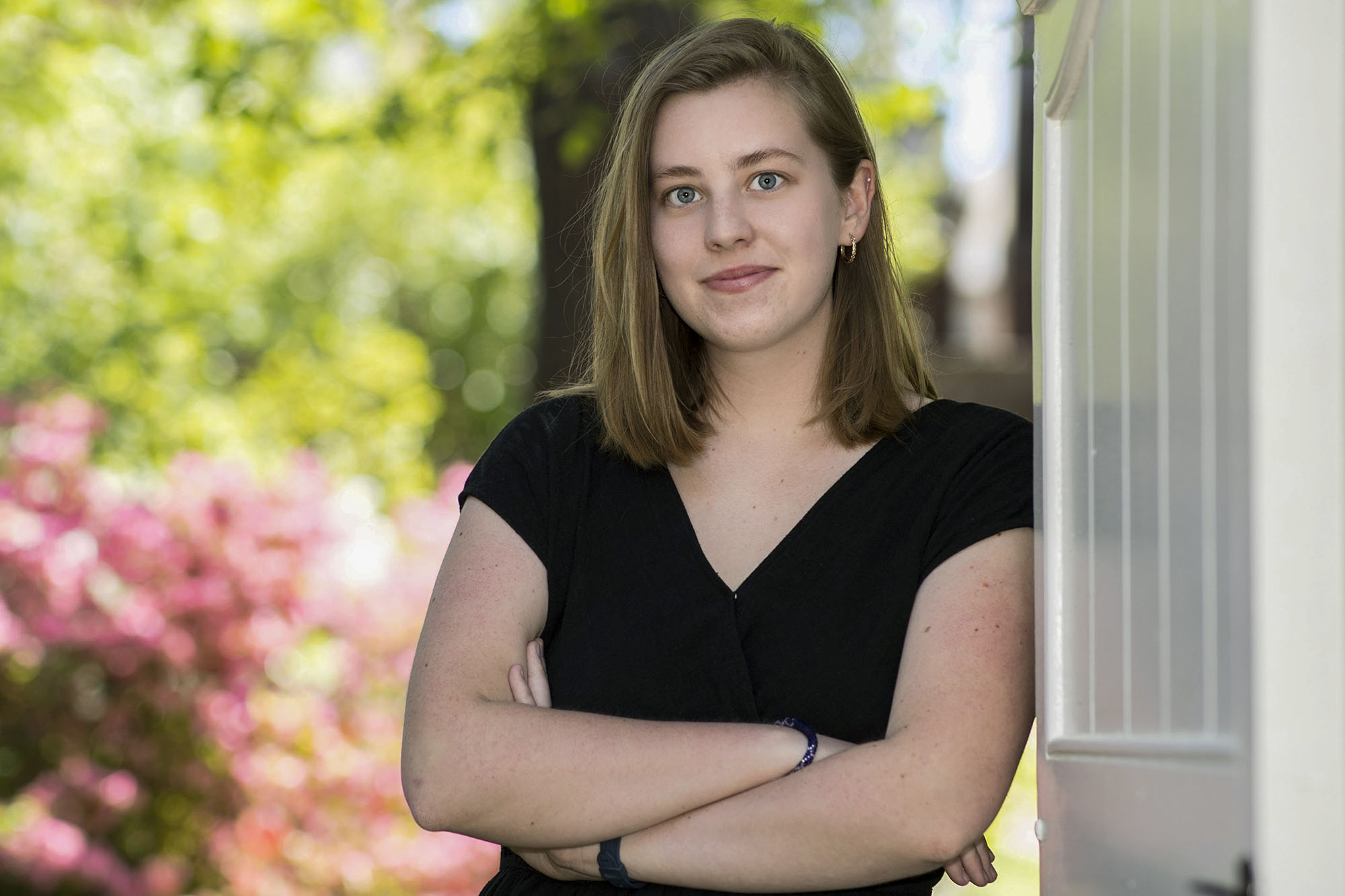 "Like many other Guides, I take tourists to the gardens to discuss the history of slavery at UVA," she said. "I was struck by the dissonance of discussing such difficult histories in such aesthetically beautiful spaces, and it prompted me to do more research on the layered history of the gardens. I'm intrigued by how the spaces have historically functioned as both public and private, and both beautiful and utilitarian. I would love for my research to complicate our understanding of these spaces, exposing their multifaceted history."
An Echols Scholar and a Jefferson Scholar, McCrimmon also was a counselor for the Cornerstone Summer Institute; a member of the President's Commission on the University in the Age of Segregation; and a student docent at the Fralin Museum of Art at the University of Virginia.
Elizabeth K. Meyer, the Merrill D. Peterson Professor of Landscape Architecture and co-director of the UVA Center for Cultural Landscapes, is impressed with McCrimmon's work.
"While enrolled in my 'Cultural Landscapes of Virginia' class, Sophia stood out among a remarkable group of intrepid students who decided to take this new course taught by an architect/architectural historian and a landscape architect," Meyer said. "Andy Johnston, my co-instructor, and I attracted students from three schools – Arts & Sciences, Architecture and Engineering, from second-year undergraduates to Ph.D. students. Sophia seemed particularly interested in the relationship between fieldwork, research and writing, and was not in the least bit intimidated discussing ideas with students a decade older."
Gilman Scholarships
The Gilman Scholarship is a program of the U.S. Department of State's Bureau of Educational and Cultural Affairs, intended to foster mutual understanding between the people of the United States and the people of other countries and promote friendly, sympathetic and peaceful relations.
UVA's graduating Gilman Scholars were:
Jenna Owens
Owens, who graduated with a degree in African American and African studies with a minor in studio art, traveled to Kenya to improve her Swahili, considered by the U.S. government to be a "critical-need" language, and to gain greater insight into Africa.
She participated in the overseas program through St. Lawrence University, taking courses on culture, environment, history and development of East Africa, as well as Swahili, from professors from the University of Nairobi.
Cynthia Hoehler-Fatton, a UVA associate professor of religious studies, describes Owens as a sharp, engaged student with a lively curiosity about other countries and cultures.
"When I learned that Jenna was taking Kiswahili,  and was determined to complete two full years of coursework in the language, I urged her to consider traveling to Kenya or Tanzania where she could put her newfound skills to the test," Hoehler-Fatton said.
Anne Rotich, an assistant professor of African American and African studies, said Owens has been a diligent and intellectually curious student who always asked thoughtful questions.
"She is committed to her studies and was eager to learn Swahili," Rotich said. "Jenna is friendly and gets along with other students. When I met her on the first week of class, I realized that she is always smiling and very positive in her demeanor.
Rotich said Owens is ready to volunteer help with a positive spirit when needed.
A recipient of an International Student Office scholarship, Owens was a member of Blue Ridge Campus Ministry and I Was Hungry, volunteer organization that collaborates with a local food pantry to deliver food to lower-income neighborhoods in Charlottesville.
Ridley Scholars
The Ridley Scholarships honor the memory of Walter N. Ridley, who earned a Doctor of Education degree from UVA in 1953, becoming the first Black UVA graduate and the first African American to receive an doctoral degree from a Southern, traditionally white university. There are a host of scholarships under the Ridley banner.
The graduating class' Ridley Scholars were:
Liyon Afework of Alexandria, a Gregory Ledford Scholar and a degree candidate in the McIntire School of Commerce, who concentrated in finance and management with tracks in global commerce and real estate. She has interned as the school's community development intern; was a diaspora intern for the Ethiopian embassy, a sales and trading summer analyst for J.P. Morgan, a COVID-19 relief response intern for the Salvation Army, and an investment banking summer analyst for Wells Fargo.
Rikia Freeman of Suffolk, a Hoel-Perkins Scholar, an aerospace engineering major. She was president of UVA's chapter of the American Institute of Aeronautics and Astronautics; secretary and publicity chair of marketing for the High-Powered Rocketry Club at UVA; and a member of UVA's chapter of the National Society of Black Engineers. She trains for half-marathons and plans to work on spacecraft as a systems engineer.
Jolie Magenheimer of Leesburg, a Ridley-Andrade Scholar, who graduated with a Bachelor of Science in Architecture degree, with a design thinking concentration, and a minor in sociology. She was co-chair for PULSE, an organization that facilitates discussions of identity, and a University Guide. She produced an admissions video about the Black student experience and was involved with the Outreach Student Advisory Committee and the National Organization of Minority Architecture Students. She has conducted research for the development of a new course on drawing through coding and served as a creative design intern for the United Nations Association of the National Capital Area.
Danielle Muriel of Virginia Beach, a Sylvia V. Terry Scholar, who graduated as a biology major with a women and gender studies minor. She served as the program planning chair of Delta Sigma Theta Sorority Inc., president of the National Pan-Hellenic Council at UVA and an executive board member of the Black Student Research Network.
Ja'Mel Isaiah Reed, of Middlesex County, who graduated with degrees in English department's Area Program in Poetry Writing and in cognitive science, with a concentration in linguistics. He was also an Echols Scholar and a Ridley Scholar. He was vice chair for selections and a resident adviser within Housing and Residence Life; probationary chair for the University Guide Service; a Meriwether Lewis Institute for Citizen Leadership Fellow; an Office of African American Affairs Peer Advisor; and a member of the Student Council's Board of Audit and Management.
Salem Zelalem of Burke, a Ridley Flagship Scholar, who graduated as a double major in economics and English, Distinguished Major Program. She interned at BB&T Scott & Stringfellow, and was a research assistant at the Darden Institute for Business in Society. She was an Echols Ambassador, a two-time member of UVA's College Union Poetry Slam Invitational team, and a member of Flux Poetry and Spoken Word, a student organization dedicated to poetry.
Article Information
May 24, 2021
/content/graduating-class-resume-includes-wide-array-scholastic-and-research-achievements