At 47 pages, the latest book by bestselling author John Grisham is a quicker read than his best-known works and not centered on legal issues or in a courtroom. Instead, Grisham said, he delved into the medical realm to write "The Tumor" because he wanted to help promote a promising treatment with technology that UVA and other health centers around the world are developing: focused ultrasound.
In fact, Grisham felt so strongly about the technology that he is giving the book away, as a free download from Amazon or the Focused Ultrasound Foundation.
The fictional story tells what happens to a character named Paul after he's diagnosed with a malignant brain tumor at the age of 35, then follows him through today's treatment options vs. how his life could be different with the use of focused ultrasound.
Much like a magnifying glass focusing multiple beams of light on a single point, focused ultrasound concentrates beams of ultrasound energy on a target in the body without harming healthy surrounding tissue. It's non-invasive or only minimally so, depending on its use.
The number of medical applications for focused ultrasound, which are in various stages of research, development and commercialization, is growing. It's already used to zap uterine fibroids, early-stage prostate cancer and bone metastases, and trials have shown dramatic results in reducing symptoms for those with Parkinson's disease and its cousin, essential tremor.
A member of the Focused Ultrasound Foundation's board of directors, Grisham came up with the novel idea of using his best-selling ability to increase awareness of the potential of this technology.
"Through my friendship with Neal Kassell, I got involved with the board at Focused Ultrasound, and from there came the idea for the short book," Grisham said in an email.
Dr. Neal Kassell, a UVA faculty member, established the foundation 10 years ago "to drive the field forward in a highly efficient way," he said. Grisham and he discussed the concepts and mechanisms of the technology. "He converted that into the language he uses," Kassell said.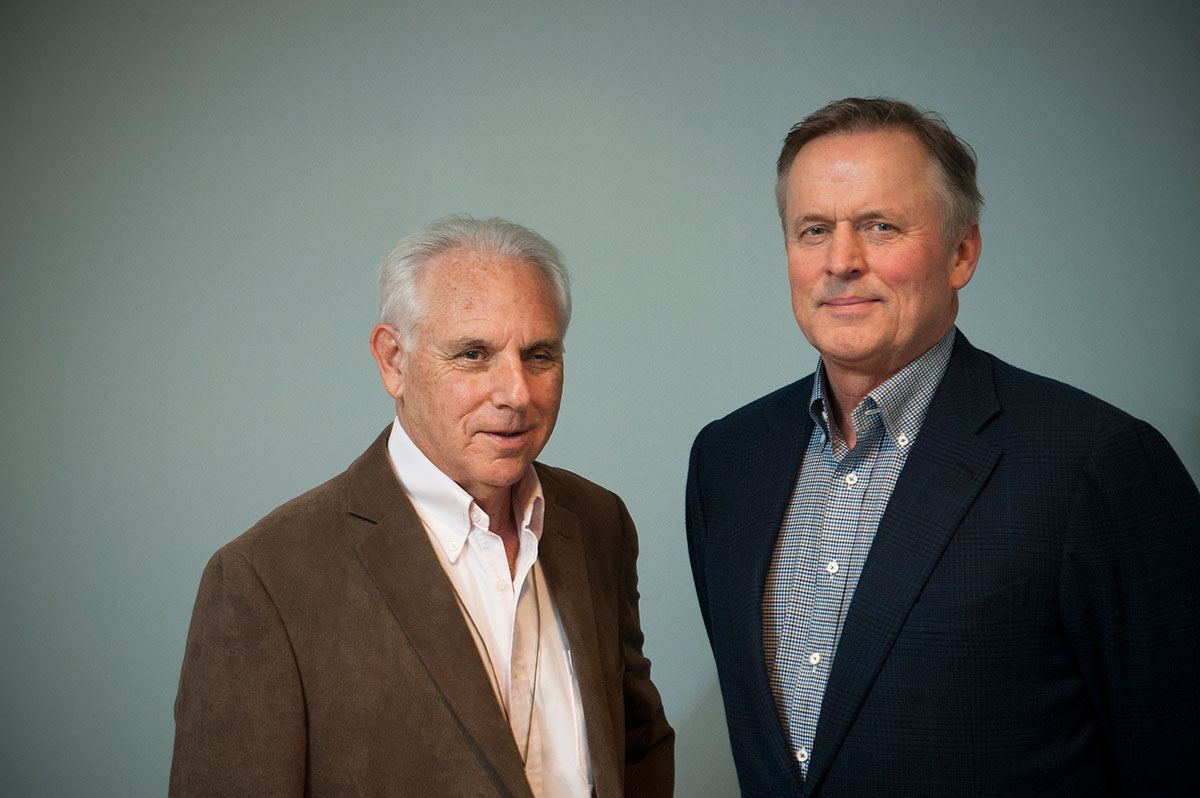 John Grisham, right, serves on the Focused Ultrasound Foundation board, led by Dr. Neal Kassell.

Grisham relied on Kassell's expertise, since he was, as he put it, "completely out of my league with the science and medicine.
"The story, though, holds up regardless of length because it is a great tragedy," Grisham said.
In contrast, the book also touches on some real-life successful outcomes, thanks to the use of focused ultrasound. After the fictional story of Paul, Grisham ends with a section describing where things stand presently for more than 50 procedures – some theoretical, some in the clinical trial period, a few FDA-approved. He includes a section profiling "three people whose lives have been dramatically improved by focused ultrasound therapy."
"Today, focused ultrasound is in various stages of development for treating over 50 diseases and conditions, including hypertension, Alzheimer's and Parkinson's diseases, and tumors of the brain, liver, pancreas and lung. But despite the progress so far, much work remains to be done before focused ultrasound can be widely used to treat large numbers of patients," the book says.
Grisham and Kassell joined forces again to take the stage in the most recent TEDx event in Charlottesville, where they talked about the technology. They also introduced a special guest: a study patient who volunteered to receive the focused ultrasound procedure that reduced her uncontrollable shaking associated with Parkinson's.
"It has the potential to revolutionize the treatment of serious medical diseases," Kassell said. "If the research pans out, five to 10 years from now it could change a person's life, even if it's not a cure."
In the book, Grisham writes, "I have found no other cause, issue, non-profit or charity that can potentially save so many lives."
He hopes that the book will increase awareness and "the awareness will prompt donors to help the foundation," he said.
More than 200,000 copies of "The Tumor" have been ordered since January.
Article Information
March 9, 2016
/content/grishams-new-free-book-backs-medical-technology-deployed-and-tested-uva