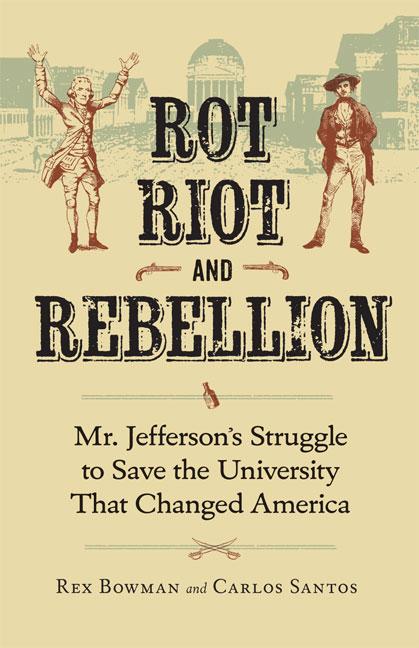 For members of the University of Virginia community and others, U.Va. faculty books from 2013 present an interesting variety of choices. The sample of 15 titles listed below – in case you're looking for holiday gifts or a good read during time off – includes poetry, memoir, history and more.
Besides the faculty books, an alumnus' book is too relevant not to mention. Journalist Carlos Santos, who earned his undergraduate and master's degrees in English, and former Richmond Times-Dispatch colleague Rex Bowman wrote "Rot, Riot and Rebellion: Mr. Jefferson's Struggle to Save the University That Changed America," a book that looks at the University's early times.
Published this fall by the University of Virginia Press, the book recounts the tumultuous years when the University's first students – rich, white, Southern young men – lived a life of loutish, violent behavior that brought the aging founder, Thomas Jefferson, to tears.
"Bowman and Santos bring us into the life of the University of Virginia at its founding to reveal how this once shaky institution grew into a novel, American-style university on which myriad other U.S. universities were modeled," the U.Va. Press description says.
Faculty Books
• Peter S. Baker, English professor, "Honour, Exchange, and Violence in Beowulf." Boydell & Brewer Ltd.
Baker's book explores violence and the medieval culture of honor in the Old English epic poem, "Beowulf."
• W. Bernard Carlson, professor in the School of Engineering and Applied Science's Department of Engineering and Society, "Tesla: Inventor of the Electrical Age." Princeton University Press.
Carlson, a historian of technology and innovation, sought to sort out the substance and show biz from the career of the turn-of-the-20th-century inventor.
• Shilpa S. Davé, assistant professor of media studies and American studies, "Indian Accents: Brown Voice and Racial Performance in American Television and Film." University of Illinois Press. 
Davé explores the relationship between popular cultural representation of South Asians and Western acceptance of the culture and descendants in her most recent book, "Indian Accents."
• Mark Edmundson, English professor, "Why Teach? In Defense of a Real Education." Bloomsbury Publishing.
Edmundson brings together a collection of his essays that address changes in American higher education since the 1990s – changes that he thinks threaten the true purpose of education, which he identifies as challenging individuals to grow to their potential, find out what they truly love and make it an ongoing part of their lives. "The experience of change is at the heart of literary education," he writes.
• Matthew N. Eisler, assistant professor of the School of Engineering and Applied Science's Department of Engineering and Society, "Overpotential: Fuel Cells, Futurism, and the Making of a Power Panacea." Rutgers University Press.
Eisler explains why creating a perfect fuel cell has been harder than scientists expected.
• Charles Marsh, religious studies professor, "Mobilizing for the Common Good: The Lived Theology of John M. Perkins." University Press of Mississippi.
Perkins is a nearly unknown name among civil rights leaders, yet his impact on the American evangelical churches is undeniable, say Marsh and co-editors Peter Slade and Peter Heltzel.
• Deborah McDowell, English professor and director of the Woodson Institute of African-American and African Studies, history professor Claudrena Harold and City University of New York sociologist Juan Battle, editors, "The Punitive Turn: New Approaches to Race and Incarceration." University of Virginia Press.
What some describe as an "incarceration crisis" has garnered increasing attention in recent years from academics and politicians alike. The book, based on U.Va.'s 2009 conference on incarceration and race, explores the historical, political, economic and sociocultural roots of mass incarceration, as well as its collateral costs and consequences.
• Gregory Orr, English professor, "River Inside the River." W.W. Norton & Co.
In language praised as "transcendent" and "incantatory," poet and English professor Orr's 12th book features three sequences of poems.
• Andrew Jackson O'Shaughnessy, history professor and Saunders Director of the Robert H. Smith International Center for Jefferson Studies at Monticello, "The Men Who Lost America: British Leadership, the American Revolution and the Fate of the Empire." Yale University Press.
There's more to the story about why the British lost America, O'Shaughnessy writes.
• Deborah Parker, Italian professor, and Mark Parker, "Inferno Revealed: From Dante to Dan Brown," Palgrave Macmillan.
The Parkers provide readers of Brown's "Inferno" with an engaging introduction to Dante and his world.
• Barbara Perry, senior fellow and associate professor in the U.Va. Miller Center's Presidential Oral History Program, "Rose Kennedy: The Life and Times of a Political Matriarch." W.W. Norton & Co.
Perry's unprecedented look at the life of Rose Kennedy reveals the private woman who became a political legend.
• R. Jahan Ramazani, English professor, "Poetry and Its Others: News, Prayer, Song and the Dialogue of Genres." University of Chicago Press.
Ramazani's book explores poetry's interactions with other kinds of writing. Poetry uses the same language that people use every day, but in myriad ways. Though poetry has its own rules and freedoms, it's not a closed circle, Ramazani said.
• Larry J. Sabato, politics professor and director of the Center for Politics, "The Kennedy Half Century: The Presidency, Assassination, and Lasting Legacy of John F. Kennedy." Bloomsbury USA.
On the 50th anniversary of Kennedy's assassination, celebrated political scientist and analyst Sabato – himself a teenager in the early 1960s and inspired by J.F.K. and his presidency – explores the fascinating and powerful influence Kennedy has had over five decades on the media, the general public and on each of his nine presidential successors.
• Lisa Russ Spaar, English professor, "The Hide-and-Seek Muse: Annotations of Contemporary Poetry." Drunken Boat Media.
With the rapid changes in electronic communication and other technologies, Spaar's book of poems with short essays shows how poetry persists in expressing what is uniquely human.
Media Contact
University News Associate Office of University Communications
anneb@virginia.edu (434) 924-6861