The phrase "quick turnaround" in sports usually relates to a team playing multiple games in rapid succession. But last week, former University of Virginia baseball star Phil Gosselin gave it new meaning.
Last week, Gosselin drove in two runs for the Philadelphia Phillies in a 5-4 home victory over the New York Yankees, capping a torrid stretch in which he batted a team-leading .600 over the first five games of the season.
Then, the very next day, the infielder was on his laptop, taking final exams in media studies and history courses that he needed toward his degree in economics from UVA.
Gosselin crushed the exams the way he did Yankees pitching, earning an A and an A-minus – a development that didn't surprise economics professor Lee Coppock, who had served as Gosselin's adviser when he was a student from 2007 to 2010.
"Phil was always a good student," Coppock said. "He was an early riser. I recall coming into Monroe Hall early in the morning and seeing 20-year old Phil sitting on the stairs and studying before an early class. He always met with me early in the morning and he was always early to our meetings."
Gosselin looks back fondly on those days when he forged strong relationships with Coppock and other professors.
"Professor Coppock is at the top – he's kept in touch with me over the years," Gosselin said prior to Wednesday night's home game against the Baltimore Orioles. "I got an email from him after the first time I got called up [to the Majors] in 2013, which was really cool. I think it shows how much he really cares about his students."
Gosselin had been unable to come back to finish his degree because of his baseball commitments. But when the pandemic postponed the start of the season and classes shifted to online, Gosselin, Coppock and UVA baseball coach Brian O'Connor realized there was a window.
Over the years, O'Connor has been determined to have players like Gosselin, who turned pro early and never earned their degree, come back to finish what they started. An athletic department spokesperson said that of the 75 UVA players who have been drafted since 2004 and who aren't currently active in professional baseball, 86% either earned their undergraduate degree from UVA while a member of the team or come back to complete it. That number is remarkable, considering nearly 60% of UVA's draft picks have come in the first 10 rounds, slots that normally command six- to seven-figure signing bonuses for college juniors.
Coppock said O'Connor immediately reached out to him when it became obvious that the Major League season was going to be delayed.
"Brian was right in the middle of it," he said. "He was reaching out to Phil and communicating with me. 
"I always knew that Brian cares for his guys, but I've been blown away to see how proactive he has been in helping Phil finish his degree a decade after Phil last wore a UVA uniform."
In 2009, Gosselin helped lead UVA to its first College World Series appearance, hitting a memorable home run off of former San Diego State flamethrower and current Washington Nationals pitcher Stephen Strasburg. The following year, he turned pro after the Atlanta Braves selected him in the fifth round of the Major League Baseball draft.
It's been a winding road for Gosselin since – one that has included being injured, traded and spending a lot of time on buses in the minor leagues.
Now 31, Gosselin is playing with his sixth team (including two stints with the Braves). The Pennsylvania native, when given the chance, has proved he can hit. In 2016, as a member of the Arizona Diamondbacks, he had a Major League-leading 20 pinch-hits. In his season debut against the Miami Marlins last month, Gosselin went 3-for-3 and clubbed two homers.
"This is my 11th season now. When I set out, I didn't think I'd last this long," Gosselin said. "I'm just going to keep enjoying it and see where things take me."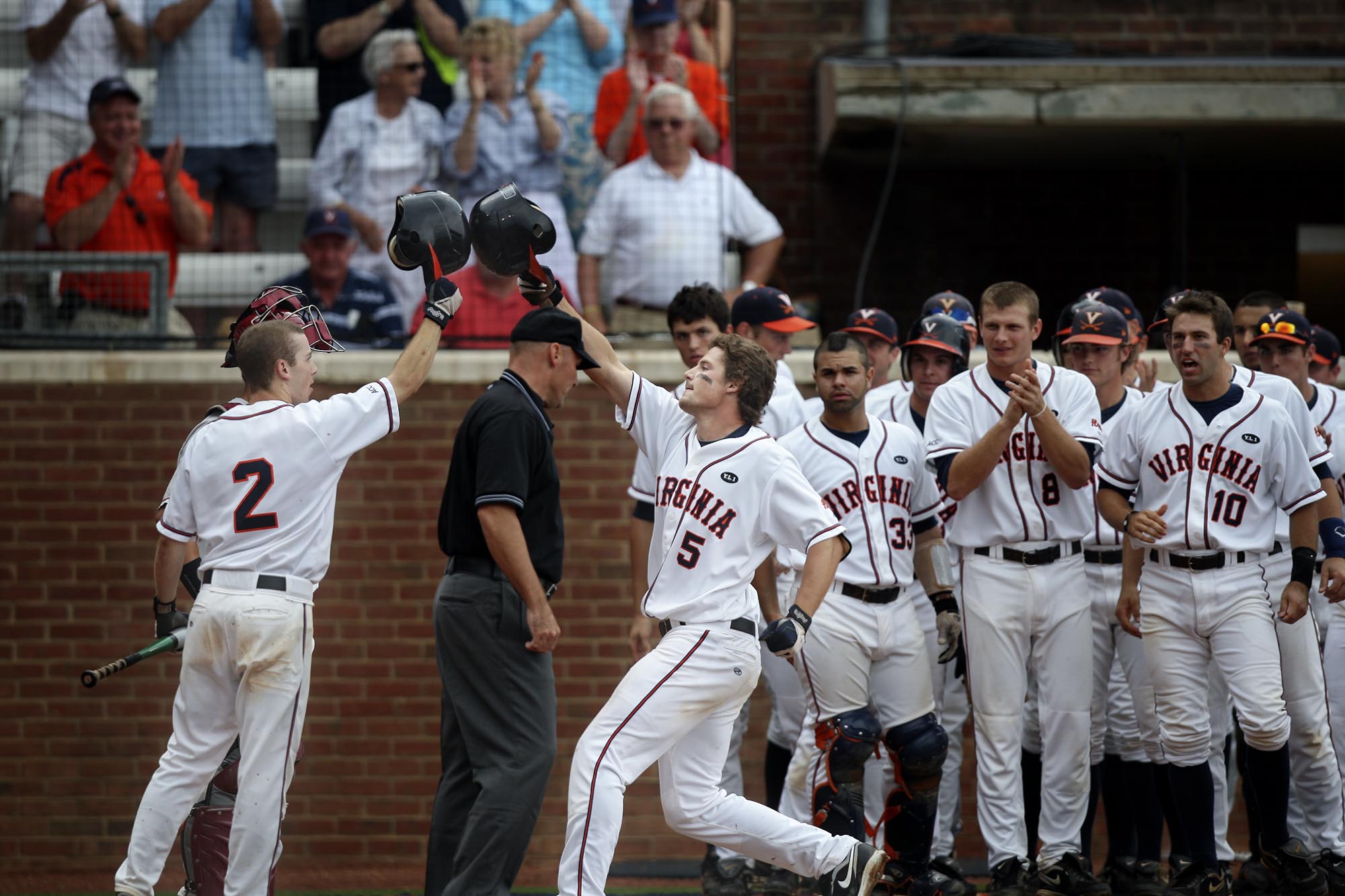 Gosselin helped lead the Cavaliers to their first College World Series appearance in 2009. (UVA Athletics photo)
UVA Today caught up with Gosselin – one of 17 Cavaliers on MLB opening-day rosters, the second-most of any college program – for a wide-ranging discussion. 
Q. Why did you make the decision to try and finish your degree now?
A. It's always been important to me. My mom is very into academics. She was the valedictorian of her college. She made me promise back in 2010 that I would eventually graduate. It's taken a while to get back.
When the pandemic first started, I didn't know if we were going to play at all. I didn't want to waste the whole summer. I figured I should get some classes done, especially some of the major requirements and prerequisites that I never took. I thought that if I could knock them out now, that whenever I'm done playing – hopefully not for a few years – I would be in a better spot.
I had 29 [credits] to go. I got six – so now I'm at 23. The plan is to take 12 this fall, which will then leave me with just 11.
Q. Baseball players are known to play cards and do a lot of fun stuff on road trips, but you've got your head buried in your classwork. What's that been like, and do your teammates give you any ribbing or anything?
A. No [laughing]. My teammates thought it was cool. I've always been a big reader. I read in the clubhouse a lot, so I think guys are used to seeing me sitting in my locker and reading. It's nice I can get a lot of my reading done at the field because there is a decent amount of down time before and after you take batting practice.
I get up in the morning, do work for a few hours, then go to the field and do work for a few more hours at night. There hasn't been a lot of time to do anything except baseball and [schoolwork]. But the way it is now, we're not really allowed to do much anyway away from the field because of the safety protocols we have.
I think in a lot of ways it's helped, because when I was away from the field I really didn't think about baseball as much. That's a big thing – to have something to get away from it, because we tend to overthink and stress over at-bats and plays that maybe we messed up or whatever the case may be. It's definitely good for me to have something else to occupy my mind.
Q. Playing with six different organizations, you've had to pay a lot of dues in the majors. Do you feel like you've finally found a home in Philly?
A. I hope so. I'm from near here; I grew up a Phillies fan. Part of the time I'm staying with my parents because they're so close, so it's been great. I hope I can stay here. I haven't been with the same team in back-to-back years in a while. Hopefully I can stick here and keep playing well and keep helping the team win.
That was the goal when I was a kid. I always wanted to play for the Phillies. I don't know how realistic it was, but now I'm doing it and it's awesome.
Q. Who were some of your favorite players as a kid?
A. In the late '90s, when I was 10, I liked Scott Rolen a lot. When I was even younger than that, I liked Darren Daulton. Then when I got older and into high school, I liked Chase Utley – he was probably my favorite player – and then [Jimmy] Rollins, [Ryan] Howard and all those guys.
Q. Who are your closest teammates now?
A. My favorite thing to do, which we can't do this year because of the pandemic, is when we're on the road – I'm a big "get up and go to breakfast and see the city" guy. I love checking out all the local spots with Aaron Nola and Adam Morgan. We'd go out and get breakfast a lot. I've always enjoyed hanging out with them. They welcomed me right away when I came from a different organization.
Q. Who's the toughest pitcher you've faced in the majors?
A. That's easy for me. A couple of guys and I actually had this conversation the other day. [New York Mets pitcher Jacob] deGrom, no question. He gets better every year somehow. The ball just explodes out of his hand and then he throws all of his off-speed pitches for strikes. It's not fun facing him.
Q. Does hitting the homer off Strasburg rank as one of your big UVA highlights?
A. Individually, yeah, that's probably the moment. But when I think back to the Super Regional at Ole Miss, that's the moment. It was the first team to make it to the College World Series, on the road, [against a] tough [Southeastern Conference] opponent. We lost the first game and had to win the next two, which seemed pretty daunting after that first loss. But we were able to get it done. Besides getting called up [to the major leagues], that's probably my best memory as a baseball player.
Q. Did you have any reservations about playing this season, and what has it been like playing during the pandemic?
A. No, I was ready to go. I'm not married and I don't have any kids, so my situation is a little different than other people's. I was going to play the whole time.
It's weird because our day-to-day is a little different, but everybody's day-to-day is different throughout the world. Once the games start, even though there are no fans, you're pretty locked in. You're still trying to get a hit; you're still trying to make the plays in the field. Not having fans there for when you get a big hit or something like that stinks, but otherwise it's the best we can do under the circumstances.
Q. Are all those cardboard cutouts of the fans in the stands pretty odd?
A. I'm used to it at this point. It is nice just having something there visually, as opposed to just empty seats, which a lot of times can have a weird glare off them or something like that. I like having something there. I've seen "Prison Mike" from "The Office" [chuckle]. I think we're up to like 10,000 cutouts now. The lower bowl is pretty full.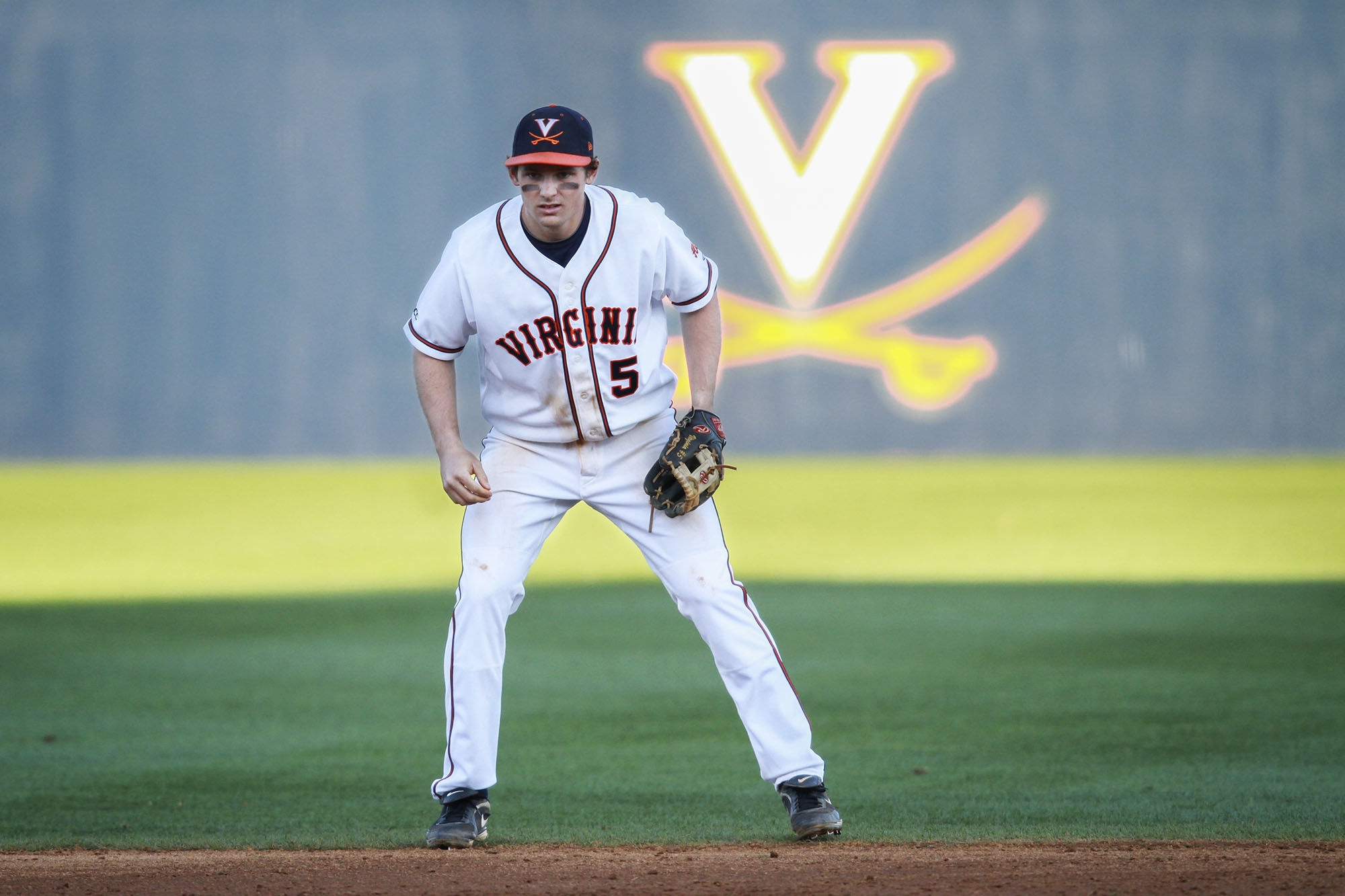 An economics major, Gosselin is thinking about a career in baseball analytics and scouting when his playing days are over. (UVA Athletics photo)
Q. How has the experience of playing for Coach O'Connor shaped you not only as a player, but as a person?
A. He really just created that culture of caring about that guy next to you and doing anything for your teammates. All of that applies to life.
For me personally, [the staff] really toughened me up mentally and taught me how to take on challenges. You usually don't fail much in high school, so when you get to college and you're failing for the first time and might not be doing well, learning how to handle that – that's everything in life. When things don't go your way, how do you handle it? How do you move on and learn from it? That was probably the biggest life lesson I learned there, and I'm super thankful that I went to UVA and learned all those things from them because I think it prepared me for pro ball and for whatever will come after pro ball. I'll be ready to attack that as well.
Q. Were there times during these last 11 years when you were in the minor leagues and thought maybe it just wasn't meant to be and you wanted to do something else?
A. Yeah. I think anybody who tells you otherwise is probably lying. There are times in the minor leagues when you're really struggling. You're in a random city and are like, "What am I doing?" There are those times when you doubt yourself a little bit, but as long as you keep working hard and never let that deter your work and your determination, I think it's OK to have those thoughts once in a while and use them as motivation to move forward.
I just knew that I never wanted to look back and be like, "Man, I wish I had kept playing. Who knows, maybe I would have been called up?" Whenever it's over, I just wanted to be able to say I did everything I could and there are no regrets.
Q. What do you hope to do after your playing days are over?
A. I think, as of now, I would like to go and work in a baseball front office in some capacity – like scouting or something along those lines. I've always enjoyed just watching other players, pitchers I'm getting ready to face and that kind of thing. The analytical side – I enjoy some of that. I'm thinking about taking a statistics class this full that will hopefully help me with some of that stuff. Getting my degree in economics from UVA puts me on the right path to possibly pursue that.
Article Information
August 14, 2020
/content/hoo-rizons-former-cavalier-baseball-star-crushes-yankees-then-his-final-exams