The percentage of NFL players who go on to become tenure-track professors at world-renowned universities at the conclusion of their playing days isn't known, but it's probably fair to say former University of Virginia running back Francis Alvin Pearman II – who went by "Alvin" when he played for the Hoos – is in a small fraternity.
In 2005, the Jacksonville Jaguars drafted Pearman in the fourth round of the NFL Draft. He later played for the Seattle Seahawks and had another stint with the Jaguars before finishing his playing career with the Tennessee Titans in 2009.
For many people, playing a sport at the professional level would mark a pinnacle. But Pearman – the son of two teachers – was just getting started.
The Princeton, New Jersey, native, who grew up in Charlotte, North Carolina, graduated from UVA's School of Education and Human Development in 2005. After his playing career ended, he went on to earn a master's degree in education and a Ph.D. from Vanderbilt University.
Pearman is now an assistant professor of education in Stanford University's Graduate School of Education. His research focuses on how poverty and inequality shape the life chances of children, especially in rapidly changing cities.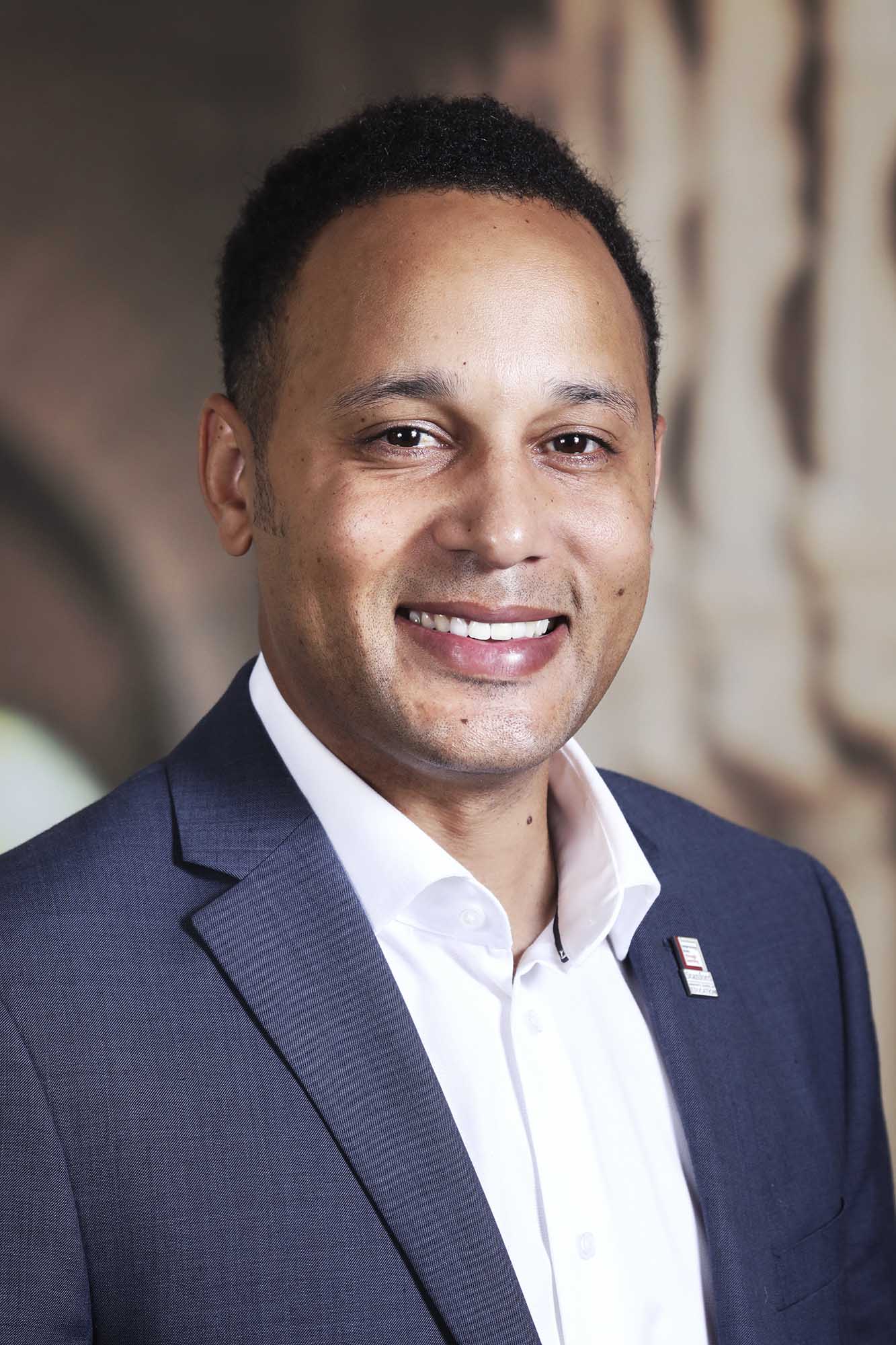 Earlier this month, Pearman received a national award from the American Educational Research Association, the world's leading association of scholars examining issues of educational policy and practice, for an article he wrote on gentrification and academic achievement. Pearman was also recently awarded a fellowship to help launch a center focused on urban redevelopment and educational inequality.
UVA Today recently caught up with Pearman, who lives with his wife, Kristin, and their three children, ages 9, 8 and 7, in Palo Alto, California.
Q. Who were your biggest role models growing up?
A. Certainly my father, for one. He was someone who always had high expectations for me and who allowed me to get away with very little [chuckle]. Growing up, this was frustrating at times, but as I've grown older and now have kids of my own, I've come to realize how valuable consistency and structure can be for young people's development.
And being so invested in sports for such a long time like I was, I had the great fortune of having some incredible coaches who believed me, who poured into me, and who were willing to do whatever it took to keep me moving in a positive direction, both on and off the field.
One particular coach who comes to mind is Sam Cook, a JV football coach of mine who became a phenomenal mentor for a long time. He would often say, "Just be the same guy every day, the same guy every day." He'd hammer that in my head virtually every time he would see me. He knew that success can change people, and not always for the better, and he wanted to make sure my path was a straight one. He encouraged and supported me through my UVA days and beyond.
So sports really opened up a lot of that consistent guidance and direction, but I also had a number of teachers who did the same. I had an AP Chemistry teacher my sophomore year in high school named Lou Acoupora, who made me believe I could accomplish anything in the classroom. That confidence he instilled in me has paid dividends for a really long time.
Q. Were there some professors at UVA who had a big impact on you?
A. Oh yeah, so many. I will begin, though, by mentioning my former football coach, Al Groh. I've been blessed by coaches and teachers who were just marvelous, and I would put Coach Groh right at the top of that list. He was a tremendous coach during by time at UVA. But since UVA, he's become a great mentor and friend. Most major decisions that I've made since 2005 are funneled in one way or another through Coach Groh. In many ways, he is still my coach.
But I also had a number of professors and academic mentors who were terrific. My undergraduate adviser was [team orthopedist] Joe Gieck [a member of the School of Medicine faculty]. Throughout my time at UVA, he was another consistent, supportive voice. Another person who comes to mind is Kathryn Jarvis, who at the time was the associate director of academic affairs in Athletics. She was kind, encouraging, and helped me cast a vision of success for myself at UVA and beyond.
Q. Looking back on your playing career, do you have a favorite memory – a moment, a game, a play?
A. When you ask that question, I just can't help but think about all the guys on the team. There's an incredible bond when you're working together in such a determined way toward a particular goal, week-in and week-out. Some of my best friends around, those relationships were started while I was at UVA. The bonds and the friendships are what stick with me most.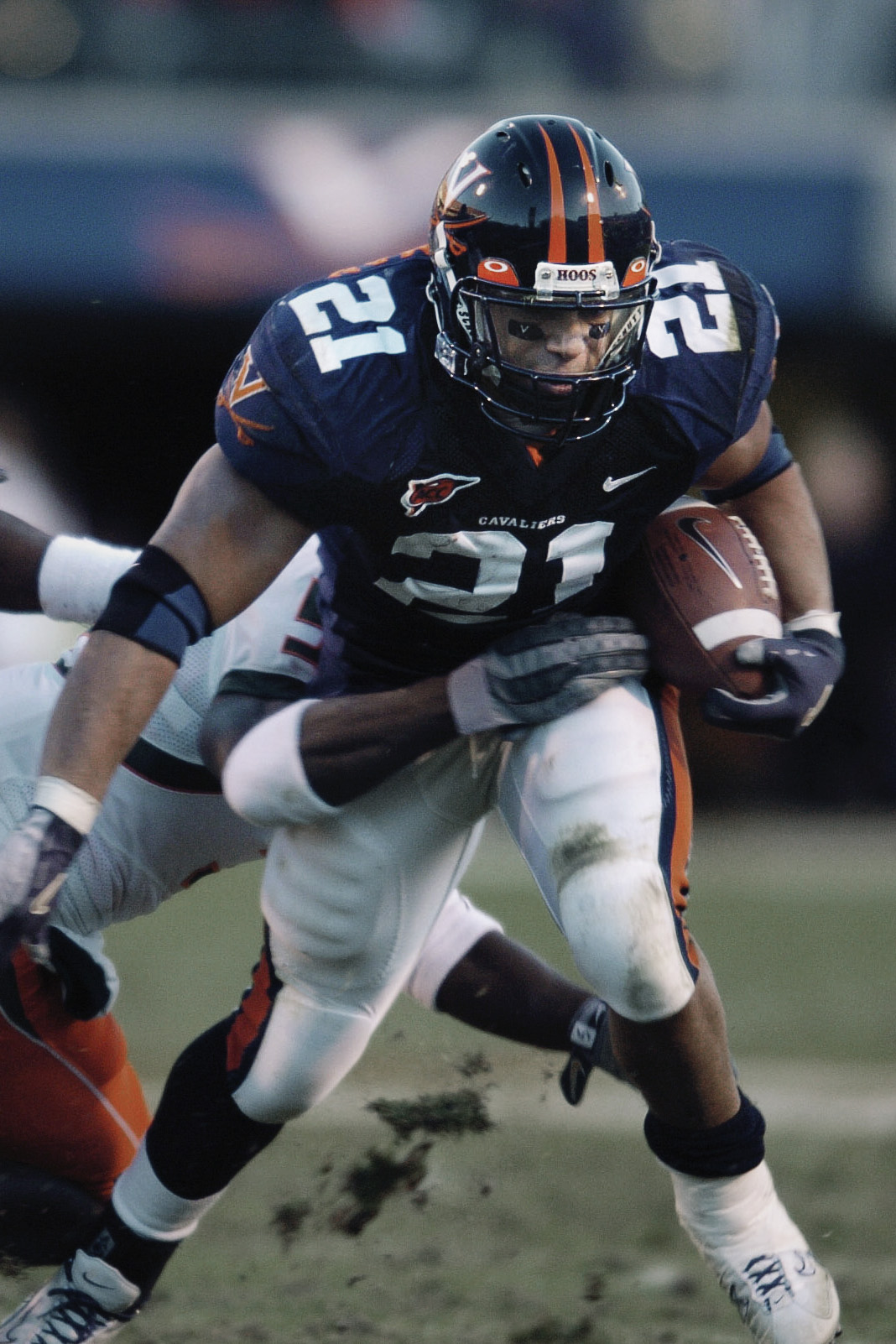 But when I think about specific memories, the "hook-and-ladder" play against Georgia Tech always comes to mind. It was pretty special. I remember we had only practiced that play a few times the week prior. It was one of those plays you practice but never think you're going to use. Before the final drive, [assistant coach] Bill Musgrave called down from the press box to tell me that we were going to run the play as soon as we got the chance. Despite being in disbelief, I confirmed with him that I was ready for it. 
When we ran the play a few minutes later, the timing was just a little off, so I had to stop so I didn't go past wide receiver Billy [McMullen] before he caught and subsequently pitched me the ball, which would have nullified the play. Billy caught it and threw it back to me in just enough time to avoid being tackled, and I raced down the sideline for a touchdown to win the game. I remember how electric Scott Stadium was when I crossed the goal line, the euphoria that erupted on our sideline, and how fortunate I felt to be part of that moment.
Q. Shifting gears to your NFL career, what are some of the things you look back fondly on?
A. Certainly, getting drafted was one of them. My family had driven to Charlottesville and piled into my small apartment on draft day to celebrate. I was also able to celebrate the day with my good friend Heath Miller, one of my roommates at the time. He was picked in the same draft a couple rounds earlier. So from our little apartment in Charlottesville, we were both drafted, and we both had our families there. That was special to me.
Another memory was the last touchdown I scored in the NFL. I had a major knee injury in 2007 while playing for the Seahawks that required reconstructive surgery. Professional teams generally prefer surgeries to be done by their own team doctors, but I asked Dr. David Diduch, a brilliant surgeon in the orthopaedic surgery department at UVA and team physician for the Cavalier football team, to perform my surgery back in Charlottesville, which he kindly agreed to do.
My first play after the surgery and after the long rehab it required was against the Baltimore Ravens in 2008. We ran a play that required my running a wheel route out of the backfield, and David Garrard, the quarterback of the Jacksonville Jaguars at the time, threw me a beautiful touchdown pass – similar to the one Matt Schaub threw to me to help us beat Virginia Tech in 2003. I took the game ball from that play and gave it to Dr. Diduch for helping me get back on the field. Moments like that, which signify overcoming and persevering and realizing a goal, are things that stick with me.
Q. Given the fact your parents were teachers and all the other great people you had in your life, education-wise, did you know from a young age that you wanted to work in education?
A.  I was someone who benefitted from some exceptional opportunities, really throughout my childhood. I had two wonderful parents, I was able to attend good schools, and I had exceptional teachers who were dedicated to pushing me forward in my journey – and that made all the difference. The reality, however, is that this story is not a common one.
Far more common, unfortunately, is the story of children who arrive at the schoolhouse door in need of a good meal as much as good instruction, who struggle to find a classroom where they can thrive or a teacher to believe in them.
For all of their complications, I have come to view schools as places where a lot of these issues can be sorted out, where, ideally, children can have opportunities to express themselves in unique ways, where they feel the freedom and security to make mistakes and learn from them, where they can cultivate meaningful identities as learners, and where they can receive careful guidance from people who really care about them. These possibilities are worth fighting for, especially in marginalized communities.
Q. You were involved in a really interesting study in Tennessee recently that looked at the effectiveness of pre-K programs. Can you tell us a little bit about that work and what your conclusions were?
A. I'm really interested in issues related to educational inequality – factors that contribute to it, but also policies and other levers that can help address it. I'm also particularly interested in the way that places – where kids grow up – affect these patterns.
For instance, so much of the conversation around early childhood education has been about how we make pre-K and early childhood programming more readily available for a broader cross-section of children. But this conversation hasn't much dealt with a more fundamental, policy-relevant question: Are the benefits of attending pre-K the same for children living everywhere?
For the study you're referring to, which was based on the first experimental evaluation of a statewide pre-kindergarten program in the United States, I found that children who benefitted the most from attending pre-K were children living in the most disadvantaged neighborhoods. Moreover, despite that the program itself was ostensibly for all low-income children in the state, I found that children living in the most disadvantaged neighborhoods were also the least likely to attend pre-K.  
From a policy standpoint, this is relevant because maximizing early childhood investments will require ensuring that the children who stand to gain the most from pre-K are actually attending it, meaning that targeted enrollment in disadvantaged communities along with transportation-related issues need to be central parts of this conversation.
Q. If you don't me asking, when it comes to your children, how have you approached their education amid the pandemic?
A. One thing my wife and I have found to be incredibly important during this moment is constantly reminding ourselves to be as patient as possible. It is easy to become frustrated with so many competing agendas under one roof. But at the end of the day, the things we often find to be frustrating are typically surface-level inconveniences that pale in comparison to creating a home environment where our children feel loved and supported.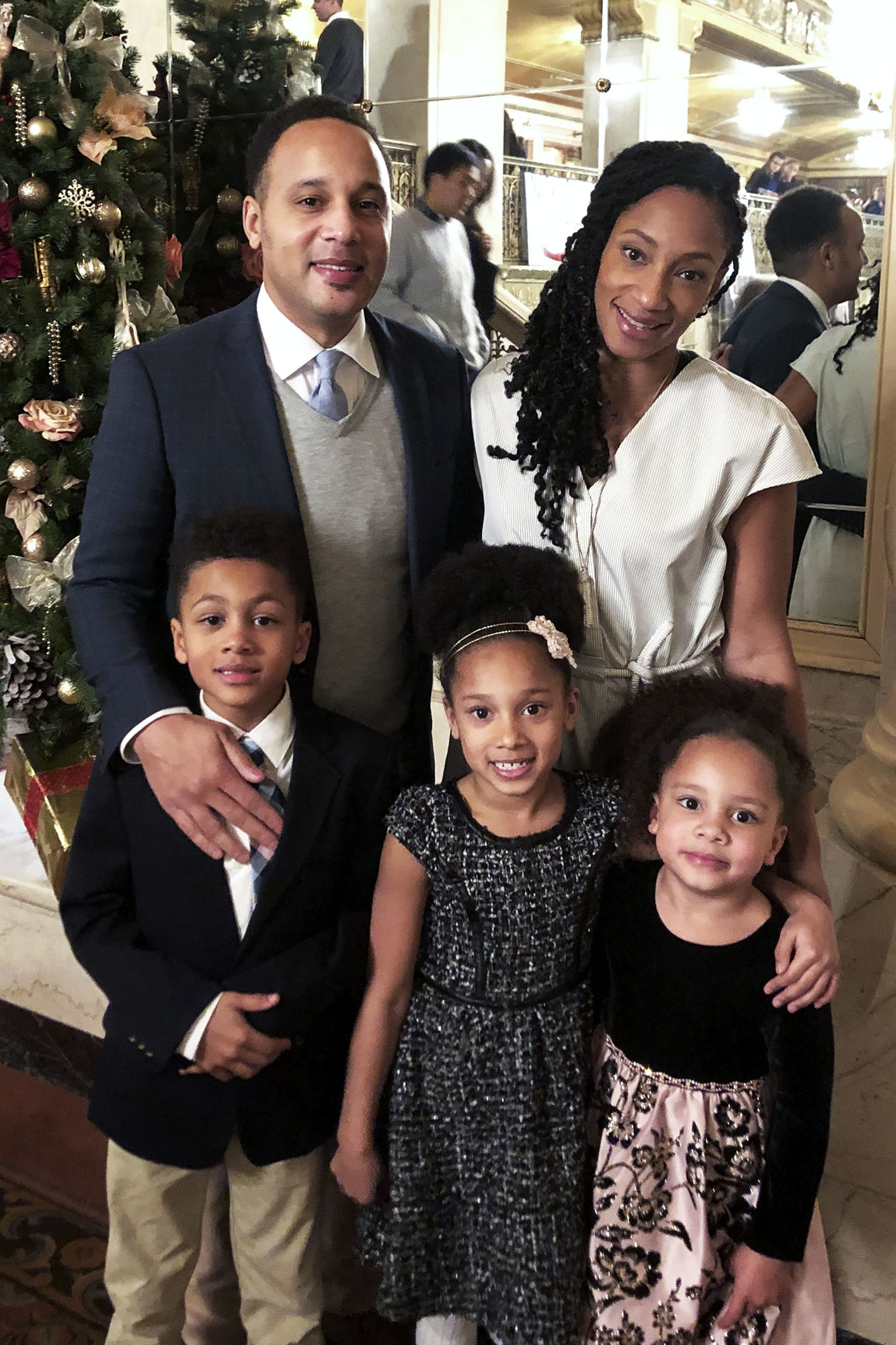 We've also tried to look at this moment as a unique opportunity. Very rarely do you get six months of uninterrupted time where you're with your kids from morning until night. So we've viewed this as an opportunity, as much as we can, to learn about our kids and learn about the ways that they learn, learn about the ways that they interact with each other, and about the ways that they are motivated. These are all little things that can easily be missed, especially when you're not intricately involved in your kids' schooling like we've been over the last few months.
This is a chapter that will soon end with schools reopening. Surely, it's been a difficult chapter, but it's also been a sweet chapter, and a chapter that 30 years from now, we will remember.
Q. Stanford and UVA are often mentioned in the same breath in terms of top academic institutions. How have your experiences compared?
A. I've always fed off of challenging environments that demand a lot of me . These are the types of spaces I have always sought out for myself. I knew that UVA was one of these places the first time I stepped foot on Grounds. It was demanding, for sure, but it was also nurturing. Most of all, it was a place where I felt I could flourish. This is part of the reason UVA has always felt like home for me. The opportunity I now have as a tenure-track professor at Stanford is also that: to be challenged and to be stretched and to work alongside extraordinary colleagues and students. And it's been fantastic.
Article Information
October 20, 2020
/content/hoo-rizons-former-nfl-alum-now-making-educational-impact-stanford-professor