One VHS tape changed everything for University of Virginia alumna Angela Hucles Mangano.
As a child, Hucles Mangano popped the tape into her family's VCR and, seconds later, saw something she hadn't known existed: women playing soccer at the very highest of levels.
The video told the story of the United States National Team's dominating performance at the inaugural women's World Cup in 1991.
"I was like, 'Oh my gosh! There are other people who are females who are just as competitive and who love the sport just as much as I do and who are playing at this amazing level?'" Hucles Mangano recalled.
Growing up in Virginia Beach, Hucles Mangano was often the only girl on teams. It wasn't until she got to junior high school that she had female teammates. Before then, one of Hucles Mangano's coaches happened to be a woman, but she otherwise didn't have any other females in the sport she could look up to.
That's what made what she was watching on the VHS tape so important.
The national team, then coached by University of North Carolina head coach Anson Dorrance, featured April Heinrichs – who would later serve as UVA head coach – Michelle Akers-Stahl, Carin Jennings and others.
"I think that was the first time that I actually had not just one, but a group of role models to really look up to, to emulate," Hucles Mangano said. "A seed was planted of, 'I want to play for that team one day.'"
Hucles Mangano would do just that, going on to an illustrious career at the college, professional and international levels.
At UVA, Hucles Mangano – who played for Heinrichs – was All-Atlantic Coast Conference in each of her four years and scored a school-record 59 goals, including a whopping 19 game-winners, before graduating with a degree in anthropology in 1999.
Hucles Mangano then earned two Olympic gold medals as a national team member and played professionally for several clubs. She retired in 2009.
These days, Hucles Mangano is keeping rather busy. Now living in Los Angeles and running a real estate business, Hucles and her wife, Meg, have a 3-year-old son, Huntley, and a 6-week-old daughter, Avyanna.
If that isn't enough, Hucles Mangano also serves on UVA's Board of Visitors, works as a television analyst for the ACC Network and just purchased a professional soccer expansion team (called "Angel City" for the time being) that will begin play in the National Women's Soccer League in 2022.
In addition, Hucles Mangano, whose parents were professors at Old Dominion University, is a regular speaker on topics of sports leadership, equality, inclusion and safe spaces, anti-bullying and the power of sport and its impact on personal growth and development.
Hucles Mangano laughed when asked about everything going on in her life at the moment.
"We have a fun and crazy house right now," she said.
"It's just how I kind of do life. I love adventure and I love personal development and growth, and I'm getting a mix of both of those right now. It definitely has its challenges – just the balancing act right now of work and family, but it's also something that I love being able to have. The way that we've set up our careers to have a little bit of flexibility is really nice and very beneficial for a time like this."
UVA Today caught up with Hucles Mangano.
Q. What age did you start playing soccer, and what are some of your earliest soccer-playing memories?
A. I was 7 years old and it really seemed to be just one of those things where my parents were trying to expose me to the sports world and have an outlet for me, a physical activity. I don't think I really knew what soccer was at the time. I feel like there were a couple options with the rec and neighborhood league and my mom was like, "Do you want to play this or this?" I chose soccer not really knowing what it was. … I loved it instantly. I fell in love with it.
Q. What did you love about it, and why do you still love it so much?
A. I always say it's the orange slices at halftime that really helped motivate me to get out there [laughing], but I think it was just freeing. There was something about it. I think just being able to run around and have that feeling of freedom on the field. I think as I started to go to practices and be around the team, I grew to love the team sport element and really being able to do something on the field together as a group. That was something that was really exciting and challenging. I think it provided enough challenge for my competitiveness at the time and also was just that feeling of freedom on the field. I think I recognized it was just something I felt good doing, and so it kind of provided that confidence for me. It was the perfect combination for me to enjoy it from the beginning and stick with it.
Q. Why was the opportunity to be an owner of a pro team so enticing?
A. I think, first and foremost, to have an opportunity to see the sport in a different way.
From [being] a player, when I started getting into commentating, it was a whole 'nother world that was opened up to me in terms of how I viewed the game – breaking it down and the analysis. And so, to have the opportunity as an owner to grow the sport in a different way, in arguably the world's best league, and to see the growth that's happened now – I just think it was the perfect time.
To be able to jump in at this level is something I'm very grateful for and excited about because the opportunities to be an owner of a women's professional soccer team as a woman, as a person of color – this just isn't something that you see a lot of. And so hopefully I am in a position to open up more doors for more people. I think that was another layer to it.
Q. As a woman of color, do you feel any added responsibility to grow the game, especially in underserved communities?
A. I think I always feel that responsibility. It has nothing to do specifically with Angel City. I think it just has to do with who I am and the different groups and people I represent.
I've had opportunities in my life and have had great support and education, the ability to just play the game of soccer and to have access to a sport where a lot of communities don't have safe spaces to play. I understand and recognize that, and for me, understanding the value and importance that sport has had in my life – I just believe every young person, especially girls and people of color in underserved communities, should have at least the opportunity to participate in sports. That's something I'll always have as part of my makeup and something that I'll always take on as a responsibility.
Q. It's a pretty large ownership group. Do you personally know any of the non-soccer-playing owners – Serena Williams, Natalie Portman, Eva Longoria?
A. They're all my best friends, yeah [joking]. But it's interesting because I wound up meeting some of them at a game out here in Los Angeles, where I'm pretty sure those conversations really started. They were out here supporting the team for the equal pay advocacy that the women's team was going through.
Eva Longoria has been a longtime supporter of the team. I think it was back in 2005 or 2006 when she invited the U.S. team out to one of her restaurants in L.A. So some of these investors and owners are longtime supporters. They're fans of the team. They're fans of the game and the sport.
I think the diversity of this group is one of its powers. Everyone is from different industries and we all have different perspectives. I think that's a huge value add when you get all those thoughts, perspectives and expertise together to create something meaningful and powerful.  
Q. Over the years, a lot of pro soccer teams haven't been sustainable. What makes you think your franchise can be?
A. There's just a different appetite for women's soccer in our country right now, and I think we're seeing it with the excitement of Angel City and we're seeing it in the response with the local community here as well. We're seeing it on the international stage for the World Cups and Olympics as well. I think the timing is just right for a team in the one of the most vibrant cities in our country, in terms of entertainment and sports.
Q. How has soccer at the youth level changed from the time you were playing?
A. It's changed a lot, and then it hasn't changed a whole lot, either, at the same time. There are definitely more opportunities and there's more visibility, but I still feel, just like a lot of other social movements, that there's still a long way to go.
You look at Title IX issues and compliance and just being able to use legalities to help correct problems for better access to sports … but we're still not seeing enough, I believe. We're still not seeing the exposure to the sport for certain communities – to realize that it is even an option for them. In terms of being able to expose everybody who might want to see the game and have an opportunity to play, there's still a lot of work to be done.
Q. You scored so many goals in your career. What's one you'll always remember?
A. One of my favorites was at the international level [in 2008], and my dad recently told me it was also one of his favorites. I believe it was against Australia or Sweden. I had just been subbed into the game. We had been up by three goals, but they had come back to tie us. I was subbed in late in the match. We had a free kick from Cat Whitehill. She sent the ball in and I remember Abby Wambach, who was the target, went to head the ball. There was a space behind her, she was able flick the ball to me and I was able to score the goal off a volley. The ball never hit the ground – it just one-touched – and we wound up winning the game.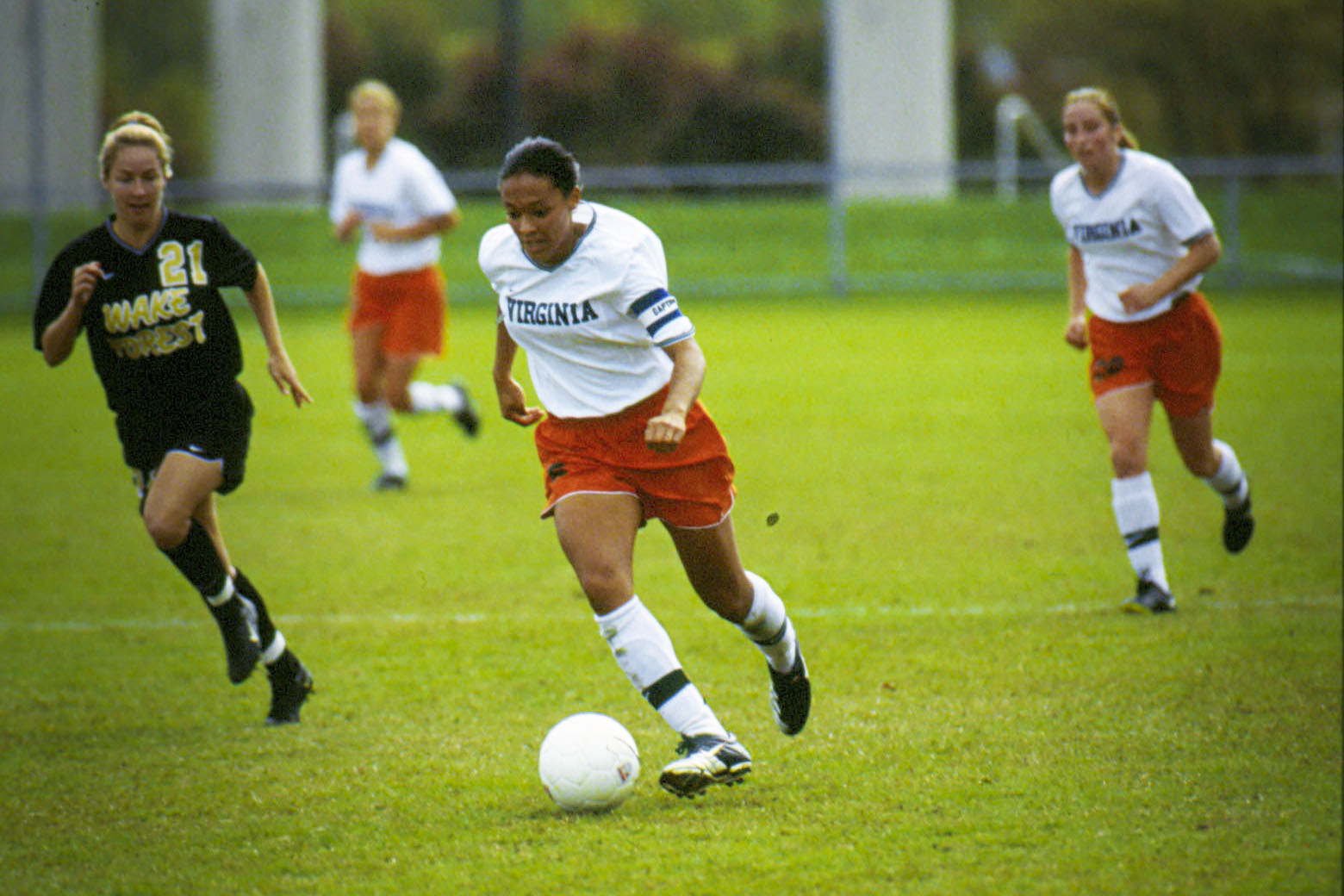 Hucles Mangano is the UVA women's soccer team's all-time leading scorer. (UVA Athletics photo)
I think having that teamwork and everything working out so perfectly – that's part of the sweet spot in what we really love about soccer, at least for me.
Q. What are your fondest memories from your time at UVA?
A. Definitely playing at Klöckner Stadium. I spent a lot of time there. The falls – with the crispness in the air and the leaves and the colors – are still something that bring me back to my time at the University.
I was in a program during my fourth year called Leadership 2000 in which I was able to be a part of a group of different leaders from different clubs and different organizations. As a student-athlete, that was memorable to see other groups and other students' experiences. It was really neat.
Q. Do you have favorite professors or classes that have stuck with you and influenced you as you've grown older?
A. Yeah, one of the reasons I selected anthropology [as a major] was because I just loved the classes. Looking at my parents who were psychology and history [professors], it was almost a little bit of a mix of the two with anthropology. But just understanding people and how they lived in their cultures – for me that was extremely intriguing.
I wrote my thesis on non-traditional families, and then essentially became one of those nontraditional families. But it was super impactful in terms of my learning and growth and how I wound up living my life.
Q. What's it been like serving on the UVA Board of Visitors?
A. For me, it's been personally rewarding, just in terms of being reconnected to the University in this way, but also being able to see how President Ryan operates and how the board operates and the decisions that need to be made. I don't think I had the awareness of how much people are looking out for the University, and the students, staff, faculty and community. I think it's reassuring, but also has just made me love the University even more.
Obviously, there are a lot of tough decisions right now that need to be made, but understanding and knowing the thought and care, the attention to detail to how every decision is made and how everything is in the best interests of the University – it's just been a really interesting and rewarding experience. I feel very honored to be a part of the board. Everything is just so tied to the community, and I think I've been able to see that in much better detail being on this side of things, as opposed to a student.
Q. What would be your advice to young girls who love soccer and who are hoping to someday play in college, and perhaps beyond?
A. I think if it's something you're passionate about, follow it. Try and make the things you're not as good at better. If you can identify some of the things you are really good at and are unique and special to you, practice that even more; try and perfect that as much as you can. I think it will be even more important to your development as an athlete.
Article Information
August 24, 2020
/content/hoo-rizons-former-soccer-star-and-bov-member-now-owns-team-la