Former University of Virginia basketball star Kyle Guy still speaks with Cavalier head coach Tony Bennett at least a couple times every month, depending on their respective schedules.
But recently they chatted twice within a three-day span. They had a special reason.
The pair's first conversation, which occurred Saturday, marked the two-year anniversary of UVA's Final Four victory over Auburn University. The second came on Monday, the two-year mark of the Hoos' win over Texas Tech University in the national championship game.
"I'll keep those conversations private," said Guy, during a phone interview on Tuesday, "but just know that they were happy conversations – nice little reminiscent moments."
After UVA's two-year reign as national champions came to an end following Baylor University's win over Gonzaga University on Monday night, UVA Today caught up with Guy – a member of the NBA's Sacramento Kings since 2019 – for a wide-ranging discussion.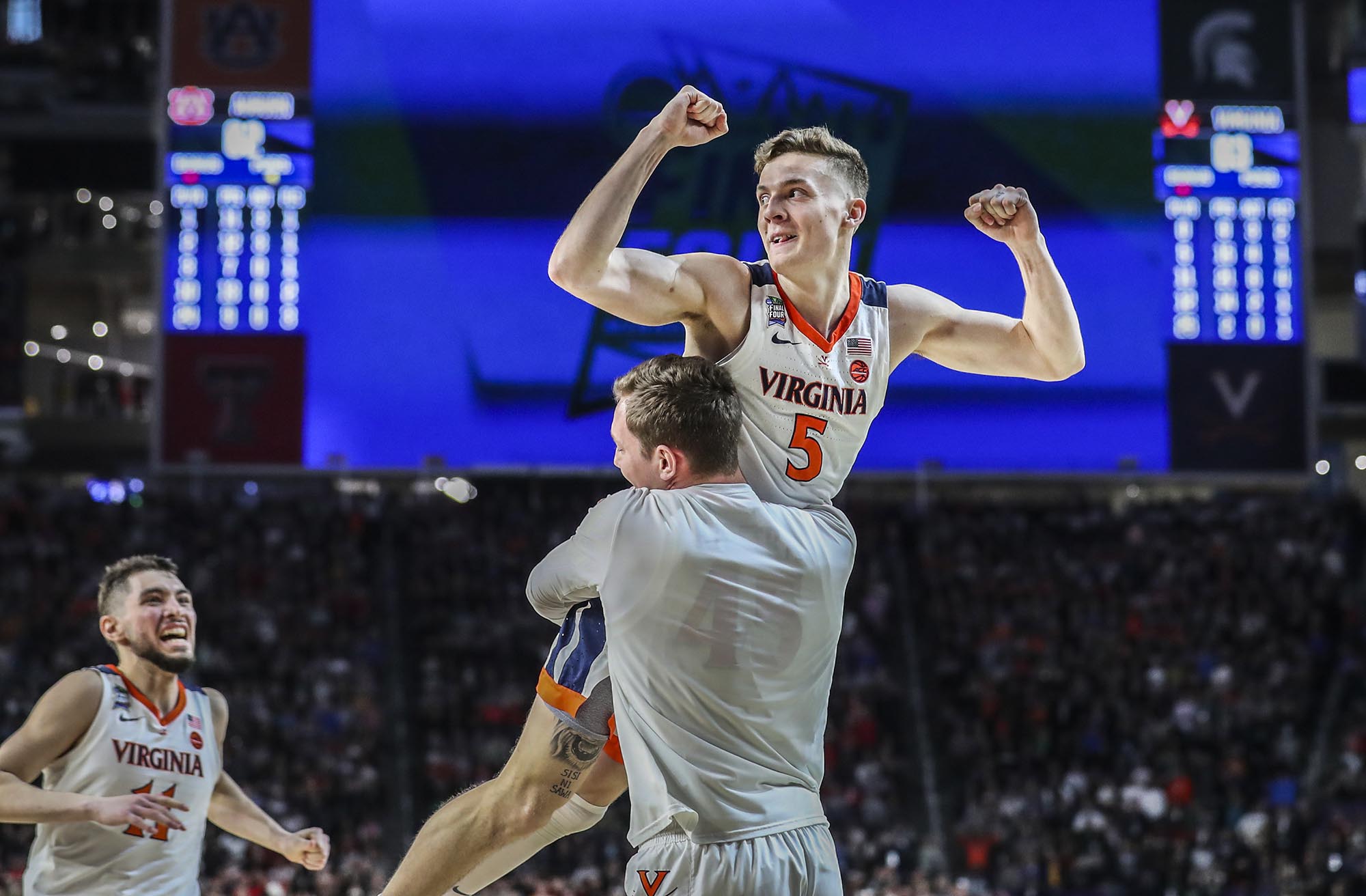 Guy was named Most Outstanding Player of the 2019 NCAA Tournament. (Photo by Matt Riley, University Athletics)
Q. A lot of people are saying that the UCLA-Gonzaga semifinal game last weekend was the best tournament game they'd ever seen. I'm assuming you would beg to differ?
A. Yeah, I would [chuckle], but No. 1 – it was a great game. There's no getting that twisted. But [people] haven't seen a tournament in two years, so it's easy to forget the Purdue game [UVA's overtime victory in the 2019 Elite Eight] – or any of our last three games, honestly, but especially that Purdue game.
The [Christian] Laettner shot [giving Duke a win in the 1992 Elite Eight], the Villanova one [in the 2016 championship game] where they hit the buzzer-beater – those are the best college games I've seen, along with the Purdue one.
Q. Everyone remembers those three free throws you hit in the Auburn game in the national semis. Has hitting those in any way changed the way that you approach pressure situations – be it on the basketball court or just life in general?
A. Yeah, it has. But I would say I've kind of dealt with pressure situations the same since I was in high school, so I was prepared for that moment, moreso than letting that moment prepare me.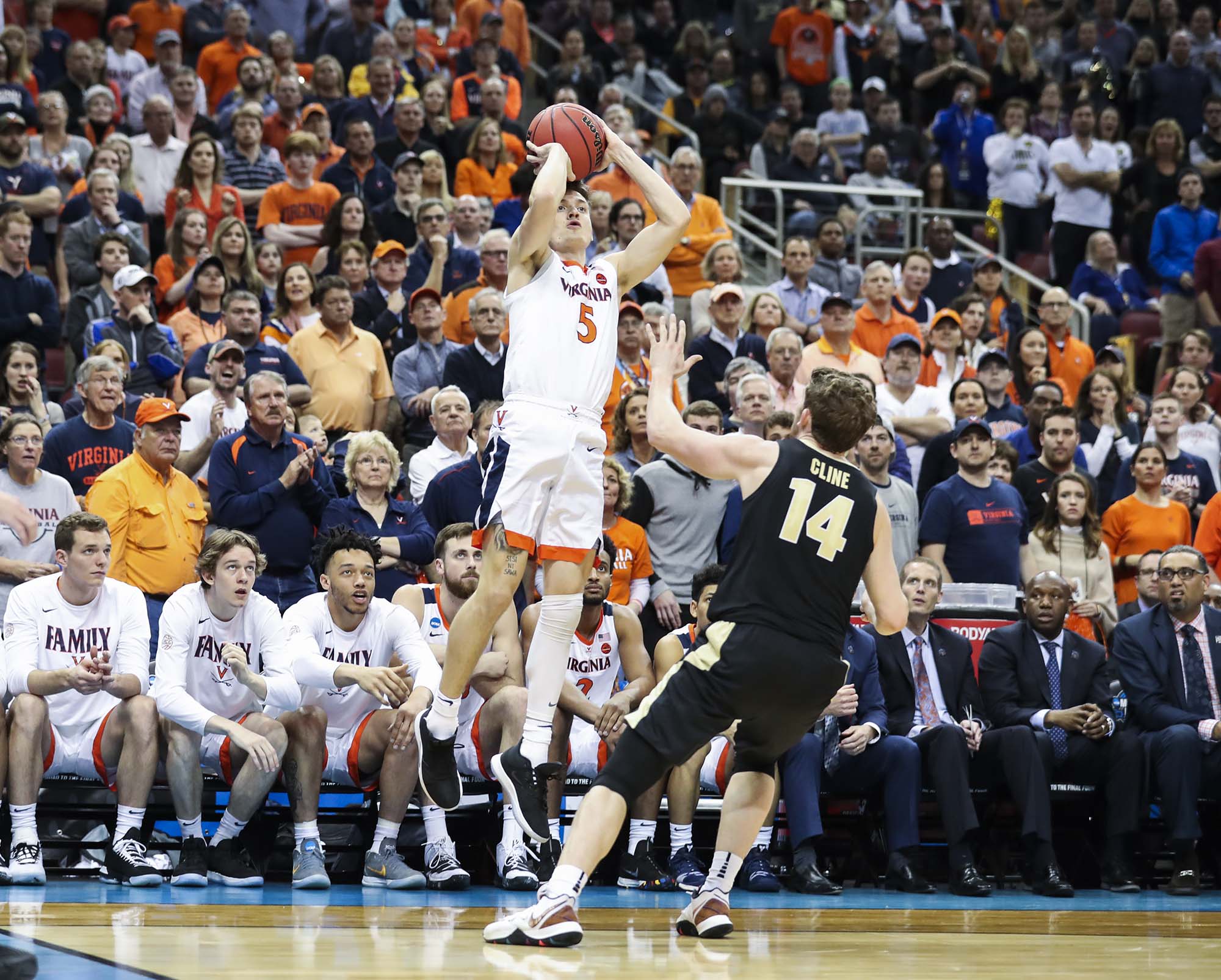 Guy believes UVA's win over Purdue was one of the greatest college basketball games ever. (Photo by Matt Riley, University Athletics)
I said in the interview right after [the game] that I was nervous – but it was a good nervous. There are those TV or movie lines where they always say, "Are you afraid?" and someone will say, "Yeah." And then they'll say, "Well that's good, that means you're alive." It was just kind of that mindset. Yeah, I was a little bit nervous, but it was a good nervous – like "Why can't I be the person I was pretending to be in the driveway for all of my childhood trying to hit buzzer-beaters and all that stuff?"
I would say my life prepared me for that moment, but that was like the icing on the cake, and now I've solidified how I operate in pressure situations.
Q. Any advice for young players who are shooting free throws with the game on the line?
A. I would just tell them not to suppress any feelings. If you get the butterflies in your stomach like I used to get in high school – whatever it is, feel it, and then put it to the side and remember what the task is at hand. That's something I really like to do – I like to feel the natural emotions that are happening within my body. That's kind of how I feel like I have good instincts and I'm able to be in tune with what I'm feeling on the court.
Guy said he's still not sure whether winning the championship has sunk in. (Photo by Matt Riley, University Athletics)
Q. Looking back now, two years later, what are the things that stand out the most about the run you guys had?
A. I would say just the resiliency. I can't tell you how many teams would have probably folded in that first game against [16th-seeded] Gardner-Webb [University], being down again. We had just gone through the gauntlet of that season, media and criticism-wise. Being able to move right past that right after halftime and finish the game the right way – that was probably one of the more underrated moments of that tournament run. It was overshadowed by great moments in the Elite Eight, Final Four and championship, but I would say that was probably one of the more profound moments. It kind of put a stamp on what we were about.
Q. You've said in interviews that winning the NCAA championship has never really sunk in. Do you think it ever will?
A. Oh man, I don't know. I've gotten used to saying it, but that doesn't mean I fully comprehend that we won it.
I'll tell you this much – I hate being a fan. Virginia basketball will just take years off your life in general, but not having the control that I did when I was playing – it's way more stressful than playing. I do not enjoy being a fan, I will tell you that much.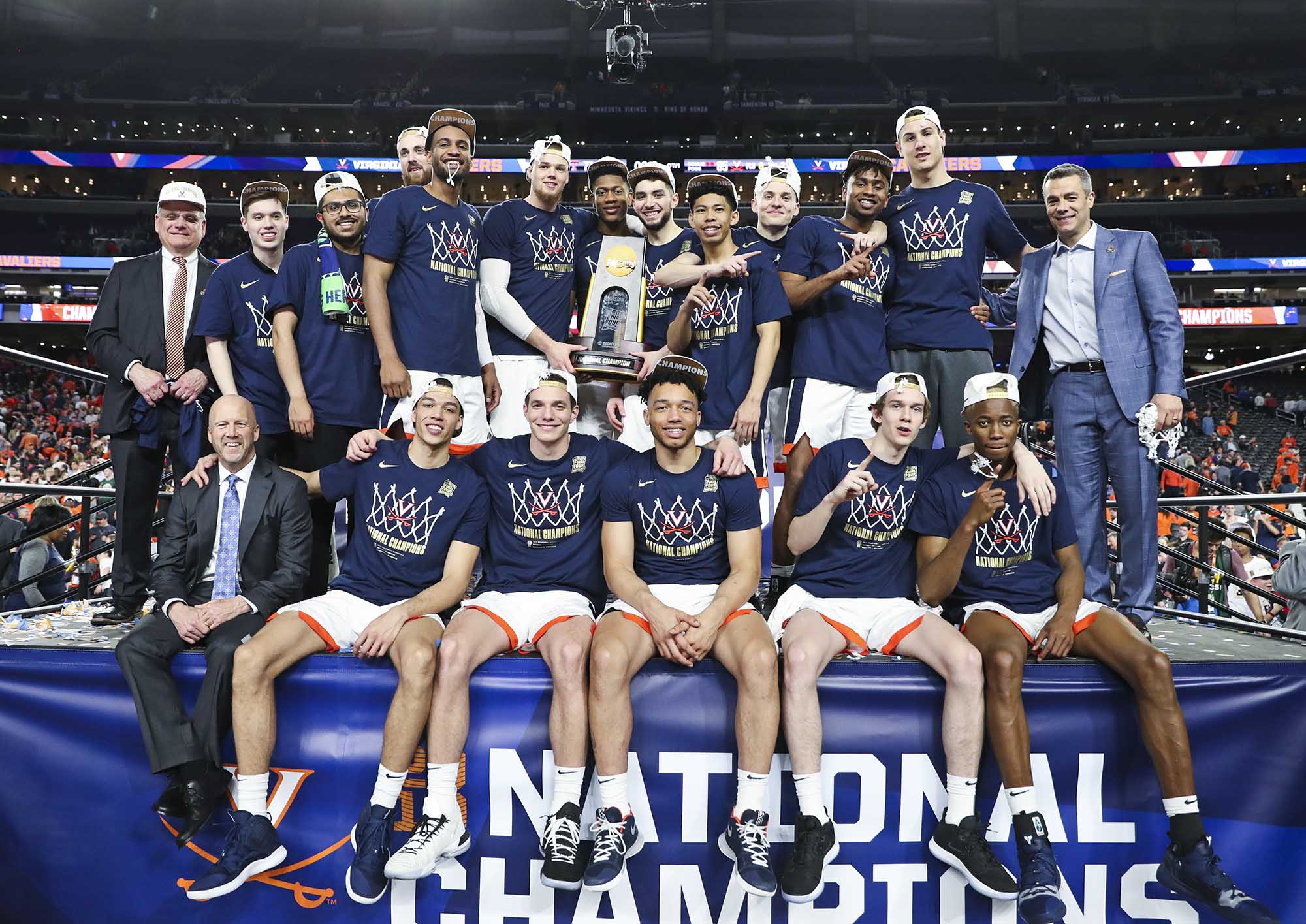 Guy said he remains in touch with all of his former teammates. (Photo by Matt Riley, University Athletics)
Q. You seem to still get a little agitated on social media by people who continue to criticize UVA's style of play. What irks you?
A. I wouldn't say "agitated." "Irks" is probably a little bit better. It's just because if you're not on board with winning, that's fine. … I do enjoy telling people that sometimes. If they're being super rude or something, they deserve to know that. No matter what your scheme is, a win is a win. Everybody always says that – right? – but then this tournament, if you ask any betting man, all the unders hit and all these teams weren't scoring very many points, except for Gonzaga and Baylor for the most part. But nobody had a problem with that.
So it's just kind of a stigma that's stuck with UVA, which stinks, but I'd rather have a national championship with that stigma than be a team that plays really fast and doesn't have a national championship.
Q. Can you take us through the moment when you found out you were becoming a father? What was that like for you?
A. I was on a two-week road trip right after Christmas and I had just landed. I texted [wife Alexa] and she was like, "Awesome because one of your presents just got here!" She said it hadn't come in time [for Christmas], which made sense since COVID packages hadn't been arriving on time and stuff.
So she handed me this shoe box and I was like, "Dope! I'm getting a pair of shoes!" I opened it and there was a onesie and two pregnancy tests inside. I was like, "Oh [wow]! Then I was like, "OK, let's do it!" I was really calm. Honestly, it was a perfect example of your second question about pressure situations … I was just excited. And then we found out that it was a boy and that was pretty awesome.
Q. How is Alexa doing, and when is she due? Any name picked out yet?
A. We've decided to let Kyle Jr. go – so there will be no junior or the second out there. But she's doing good. She's due September 17.
We have one name we like, but don't love it, so we're still taking ideas in. But we decided we're not discussing those names with anyone, not even our parents, because we don't want anybody telling us whether they like or dislike the name.
Q. Coming out of high school, you were recruited by so many schools and really could have played anywhere. What sold you much on UVA?
A. Tony Bennett, man. I think that's probably everyone's answer, but it's the truth. Him and the coaching staff are just different than other coaching staffs. Even [former University of North Carolina head coach] Roy Williams, in his retirement press conference, said he was a fantastic coach – and he didn't have to say anything about Tony. He's just different.
And if you know anything about me, I like to be different or an outcast or an outlier. So when he told me that I was going to have to work for my job and he wasn't going to give me anything, that was the first time any coach had told me that – so it was a no-brainer after I heard that.
Q. Which teammates do you keep up with most regularly?
A. I keep up with everyone, from Isaiah [Wilkins] to Marco [Anthony] – I was rooting hard for him [and Utah State] in the tournament this year – to Jack Salt. I probably talk to Ty [Jerome], De'Andre [Hunter] and Jack [Salt] the most, also Austin [Katstra] and Grant [Kersey] – those are my guys. And Kihei [Clark] a little bit here and there. So I talk to everyone and keep up with everybody. Most of the time it's over social media because we're in our seasons, but then in the summer we find a way to connect and hang out.
Tony Bennett and his coaching staff was the main reason Guy decided to come to UVA. (Photo by Matt Riley, University Athletics)
Q. What did you make of the team's season this year?
A. Obviously, I was bummed that we lost in the first round, but Ohio was a solid team, man. I feel like we kind of got shafted on our seeding. A four seed for winning the ACC doesn't sound right. But either way, win or lose, those guys are better people for being in the program. They're better players for being in the program. All those guys are going to do big things.
I saw an article that said, "I don't even know what Tony Bennett's roster is going to be like next year, but I know I'm going to have them in the Top 25." And that's kind of a testament to what he's built – that it really doesn't matter. He's just going to pull the best out of each person on the team.
Q. Have you had a "welcome to the NBA" moment?
A. Yes and no. Everyone's is usually getting crossed or dunked on – playing great defense on a great player and he still scores. I haven't had the opportunity to play a whole bunch of minutes, but [Portland's Carmelo Anthony] has guarded me a couple times. I've always seemed to play against Portland and the Warriors – so I'm playing against Steph [Curry] and Draymond [Green] and Damian [Lillard]. That's cool in itself. I've definitely had some really cool moments I won't forget.
Q. Who's the toughest player you've had to guard?
A. There's a few in the G-League [the NBA's minor league] that don't get a lot of recognition. Talen Horton-Tucker – who I've guarded in both the G-League and in the NBA – is deceptively very good at what he does.
I've guarded Steph [Curry] a few possessions. I think he missed both times I was guarding him, but it wasn't because of me; he just happened to miss.
Q. What's your favorite thing about living in Sacramento?
A. The weather and the location in California – I am an hour from Napa Valley, an hour from San Francisco, two hours from Lake Tahoe, two hours from Yosemite [National Park], a 45-minute flight to LA. or Vegas. Whatever you're in the mood for, it has. That's been nice – broadening my horizon of travel.
Q. Have you given any thought to what you want to do career-wise after your basketball career is over?
A. I'm big into movies, so I don't know if that means acting or directing, but definitely that kind of stuff. At some point, I'd want to write a book or two. Honestly, I just kind of have an entrepreneur-type mindset. I've also thought about coaching. As Pocahontas would say, wherever the wind takes me is what I will do.
Q. Which classes at UVA or professors had the biggest impact on you?
A. Probably my sign language teacher, Bobbie Dietz. She was super supportive of everything. There were a couple times where I was tired from the road or whatever and she would send me a supportive email – especially after we lost to [the University of Maryland-Baltimore County, in the first round of the 2018 NCAA Tournament].
And sign language was a class I really enjoyed going to. I had a bunch of buddies in there, and she was the teacher. I'd say she probably had one of the bigger impacts.
Q. How do you think UVA helped shape you into the person you are today?
A. I think on the basketball side, the leadership lessons I had from Tony and [his staff], all the way down the line, I took a little bit from every person I encountered.
And then the school atmosphere was just everything I could have wanted. I'm not a huge partier, but, as most college students do, I dabbled. When's the time to relax and have fun and when's the time to make sure you're getting your [stuff] done? It had the perfect balance – and that's UVA.
And all the athletes in all the sports supported each other. I can't tell you how many soccer games I went to or football games or volleyball games. That was pretty unique. Most schools I hear their athletes don't mesh as well as UVA's. That was awesome.
Article Information
April 7, 2021
/content/hoo-rizons-guy-reflects-ncaa-title-nba-and-moment-he-became-dad