"Start where you are. Use what you have. Do what you can. Words made famous by the late tennis great Arthur Ashe.
But for former University of Virginia football player Ian-Yates Cunningham, they are much more than that.
Cunningham was a second cousin of Ashe, and as a young boy grew up with many of the values that the pioneering tennis great championed.
Right at the heart of everything is the well-known quote.
"Arthur was instrumental in our family, in our house," said Cunningham, now the director of college scouting for the NFL's Philadelphia Eagles. "Still, to this day, my dad talks about him. Arthur was like a big brother to my dad. My dad looked up to him and they were extremely close."
Ashe couldn't play in many tournaments in his hometown of Richmond because he was Black, but went on to become the only Black man to have ever won the singles titles at Wimbledon, the U.S. Open and Australian Open.
Cunningham remembers attending Ashe's funeral in 1993, and, a few years later, the opening of the new U.S. Open stadium named in his honor.
These days, Cunningham is trying to raise three kids of his own with his wife, Justine, the way his parents, Louis and Linda, raised him.
"A lot of it is values – helping others, defending people who can't defend themselves, standing up for what you believe in," Cunningham said. "In a nutshell, it's just helping others, helping the less fortunate and serving people."
Cunningham's father, Louis – who is now retired and living in Greensboro, North Carolina – grew up in Petersburg. He attended Rice University, then went into a career that included working as a sports agent, entrepreneur, vice president of marketing for the 1996 Olympic Games and as the athletic director at Alabama A&M University.
Cunningham's mother, Linda Morant-Okunga, works as the chief digital officer for The Crowne Estate, a collection of lands and holdings within the United Kingdom belonging to Queen Elizabeth II.
"The things that I'm teaching my kids, are essentially, from down the line, what Arthur taught us," Cunningham said. "I'm extremely appreciative of having had him as part of our family. I continue, to this day, to try and learn as much as I can about him. He was a special person."
Cunningham, who graduated in 2007 with a degree in psychology before getting his master's degree from the Curry School of Education and Human Development, was recently named to The Athletic's "Forty Under Forty" – a list of the 40 "brightest rising stars across all facets of the NFL," from coaches to executives, from agents to the league office, who are under the age of 40.
Cunningham worked in scouting for the Baltimore Ravens for the first nine years of his career, winning a Super Bowl with the franchise in 2013, prior to joining the Eagles in 2017 and winning another Lombardi Trophy with former Hoos teammate Chris Long.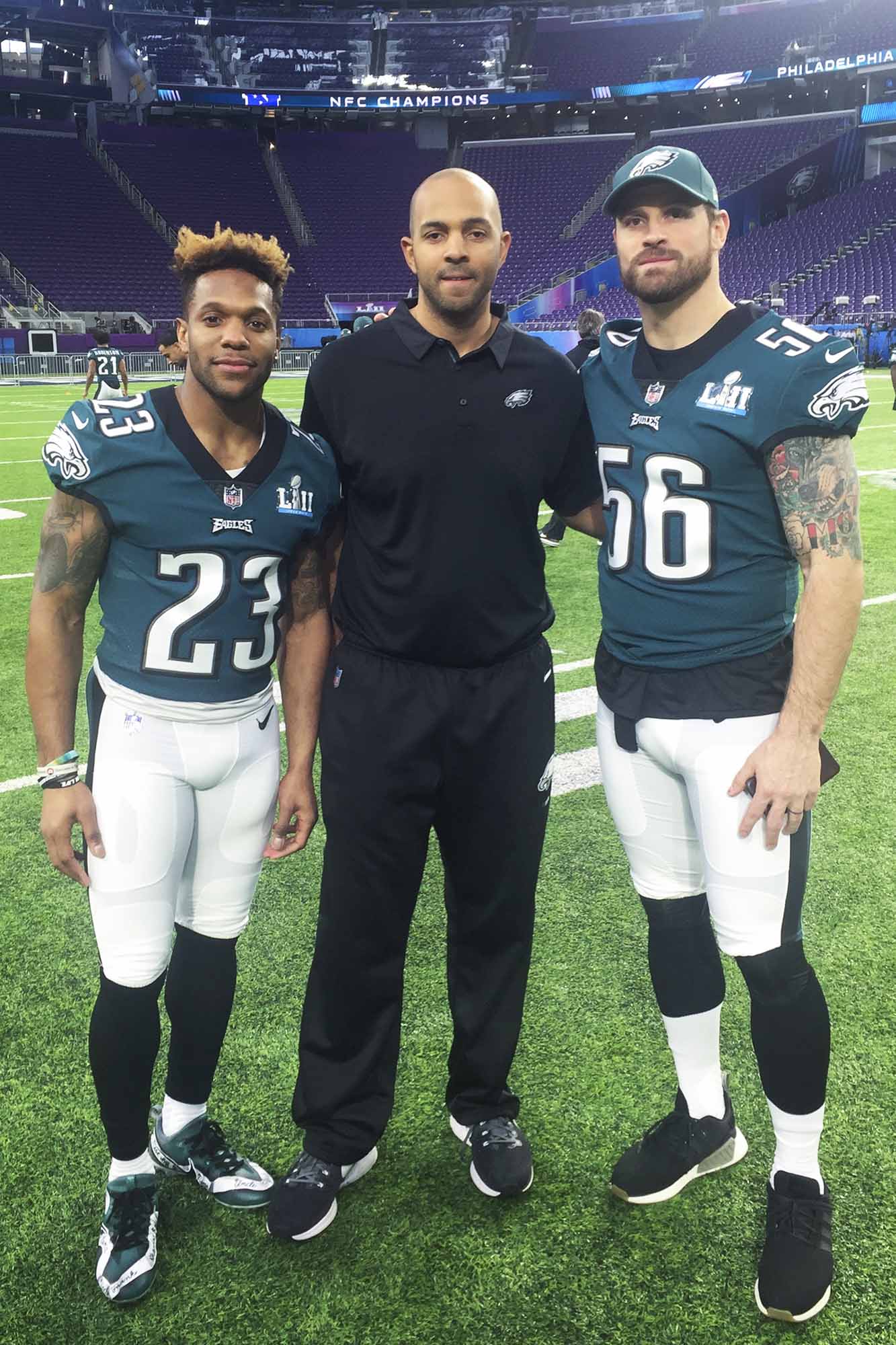 During his time with the Eagles, Cunningham has had the chance to work with former UVA players Rodney McLeod and Chris Long. (Contributed photo)
In lauding Cunningham's attributes and accomplishments, The Athletic article stated: "In a league with only two Black general managers, he's among the depressingly few minority candidates in the GM pipeline."
UVA Today caught up with Cunningham – a Dallas native – for a wide-ranging chat.
Q. What do you enjoy most about your job?
A. Communicating with people and getting to know them, and then, from the football aspect, being able to evaluate talent and help build a team on the field, getting to know players off the field and learning what makes them tick. Obviously, there's the camaraderie I still have with football – being part of a team and working together as a staff from a personnel side and a coaching side. That's the joy that I get out of it.
Q. In terms of what you're doing now career-wise, who have been some of your biggest influences in the sport?
A. Al Groh, first and foremost, for what he was able to provide to me as a coach, a leader and a mentor to this day. Ozzie Newsome, who was the general manager of the Baltimore Ravens when I was there, took me under his wing and gave me a chance coming out of college to be able to learn from him. And Eric DeCosta, who's the GM there now, and Joe Douglas, who's the GM with the New York Jets. He's from Virginia, grew up a Virginia fan, and so there was a connection there. Those are the people who have really helped me in my professional career thus far.
Q. You're only 35 years old and you've already won two Super Bowl rings. Do you have to pinch yourself sometimes?
A. I'm just so fortunate to have been in organizations like the ones I've been with and the players we've had. Coming into the NFL as a grunt and trying to work your way up, you get to see on the practice field every day – Ray Lewis, Ed Reed, Terrell, Suggs, Joe Flacco, Anquan Bolden, Todd Heap, Matt Birk. These were true professionals, Hall of Famers. For me, they set the bar in terms of what a true Hall of Famers look like. Just seeing how they work helps me seek those types of players out on the collegiate side.
Q. How has the pandemic changed the way you've had to go about your job – day-to-day and big picture?
A. The day-to-day has changed a lot with scouting – lots of virtual calls with colleges. Normally, we would be on college campuses spending time, meeting with different sources. Right now, we're just trying to make the best of it. Fortunately enough, we had already started the draft process with schools [in early spring].
Normally, we'd be meeting with everyone in training camp, but this year we'll have to do it virtually. But part of our job is to be able to adapt, and we think we'll have a staff that will be able to do that moving forward.
Q. Every day now it seems like we're hearing daily about another NFL player who has "opted out" from playing this season due to COVID-19 concerns. It seems like a pretty tough spot to be in. If you were a player in the league, how do you think you would decide what to do?
A. I would take in all the information from the NFL Players Association and from the NFL that is being provided, and then do additional research on my own to try and create a plan that was the best fit for myself and my family, obviously taking into account my family's medical concerns, issues and all of that. Then just make the best decision you can as a family. It's unprecedented times, but I think that's what you would have to do – just take in all the information and make the best decision.
Q. What's it like to see your name on The Athletic's "Forty Under 40" List? What was you first reaction?
A. Somebody sent it to me and I had no idea what it was. As I was reading through, I finally got down to the part where it mentioned me, and I was pleasantly surprised to see my name on there. I just consider myself extremely fortunate and appreciative of the opportunity. To be honest, it was one of those things where I was like, "Thanks for sending this," but it came around the time we were starting to get ready for training camp and we were needing to really focus on what we needed to do as a team to help us get to the Super Bowl this year.
Q. Career-wise, what are your short and long-term career goals?
A. I want to continue each year to try and win – that's why we do what we do. We want to build a team that is capable of giving us a chance to raise the Lombardi again. Long-term, it's to one day be a general manager in the National Football League and help guide an organization to a Super Bowl and help other people along the way build themselves up to reach their goals as well.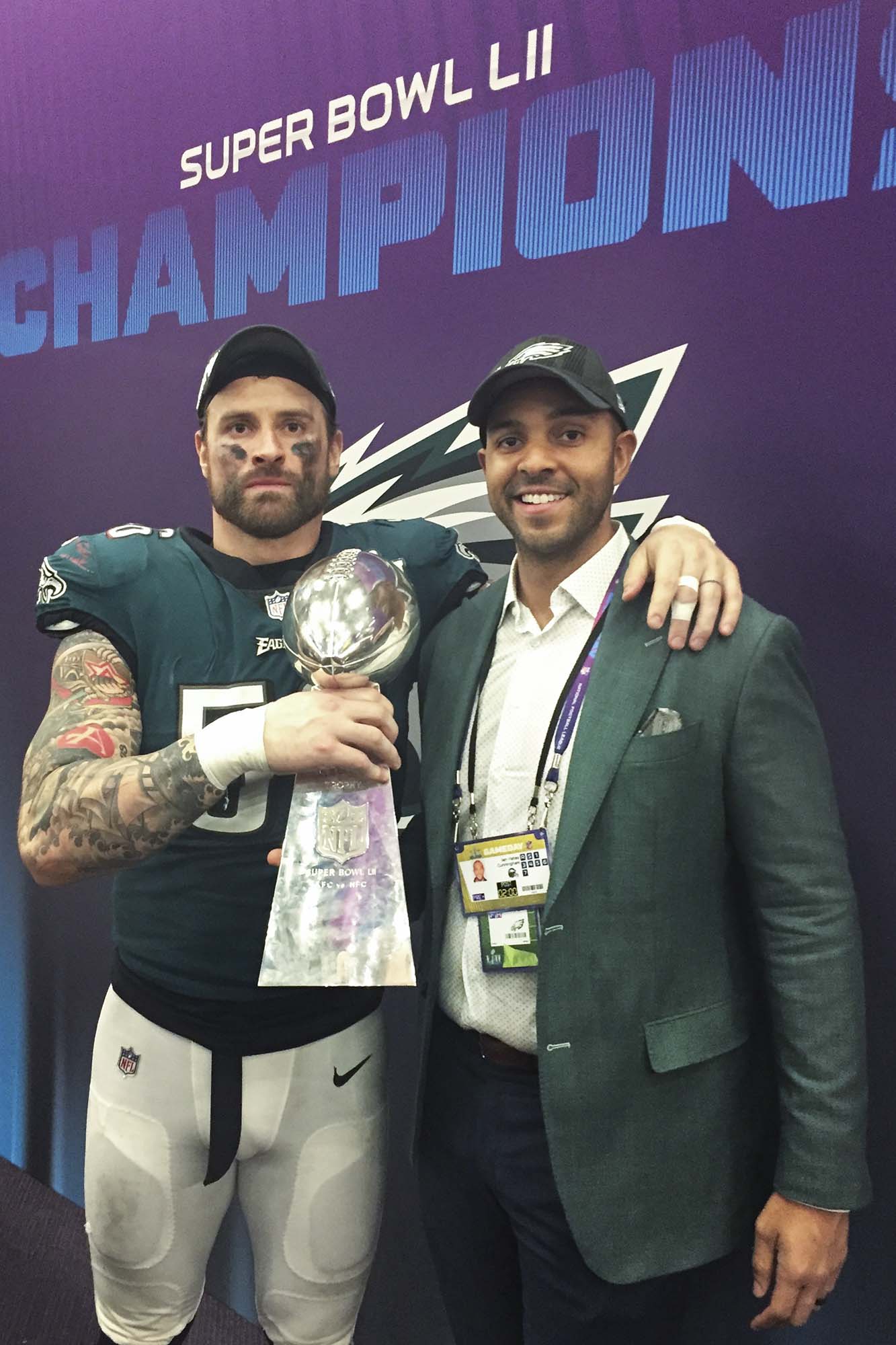 Cunningham, Long (left) and McLeod (not pictured) won a Super Bowl with the Eagles in 2018. (Contributed photo)
Q. Is it pretty exciting this time of year to know you're about to see all the players who you helped bring to the organization perform?
A. Yeah, we're doing a wind-up period right now where we have phase one, phase two, phase three. We're about a week away from phase three, where we put the pads on. It's exciting as the rookies get acclimated with the vets. Due to the pandemic, this is the first time they've had that chance.
Yeah, it's an exciting time. Having done all the background, watching the tape and going through the process that we do, now we get to see the fruits of everyone's labor. You get to see them with the helmet and playing.
Q. Being in a football-crazed market like Philadelphia, what's it like when every move you make – draft, trade – is so under the microscope?
A. You know, I feel like that's sports in general, right? Especially in professional sports where everything is out there and can be looked at and viewed and everybody has an opinion about it. The cool thing is the passion that the fanbase has. … It's great to be part of a team and have people who want to see you succeed. There's a large presence of Eagles fans, for sure.
Q. What are your fondest UVA memories, both on the field and off?
A. On the field, in 2003, I was a first-year when we beat Virginia Tech. … To see the joy the fanbase and the team and the coaches had in running out on the field after that game was special.
And then in 2007, when we beat Miami down there to close out the Orange Bowl was an awesome experience. It had the feel of a playoff game. I remember running out there and seeing "The Rock" [actor Dwayne Johnson] and other players who played there in the past – to be able to win in the last game played there ever was special.
Off the field, would be the classes and – I was an offensive lineman, so you remember a lot of the restaurants around town, for sure [laughing]. But it was great times.
Q. Who was the toughest player you ever had to block?
A. That's a tough one. The ACC, during that time, was so good. Going against Mario Williams, Manny Lawson and Tank Tyler [at North Carolina State] and Kentwan Balmer [University of North Carolina]. There were a lot of good players. It's funny – Roman Reigns [real name: Joe Anoa'i], who was the WWE champion, was a defensive tackle for Georgia Tech. I remember going against him.
Q. What's one class you took at UVA you'll always remember?
A. I was a psychology major, so psychology perception with professor [Dennis] Proffitt. It was hard, in the sense that it married math and psychology. It felt like it was apples and oranges. To come out of that unscathed was an accomplishment. That was one of the tougher classes in that major.
Q. How do you think UVA helped shape you into the person you are today?
A. To come out of UVA with two degrees and meet the people who I met along the way who were mentors then and still mentors now – I'll be forever indebted to that experience and to the University.
There's that sign in Athletics you always see, "Uncompromised Excellence." That's still a part of me. That will always resonate with me – then and now in terms of what it means to be a Virginia Cavalier. To have that as part of myself forever. I'm extremely thankful and appreciative.
Article Information
August 7, 2020
/content/hoo-rizons-pioneering-runs-former-football-players-family