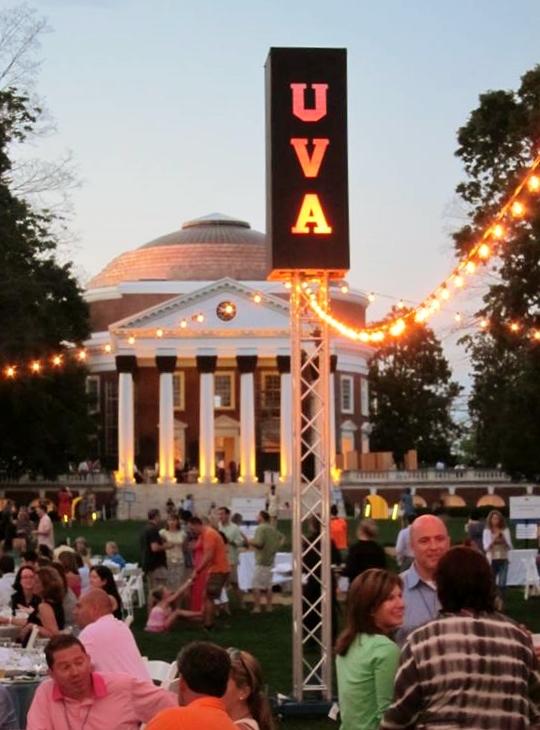 Nostalgia, laughs, food and fun filled Grounds as alumni returned to celebrate the University of Virginia's 2013 Reunions Weekend, held June 6-9.
More than 2,700 alumni from the classes whose graduation years ended in '8s' and '3s' – from 1968 to 2008 – attended the 100th anniversary of the event with their families, bringing total attendance to just over 4,500 for the weekend.
"Our attendance continues to grow for each reunion cycle every year," said Jason Life, managing director of alumni engagement at the U.Va. Alumni Association. "The attendance for this cycle of alumni was 25 percent larger than five years ago, and 70 percent larger than 10 years ago."
Reunions Weekend giving totaled more than $39.1 million. Every visiting class achieved its monetary goal, and the classes of 1963, 1978, 1983, 1988, 1993, 2003 and 2008 met or exceeded their participation goals.
Despite rainy weather on Thursday and Friday, participants enjoyed an array of events, including a wine festival, an open house at Carr's Hill, hypnotist Tom DeLuca, and alumni band Speidel, Goodrich and Goggin playing under a tent on the South Lawn.
Saturday featured an early morning road race, a yoga session on the Lawn and a variety of tours, open houses and class receptions. In the evening, classes dined outdoors on the Lawn and other spaces around Grounds.
"We had terrible weather on Thursday and Friday, but the atmosphere on Saturday was absolutely wonderful." Life said. "Having so many alumni of the University sitting in and around the Lawn creates such a festive atmosphere."
The night ended with parties featuring performances by Right On, The Skip Castro Band and The Breakfast Club.
The Alumni Association delivered several new events this year, including a talk by 1983 alumna Sheryl Stolberg, a former White House political correspondent for the New York Times. Her discussion on behind-the scenes Washington was one of the largest seminars for the weekend, drawing more than 150 guests to hear her speak in the Rotunda Dome Room.
"We try to feature more and more returning alumni in our seminars every year," said Cecil Banks, director of reunions and class activities for the U.Va. Alumni Association and an organizer of the event.
On Sunday morning, alumni enjoyed brunch and a "Crystal Ball" session from famed U.Va. politics professor Larry Sabato, director of U.Va.'s Center for Politics, before heading out.
The Alumni Association provided plenty of fun activities for children as well during the weekend, hosting a Kids' Carnival, Little 'Hoos Childcare, Kids' "College Sessions" and a movie night.
"It amazes just to see all these classes come back," said Banks, who celebrated his own class of 2003 reunion over the weekend. "The reunions may seem the same, but really each class has its own personality.
"You make some really good friends, and it's awesome to see a bunch of your friends come [back] to Grounds," he said. "And now they have their families with them."
— by Lauren Jones