Find the latest information on the University's response to the coronavirus here.
One of the first people to pressure the International Olympic Committee to postpone the 2020 Summer Games in Tokyo was University of Virginia head track and field coach Vin Lananna.
In mid-March, Lananna – who also serves as the president and chairs the board of USA Track & Field – wrote the IOC a letter urging them to do so.
A short time later, the Games were postponed until next summer.
"From an administrative perspective, it seemed illogical that we would bring 200-plus countries and all the athletes, coaches, spectators, all our officials, to one city while we are battling this pandemic," Lananna said. "It seemed illogical that in July we were going to be all-clear and then all of a sudden everything would have just opened up as business as usual. That's what the Olympics would have taken. We just didn't think we could get there."
Safety was always the top priority, though that didn't make the news any easier to swallow for athletes around the world – including several current and former UVA ones – who had dreamt of competing in Tokyo in 2020.
"When I was the head coach of Team USA in 2016, I remember all of those kids who won medals and were looking to come back and repeat in 2020, and also the ones who just missed and were trying to go back and get another crack in 2020 in Tokyo," Lananna said.
"It's devastating, absolutely devastating."
He is hopeful, though.
"Our athletes have proved time and time again – whether it was a boycott of the 1980 Olympics or something else that causes their training to be interrupted – that they are able to adjust," he said. "These are very bright, motivated athletes, and they will get it done and reignite their dreams going forward."
From the sports of track and field and swimming to rowing and soccer, dozens of current and former UVA athletes hope to eventually compete in Tokyo.
UVA Today caught up with fourth-year student Brenton Foster, a high-jumper from Australia; 2017 alumnus Filip Mihaljevic, a weight thrower from Bosnia; soccer star Becky Sauerbrunn, a 2007 alumna from St. Louis who was expecting to compete in her third Olympics; and Hannah Osborne, a New Zealand native who rowed for UVA from 2013 to 2015.
Q. What was your first reaction when you heard the Olympics had been postponed? How did it make you feel?
Foster: It was mixed emotions because, obviously, leading into it, I was set to go to Olympic Trials in Australia and then hopefully make the team. I was ranked second, so I had a really good chance.
But then I was somewhat relieved, because training and practicing is really hard. I don't have access to facilities at school and like everyone else, I'm pretty much house-bound. I don't think the performance of most of the athletes would have been up to the usual standards of the Olympics if it had been continued.
Sauerbrunn: I was relieved. A large group of athletes haven't yet qualified for the Games, so to be expecting them to train during this time and put themselves and others at risk is wildly irresponsible and unfair. And then to think of those who want to fly to Tokyo and sit in packed stadiums, it would be extremely dangerous.
Mihaljevic: When I heard the [initial] press conference by the Japanese prime minister, I was very confident that they would not cancel the Olympics. Even the Olympic torch had arrived to Japan. But I felt like the atmosphere was building up for it to be canceled.
When I found out the Olympics had been canceled, I was really sad for many reasons. I was in a great shape this winter and was looking to build on that for the summer. Now, when a few days have passed by, I look forward to another year of hard work and preparing for the next summer and I intend to use this extra year as extra motivation.
Osborne: It is a very surreal feeling that is very hard to describe. It is a mix of feelings which is fueled by uncertainty around what happens next. We had been working very hard toward a particular date. For that to be moved to the following year changes a lot of things.
FISA and the IOC are currently working through this to inform and help provide clarity. We just have to make the best of the situation moving forward. Resilience is part of being an athlete and this is an ultimate test. In a year's time, we are going to be fitter, faster and stronger.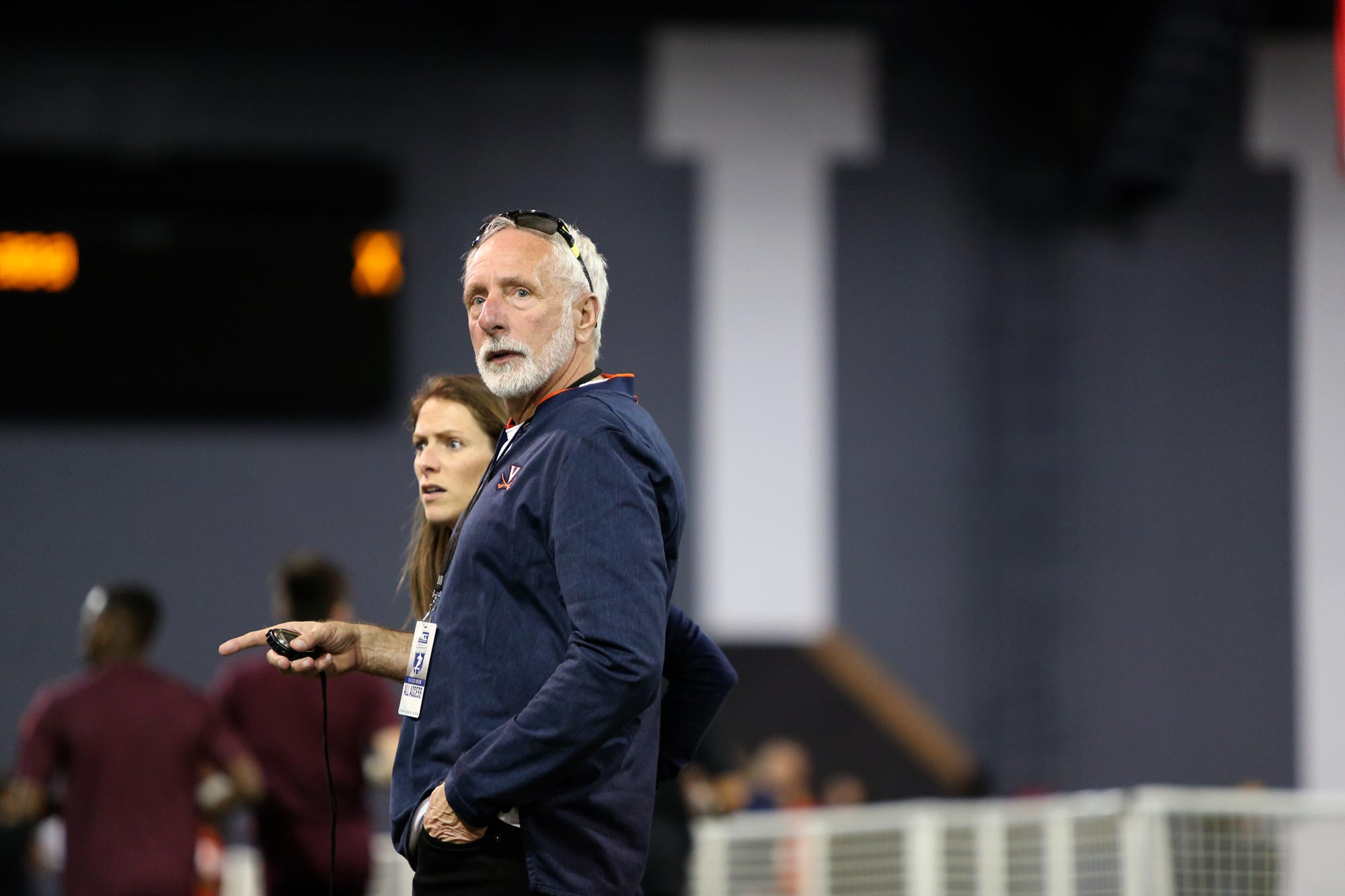 UVA track and field head coach Vin Lananna says safety was the No. 1 priority in his urging the postponement of the Olympics.
Q. Do you think it's the right decision?
Sauerbrunn: I do believe it is the right decision. I would've been extremely sad if the Olympics had been outright cancelled, and there's always the chance it still could be, but a delay until 2021 seems the best course of action right now when so much is still unknown surrounding the virus and its long-term effects. 
Mihaljevic: I believe it was a right decision because the health of all athletes, staff, volunteers, spectators and organizers is much more important than the Games. At first, it just seemed like they should not have canceled it, because you have worked four years for it and now you have to wait another year, but it was for sure the best decision for everyone.
Osborne: I think this is the best decision that could have been made. The Olympics is about the best competing on a fair and level playing field, while, most importantly, making sure that athlete well-being is a priority. The last thing we would also want is to bring another strain of virus back home, so this way it protects everyone.
Foster: I think so. I heard they did a survey of past and current athletes and a resounding amount, like 78%, said they would rather have it postponed. I think most athletes are on board with it.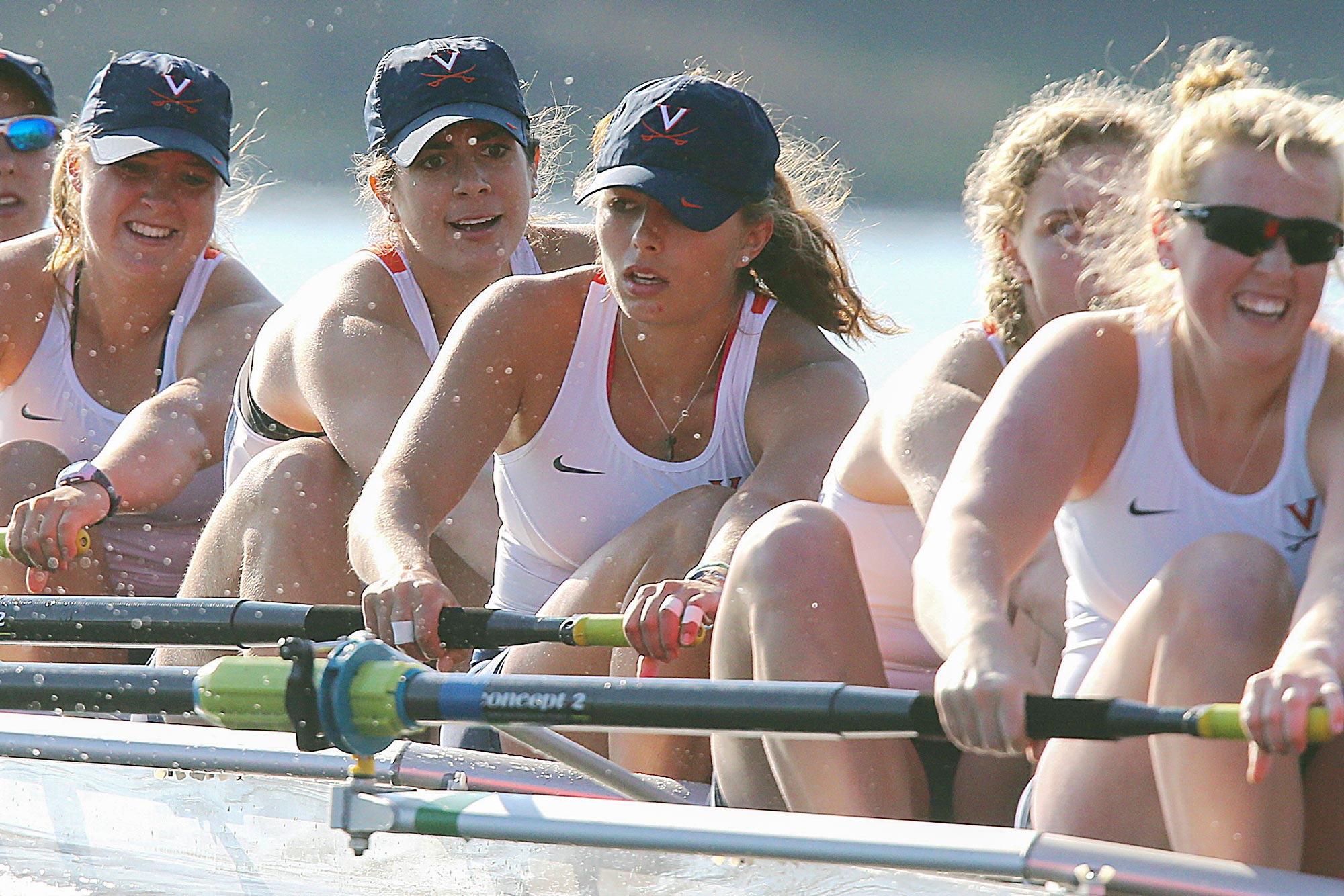 Former UVA rower Hannah Osborne hopes to get another crack at competing in the Olympics for her native New Zealand next summer.
Q. Where are you staying now? Are your friends and family members doing OK? Has anybody in your circle contracted the coronavirus?
Sauerbrunn: I'm in Portland, Oregon where I both live and play professional soccer. For the most part, my friends and family have stayed healthy. Only one member of my extended family in D.C. has contracted coronavirus, and he luckily seems to have a mild form. 
Mihaljevic: I am currently in Split, Croatia. This is the place I spend most of my time when I train. Unfortunately, I am all by myself right now and it is really tough mentally to not be able to see anyone. The local authorities have issued a limited traveling [mandate] between the cities, so I cannot even leave the city to go see my family.
Luckily, my family and my friends are doing fine. The times are hard for everyone and we all must be patient. That is the only solution for this problem. I do not know anyone who has the coronavirus.
Foster: It's really hard to get home with everything going on, so I'm staying with my girlfriend in Pennsylvania. At the moment, nobody I know has it.
Osborne: I am currently staying at my flat in Cambridge [England] with my partner. My sister is immune-compromised, so going home was not an option for me, as my circle of people I had been in contact with was a lot bigger than hers before the level-four isolation start. The last thing I wanted to do was put her at risk.
We have been given a heap of equipment from Rowing NZ to allow us to train at home. We have a gym set up, erg and wind trainer for the bike.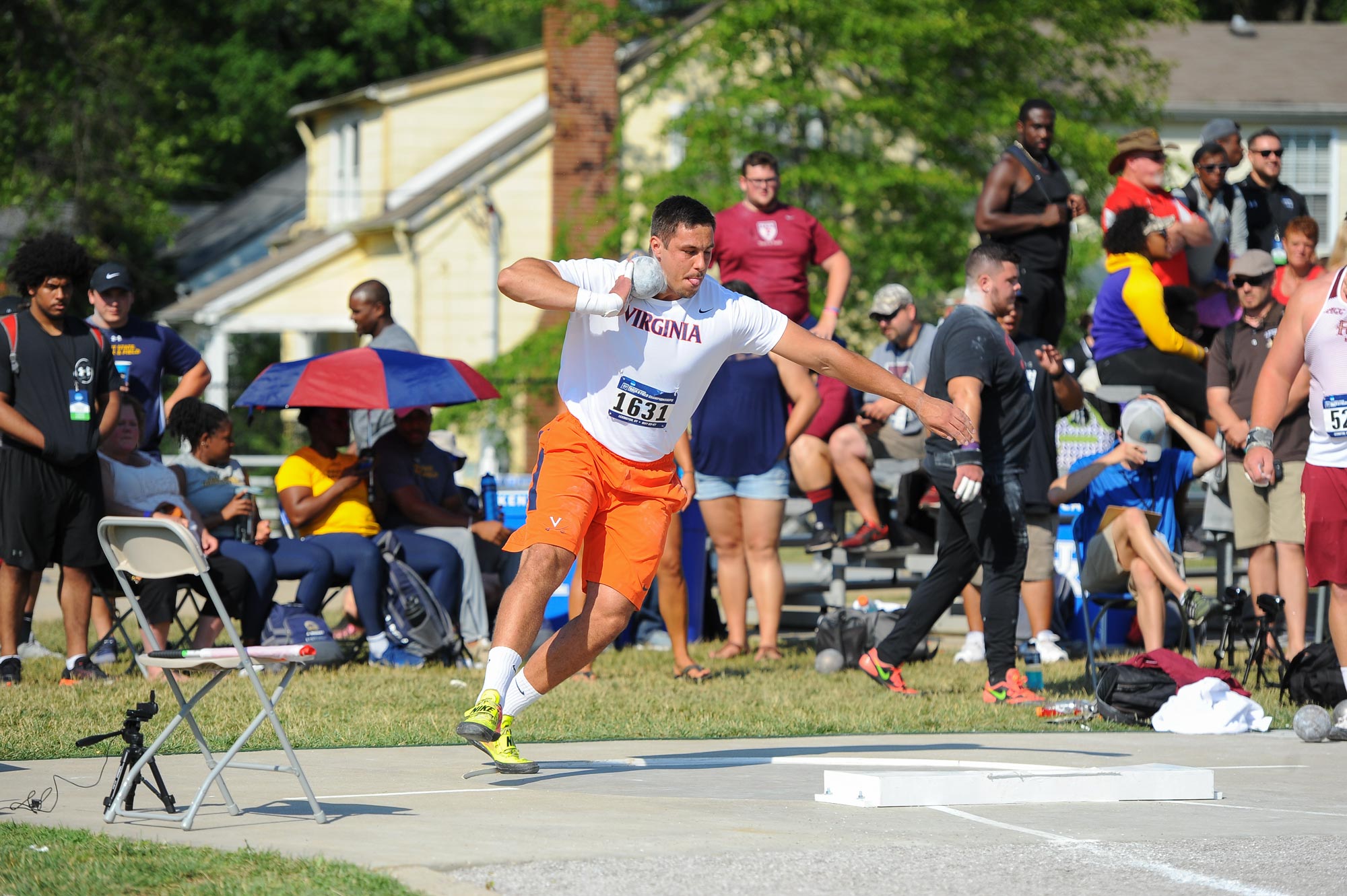 Filip Mihaljevic, who earned three NCAA and 10 ACC championships as a weight thrower on the track team, was one of the greatest athletes in UVA history.
Q. Has anything you learned/studied/experienced during your time at UVA helped you during this time?
Sauerbrunn: I've always had a love of reading, and my time at UVA only enhanced that. The literature courses I took helped open my mind to the social commentary provided by sci-fi and fantasy novels, to the wisdom shared in young adult novels, to the bravery and imagery in protest narratives. Any book I've read during this time is just another opportunity to learn and experience something new. Education is a lifelong pursuit.   
Mihaljevic: Being a student-athlete at one of the most prestigious schools in the country has made me tough-minded, and that is what a situation like this one requires. You got to be strong and patient. 
Osborne: My time at UVA allowed me to experience many life lessons, one of which was keeping in contact without being in contact. Thinking about how my actions impact others, so panicking isn't going to help the situation; be kind. Last, but not least, creating a new routine for yourself to feel like you have something that you are in control of. Being an international student, these are a few of the life lessons which helped me get through tough times. 
Foster: Overall, UVA has taught me about balance. Having to balance school and sport has taught me during this time that it's very important to be thinking about your health and the health of people around you. You should be keeping about your sport, keep staying fit and continuing to do your schoolwork.
Q. Have you talked to any current/former UVA teammates/coaches/teachers since this all happened?
Foster: Definitely. We're all really good friends, pretty much family. We all talk to each other about what's going on and how we're keeping sane. Coaches send us apps if we want to keep up with staying fit for next season and things like that. It's been tough, but everyone's supporting us, which has been good.
Sauerbrunn: I've stayed in touch with all my UVA coaches over the years, and was fortunate to have my head coach at UVA, Steve Swanson, serve as my national team assistant coach at the last World Cup. My national team has also been very active in the fight for equal pay, and through this fight I have been introduced to faculty at UVA who have offered their assistance and advice.  
Osborne: I got an email from [UVA head rowing coach] Kevin Sauer expressing his sympathy for the postponement of the Olympics and acknowledging that it is a tough time, but to keep going.
I have also been in touch with one of my really close friends, Colette Lucas-Conwell, who was a former UVA coxswain who is training for the men's eight. At that particular moment in time, we hadn't gone into lockdown and we were still training full-time out of our national training center while she was in "shelter in place."
Q. Brenton, how have your online classes been going?
Foster: So far, so good. It's been difficult to take tests because the format has changed – like take-home tests. I'm a statistics major, so it's a lot of mathematics and that's pretty hard to do in tests when it's just online.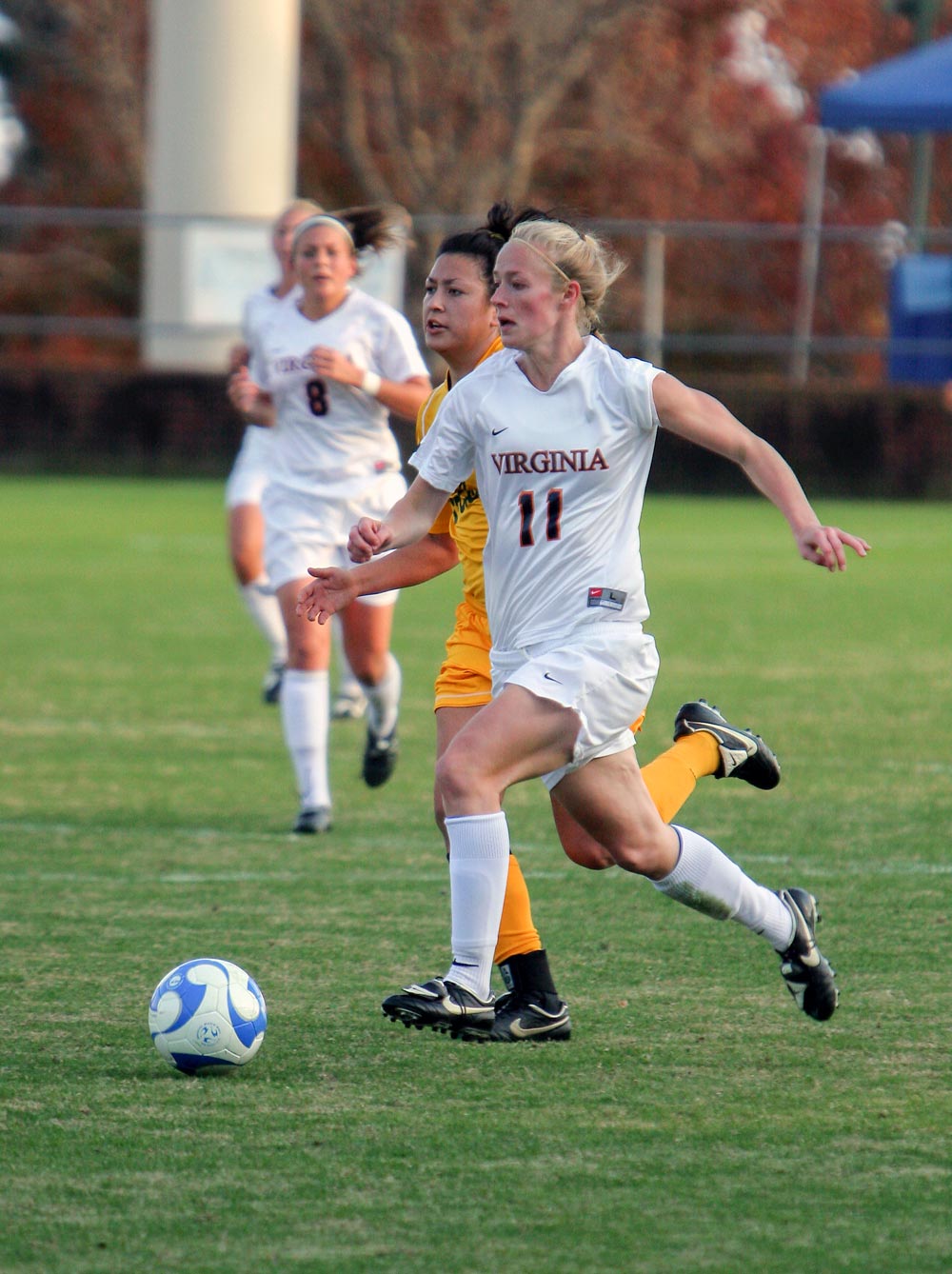 Former soccer standout Becky Sauerbrunn is hoping to compete in her third Olympics next summer.
Q. Becky, Wikipedia tells me you'll be 35 in June. If the Olympics are held next summer (as currently planned), do you have any concerns that you'll be as up to the challenge physically?
Sauerbrunn: I've never relied too much on my physicality when I play soccer. I rely much more on my brain to organize the people around me, to solve problems before they become dangerous. I am definitely on the older end of the age spectrum, but that's also a lot of years of understanding my body and what it needs to be at its best.
If I just don't have the ability to play at an elite level anymore, I'll bow out, or I'm sure my coaching staff will let me know! 
Q. Hannah and Becky, I imagine you feel for many of the current UVA student-athletes who will never get to experience their spring sports season, especially the seniors. Any words of support/advice you can give them?
Osborne: I felt heartbroken for the seniors. To have trained so hard over the fall to not get the opportunity to compete is very disappointing. As with the postponement of the Olympics, this was the best thing to have done. The work that you have done has not gone unnoticed; it wasn't all for nothing. Look back on the season and see the silver linings (this may be hard to see right now).
One thing that I have learned is that with everything that happens, there is always a positive, no matter how dark the time. Whether that pushing yourself to never-explored limits, creating or solidifying a relationship or team culture, even being the role models and paving the path for the first-years – your work was not done for nothing. Some seniors would have wanted to use this to potentially springboard into a sporting career; this does not close the door on that. There will be other opportunities coming if you continue to work hard and keep a balanced world view. Keep going. 
Sauerbrunn: I'm sure these athletes are extremely disappointed. Luckily the NCAA granted an extra year of eligibility for those athletes whose spring season got interrupted. Student-athletes may or may not be able to afford another year, or maybe many have jobs lined up, but at the end of the day I hope all athletes understand that bigger things are happening in the world and to have empathy for those who are struggling for their lives or to pay their bills.
Q. Anything else you'd like to add?
Osborne: During this time, remember to be kind, respectful and support one another. Thank you to everyone who is fighting this on the front lines; they are the real heroes. We can get through this together. 
Mihaljevic: I just want to say thank you to all the medical staff out there, in the whole world, because they are risking their lives to save ours. 
Article Information
April 3, 2020
/content/hoos-past-and-present-put-their-olympic-dreams-hold