Nearly every current University of Virginia female student-athlete – in all, some 320 players across 13 varsity sports – gathered on a basketball practice court inside John Paul Jones Arena on Monday night to hear from four former Hoos as espnW's "Campus Conversation" series came to UVA for the first time.
The panel, featuring former UVA athletes Kim Hatchett (track and field), Michelle Cusimano Vachris (field hockey and lacrosse), Lauren Morrissey (lacrosse) and Kaili Torres (soccer), focused their talk on the transition that takes place after you leave UVA.
"As a former collegiate student-athlete, I know firsthand the importance of events like this," Director of Athletics Carla Williams said in opening remarks. "I didn't have this as a student-athlete. … This is a great opportunity."
Also taking part in the discussion, within breakout sessions later in the evening, were former UVA basketball player Monica Wright, former soccer player Morgan Stearns and former field hockey and lacrosse player Peggy Boutilier Williams.
Here are a few tips the former Hoos had for today's student-athletes.
Morgan Stearns
The skinny: The former goalie, who graduated in 2017, played professional soccer before returning to Charlottesville to work as an annual giving assistant at the Virginia Athletics Foundation.
The advice: "I think the biggest thing is to take advantage of the network that University of Virginia athletics presents to us. I think we don't realize when we're playing how many people are paying attention to our sports and our teams and what we're doing in the classroom. With all of that in mind, you've got tons of people who have been through this before and are willing to help you. It's on us to reach out, and when you do that, you'll find people who are willing to help."
Michelle Cusimano Vachris
The skinny: The 1996 alumna, who starred in field hockey and lacrosse, now works as an assistant general counsel for CBS.
The advice: "You have to be willing to take some constructive criticism. I remember I typed a memo in black and it came back with a lot of red marks. You just learn as you go. There are a lot of things that you're just not going to learn here or in grad school. You learn on the job. You need to just pick yourself up and move forward. Who likes to lose? Nobody likes to lose. But as student-athletes you know how to lose and then pick yourself up for the next game or next match. That's a tool you have in your toolbox."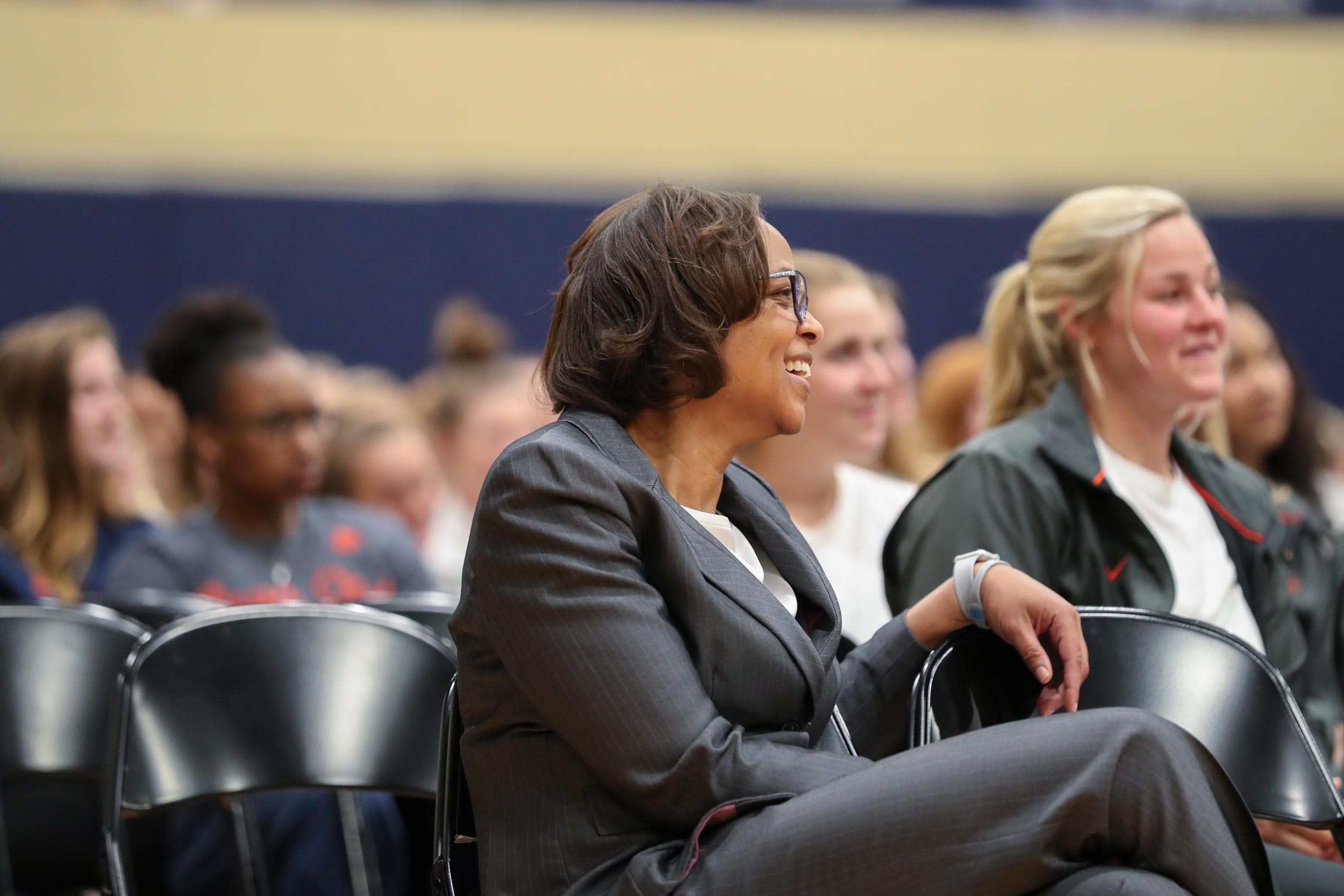 UVA Director of Athletics Carla Williams said she wishes she had chances for these types of interactions when she was a student-athlete. (Photo by Matt Riley, UVA Athletics)
Lauren Morrissey
The skinny: The lacrosse standout, who played for current UVA coach Julie Myers, is now vice president for affiliate sales and marketing for ESPN.
The advice: "I realize that my success is really built on the success of my team, and so lifting up others around me and making them better makes me look good. And the people who are stepping on others around them, thinking that it gets them ahead, it's just really a losing proposition as soon as you go up against somebody else."
Kim Hatchett
The skinny: The 1984 alumna, who starred for the track and field team (as did her twin sister, Karen), is now executive director/private wealth adviser for Morgan Stanley.
The advice: "Don't be afraid to switch directions. You can zig zag as much as you want. Take chances. If I didn't take a chance, I would never be where I am now. I would not be working on Wall Street. So take chances, have fun and be able to switch gears as many times as you want."
Peggy Boutilier Williams
The skinny: The 1999 alumna, who was named the NCAA Woman of the Year in 1998 after great success on and off the field hockey and lacrosse fields, is now a teacher and lacrosse and field hockey coach in Charlottesville.
The advice: "My biggest advice is to follow your passion; do what you love because you don't want a job where you're looking at the clock all day. If you find something that you really enjoy doing, you won't look at it as a job. Sometimes that's hard to find, but that's OK, that's what transitions are for. You try something new or maybe you go to a different town and you try something else new. But now's the time to do it."
Article Information
April 16, 2019
/content/hoos-talking-uva-student-athletes-get-career-advice-their-predecessors