During their time at the University of Virginia, students forge many connections that will play an important role in their lives, from professors who become mentors to hallmates who become lifelong friends. Some students also meet their future spouse. In fact, at last count, 27,410 UVA alumni were married to fellow Wahoos.
In honor of Valentine's Day, we collected some of those love stories via social media using the hashtag #UVALoveStory. Alumni recounted tales of first dates on the Corner, elaborate engagement surprises plotted on the Lawn and weddings at the UVA Chapel, which averages about 100 weddings per year, with about three or four weddings held on a typical Saturday.
UVA played a role in each of these couples' stories, and evidence also suggests that the education they received here could contribute to the longevity of their marriage. Last year, economics professor Steven Stern and economics and public policy associate professor Leora Friedberg earned press attention for a study that displayed empirical evidence of love, rare among researchers who study such intangible emotions. That same study, published in November 2014 in the International Economic Review, indicated that couples with college degrees were likely to report greater happiness in their marriage.
"The effect of having a college degree, relative to not completing high school, is to move someone 18 percent of the way from having a happy marriage to having a much happier marriage," Friedberg wrote in an email, calling the impact "modest" but present in the data.
An additional study from the Darden School of Business shows that the positive effects of a good match can extend to those of us who like to play Cupid. Lalin Anik, an assistant professor at Darden, found that chronic matchmakers were happier with their lives, even after she and co-author Michael Norton controlled for personality type and other factors.
"Creating successful, thoughtful matches for others makes us happier," Anik said, pointing out that her premise holds true for professional and social connections as well as romantic ones. "Matchmaking is a social lubricant. It makes our social networks denser, our communities closer."
The UVA community – and the Charlottesville community – certainly has no shortage of weddings. Couples celebrate their love at the Chapel, Alumni Hall, the Colonnade Club or other Lawn pavilions, or at one of the hundreds of wedding venues available in Charlottesville, which sits at the heart of a Central Virginia wedding industry that generates millions in economic impact each year.
Pictured in the header image: Nitin and Anjali Patel (both CLAS '05), Patricia and Flip Hicks (Law '52, CLAS '48), Stephanie Glover (CLAS '08, McIntire '09, Curry '13) and fiancé Tom Keller.
There are plenty of UVA love stories to choose from. Take a look at some of our favorites below.
Kathryn Giglio and Joshua Bland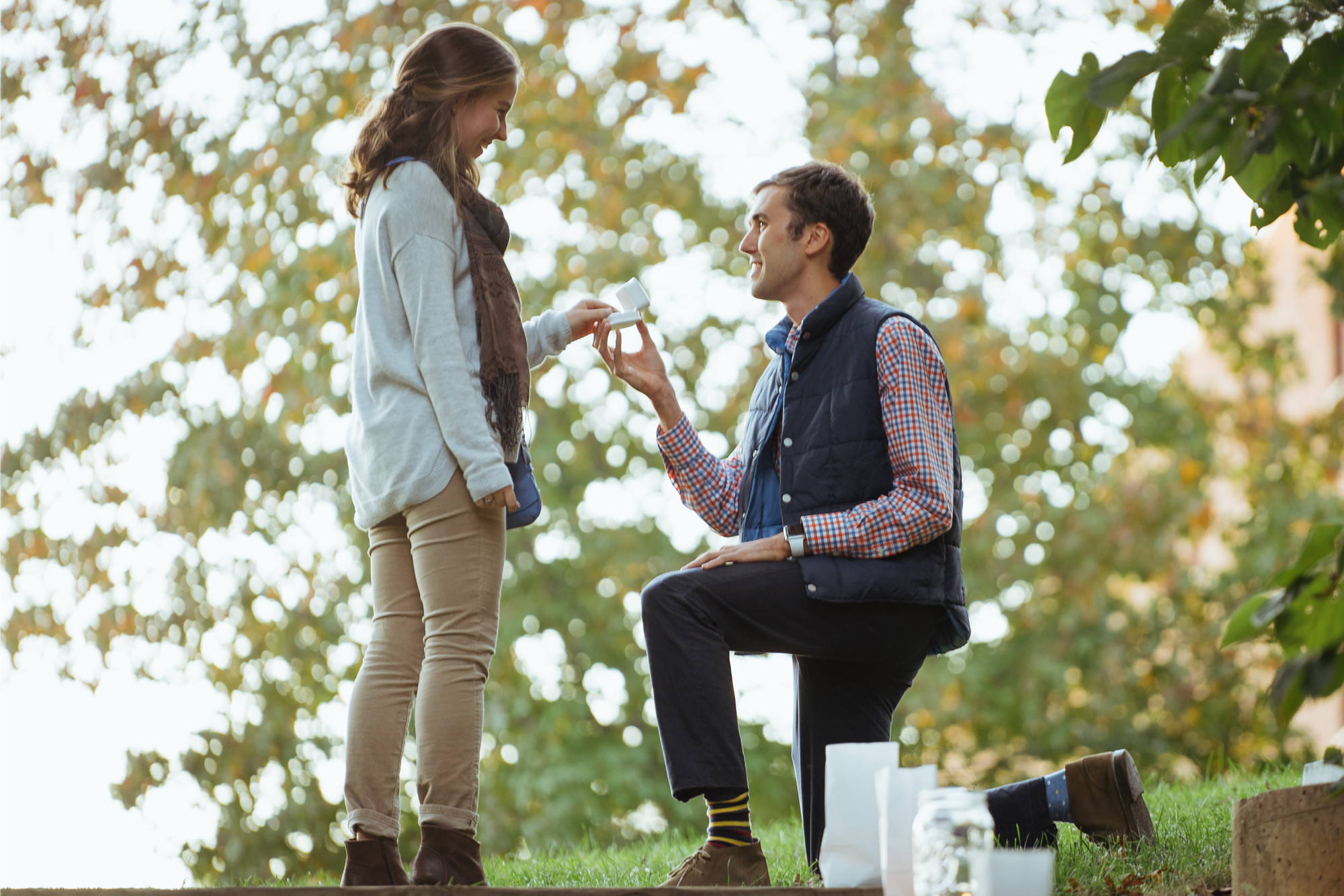 Photo courtesy of Joshua Bland
"I proposed to my long-time girlfriend, Kathryn Giglio, on October 16, 2015, in the most unlikely of places on Grounds. As Orientation Leaders, we met and spent an entire summer in Hereford together. Symbolically this was where our relationship started and really took off. As RAs in Gooch and Dillard, we often walked the trail behind dorms to Runk together for lunch and/or dinner dates my fourth year. We even went back to the trail several times during our year of long-distance (Kathryn was NURS '14 and I was CLAS '13). 
I decided no better place to officially cement our relationship than the place where it all began. In an attempt to be somewhat original and creative, I proposed at the top of the steps between the Runk trail and Hereford field after a dinner downtown at Hamilton's!" - Joshua Bland
Peter Pak and Hanna Oh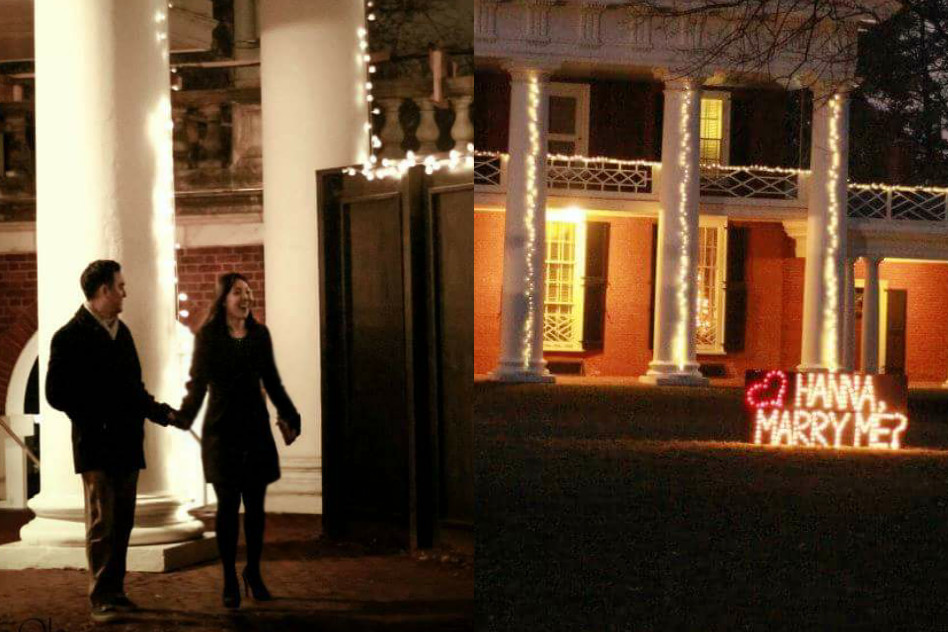 Photo courtesy of Hannah Pak

"Peter is now my husband (we wed on 10.10.15), but we have been friends since our first year at UVA. It wasn't until fourth year when we both realized that we had been for each other since we first met. There was no one who knew me so well and had been my shoulder to cry on, my encourager, my support, and my best friend. It was our 3rd year anniversary, Dec. 23, 2014, when we took a trip to Charlottesville to spend a few hours reminiscing about our past and celebrating three years together. We had many fond memories and it was here on the Rotunda, where the whole place was sparkling with lights, where he went on one knee and asked me to marry him in lights. We had many fond memories on Grounds. And this is where Peter knew he would propose. UVA is where we met, where we ate, where we laughed, where we cried, where we found each other, where we learned that it was about loving others more than ourselves, UVA is where we found love. That's why I couldn't have asked more a more romantic place to be proposed to." - Hanna Pak
Malcolm Brogdon and Victoria Janowski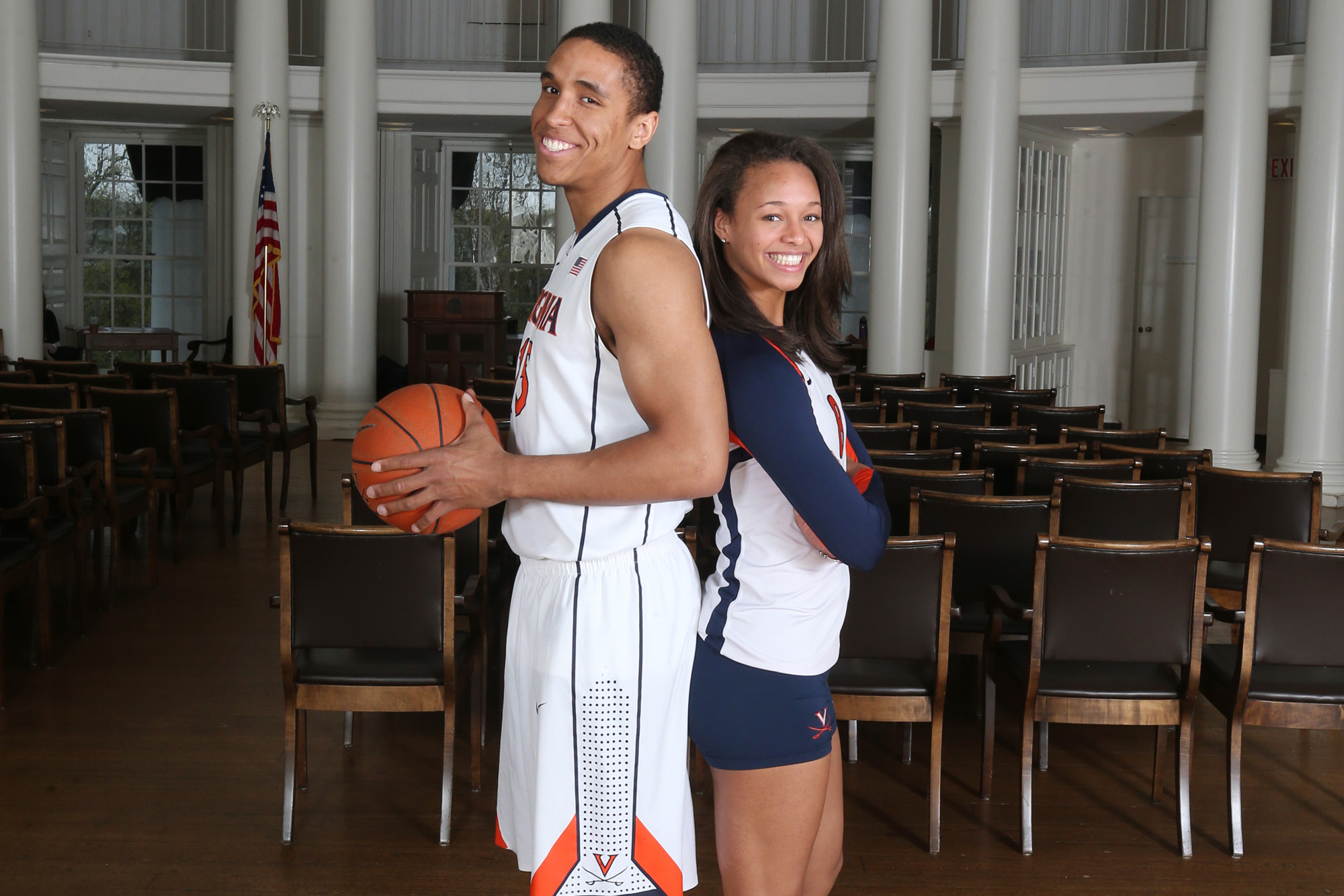 Photo by Matt Riley, courtesy Victoria Janowski

"Our #UVALoveStory started our first year in Kellogg. We immediately hit it off after meeting after our first All Sports Banquets. I think UVA and Virginia Athletics gave us such a unique opportunity to support each other and grow together through the ups and downs of being a student athlete and that's why we make such a great team today! We have some great opportunities ahead of us, but we'll always cherish the place that brought us together." - Victoria Janowski
David Parker and Lindsey Long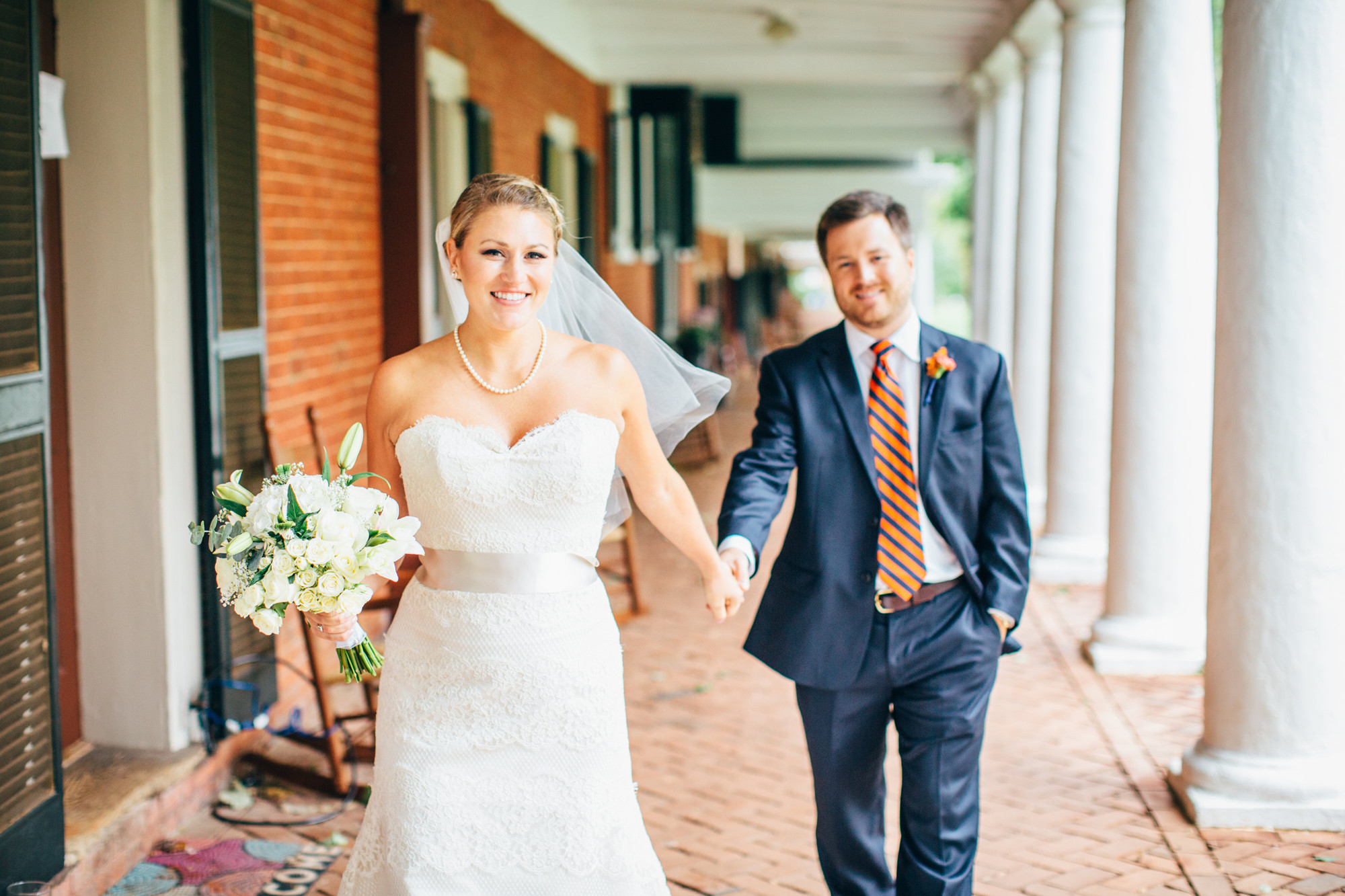 Photo courtesy of Lindsey Long

"My husband, David Parker (COL '08 & LAW '13), and I (COL '07) met through mutual friends from Charlottesville while we were both undergrads. We became friends but started dating when David was a law student and I was working in Albemarle County. David proposed in one of the East Gardens off of the Lawn in February 2015 and we got married right outside of Charlottesville on Oct. 3, 2015. We had our first look photos on the Lawn on a cold, wet October day and had many fellow Wahoos in our bridal party. We love UVA so much we even had navy and orange ties on all of our groomsmen! Both UVA and Charlottesville are very special places for us as a couple, and we try to get back for tailgates, ball games, and choral concerts as much as possible. Wahoowa!" - Lindsey Long
William and Donna Creech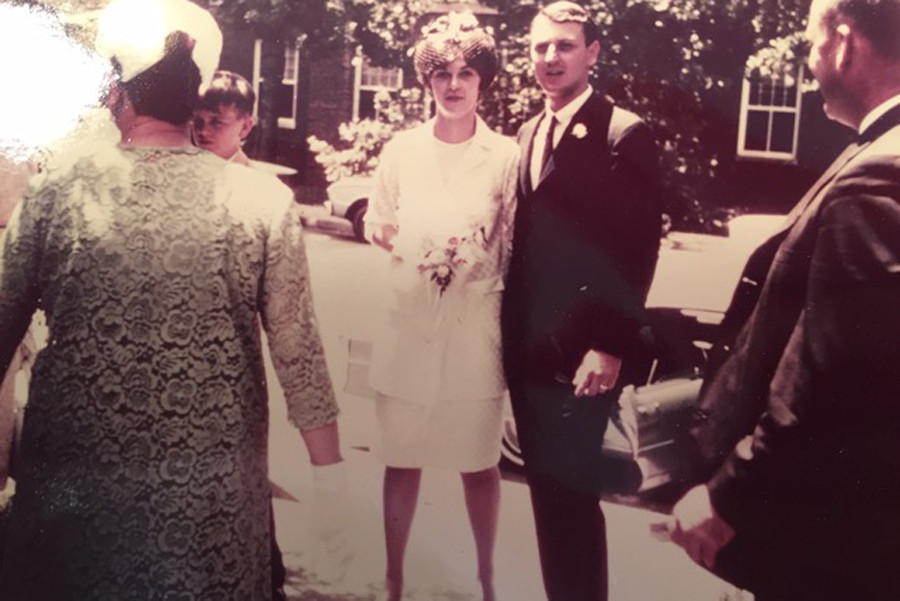 Photo courtesy of William Creech

"This is my mother and father on June 11, 1966, at their wedding outside the Chapel on Grounds. Mom is a graduate of the Nursing School ('65), and Dad from McIntire ('66). Their 50yr anniversary is this year as I graduate from the UVA BIS program in May. Orange and blue run deep in the family." - William Creech
Katlyn and Philip Williamson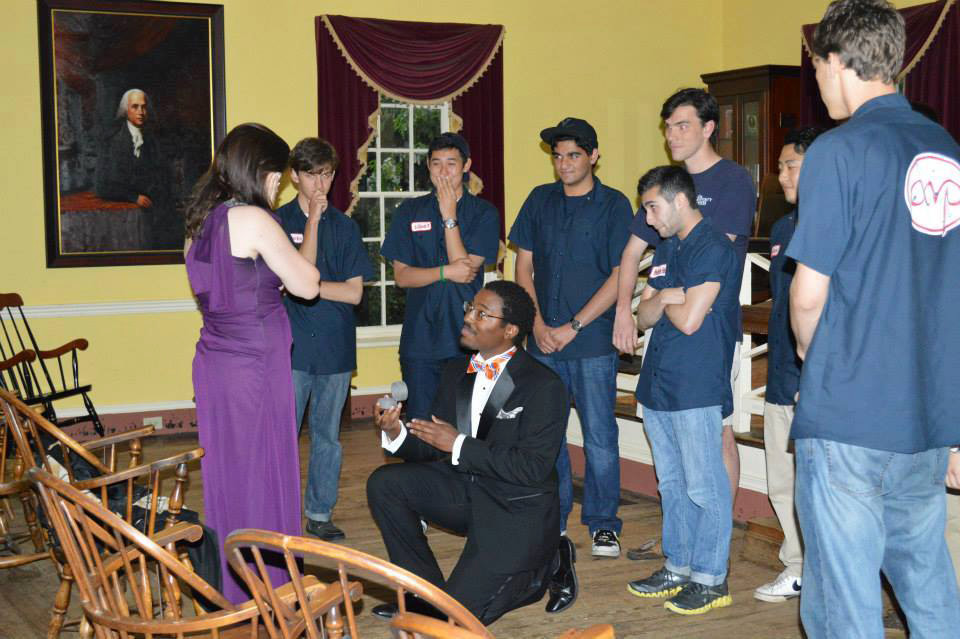 Photo courtesy of Katlyn Williamson

"Philip and I met at the University in 2011 when I joined the Jefferson Literary and Debating Society. He was a second-year in the law school, and I was a second-year in the College. The next semester, we got to know each other while working on a committee in the society and soon we started dating. Our relationship was full of the society, enjoying UVA basketball and soccer, and great friends we couldn't have met anywhere else. A year later, Philip proposed to me at Jefferson Hall with the help of [the Academical Village People] and many of our friends. On May 31, 2014, we got married at the Belmont Baptist Church downtown and had our reception at Alumni Hall. We've now been married for almost two years and have an adorable 8-month-old son." - Katlyn Williamson
Kent Piacenti and Chase Cooper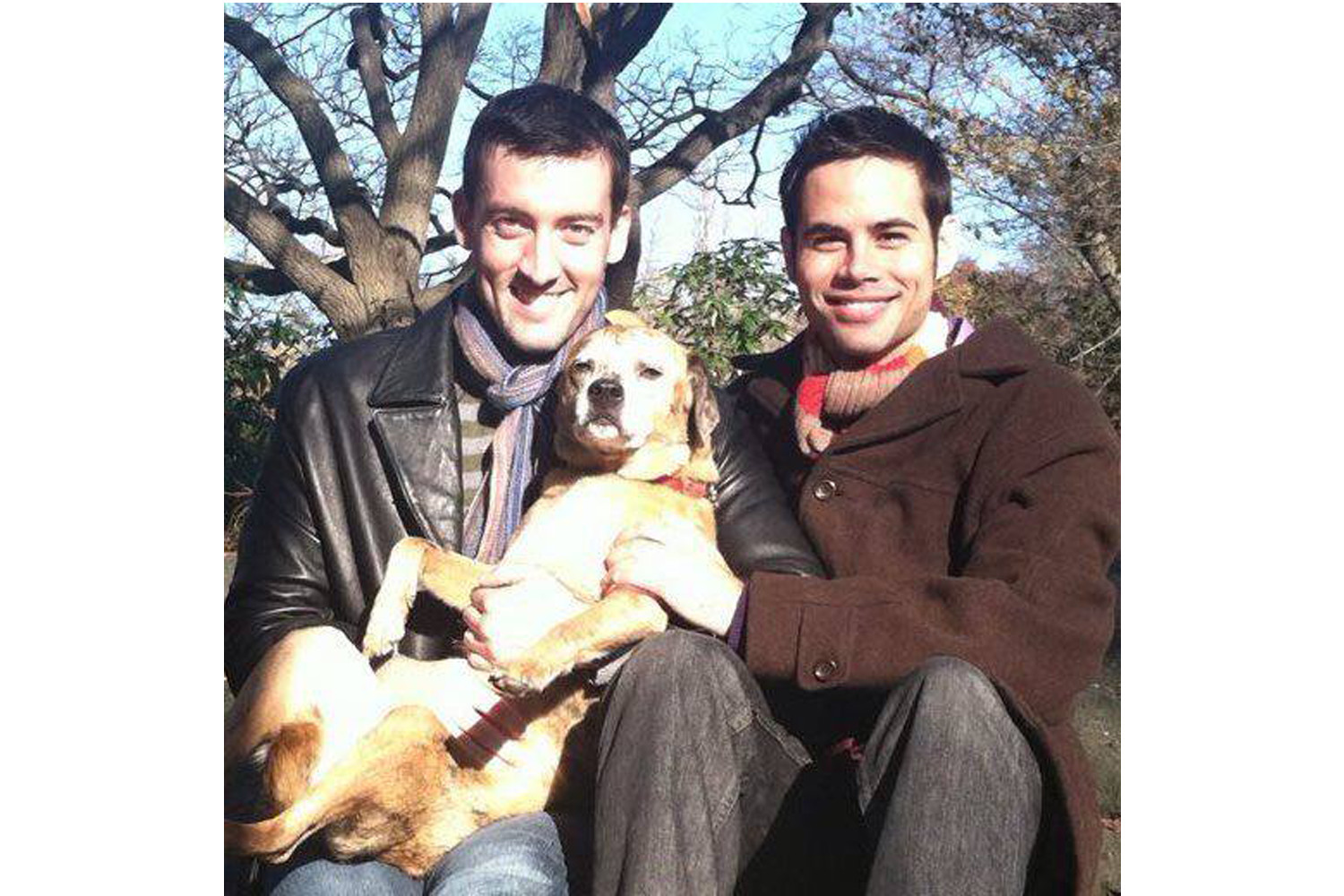 UVA Law School alumni Kent Piacenti and Chase Cooper graduated in 2012 and 2013, respectively. Their UVA Law Groomsmaids included Ashley Brown (2012), Sarah Johns (2012), and Maury Riggan (2013). Their dog, Celexa Cooper-Piacenti, was UVA Law Paw Review Champion in 2013. 
Thanks to all who submitted! 
Media Contact
Article Information
February 12, 2016
/content/how-uvalovestory-can-turn-lifetime