About six years ago, John Corrigan was doing postdoctoral research on William Faulkner and visited the University of Virginia Library's Albert and Shirley Small Special Collections to examine the renowned Southern writer's manuscripts.
There he met UVA English professor Stephen Railton, who was bringing together Faulkner scholars for a new project, and asked Corrigan to join. They would create a website that maps and organizes characters, events and locations of Mississippi's fictional Yoknapatawpha County prevalent in Faulkner's novels and short stories to aid in studying and teaching the writer's masterful and difficult works.
Corrigan, who is Canadian, lives in Taiwan and has been teaching at National Chengchi University there. He uses that website, "Digital Yoknapatawpha," in his teaching as well as in his research.
"This project has been crucial for my students," said Corrigan, who added that they come from not only Taiwan, but also China, Japan and European countries. "William Faulkner is one of the great American modernist writers, but he's incredibly intimidating."
Corrigan said he uses "Digital Yoknapatawpha" – which comprises data from 14 novels and 54 stories written by Faulkner and published between 1929 and 1962 – as a type of guide that gives context, but not interpretation. It's not going to take the place of reading, but gives students ways to follow characters and insight into Faulkner's use of language, according to several of the collaborating scholars. The website also links to manuscripts and audio recordings, bringing together resources that would take students countless hours of searching, Corrigan said.
Faulkner came to the University in 1957 and 1958 for two terms as its first writer-in-residence and remains a prominent literary figure here. (Photo courtesy of Albert and Shirley Small Special Collections Library)
With a few months remaining under the nearly $300,000 grant the National Endowment for the Humanities Collaborative Research division awarded three years ago to develop the website, the team of about 35 scholars has reached a milestone: all the data of characters, events and locations have been entered.
This achievement comes on the heels of Railton's retirement in May, after his teaching in the Department of English for 45 years.
That doesn't mean the Yoknapatawpha project is done, however.
A dozen team members, including Corrigan and Railton, met at UVA last week to review their work and determine what comes next. They came from northern India and Innsbruck, Austria, as well as New York, Texas, Missouri and Mississippi.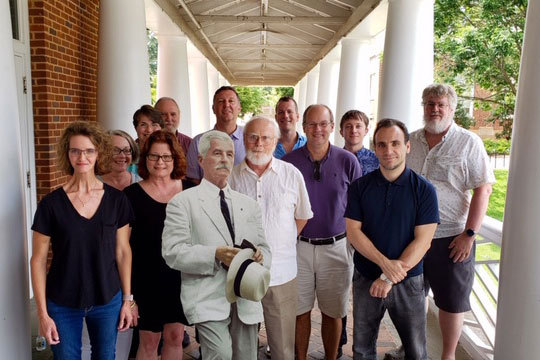 A dozen members of the team that includes more than 35 scholars and technology experts met on Grounds recently to talk about the digital project. Note the Faulkner cutout in their midst. (Photo courtesy of Steve Railton)
The project also provides something else for Corrigan, especially living so far away: a continuing connection to other scholars who've become friends as well as colleagues. "I'm not working in a vacuum. I can get and give feedback and advice," he said.
Another colleague, Lorie Watkins Massey, who teaches at William Carey University in Hattiesburg, Mississippi, started out teaching high school and now sometimes teaches teachers about Faulkner. She and Chris Rieger, the director of the Center for Faulkner Studies at Southeast Missouri State University, along with several others, are working on a pedagogy section for the website.  
"We are all students when it comes to Faulkner," she said.
"One goal of the project," Railton said, "is to use 21st century students' fluency with the interactive and visual world of digital media as a means to orient them inside the demanding textual world of Faulkner's art."
Some of the collaborators are working on a book about the Digital Yoknapatawpha project that will be published by UVA Press. Theresa Towner, the Ashbel Smith Chair of Literary Studies at the University of Texas-Dallas, is serving as editor and writing the introduction. The collection will describe the scholarly team's efforts, how the work was done and why certain decisions were made, and what the website can contribute to studies of Faulkner and Southern literature, as well as its limits.
"It will present Digital Yoknapatawpha as a resource and show the richness and diversity of Faulkner's imagination," Towner said.
Even all this data-entry work to create "Digital Yoknapatawpha" has been done by the team, because, as Railton and colleagues pointed out, it takes someone very knowledgeable about Faulkner to decide what information should be included. They have entered data on almost 5,000 characters, more than 8,000 events and almost 2,100 locations. Users can search for connections between these aspects to yield graphs and heat maps.
Railton credited the UVA technology experts with developing the website's functionalities, including co-project director Worthy Martin, associate professor of computer science and acting director of the Institute for Advanced Technology in the Humanities, and the IATH staff; the library's Digital Media Laboratory; and Bill Ferster of the Sciences, Humanities and Arts Network of Technological Initiatives, or SHANTI. There's also a professional cartographer on the team who made separate maps for each text, based on the two maps that Faulkner himself drew.
In the last Faulkner course he taught, Railton gave his students an assignment to use Digital Yoknapatawpha, asking them to explore something that interested them in Faulkner's fiction using the program, explaining how they used it, and what they learned from it. He was pleased with the results.
Although Railton just retired, he'll keep on working on Digital Yoknapatawpha, continuing as director, for the love of Faulkner and the collaboration with colleagues around the world who also plan to continue the project.
"We're a long way from done. There is no place to write 'the end' in virtual reality," Railton quipped.
Article Information
July 17, 2019
/content/international-team-collaborating-digitize-faulkners-world