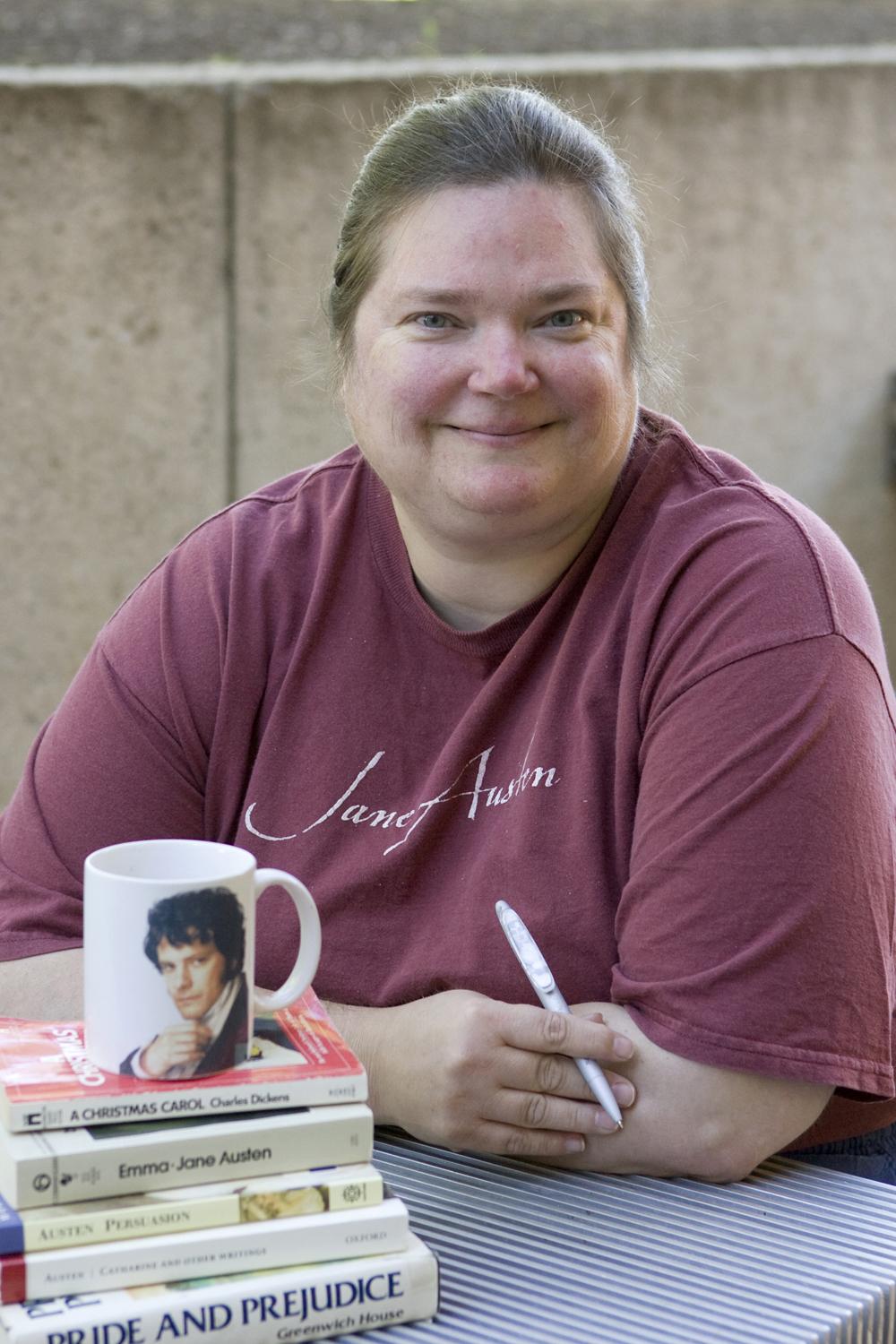 Listen to the UVA Today Radio Show report on this story by Rebecca Arrington:

September 9, 2010 — Jane Austen meets Charles Dickens in a novella written by a University of Virginia employee, which is being released Oct. 1.
 
Carolyn Esau's "Mr. Darcy's Christmas Carol" is part of a new anthology, "A Darcy Christmas," being published in print and as an e-book by Sourcebooks.
 
Esau, who writes under the pen name Carolyn Eberhart, says she is "all astonishment" (to borrow a line from "Pride and Prejudice") that her work is being published.
 
Sourcebooks publicist Danielle Jackson said her company "is incredibly excited to bring Carolyn's story into print. The idea of taking Dickens' Christmas classic and combining it with Austen's beloved characters is incredibly exciting and new for fans of both authors."
 
In the story, Darcy (a main character in Austen's classic novel, "Pride and Prejudice") encounters ghosts of Christmas past, present and future, who show him his life if pride were to keep him from his one true love.
"The idea for the story came when I realized that Darcy and Scrooge could be literary contemporaries – about the same age, if you do the math right – which made me wonder what it would take to turn Darcy into Scrooge," said Esau, who works in the School of Architecture's landscape architecture department.
She credits her love of the romance genre to fate – "I was born on Valentine's Day" – and her love of Austen to the writer's wit.
"There always seems to be something new that you missed on previous readings, such as an overlooked clue or a sneaky little zinger or a historical custom that makes you look into the actual times," said Esau, who grew up in Michigan and attended the University of Michigan-Dearborn, where she earned her bachelor's degree in English and art history.
 
Fans have written their own extensions of Austen's works, using her characters, since 1949 ("Pemberley Shades" by Dorothy Bonavia-Hunt, recently re-published), though Austen herself would tell family about what happened to certain characters after the story was over. Esau has been writing "fan fiction" since 1996, "after I read one of the few published sequels available at the time and found it wanting," she said. "I like to fill in the parts of the story that Jane only hints at in her writing."
In addition to writing and her day job, Esau serves on a number of committees related to Jane Austen works and the Virginia Romance Writers association.
 
She has been on the committee of an Austen fan association, the Republic of Pemberley, for many years, first as the Bits of Ivory hostess, charged with accepting fan fiction from the website's members, and currently as a member of the Austenuations board, which deals with Austen's minor works (juvenilia and unfinished books) as well as published sequels and adaptations. She is the membership chair for Virginia Romance Writers.
 
Esau is one of the resident authors on the new Austen Authors blog website, launched Sept. 6. She will blog about her novella Sept. 26.
 
She also has her own newly launched blog site.
 
In her spare time, Esau enjoys trying recipes from an extensive cookbook collection. She's even managed to marry this hobby to her love of all things Austen; She has served as editor of two print-on-demand Republic of Pemberley cookbooks, which served as fundraisers.
 
"I came up with the 'crazy quotes' idea, which corrupts Jane Austen quotations from her books, minor works or letters, to feature in the recipe title. For example, a line Mrs. Bennet says in 'Pride in Prejudice,' 'There is not a bit of fish to be got to-day,' became 'There is not a bit of Crawfish Etouffee to be got to-day.'
 
"In 'Pemberley Puddings,' the desserts are named after Jane Austen characters and arranged by an event inspired by each novel," she said.
 
Esau also enjoys making chocolate confections. "October is the start of my truffle season," she said, "where I make between 30 and 40 different varieties of hand-rolled truffles for Christmas presents."
 
In October 2008, she was a finalist in the Charlottesville-Albemarle SPCA's "Top Chef of Charlottesville" contest for her truffles. "They didn't win, but were the only dish invited to all three weeks of the competition," she said.
 
Esau, whose writing was first featured in an Inside UVA story 10 years ago and has visited Jane Austen sites in England four times since then, contributed close to 30 "fan fic" stories, including an early version of "Mr. Darcy's Christmas Carol," to the Bits of Ivory Board before it  closed in 2008.
She has also "branched out to writing my own stories, as yet unpublished." She's currently working "on and off at three non-Jane Austen stories, 'Too Many Cooks,' a romance centered around a TV cooking competition, 'The Secret Life of Mary Sue McGill,' a young adult story of a daydreamer, and a mystery featuring a lottery-winning heroine, whose character is based on Fanny Price from Austen's 'Mansfield Park' and a private detective," Esau said.
An excerpt from "Mr. Darcy's Christmas Carol" follows:
Chapter 1 - Old Mr. Darcy's Ghost
Old Mr. Darcy was dead to begin with. There is no doubt whatever about that. The clergyman, the clerk, the undertaker, and the chief mourner had all signed the register of his burial. His son signed it. And Fitzwilliam Darcy's name was as good as his father's before him. Old Mr. Darcy was as dead as a doornail. Darcy was dreadfully cut up by the sad event.
There is no doubt that Old Mr. Darcy was dead. This must be distinctly understood, or nothing wonderful can come of this story.
Darcy was often proud and conceited, arrogant and disdainful to those whom he did not know. Friends, on the other hand, might stop him in the street to say, with gladsome looks, "My dear Darcy, how are you? When will you come to see me?" Children and dogs often seemed able to see beneath his exterior to the real Darcy. Yet many never saw that in him which did not appear on the surface.
Darcy's soul and heart had sustained an injury in the spring from one who had yet to see beyond his outward facade. Elizabeth Bennet had refused his proposal of marriage. Refused it in a manner that seemed as hard and sharp as flint.
"I had not known you a month before I felt that you were the last man in the world whom I could ever be prevailed on to marry."
Darcy could now admit that his offer, sincere as was, had been given in an abominable manner, and he winced at the still vibrant memory. But her harsh words had not struck out the fire of his love. He had tried to conquer his feelings but he could not. Hope had bloomed anew for a few sunlit days last summer, when he had unexpectedly run into Elizabeth at Pemberley. She had seemed more inclined to think well of him than she ever had before. A few halcyon days had been all that had been allowed before news of Lydia Bennet's fall from grace had separated them yet again.
Darcy had done what he could to restore respectability to the wayward girl. No, Darcy thought, he had done what he could to restore Elizabeth's peace of mind. He cared naught of Lydia's reputation—only that the loss of it caused pain to Elizabeth.
Darcy had seen Elizabeth perhaps a dozen times since taking care of Lydia's folly. The most awkward was when he had accepted her thanks for his actions but could not bring himself to speak further. The most painful occasion had been when he and Elizabeth had met at the altar during the nuptials of Bingley and Jane. He had been best man, while Elizabeth was maid of honor. He wanted to be the one exchanging vows before God. On both occasions, he had almost renewed his addresses to Elizabeth but he had not. The memory of the hurt and anger he experienced at her first rejection had kept him silent. And yes, his damnable pride had also held his tongue. Now, with Christmas fast approaching, his hope for a future with Elizabeth had almost withered away.