He said jazz musicians listen to records repeatedly, listening to phrasings, to solos, seeking out things that reach them. He cited author Robert Graves discussing the impact of good poetry.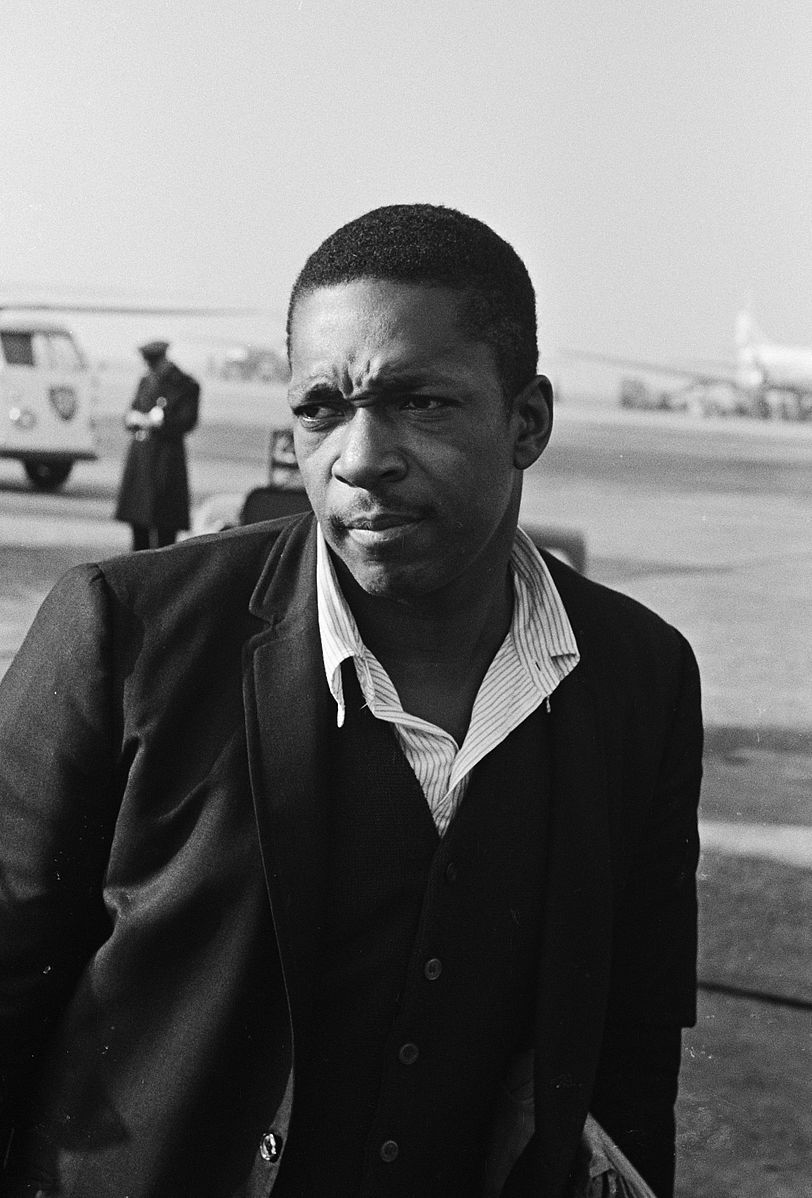 John Coltrane in 1963 (Dutch National Archives/Creative Commons)
"Robert Graves said you can always tell real poetry by two things: it evokes the natural world and it makes the hair stand up on the back of your neck," D'earth said. "That is jazz music. All of it. There is an emotional quality to listening to this music with other people who understand it that is an experience like no other. The question that comes to mind when you hear this a lot of times, if you are hearing it, is how in the hell did they get like that? How did they become that way? And my answer is, 'By being that thing.' I think total embodiment. Jazz."
D'earth has a mind like a fireworks display. It shoots straight up in pursuit of an idea and then suddenly explodes into a shower of sparks as his thoughts race from one point of light to another. In discussing jazz, he cites noted jazz musicians such as Miles Davis, Louis Armstrong, Count Basie, Benny Goodman, Harry "Sweets" Edison and a constellation of others, but he also refers to other artists in other fields – Graves, Irish novelist James Joyce, American novelist Thomas Wolfe, William Shakespeare, E.B. White, painters such as Jackson Pollock – as well as histories of jazz and social histories, classical composers from Mozart to Beethoven to Hindemith, to Bob Dylan plugging in his electric guitar at the Newport Jazz Festival.
D'earth plays music in the classroom – original recordings, pulled from his computer and piped through the speakers in the room. He has the students stand and sing along with John Coltrane's "Equinox," syllables for notes, while following drummer Elvin Jones' beat by slapping their hips, beating on their chests and snapping their fingers.
"When he has us do that little improvisation, that is something I never thought I would ever do or be comfortable doing," said Kate Walz, a Charlottesville resident who is taking the course. "But's he says, 'Alright, just do it,' and we just do it and it's cool. I guess that's learning, in a way. It feels like it. It expands my knowledge of whether you can or can't do music, and this has taught me that yes, I can. I can do music." 
Thomas Castleman of Charlottesville, who has just graduated from St. Anne's-Belfield and is a piano player specializing in jazz, said the course has lived up to his expectations and been more about musicianship than he anticipated. 
"Seeing his approach to introducing musicianship to people from all kinds of backgrounds is really cool, because it is a way I would have never thought about teaching it," he said, "taking complex things and introducing them in a way that doesn't seem intimidating, so people are willing to do it. He shows that it's OK to make mistakes. He makes a lot of mistakes in front of us, which I think makes it a lot more comfortable for everyone. You don't feel you have to be good at singing, and I don't consider myself a singer, but since I have started playing jazz, I realize it's so important to sing, so I sing anyway even though I'm not good at it. That's been cool."