Poet Lisa Russ Spaar coached students on the importance of their voices, while two members of the University of Virginia community received Thomas Jefferson Awards Friday afternoon at the University's annual Fall Convocation.
During the ceremony in the John Paul Jones Arena, held in conjunction with Family Weekend, UVA President Teresa A. Sullivan presented two Thomas Jefferson Awards – one for excellence in scholarship, to former Law School Dean John Jeffries; and one for service, to Dr. Karen S. Rheuban, director of the UVA Center for Telehealth. The awards are the highest given to a member of the University community.
Sullivan also conferred Intermediate Honors upon 439 third-year students who are in the top 20 percent of their class while carrying a full course load during their first four semesters, and recognized the winners of the All-University teaching awards.
"Two hundred years after the University's founding, we affirm Mr. Jefferson's belief in the potential of education to advance the human condition," Sullivan said. "Today we acknowledge that our students have engaged in rigorous learning and reasoned discourse in the classroom and beyond. With their talents and their education, they are equipped to set things right in the world."
Spaar Calls on Students to Find Their Voice
Spaar, UVA's Horace W. Goldsmith Distinguished Professor of English and Creative Writing, talked to the students about the importance of their voices, in many contexts. She linked "convocation" to "vocation," in its senses of being a calling as well as an occupation or profession.
"For me, 'vocation' and 'voice' are inextricably connected," Spaar said. "One thing we do in creative writing classes is attempt to help students find 'their voice' – what it is about what they write that has the feel of them in it."
Spaar earned a Bachelor of Arts degree with high distinction in 1978 and a Master of Fine Arts degree in 1982, both from UVA. She has written, edited and published dozens of poems, books, chapters, anthologies and essays, including her most recent book, "Orexia: Poems," published in February. She has been awarded a John Simon Guggenheim Fellowship in poetry; a State Council of Higher Education for Virginia's Outstanding Faculty Award; and a Jefferson Scholars Foundation Faculty Award. She was one of three national finalists for the Robert Foster Cherry Award for Great Teaching in 2015.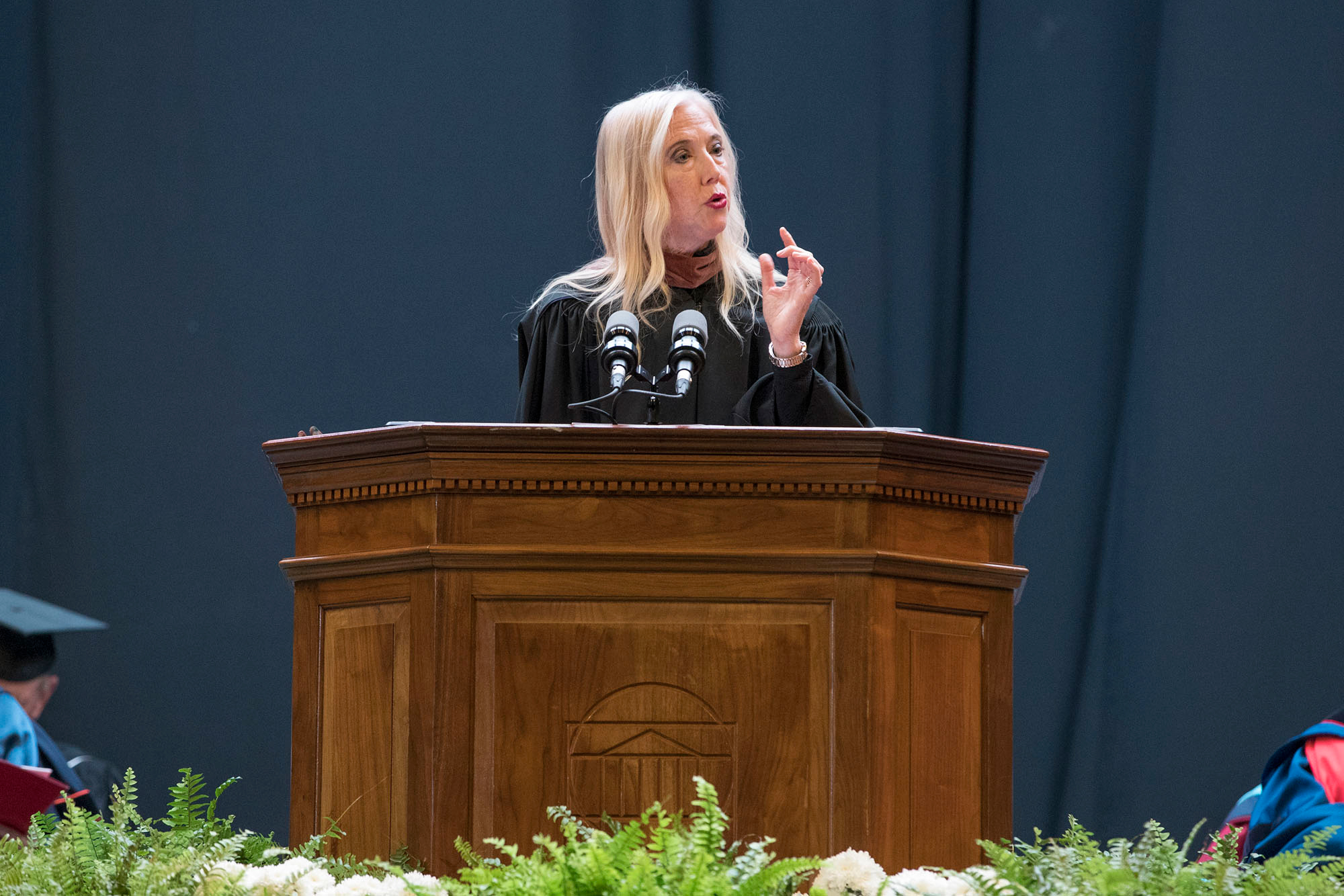 Poet Lisa Russ Spaar delivers the address at the 2017 Fall Convocation in the John Paul Jones Arena.
Spaar cited her own recent bout with skin cancer, operable but on her throat, for calling up her own fears of losing her voice.
"Was there a risk, I wondered, that my voice – so important to my life as a teacher and poet – might be affected?" she said. "I remembered how hard it was to parent, to teach, with just a mild case of laryngitis. Who would I be if I lost my voice?"
It is important, she said, that students continue to use their voices.
"In live-time, face-to-face encounters in the classroom, I began to learn, as you have, not only to listen to others whose opinions and life experiences differed, often radically, from my own, but also to begin to find my voice, to shape and express original responses to the ideas of my cohort, to argue, to concede, to change my mind, to have my mind opened, and to be wrong, because whenever we are wrong, we are on the brink of a new discovery," she said.
Talking to each other, as well as listening, is crucial to learning.
"It is, after all, at the heart of the Socratic method," she said. "But in our high-velocity moment, in which it is increasingly possible to 'voice' (post, tweet, troll, flame, shame) an opinion without accountability or facts, or even using one's real name in the faceless realm of cyber-ether, what is provided in universities like ours (profoundly civil, profoundly daring) is a crucible, a forum for face-to-face, accountable interaction, an invaluable opportunity to begin to express and know our personhood and to make ourselves, as human beings, understood and real to one another. There is perhaps no more civil, intrepid, and engaging place to practice this life skill than in the interdisciplinary, open-minded, real-time thrall of a liberal arts university."
She told the students that while their generation, among the last to be born in the 20th century, is stereotyped as being self-involved, narcissistic and wired to the point of solipsistic cocooning, capable of tapping out only fleet, abbreviated thoughts on small screens, she believes otherwise.
"My experience of you and your cohort, as I've come to know you in my teaching and in my life on Grounds and in Charlottesville, is very much otherwise," she said. "Vocal, impassioned, risk-taking, you speak, you write, you talk; importantly, you also walk your talk. The thing about voice is that it is, after all, a matter of relating, of relation. Vocalization is an opportunity for vulnerability, prompting greater fluidity between knowledge boundaries and social borders."
And with the recent disruptions in Charlottesville, she said, the young must pay more attention to their voices and how they use them.
"There are 500,000 words in English," she said. "How are we using those words, even the smallest of them: 'he,' 'she,' 'they'? Many human beings probably get by on a fraction of that 500,000. Last year, Science magazine reported that the average educated 20-year-old knows about 42,000 English words – less than one-tenth of those at our disposal."
She advised the students that their voices are their true callings.
"Your human voice, in all the myriad ways in which you have and will wield it, is your calling, your 'sounded self,' something that we are reminded of, particularly, today, through this 'calling together' afforded by the celebration of Fall Convocation," she said.
Students, Faculty Honored
Following the address, Sullivan presented Intermediate Honors and the Thomas Jefferson Awards.
Jeffries, former dean of the School of Law, was presented with the Thomas Jefferson Award for excellence in scholarship.
Jeffries first came to the UVA Law School as a student in 1970. He was editor-in-chief of the Virginia Law Review, graduated first in his class and, after military service, was a clerk for U.S. Supreme Court Justice Lewis Powell. He then returned to UVA as a member of the law faculty and has remained there ever since.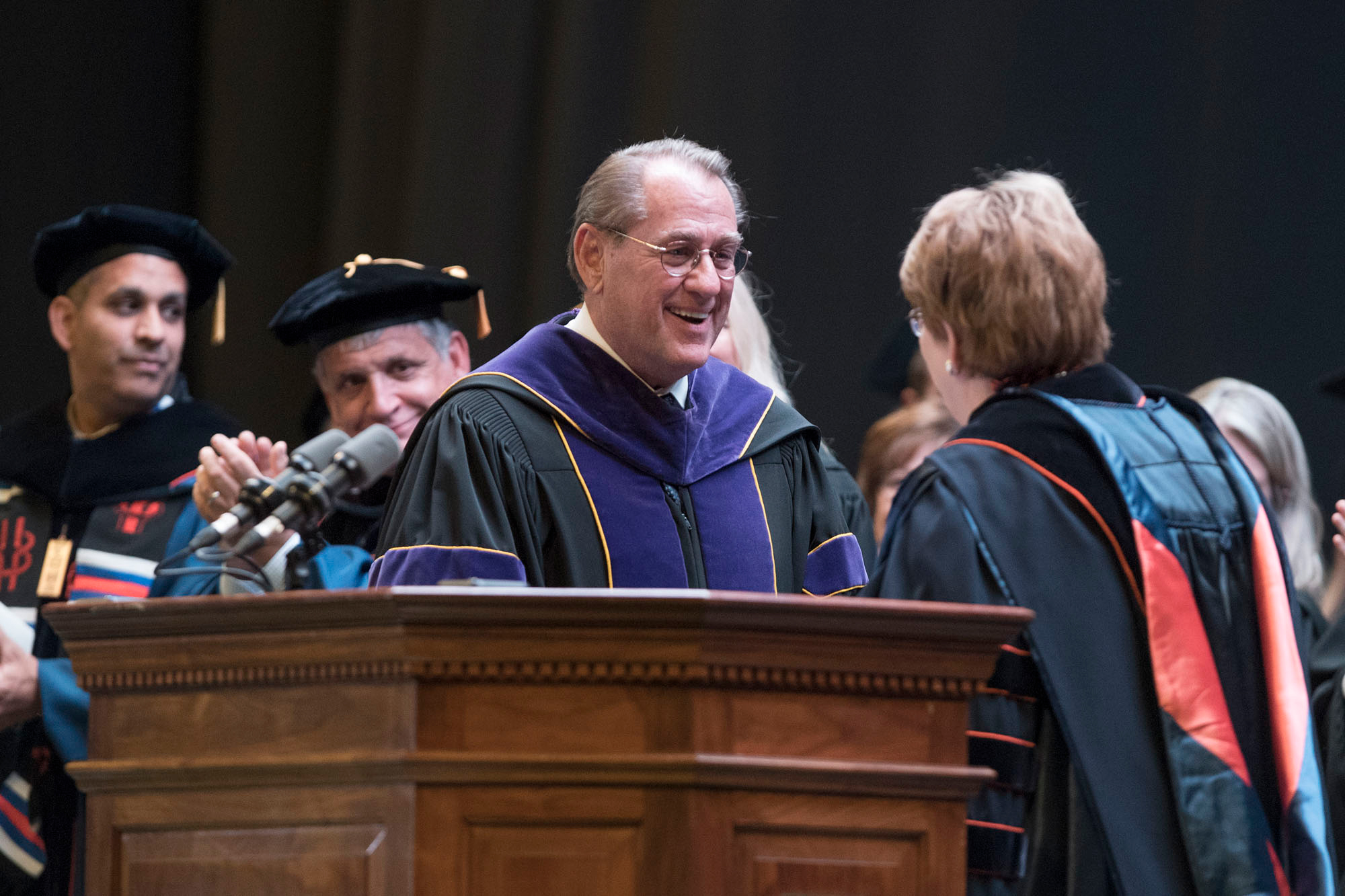 Former Law School Dean John Jeffries shakes hands with University President Teresa A. Sullivan after receiving the Thomas Jefferson Award for Scholarship.
His scholarly contributions include showing that limiting the personal monetary liability of government officials made the courts more willing to announce new constitutional rights, fundamentally changing the thinking on how constitutional rights evolve.
Jeffries also changed thinking about the burden-of-proof issues in criminal cases and what substantive questions must be answered before criminal punishment may be constitutionally imposed.
Jeffries also wrote a biography of Powell, offering insightful accounts of the many significant events in which Powell participated, including mid-20th century politics in Richmond; the desegregation of the American South; and the Supreme Court's struggle with social issues such as affirmative action, abortion and gay and lesbian rights.
Jeffries has been elected to the American Law Institute and the American Academy of Arts and Sciences. He holds a David and Mary Harrison Distinguished Professorship, the most prestigious endowed chair the Law School offers.
Jeffries is also a legendary teacher, receiving an All-University Teaching Award in 1995, as well as praise from his students. Jeffries served as dean of the Law School for seven years and currently chairs the Strategic Investment Evaluation Committee, which makes recommendations to UVA's Board of Visitors on funding of projects that contribute to innovation and effectiveness at the University.
Rheuban, a pediatric cardiologist, professor of pediatrics and senior associate dean for continuing medical education, was awarded the Thomas Jefferson Award for excellence in service.
While traveling the back roads of Virginia, Rheuban found the farther a patient lived from a major medical center, the greater the risk to the patient's health.
She realized that advances in telecommunications could give health care providers the power to better care for their patients. Her vision was to transport physicians electronically from the UVA Health System to remote places, to conduct virtual, real-time examinations and consultations.
Rheuban and colleague Eugene Sullivan founded the University of Virginia Center for Telehealth. The center is now a world leader in enabling the delivery of critical medical services to patients who are far from the place where the medical expertise they need is located.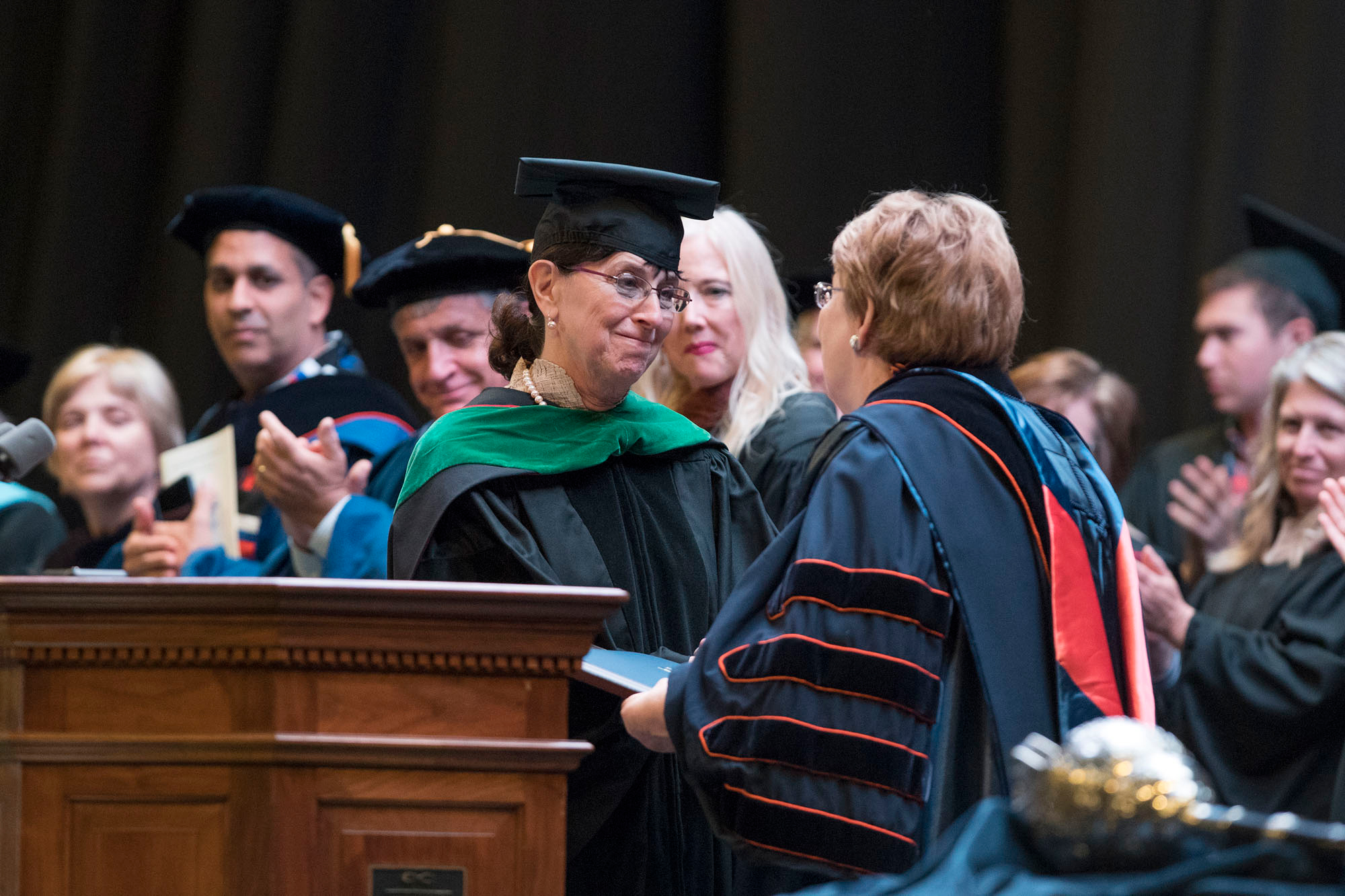 Dr. Karen S. Rheuban, director of the UVA Center for Telehealth, thanks University President Teresa A. Sullivan after receiving the Thomas Jefferson Award for Service.
The center's network extends around the globe, and patients benefit from medical care provided by UVA physicians in more than 60 subspecialties. The center makes possible the provision of care in real time for stroke patients in the back of an ambulance; world-class cancer care to patients in the small Appalachian towns; remote monitoring of patients in their homes to reduce the need for hospital readmission; and it helps women with high-risk pregnancies deliver healthy babies. The center's High-Risk Obstetrics Clinic has reduced preterm births among rural women by 25 percent.
In 2010, with the help of new legislation, Rheuban forged partnerships with the Virginia Department of Health, hospitals, community health centers and health associations. Internationally, Rheuban has advanced University telemedicine programs on four continents. She was the original American partner and collaborator with the Swinfen Trust, a leading international telemedicine charitable organization. Together, they established the first protocols for telemedicine based in major medical centers that now serve practitioners and patients in the developing world.
Rheuban is editor of a newly published textbook on telehealth; a past president of the American Telemedicine Association, the world's largest medical organization focusing exclusively on telemedicine; a board member of the National Center for Telehealth and e-Health Law; board chair of the Virginia Telehealth Network; and regularly testifies on telehealth issues before Congress and the Virginia legislature. She is a fellow of the American College of Cardiology and of the American Academy of Pediatrics. She has received UVA's Elizabeth Zintl Leadership Award and Raven Society Award. In 2015, the Center for Telehealth was renamed the Karen S. Rheuban Center for Telehealth.
Rheuban professed her "humblest gratitude" for the award and said it reflected "the work of her team and countless practitioners throughout the University, across the commonwealth and the world."
Both Jeffries and Rheuban received standing ovations.
Thomas C. Katsouleas, executive vice president and provost, recognized the winners of the 2017 All-University Teaching Awards: Timothy E. Allen, associate professor of biomedical engineering; Dorothe J. Bach, associate director of the Center for Teaching Excellence; Eileen Y. Chou, assistant professor of public policy at the Frank Batten School of Leadership & Public Policy; Robert M. Cox, associate professor in the Department of Biology; and Leslie C. Kendrick, vice dean at the School of Law.
Sullivan presented the Alumni Association Distinguished Professor Award to Cassandra L. Fraser, a professor in the Department of Chemistry; the Cavaliers' Distinguished Teaching Professorship to Robert E. Emery, professor in the Department of Psychology; the Cory Family Teaching Awards for junior faculty to Kateri H. DuBay, an assistant professor in the Department of Chemistry, and China R. Scherz, an assistant professor in the Department of Anthropology; and the Excellence in Education Abroad Award to Hsin-hsin Liang, an associate professor of Chinese in the Department of East Asian Languages, Literatures and Cultures.
Article Information
November 3, 2017
/content/jeffries-rheuban-earn-thomas-jefferson-awards-fall-convocation