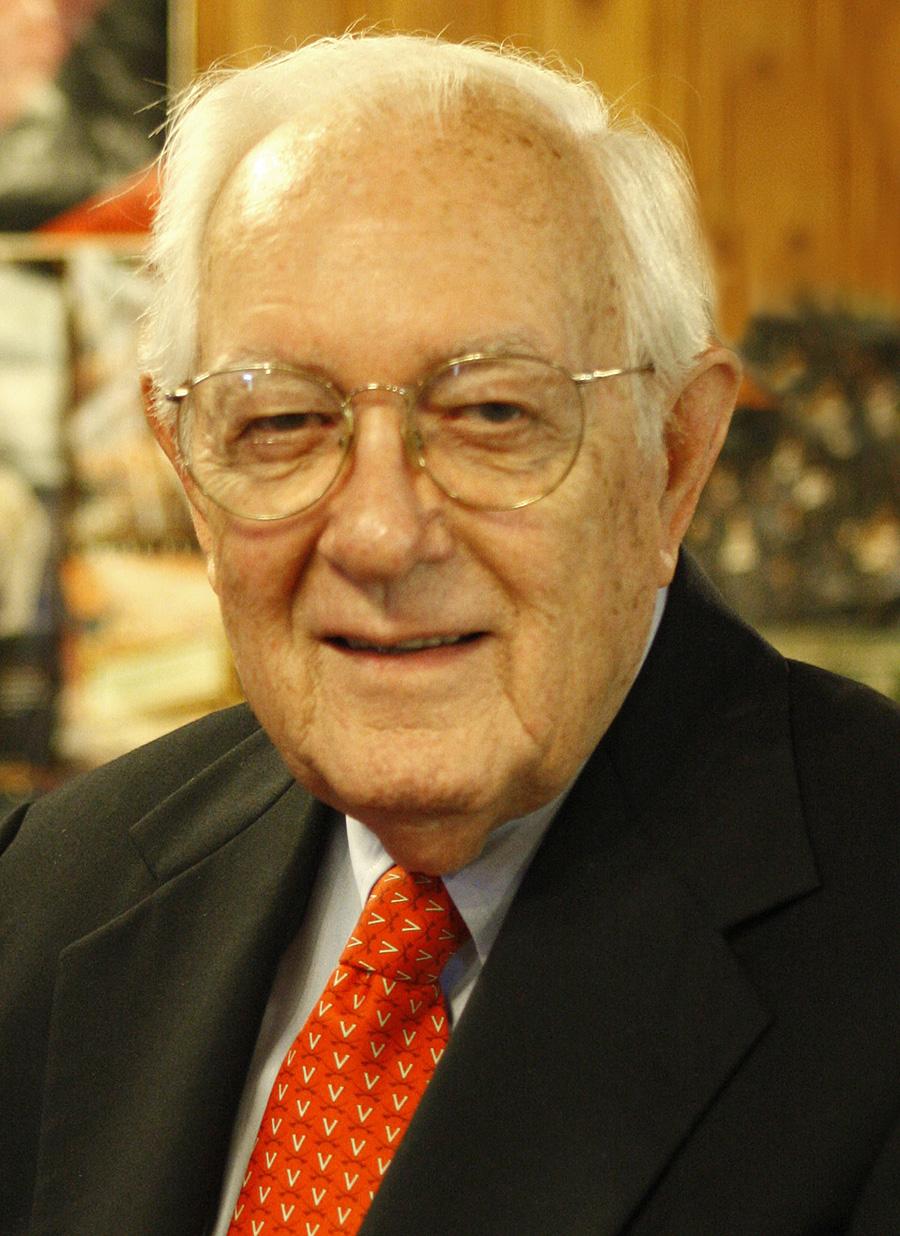 November 5, 2010 — John L. Colley Jr., a member of the Darden School of Business faculty for 43 years, and Dr. Richard L. Guerrant, director of the Center for Global Health whose research focuses on the causes and prevention of childhood diarrhea, are the recipients of the 2010 Thomas Jefferson Awards at the University of Virginia. The awards were presented today at Fall Convocation, held in the John Paul Jones Arena.
Colley and Guerrant are the 59th and 60th recipients of the Jefferson Award. The convocation included recognition of 430 third-year U.Va. students who earned Intermediate Honors and a keynote address by U.Va. President Teresa A. Sullivan.
The Jefferson Award is the highest honor the University community bestows upon its faculty. The selection committee chose Colley to receive the award for excellence in service, which has been sponsored since 1955 by the McConnell Foundation. Guerrant was honored with the award for excellence in scholarship, established in 2009 by the Alumni Board of Trustees of the University of Virginia Endowment Fund Inc.
John L. Colley Jr.
Almand R. Coleman Professor
Darden School of Business

Having joined the U.Va. faculty in 1967, John Colley easily meets the requirement that a faculty member must have served at least 15 years to receive the Thomas Jefferson Award.
"For more than 40 years, John Colley has served as the ultimate University citizen, not only by challenging thousands of students in the Darden School of Business, but by influencing equal numbers of undergraduate students through his service on many University committees," reads his award citation, presented by President Sullivan.
Colley's nomination was enthusiastically affirmed by Darden faculty, alumni, students and members of the University community across the Grounds, who recognized him as a teacher, leader, mentor, adviser, University supporter – and all-around nice guy.
"He truly is our present-day 'Mr. Chips,'" Ernest Ern, senior vice president and emeritus University Professor of Environmental Sciences, wrote.
Several Darden students said they sought out Colley's classes. "Each day, Professor Colley meticulously prepares his case, brings his name tent to class and takes a seat in the back row, eagerly awaiting the opportunity to engage with students in discussion," wrote Andrew Crowley, an MBA student in the Class of 2011.
Colley never let students or alumni forget that Darden is part of the greater U.Va. community. In 1986, he started a special reading seminar in management focused on the Jeffersonian era. The seminar was held on the Lawn and included a visit to the library to see notes from the Board of Visitors meeting where the board learned of Jefferson's death.
"Students often mention the Jefferson seminar as being among their favorite courses at Darden, if not their singular favorite, and alumni never fail to recall its setting and lessons," wrote 11 of Colley's Darden colleagues.
"Mr. Colley has the University ingrained in him all the way to the deepest parts of his soul," wrote three 2008 Darden alumni, Adam Duggins, Dan Mahoney and Eric McDermott. "He is an active leader at the Raven Society, an avid follower of U.Va. athletics (he has only missed seven home football games in over 40 years), and a mentor to students both at Darden and at the University."
Among those nominating Colley were Darden alumni who have gone on to distinguished careers and are frequently invited back as guest speakers in his classes. "John has on more than one occasion counseled me to have courage when I faced crossroads in my career," wrote William A. Hawkins, chairman and CEO of Medtronic Inc. and a 1982 Darden graduate. "His instincts were always right, and his judgment impartial and insightful."
 
Colley's record of service to the University also includes work with the Honor Committee, Jefferson Scholars Foundation and Athletics Department. He was instrumental in encouraging the Darden School and the Jefferson Scholars to become partners in creating the Darden Jefferson Fellows program. In 2007, Darden and the Thomas Jefferson Foundation established the John L. Colley Jr. Darden Thomas Jefferson Fellowship, recognizing his extraordinary impact on students and the University.
Colley received his Ph.D. in business administration in 1964 from the University of Southern California while working full-time at the Hughes Aircraft Company. He came to U.Va. in 1967 as a professor of business administration and became renowned as an expert in the fields of general management and operations. He wrote or co-wrote 15 books and more than 300 case studies and teaching notes.
Seven Darden classes in five different decades have elected Colley class marshal for graduation.
He has received many awards for teaching and service from student honorary organizations, including the IMP Society, Raven Society and the Z Society, and from the Alumni Association. In 2006, the Board of Visitors established the John L. Colley Jr. Research Professorship in Business Administration.
Dr. Richard L. Guerrant
Thomas Hunter Professor of Medicine
Director of the Center for Global Health
School of Medicine
Dick Guerrant has been heard to say that he's "just a simple diarrhea doc." But, since entering the medical profession, he has devoted his career to one of the most challenging medical problems in the world – gastrointestinal pathogens that cause diarrhea in young children. He is the recipient of the 2010 Thomas Jefferson Award recognizing excellence in scholarship.
The World Health Organization estimates that close to 2 million children die each year from these infections, even though methods exist in the developed world to prevent and treat them. Guerrant's nomination and supporting letters from students, U.Va. colleagues and colleagues around the world detail how his scholarship and research have helped children in the poorest nations.
Dr. William Petri, Wade Hampton Frost Professor in the School of Medicine, wrote that Guerrant's interest in global health as a basic human value was shaped by a trip to the Congo that he took as a third-year U.Va. student – a trip led by Dr. Thomas Hunter, a previous Jefferson awardee.
Since then, Guerrant has taken many students – undergraduates as well as graduates – under his wing. He has mentored hundreds of U.Va. students who have worked in Global Health Scholarships in developing nations, more than 100 international fellows, and over 50 U.S. post-doctoral fellows who have become leaders in their fields.
"He has worked tirelessly to develop educational opportunities for students to take on responsibility in global health, enabling them to learn by conducting state-of-the-art research," wrote Mark Brewster, a 2007 Engineering School alumnus who went on to graduate work in public health at Harvard.
Following his graduation from U.Va.'s School of Medicine in 1968, Guerrant completed his internship and residency at Harvard's Boston City Hospital. He held fellowships at the National Institutes of Health, working on cholera research in Bangladesh, and then at Johns Hopkins. He returned to U.Va. to take a chief residency and then joined the faculty in 1974. He launched the Center for Global Health in 1979.
He has collaborated with U.Va. scientists whose work led to three Nobel prizes and with whom he has coauthored 16 scientific papers. He was elected to the Institute of Medicine of the National Academy of Sciences in 2003.
Guerrant's research focuses on the recognition, diagnosis, pathogenesis, impact, treatment and control of enteric infections and their consequences. "Dick's research has addressed multiple aspects of this problem, from basic science studies of the mechanisms of action of bacterial toxins that cause diarrhea, to seminal work in Brazil demonstrating not only the mortality but the long-term morbidity from diarrhea," wrote Dr. James P. Nataro, Benjamin Armistead Shepherd Professor and chair of the Department of Pediatrics.
Thomas C. Skalak, vice president for research, noted, "Dick's research has demonstrated that early childhood diarrhea can lead to serious physical and cognitive impairments later in life. He translated this basic research into preventive treatments that have improved the health and well-being of countless children in developing countries."
Guerrant is currently leading a $30 million, eight-site project on "Malnutrition as an Enteric Disease," supported by the Bill and Melinda Gates Foundation. His longest-standing NIH grant promoting international collaboration in infectious diseases has just received the top score for its unprecedented fifth cycle of funding over the next five years. All told, his research awards bring more than $5 million per year to the University.
Colleagues at the Federal University of Ceara in Fortaleza, Brazil, wrote of the influence Guerrant had on their research and careers as a result of that university's partnership with U.Va. "Under his inspiring leadership, I developed skills for genetic analyses in critical research areas of public health in the developing world," Reinaldo B. Oriá, a former fellow, wrote.
Across Grounds, colleagues from schools as diverse as the College of Arts & Sciences, the McIntire School of Commerce and the schools of Engineering and Applied Science, Nursing and Architecture wrote of Guerrant's cross-disciplinary work and interests. "Dick is deeply committed to intellectual exchange beyond the boundaries of discipline and profession," Brantley Womack, Cumming Professor of Foreign Affairs in the College of Arts & Sciences, wrote.
"I was able to create a new course looking at water and health," wrote Karen E. Firehock, a lecturer in the Architecture School's Department of Urban and Environmental Planning. "This course … would not have happened without his leadership and vision."
James Smith, professor of civil and environmental engineering in the Engineering School, wrote of his collaboration with Guerrant on global water issues. "Dick realizes that more than medicine is needed to address this problem," he wrote. "He has sought out interdisciplinary collaborations across the University."