If you've ever had a meal, a cup of coffee or just hung out at the University of Virginia's Newcomb Hall dining room any time over the last three decades, chances are you'd recognize Chris Raupp.
He's the guy with the boundless energy, the laser focus and the great smile.
Raupp, who has worked in food preparation for Aramark at Newcomb since 1992, has also exhibited those traits on a much larger stage.
Competing in tennis with his doubles partner at the Special Olympics World Games in Abu Dhabi in March, the 49-year-old Raupp won a gold medal.
"It will be a time that neither we nor Chris will ever forget," said Lloyd Raupp, Chris' father.
When Chris was young, Lloyd, a former Army intelligence officer and linguist, and his wife, Sue, wondered if such moments would ever be possible.
Born in Stuttgart, Germany, where Lloyd was stationed, Chris' Apgar score – a measure of a newborn's health – was fine. With the exception of a lazy eye and tongue thrust, he seemed like most babies.
However, Chris was slow to reach developmental milestones. He didn't walk until he was 20 months old and had speech problems. In preschool, Chris was ultra-hyper and couldn't express himself. He would become easily frustrated and lash out.
Today, doctors might diagnose Chris with autism, but back then there wasn't a name for it. "He was like the Tasmanian devil," Sue Raupp said.
Wherever the Raupps lived – Stuttgart, Ft. Meade, West Point, Nuremberg – professionals had trouble getting a handle on what Chris was suffering from and how best to help him.
When Chris was 10, things got really bad.
Sue remembers walking into a room and seeing Peter Raupp, Chris' younger brother, rocking back and forth in a chair and moaning after one of Chris' outbursts.
"I started to cry," Sue said. "I was thinking, 'I can't lose two kids.'"
At that point, the decision was made to medically evacuate Chris to a residential facility in Pennsylvania. Eventually, believing Chris had made progress, the Raupps moved to Fairfax County and reunited with Chris.
"But all hell broke loose again," Sue said.
"He wasn't ready," Lloyd said.
Thankfully, a turning point came when Chris was 14.
During a meeting with a special education administrator in Fairfax, Sue noticed a booklet on a desk for the Little Keswick School, a therapeutic boarding school for boys ages 8 to 16, located on a farm in Keswick, just outside of Charlottesville.
The Raupps, in consultation with the administrator, decided to give the school a shot, and, almost overnight, saw a change in Chris.
"It was the most loving environment," Sue said. "Rules were made very clearly. They were cut and dried. You do this, you get rewarded. You do this, you lose the ability to do things. They made things so clear and they stuck to it."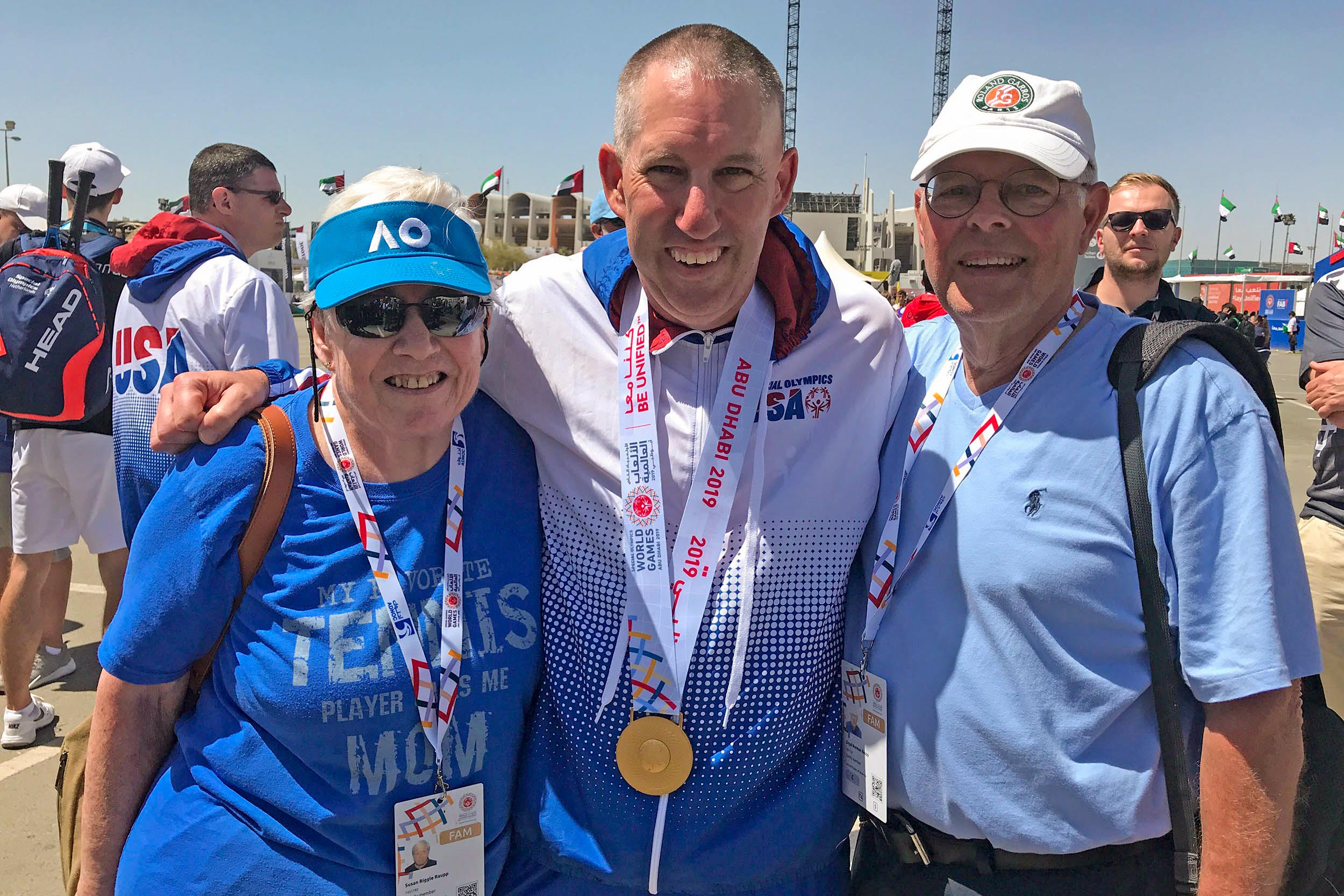 Raupp celebrates his gold-medal victory in Abu Dhabi with his parents, Sue and Lloyd. (Contributed photo)
When Chris turned 18, he moved back to Northern Virginia.
This time, things went much better.
Chris attended West Potomac High School, which had a center within the school where he was trained for food services work.
In 1990, the Raupps moved to Charlottesville. Chris took vocational training at Charlottesville High School and subsequently earned his diploma from CHS.
It was around that time that Chris got extremely interested in tennis after Lloyd built a backboard for him to practice on. "If I missed the backboard," Chris recalled, "it would go all the way down the street."
For hours at a time, Chris would hit against it, then go out and play with his dad. "It became his obsession," Sue said.
In 1992, Chris began working at Newcomb Hall and has been there ever since.
Every weekday during the UVA academic year, Chris – who lives in a Charlottesville home that is part of Innisfree Village, a community for adults with intellectual disabilities – takes a Charlottesville JAUNT bus to Newcomb, where he usually works from 6:30 a.m. to 2 p.m.
When Newcomb is closed during the summers, Chris plays lots of doubles with Lloyd, also an avid tennis player.
"He always used to beat me," said Chris, smiling. "Now it's the other way around."
Over the years, Chris has also competed in basketball, bowling and golf in Special Olympics.
"He'll play any sport," Sue said, "which is what I think helps keep him so calm. He's able to get rid of his energy."
Sue said it's been like and night and day ever since Chris left Little Keswick. "What he learned was how to control his frustrations," she said. "He went from a Tasmanian devil to a human being."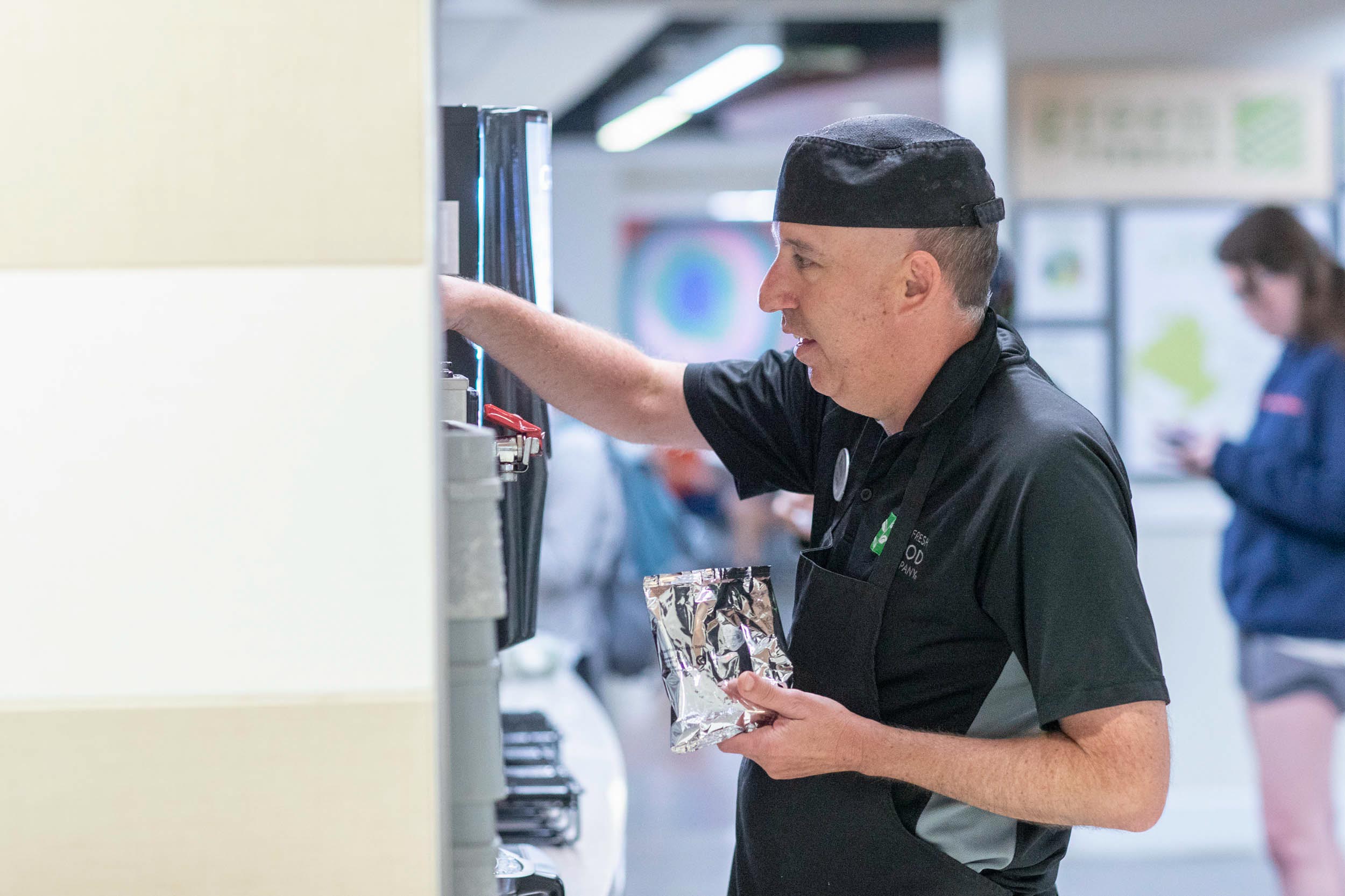 Chris Raupp was recently honored with Aramark's most prestigious award. (Photo by Sanjay Suchak, University Communications)
Chris still has daily challenges. The difference now is he knows how to deal with them. "He composes himself," Sue said. "He knows when he needs to be alone. He knows how to regulate himself."
That's been particularly helpful in the workplace.
This year, Chris was selected for Aramark's prestigious "Ring of Stars," an annual award for just a handful of employees around the world who make "extraordinary efforts" and embody the company's mission "to enrich and nourish lives."
As a recipient, Chris received an all-expenses paid trip to Boca Raton, Florida, and got to meet members of the executive team.
Heather Poulson, Chris' supervisor at Newcomb, said nobody was more deserving.
"He always has a smile on his face and is really talkative to all the students," Poulson said. "He's just a good guy."
Chris said meeting new people every day is his favorite part of the job. He particularly enjoys chatting with basketball, football and tennis players.
Chris loves talking sports. He rattles off the names of UVA student-athletes like Kyle Guy, Bryce Hall and Danielle Collins as if he is an ESPN talk show host.
Chris glows when he talks about the men's basketball team's national championship.
"I didn't go to bed until like 12:30," he said.
Lloyd and Sue beam with pride when they reflect on all of Chris' accomplishments.
Before the World Games in Abu Dhabi, Peter – now a partner at a law firm in West Virginia – called to wish his older brother good luck.
Raupp and partner Chris Perreault rolled through the tournament.
In the semifinals, they defeated a team from Great Britain. In the finals, they knocked off a squad from the Netherlands.
When Chris returned to Charlottesville, medal in tow, he couldn't believe all the attention he was receiving.
"Chris said, 'I'm famous,'" said Sue, smiling.
Article Information
June 3, 2019
/content/journey-tasmanian-devil-gold-medalist-and-ring-stars-member