After more than 1,300 combat hours in the Middle East and three years of working at the Pentagon, University of Virginia alumna Caroline Darney faced the biggest decision of her life.
Should she continue in the military or go civilian?
Darney, whose father had been an Air Force pilot, loved everything about her time as a naval flight officer and foreign defense liaison.
She loved representing her country. She loved the camaraderie with fellow officers. She especially loved sitting in the back of a plane and telling pilots – a la the "Goose" character in the movie, "Top Gun" – which way to fly.
However, one thing kept tugging at Darney.
A love for UVA.
UVA athletics, in particular.
Every time Darney flew, she would attach Virginia's "V-Sabre" logo to the outside of her flight suit. Underneath the suit, she wore her favorite pair of UVA shorts.
In her spare time, Darney began blogging for a number of sports publications by following Cavalier games on the internet.
Eventually, she wondered if she could turn her passion for writing about UVA sports into a full-time career. But thinking about leaving the military and actually doing it were two very different things.
"I didn't know anything other than being in the military – whether as a dependent or as an active duty member myself – so it was scary," Darney said. "You're taking a risk – you're giving up a way of life, a paycheck, security."
It was while serving as a foreign defense liaison at the Pentagon, getting her master's degree in sports industry management at Georgetown University and continuing to do free-lance sports writing that Darney decided to go for it.
"I looked at it as a now-or-never-type thing," said Darney, who interned with the Military Bowl and the NFL Players Association through her master's program. "I would have been coming up on 10 years in, and then once you're 10 years in, you may as well stay for 20 for retirement.
"I said, 'If I'm going to do it, I want to do it now, while I'm relatively young and can have some options.'"
Today, Darney has her dream job as the managing editor for NCAA team brands at SB Nation, a sports blogging network owned by Vox Media.
Based in Charlottesville, the highly decorated veteran oversees nearly 100 college blogs, including the popular UVA site "Streaking the Lawn," which she also writes for.
"At SB Nation, our slogan is 'Come fan with us,'" Darney said. "We get to provide something that's a different perspective than a lot of the ESPNs and Sports Illustrateds. I'm not saying it's not writing objective stuff, but at the same time you can look at things through the lens of a fan. Whether that's good or bad stuff about your team – you kind of have that viewpoint. I think that's kept things fresh."
How does Darney navigate that fine line between fan and media member?
"Neutral colors," she said, laughing.
Darney added: "I learned very early on that there's no cheering in the press box."
Over time, Darney – who served as the vice president of the Hoo Crew student fans group prior to graduating from UVA in 2007 – said it's gotten easier to do.
"It's to the point now, with ACC basketball being so incredible, that I can appreciate the Zion Williamson block on DeAndre Hunter," said Darney, referring to the Duke player's highlight against Virginia on Feb. 9, in one of the Cavaliers' two losses of the season.
That's not to say Darney doesn't have the occasional slip-up.
During UVA's game against Duke at Cameron Indoor Stadium last year, there wasn't enough space along press row, so some media members had to sit in the stands with the famed "Cameron Crazies," the rowdy student fans of the Blue Devils.
For the entire game, Darney managed to stay cool.
But then Wahoo big man Jack Salt – not known for his free-throw prowess – hit a clutch free throw.
"I said, 'Yes!'" Darney recalled, smiling. "A Duke fan spun around and was like, 'What?!' I said, 'I'm sorry, I went to UVA.'"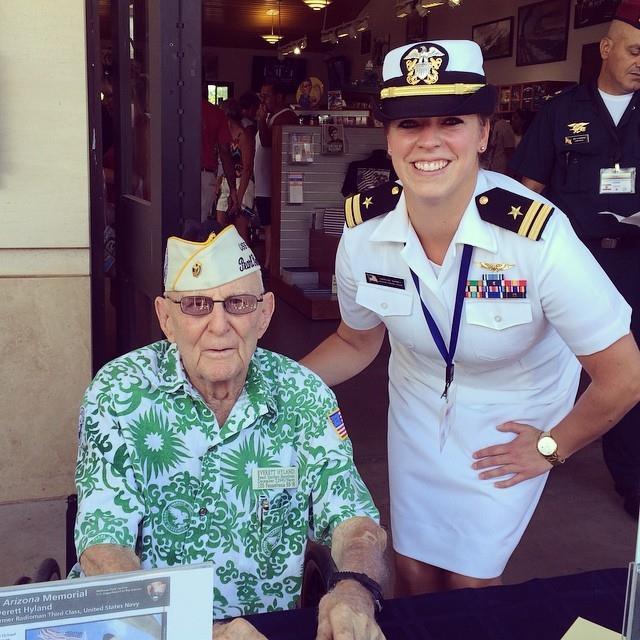 During her time in the Navy, Darney earned nearly a dozen awards and honors, including a Global War on Terrorism Expeditionary Service Medal and a NATO Medal. (Contributed photo)
Some blogs around the country have trouble getting credentials to cover college games. However, Streaking the Lawn has been credentialed by the UVA Athletics Department for a number of years now.
In some regards, bloggers have come a long way, but in others they haven't, Darney said.
"I still think there's this negative connotation to saying someone is a blogger," she said. "People envision someone in their mom's basement just putting their thoughts on the internet."
Darney and her SB Nation cohorts attend all the games and press conferences, just like other members of the media.
SB Nation College League Manager Matt Brown said Darney is a one of a kind.
"I love Caroline's relentless energy and enthusiasm, her deep knowledge of college basketball and her skin that's thick enough to absorb a gazillion '16-seed' jokes from everybody in the company," joked Brown, alluding to top-seeded UVA's shocking loss to No. 16-seeded University of Maryland-Baltimore County in the first round of the 2018 NCAA Tournament.
Yes, there is that.
In addition to the playful jabs from colleagues, Darney spends a good deal of time defending the UVA men's hoops team's honor on Streaking the Lawn's message board.
"It's common knowledge in this business that you never read the comments, because no good can ever come out of that," Streaking the Lawn founder Brian Leung said. "And in spite of this, Caroline really can't help it, because she is just that passionate about everything she writes."
Darney admits the "trolls" do get to her.
"It's no longer that I want UVA to win just because I'm a fan of the team," Darney said. "I want them to win because I think the players are good people, the coach deserves it and also so people will shut up."
Darney, who spent her formative years in Maine (her birthplace), Colorado, England, Germany and Northern Virginia, said UVA was the only school she ever wanted to attend. Like many people, she visited Grounds once and was sold.
She came to UVA on a Navy ROTC scholarship.
"The ROTC unit here was fabulous," Darney said. "I was very well-prepared to enter the fleet from day one. That was huge in terms of being able to succeed in flight school and reach the levels that I did as an instructor and mission commander."
During her time at UVA, Darney never wrote for a student publication. She believes her writing ability can be traced back to all the papers she had to write as a sociology major. "I've always been more confident in my writing because of that," she said.
With March Madness heating up and lacrosse season underway, this is one of Darney's busiest times of the year.
Darney spoke in measured tones about the basketball team's chances this postseason.
"This team has everything that it needs to win a national championship, but as we're painfully aware, the NCAA Tournament is a cruel mistress," Darney said. "It could turn on you at any minute.
"The team needs to be healthy. The thing that's different from last year to this year is that there's a clear answer when something isn't going right. So if the shots aren't falling, this team has the pieces and the ability to go inside and still score. There's versatility. You can bring in a guy like Mamadi Diakite, Jay Huff or Braxton Key, who can score points or add other things like rebounds or defense or whatever you need. That makes them dangerous because of the different things they can throw at other teams.
"But what I really like is the way that the offense has shown wrinkles and capabilities that we haven't seen since probably 2016."
Darney said it's amazing to see how far the program has come.
"It never feels like work. I just feel fortunate every day to be able to be around something that's brought me so much joy."
"If you would have told undergrad me that Virginia was 33-3 in the last 36 ACC regular-season games, I would have told you you're crazy," Darney said. "It's just a testament to how consistently good they've been. I've just been lucky enough to be around for that stretch."
With the exception of one ill-fated flight in which her aircraft lost pressure and had to descend rapidly, Darney talks wistfully about her time in the Navy.
Darney earned nearly a dozen awards and honors, including a National Defense Service Medal, an Iraq Campaign Medal, a Global War on Terrorism Expeditionary Service Medal and a NATO Medal.
As a liaison, Darney went on to work with attachés from roughly 50 countries, often taking them to Charlottesville for tours of UVA and Monticello.
But Darney said she wouldn't trade her current job for anything.
"It never feels like work," she said. "I just feel fortunate every day to be able to be around something that's brought me so much joy."
Article Information
March 13, 2019
/content/joyride-alumna-goes-defending-america-defending-uva-hoops