A banner year – literally – for University of Virginia athletic teams just keeps on getting better.
For the first time in school history, the Cavalier men's and women's soccer teams are simultaneously ranked No. 1 in the country in the United Soccer Coaches national polls.
On Tuesday afternoon, the Cavalier men leapfrogged two schools, including previous No. 1 Stanford University, to ascend to the top spot for the first time since winning the NCAA championship in 2014. A few hours later, they defeated George Washington University, 3-0, to improve to 9-0 heading into a Friday night home game against the University of Louisville.
Sitting at the top perch has become comparatively old hat for the UVA women, who have been ranked No. 1 for more than two weeks. Before this season, the Hoos – who enter a Friday match at the University of Miami with a 9-0-2 record – last sat atop the rankings in 2015.
On Wednesday, UVA Today caught up with senior forward Meghan McCool of the women's team and senior defender Robin Afamefuna of the men's squad.
Q. Pretty cool that both teams are ranked No. 1?
RA: Absolutely. It just goes to show how much work we both put in every single day. We have all these great resources here, a great facility. We definitely have a great setup to be successful. You see both teams working out here, doing everything it takes. Eventually, you see the success, and that's where we are right now.
MM: It's really cool, especially with the year that we've had with the basketball team and the lacrosse team winning national championships. However, it's only Oct. 2, so I think it's important not to get too ahead of ourselves. But it's definitely a huge honor. It means we have the respect of a lot of coaches.
Q. Do the teams ever watch each other's games?
RA: A lot. There are many Sundays where guys on our team go to their games and try and support them. And you also see their team at our games, too. It's great to see that we support each other.
MM: It's hard with our schedules because our travel schedules never seem to line up, but we try and catch as many as we can.
Q. What's it like being No. 1?
MM: The first week we tied Wake Forest and then we tied Duke last weekend – so it hasn't been completely smooth sailing for us. But we've worked super-hard to get where we are now.
The work is not done, obviously. But I think being No. 1 does give us a little bit extra boost of confidence.
RA: We all came into the season wanting to win the ACC championship and the national championship. We all expect to be the No. 1 team. But as of right now, it doesn't really change anything. At the end of the day, it's the playoffs that matter. You can win every single day in the regular season and then lose in the playoffs and you're out. So right now we just need to continue the way we've been playing and set ourselves up well for both tournaments.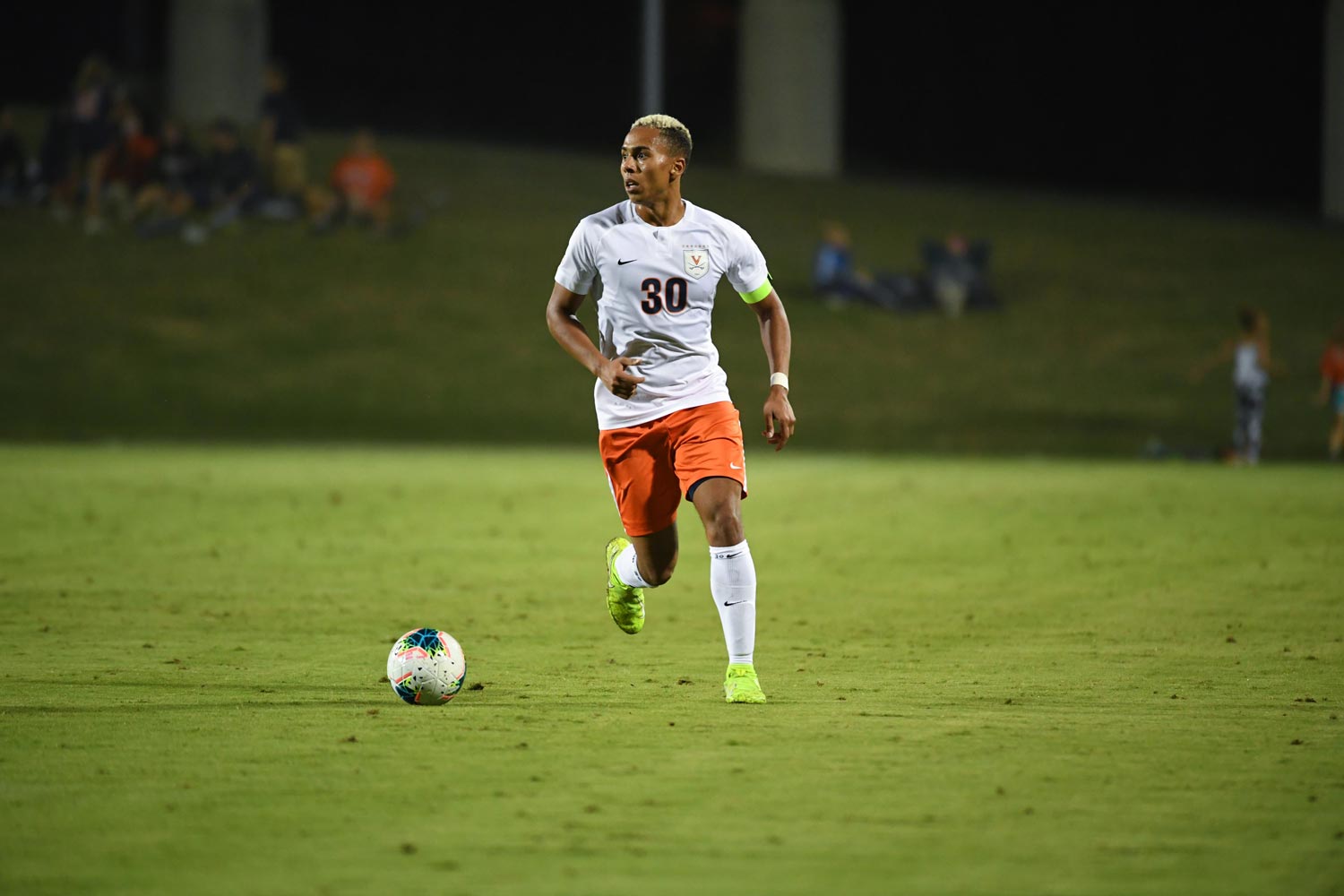 UVA defender Robin Afamefuna's goal against George Washington University on Tuesday night was ESPN's "Top Play."
Q. Robin, your team only allowed one goal in the first nine games. That's the fewest in the 76-year history of the program. What makes your defense so effective?
RA: It's not just the defense. I would say it's more the defensive effort of the whole team.
After the preseason, we started working more on our transitional defending and just putting more emphasis on not getting scored on. But Colin [Shutler] is a great goalie for us and our defensive [unit] is very good as well, with Andreas Ueland a great addition to the team. You can feel his presence on the field. That's definitely helping us. We hope we can keep it up.  
Q. Meghan, the team is averaging nearly four goals a game this season and ranks within the top five in most offensive categories. What makes your offense so dangerous?
MM: I think what's special about our offense is that we're all very athletic, rely a lot on our speed and we're interchangeable with our positions. Pretty much anybody who goes in on the forward line can play anywhere. I think that's pretty hard to defend.
We have all sorts of different weapons, even coming off the bench. I don't think we have one superstar offensively, so that's almost impossible to defend.
Q. Robin, having grown up and gone to high school in Germany, what was your acclimation to life at UVA like?
RA: It was really difficult – not to just the UVA environment, but the U.S. I had a couple months here that were extremely hard. I talked to my mom probably every single day.
There were many cultural differences that I had to get used to. It took me some time. But being a part of this team and being surrounded by guys who wanted to help me every single day made it a lot easier for me. Over time, I got used to it.
And now I love it here. This is my second home. I have found so many great friends here. It was definitely the best decision of my life to come to UVA.
Q. Robin, you've been an ACC Academic Honor Roll member in each of your first three years at UVA. Meghan, you were an ACC Women's Soccer All-Academic Team member last season. What have been the secrets to your academic success? Any tips for student-athletes just getting to UVA?
RA: I was always told by my parents, especially by my mom, to really take academics seriously because at the end of the day, you can only get so far with your sports.
I always have wanted to stay on top of everything with my academics. Coming here, I knew it was going to be tough for me because it's a different language for me and I'm not a native. So I put in a lot of work, put in a lot of hours at home.
UVA expects you to be great at academics and athletics. That's why I came here. I wanted to have that challenge and definitely accepted it.
What I can say is that if you're a student-athlete or just a regular student, just make sure you're aware of the challenge that it's going to be. You'll have to put in a lot of work, but eventually you'll see that it will be all worth it.
MM: I think one of the biggest tips I [have] is to use our resources. The professors here are awesome. Every single one I've had is willing to help if you put in the effort. Our academic advisers are great. Staying on top of things, keeping yourself organized, writing out a plan – they're all things that have really helped me throughout my time here.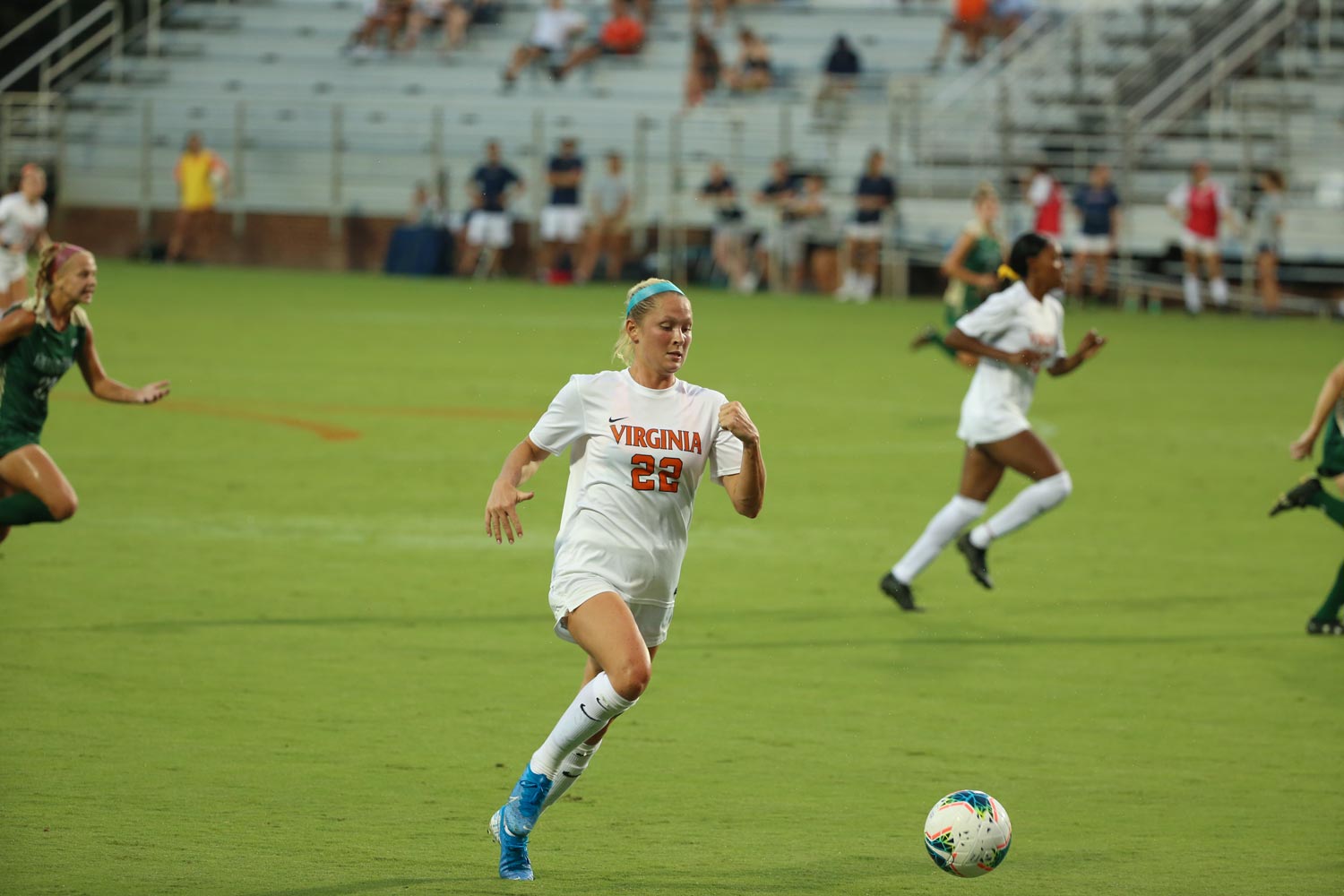 UVA forward Meghan McCool has scored eight goals for the undefeated Hoos this season.
Q. Have you had a favorite class or professor?
RA: [Smiling] My African American studies professor, Kwame Otu, who a lot of my teammates know. I will never forget his class, for sure. He tries to push the limits. A lot of times I disagree with what he says, but if you try to get into what he has experienced in different environments, you can understand where he is coming from and what has shaped him.
I took his class two years ago, but I'm still in contact with him. He really pushes the limits and I think sometimes professors have to do that. So many of my professors are just great people and I want to make sure I maintain those relationships going forward.
MM: Oh that's so hard! My minor is in health and wellbeing in the Curry School, so a lot of the classes that revolve around health care, nutrition, health policy. I've loved all of them.   
Q. Do you know what you'd like to do after your soccer days are over?
RA: I'm majoring in global development studies. Eventually I would love to work for, maybe, the United Nations. That's why I picked my major. I want to try and find ways to help people, especially those who don't have access to a lot of resources. That would be great.
MM: I would like to get into health care, on the administrative side. I don't know specifically what, but anything in the field really interests me. I like the policy end of it. We'll see.
Q. Meghan, what was your feeling watching your head coach [Steve Swanson] and former UVA players win the World Cup over the summer?
MM: It was awesome. It's an experience not everyone gets to experience with their coach. Steve brought back a lot of insights from that. He's one of the most humble guys I've ever met – so of course you had to pry things out of him [laughing]. But it was awesome turning on the TV and knowing that he was our coach and that Morgan Brian, Becky Sauerbrunn and Emily Sonnett all played for UVA. It was definitely a very special thing. But the most important thing to me was how Steve was able to be part of such a big thing and share some of the experience with us.
Q. Meghan, what do you love most about being a student at UVA?
MM: Soccer is a huge part of my life, but Charlottesville and UVA as a whole has brought a whole new community to me that I love. I love the town. I'm from Philadelphia, so this is very different than a big city. But I've met a lot of cool people and done a lot of really cool things. I think it's just a different atmosphere here that I'm very grateful I've had the opportunity to be a part of.
Q. Robin, was it pretty cool to see that your goal against George Washington on Tuesday night at Klockner Stadium was ESPN's "Top Play"?
RA: I can definitely put that on my Instagram [laughing]. But my goal against Clemson last year was a lot better and that didn't get any recognition [smiling].
I didn't think it was a great goal. Some keepers might have saved it. But at the end of the day, a goal is a goal – and we won the game, so it's all good.
Q. How much does the success that the basketball and lacrosse teams had last season inspire you?
MM: Yeah, I think two national championships in one year is pretty unheard-of. I've been friends with a lot of players on both teams. To see what it took for them to get there and how much they had to persevere … it's definitely inspiring for us. We want to make it a third, for sure. And we're going to do everything we can to get there.
RA: How everybody was energized – the students, the professors – was great to see. It's nice to see that people who weren't even directly affiliated with us wanting us to succeed. It was definitely a great inspiration for us.
I think this is definitely a year where we can get something done. We just have to keep pushing and maybe we can hold up a trophy at the end.
Article Information
October 2, 2019
/content/klockner-stadium-epicenter-college-soccer-universe