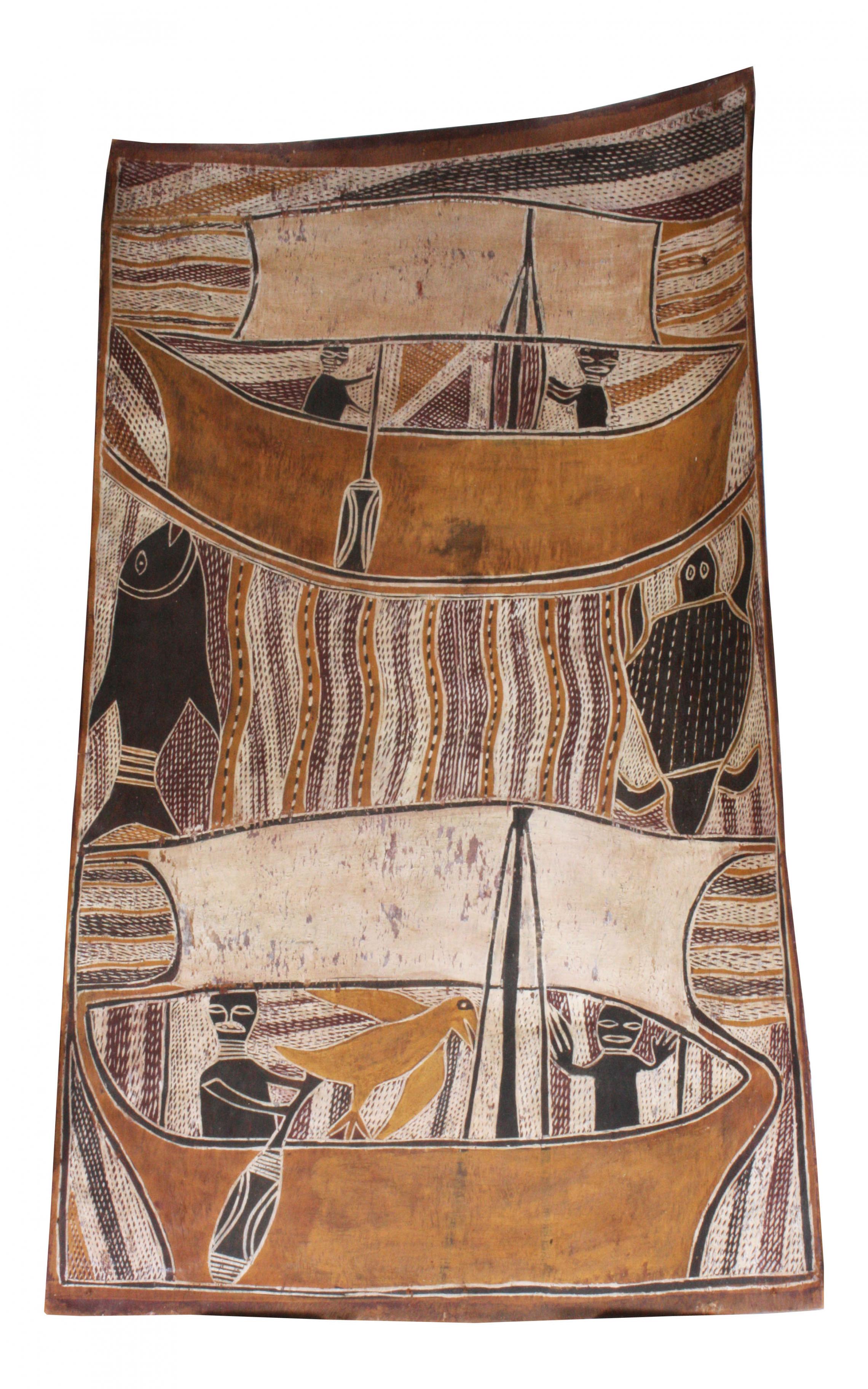 November 2, 2011 — A bark painting held by the University of Virginia's Kluge-Ruhe Art Collection has been selected as one of Virginia's "Top 10 Endangered Artifacts."
"Djarrakpi Story" (1966) by Narritjin Maymuru, was announced by the Virginia Association of Museums as a winner in its 2011 Virginia's Top 10 Endangered Artifacts Program, a competition among Virginia museums to raise awareness about preserving artifacts in the care of museums, libraries and archives throughout the Commonwealth.
More than 100,000 votes were cast by the public for all 25 nominations in the competition, according to the Virginia Association of Museums, one of the sponsors of the statewide collaborative program.
Maymuru is a prominent Yolngu bark artist from Arnhem Land in the north of Australia. His painting depicts two ancestors who went fishing in a dugout canoe and were washed overboard by an ancestral sea turtle. It refers to a long history of interaction between coastal Aboriginal people and Indonesian traders, who introduced the dugout canoe and demonstrates the creativity of an individual artist in depicting major themes of Yolngu art.
The painting shows signs of deterioration, particularly in areas where the pigment is flaking off the surface. It must be treated by a qualified conservator before it can be exhibited.
Armed with the "endangered artifacts" designation, the Kluge-Ruhe Collection will begin raising funds to conserve the painting. (To help preserve the painting click here.)
Read more about the winning objects and view photographs of all nominations here.
For information, visit the Kluge-Ruhe website or call 434-244-0234.
– By Lauren Maupin