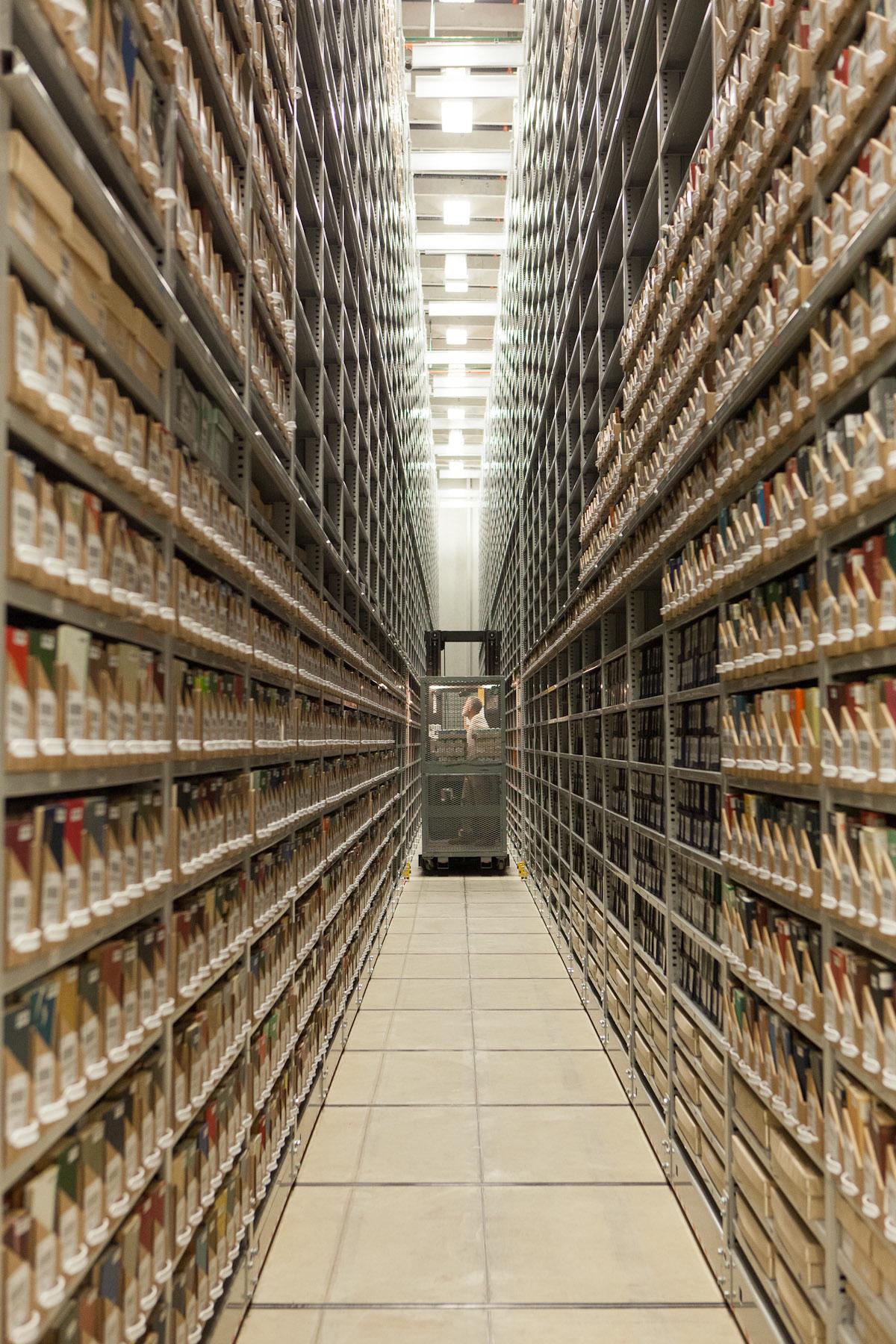 After two years of renovation and sorting through hundreds of books, journals, microfilms and more, the new and improved Ivy Stacks, a University of Virginia Library system's storage facility, is open and ready for business. With the completion of the retrofit, the facility more than doubled its capacity, creating room for the U.Va. Library to continue to expand its collection.
Located about two miles from Grounds on Old Ivy Road, the Ivy Stacks were built in 1995 as an off-site shelving facility for valued but rarely used items for all of the U.Va. libraries. By 2010, the Ivy Stacks and all the on-Grounds libraries were filled to capacity, and the search for a solution began.
Paul Rittlemeyer, director of interlibrary services, said the key was to create more space without having to dispose of any items. "We are a research library, so we cater to research needs," he said. "If only six people in the world want a certain item, we have it for those people."
Although the facility had been designed to accommodate a twin building next to it, the University estimated construction costs for a new building to be $16 million, while retrofitting the existing facility with higher efficiency shelving cost $4.9 million in University funds, Rittlemeyer said.
Before the retrofit could begin, almost 55,000 boxes containing 750,000 items had to be removed and sent to off-site temporary storage facilities, where they remained for the next 12 to 18 months. Then the building improvements began, starting with the installation of metal rails for mobile shelving and a new concrete floor. Next, new temperature and humidity controls, air exchange filters and lighting were installed before the 10 new shelving units were assembled and fitted to the rails.
The shelves stretch 192 feet and stand 33 feet tall; a cherry picker-type mechanism is used to reach the top shelves. The shelves slide along the rails and only one aisle can be opened at a time, allowing space for two more shelves to fit within the facility.
This first phase took a year, and then it was time for the library materials to come back to their improved home.
Before the items could be re-shelved, they had to be catalogued, barcoded and sorted into cardboard trays according to height. This type of organization, called the "Harvard method" of high-density storage, is designed to reduce the amount of dead space between the tops of items and the shelf above. Using this method, Ivy Stacks increased the number of shelf openings from 6,864 to 12,160.
Sorting by height means that materials are no longer stored based on their subject matter, Rittlemeyer said. A Russian text could be sandwiched between a nursing journal and an American history book, he demonstrated, pulling the items out of their cardboard tray.
Everything in the Ivy Stacks is now found through barcodes. To find a specific item, Rittlemeyer said, the item ID in the digital catalogue tells what aisle, shelf and tray the item is in through the corresponding barcodes.
At the peak of the project, 18 people worked full-time to sort and catalogue the hundreds of thousands of materials, Rittlemeyer said.
When the temporary storage facilities were filled up almost to the roof with boxes, Rittlemeyer remembers how daunting the task of moving all the boxes back seemed. "We'd shake our heads and think, 'This is not humanly possible.' But we just had to keep at it," he said.
After a year and a half of barcoding, cataloguing and restocking the shelves, all 750,000 items of displaced inventory have returned to the renovated facility. As far as their original goals go, the project is fully completed, Rittlemeyer said.
The work at Ivy Stacks, though, is far from over. Now Rittlemeyer and his team are bringing in items from the various libraries on Grounds, creating space for those libraries to acquire new items and expand U.Va's collection.
"There will be an ongoing need until the stacks are filled again," he said, adding, "Hopefully that won't be for another five years."
For now though, the stacks are only half full and currently house 901,743 items.
– by Lisa Kessler