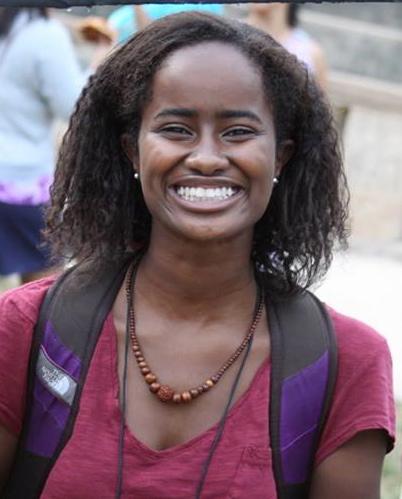 On Friday, 18 local and national figures with "ideas worth spreading" will give 18-minute TED talks at the Paramount Theater in front of a packed audience of more than 1,000 people. The first-ever TED event in Charlottesville is sold out and will be webcast live from 9 a.m. to about 5 p.m. The lineup will feature five renowned University of Virginia professors, one staff member, several alumni… and one U.Va. student, third-year Hawa Ahmed.
The event is co-sponsored by the Office of the Vice President for Research.
Ahmed was selected to speak after giving a two-minute speech Sept. 30 at a TEDxCharlottesville Open Mic Night event. At that event, she described her humble beginnings.  Born a refugee in Chad, Ahmed arrived in the United States with nothing but the clothes on her back. As she watched her parents struggle to make a living, college was a "far-fetched fantasy," but when she received a full scholarship to study at U.Va., her whole world changed, she told the packed crowd at the Jefferson Theater.
"U.Va. gave me a lifetime of unforeseeable opportunity," she said.
"Every day I wake up in my room, type on my laptop, and eat with my meal plan – all of which have been provided by the University. I have everything I need.
"I may live below the poverty line, but for the first time in my life, I am wealthy," she said. "College made me rich."
With her own life transformed, Ahmed has plunged into service to others. This summer, she rode her bicycle more than 4,000 miles across the continental United States. Averaging 80 miles a day, she biked for 11½ weeks to raise money and awareness for affordable housing.
A politics and Middle Eastern studies double major, Ahmed hopes to work in international affairs, perhaps even working with refugees like herself, she said.
In the meantime, she mentors first-year students who are fellow QuestBridge scholarship recipients and volunteers doing student engagement work for the U.Va. Office of Admission.
Looking ahead to sharing the TEDx stage as the youngest speaker in the lineup, Ahmed noted that while she does not tend to get nervous when speaking in front of a crowd, it is intimidating that the other speakers "are leaders in their fields. They have written books, cured diseases."
Putting Ahmed on the TEDx stage is "an opportunity to amplify her powerful and inspirational message to a much broader audience," said Lisa Stewart, director of the Darden School of Business' Institute for Business in Society and a member of the steering committee that organized the event. "This is what makes working on TEDxCharlottesville worthwhile, and truly demonstrates the concept of  'ideas worth spreading' that is central to the TED philosophy."  
TED – short for "Technology, Entertainment, Design" – talks and conferences began in Silicon Valley in 1984, and have been held annually since 1990, with the slogan "ideas worth spreading." The main TED conference is held annually in Long Beach, Calif., and other TED events are now held throughout the world. TED talks address a wide range of topics within the research and practice of science and culture. Past presenters include Bill Clinton, Al Gore, Malcolm Gladwell, Bill Gates, Google founders Larry Page and Sergey Brin and many Nobel Prize winners. Videos of the talks are available online for free and have been viewed more than a billion times worldwide.
The TEDxCharlottesville speaker lineup also includes five U.Va. professors: Tony Beasley, James Coan, Martin Davidson, Dr. Jeffrey Elias and Ed Freeman.
Beasley is a research professor of astronomy and director of the National Radio Astronomy Observatory. Since 2000, his career has focused on the design, construction, operation and management of major scientific research facilities. Prior to his current appointment, he served for more than four years as chief operations officer and project manager for the National Ecological Observatory Network, a continental-scale observatory designed to provide scientists with 30 years of ecological data on the impacts of climate change, land use change and invasive species on natural resources and biodiversity.
Coan is associate professor of clinical psychology and director of the Virginia Affective Neuroscience Laboratory. His work emphasizes the neuroscience of emotion and social relationships. He is co-editor of the "Handbook of Emotion Elicitation and Assessment" and has authored more than 50 scientific articles. His research, including his finding that holding a loved one's hand can quell anxiety, and his research on the malleability of memories of childhood trauma, has received worldwide media attention. His work with John Gottman on behavior coding was featured in Malcolm Gladwell's best-seller, "Blink: The Power of Thinking Without Thinking."
Davidson is a professor of leadership at the Darden School of Business. For 25 years he has taught about the power of diversity – not just diversity as it relates to race and gender, but the diversity that's present even when everybody looks the same. He calls this diversity within a homogeneous community "weirdness."
As a leadership-and-diversity consultant, Davidson has worked in 24 industries on five continents. He's the author of "The End of Diversity as We Know It: Why Diversity Efforts Fail and How Leveraging Difference Can Succeed," and is working on his latest book, "Embrace the Weird."
As an associate professor in neurological surgery and neurology, and director of stereotactic and functional neurosurgery at U.Va., Elias has led a number of research investigations resulting in innovative uses of image-guided interventions to treat debilitating neurological conditions. In 2011, his team became the first in the world to successfully treat a person afflicted with a disabling tremor using focused ultrasound that was guided by magnetic resonance imaging.
This procedure and subsequent clinical trials have triggered investigations around the globe using ultrasound interventions to treat disorders of the brain. The past decade has seen advances in ultrasound technology so that acoustic energy can now be safely and precisely delivered through the intact human skull to reach the deepest regions of the brain to treat diseases such as Parkinson's, tremors and epilepsy.   
Freeman, a University Professor, is perhaps best known for his scholarship on stakeholder theory and business ethics, particularly his award-winning book, "Strategic Management: A Stakeholder Approach," first published in 1984 and reissued in 2010 by Cambridge University Press. This landmark book has helped to define how good management is based on relationships with the stakeholders who affect or are affected by the business.
Freeman believes that the ultimate purpose of business is to create value, rather than to maximize profit. Freeman is excited about innovation and entrepreneurs who can help to solve the world's toughest problems. His massive online course, "New Models of Business in Society," is reaching thousands around the globe.
TEDxCharlottesville will feature several U.Va. alumni, one of whom is also a U.Va. staff member. Darius Nabors graduated in 2007 with a degree in Political Philosophy, Policy and Law and now works as associate director of annual giving in the School of Nursing.
During his final year as an undergraduate, a friend named him "Most Likely to Wear a Wolf Shirt." He embraced the title and began purchasing wolf shirts and receiving gifts of wolf towels, wolf posters, wolf puzzles and photos of random strangers wearing wolf shirts. After graduating he joined Teach For America and taught fourth grade for two years at He Dog Elementary School on the Rosebud Indian Reservation in South Dakota. As he expanded the pack of wolf shirt wearers he realized that people want to have fun, enjoy life and live out their dreams. He has, by a simple name change, come up with a way for you to complete your personal "bucket list" and lead a more enjoyable life.
Media Contact
Media Relations Associate Office of University Communications
brevy@virginia.edu (434) 243-0368