A trip to Ghana with his parents when he was 10 years old made future University of Virginia basketball star Malcolm Brogdon see his purpose in the world differently.
"People were literally starving on the street and were so malnourished that they could barely walk," recalled Brogdon, an incredulousness still in his voice. "And they didn't have clean water, which they could put into their bodies to help them lead and sustain a livable life."
Three years later, on a return trip with his grandparents, Brogdon witnessed many of the same things. It was then that Brogdon promised himself that someday he was going to do something – anything he could – to help.
That day is here.
On Monday morning, Brogdon announced the launch of Hoops2o, an initiative – modeled after former UVA football star Chris Long's "Waterboys" – in which the Milwaukee Bucks guard and other NBA players hope to raise money to build wells in East Africa.
Already, Brogdon has recruited former UVA teammates and fellow NBA players Joe Harris and Justin Anderson for his "Starting Five." (Rounding out the lineup are the Minnesota Timberwolves' Anthony Tolliver and the Memphis Grizzlies' Garrett Temple.)
"At UVA, we built a very special bond – playing basketball together and going to school together for all those years," Brogdon said. "All of us in the same profession now; we're still a very close-knit group. It's awesome to share yet another experience that will bring us even closer together and allow us to impact other people's lives. It's super-exciting that they're as into this and committed to it as I am.
"I think I have the perfect guys to start this with me."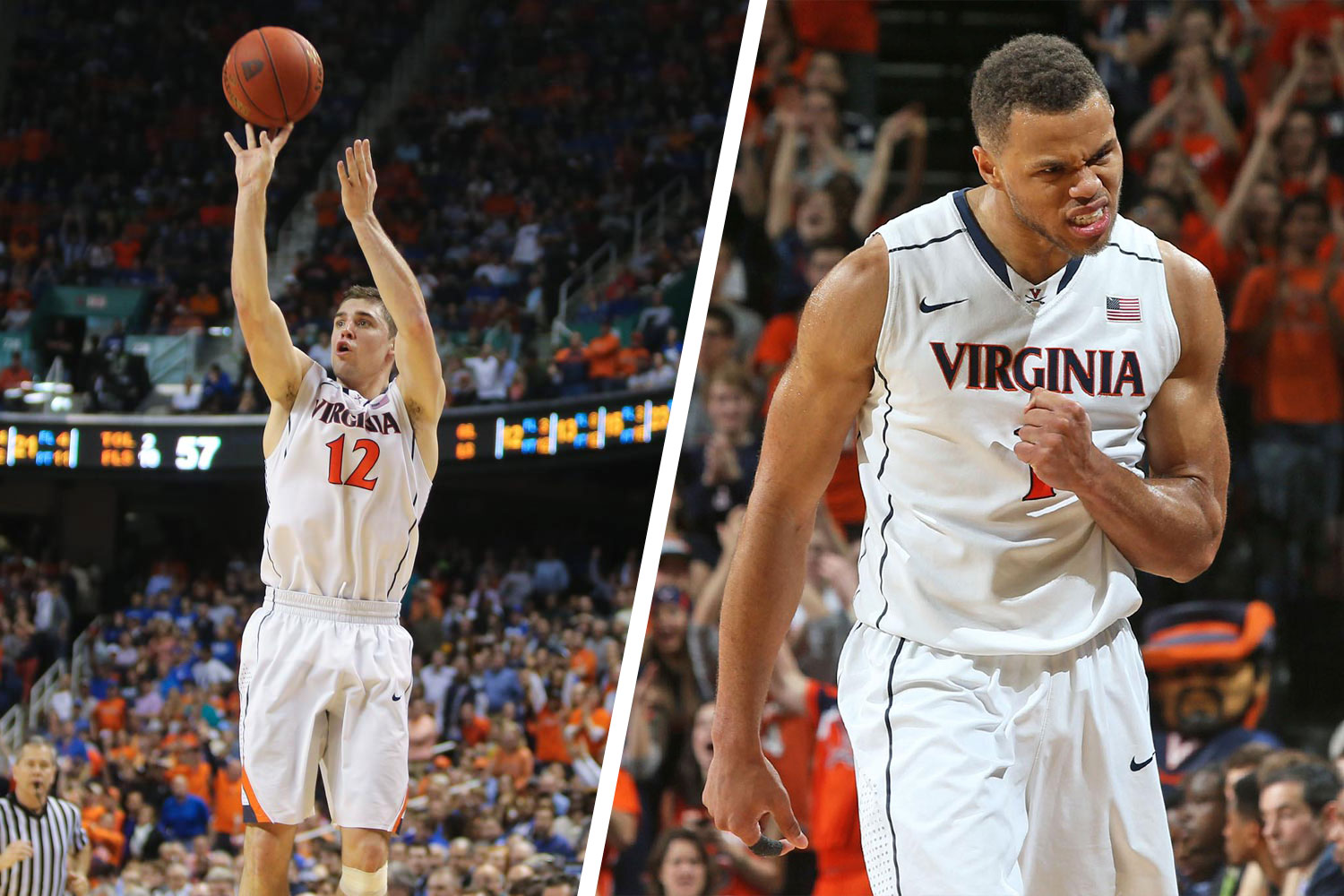 Former Cavalier stars Joe Harris, left, and Justin Anderson are part of Brogdon's "Starting Five." (Photos courtesy UVA Athletics)
Harris, a member of the Brooklyn Nets, said joining Brogdon was a no-brainer.
"Malcolm is really passionate about it, so how could you not be, too?" Harris said. "It's an amazing cause. You're raising a lot of money and awareness for something that so many people take for granted.
"I was more than willing to take part in it and really excited about it."
Harris said having the opportunity to collaborate with Brogdon and Anderson – who plays for the Atlanta Hawks – makes the whole endeavor extra special.
"Every time we go to each other's cities, we meet up," Harris said. "Our relationships will continue well beyond after we're done playing basketball. What we went through at UVA and the bond that we built there is something none of us will ever forget. They're friendships that we'll be able to carry on forever, so to be able to do something like this [with people] that you're really close with is awesome."
The goal of The Starting Five is to raise $225,000 to build five solar-paneled, sustainable wells by the end of the current NBA season.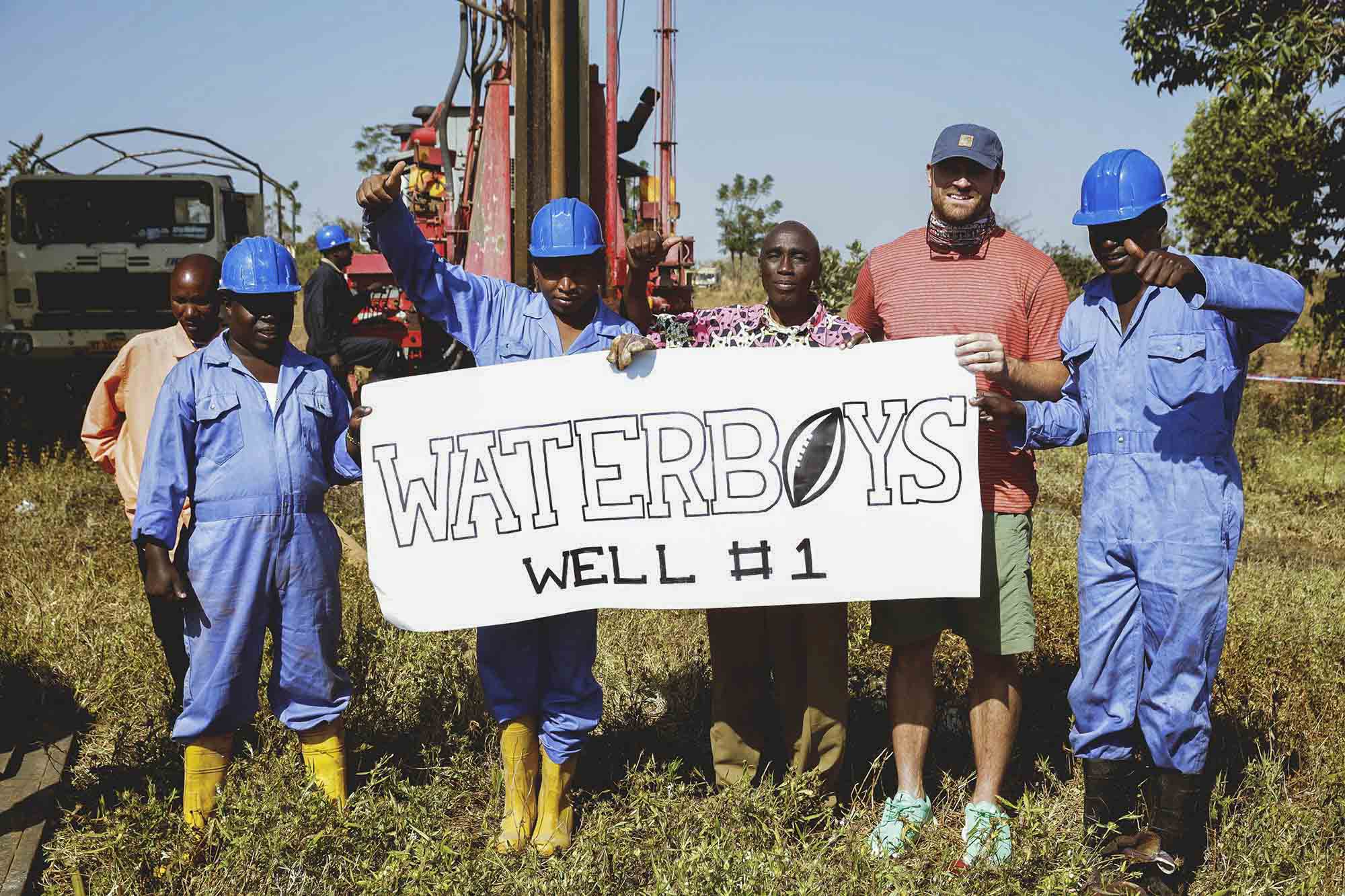 Former UVA football star Chris Long founded "Waterboys" in 2015. (Photo courtesy of Clay Cook Photography)
Brogdon and Long didn't attend the University at the same time, but were always admirers of each other from afar.
When Brogdon learned of Long's Waterboys initiative, he had his agent call Long's agent to see if there would be any interest in teaming up.
The answer was a resounding yes.
Long said he always knew Waterboys – which he founded in 2015 and currently includes 29 NFL players – had the potential to grow beyond the NFL.
"I'm honored that our work is expanding into the NBA," said Long, in a press release, "and I couldn't be more excited about what this will mean for our neighbors who lack access to a fundamental resource.
"I'm confident that working together as a united front, the NFL's Waterboys and the NBA's Starting Five will bring us one step closer to providing water to 1 million people."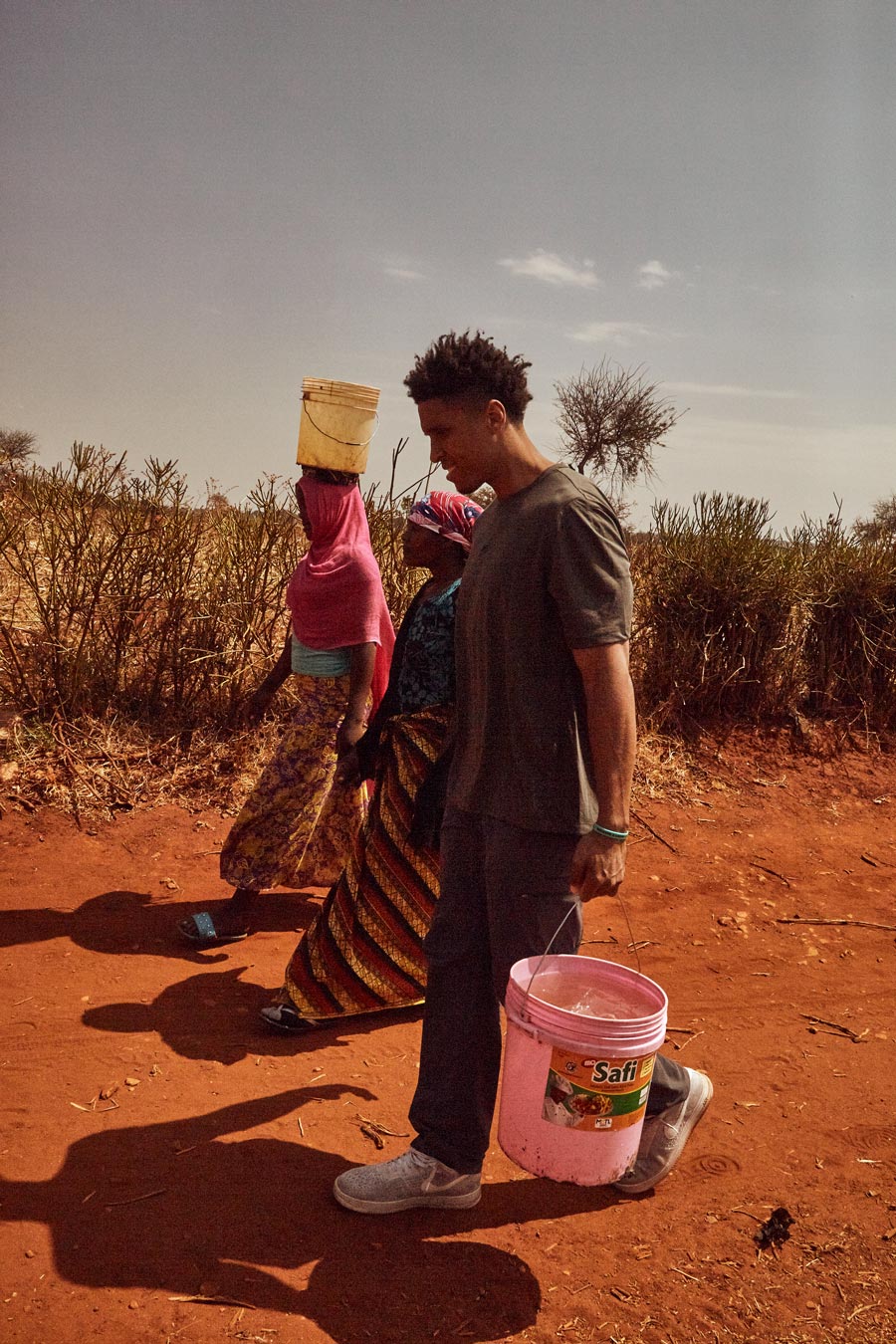 Brogdon hopes to raise enough money to build five wells by the end of the NBA season. (Photo courtesy Clay Cook Photography)
Brogdon, a "double-'Hoo" who earned degrees from the College of Arts & Sciences and the Frank Batten School of Leadership and Public Policy, said his experience at UVA – both on and off the court – set the wheels in motion for what he wanted to do outside of basketball.
Brogdon said the idea of "servanthood" – one of UVA head basketball coach Tony Bennett's "Five Pillars" that guide his program – is a guiding principle in his life.
"It was meant not only to be unselfish on the court and serve your teammates, but to serve other people," Brogdon said. "Those pillars come from the Bible. They were meant to say, 'Serve others before you serve yourself.'
"I'm sure Coach Bennett will hear about the work we're starting to do and will be excited that we've really taken that to heart."
While some celebrities and athletes have reputations for jumping from cause to cause, Hoops2o isn't just a one-off for Brogdon. The 10-year-old boy in him won't let it be. Brogdon said the trip to Ghana all those years ago "lit a fire."
"Just seeing the different level of poverty that people were dealing with was shocking," he said. "It cemented in my mind how I would really want to help these people. It made me extremely passionate about taking this on and making this my life's work."
To kick off the Hoops2o program, the Starting Five has started a "Ballin' for Buckets Campaign" in which fans can pledge a dollar amount for a statistical category and player of their choosing.
To make a pledge or for more information, visit hoops2o.org.
Article Information
October 29, 2018
/content/malcolm-middle-ex-uva-hoops-star-recruits-nba-players-build-wells