Late Sunday afternoon, thousands of brand new Cavaliers in the University of Virginia's Class of 2021 assembled for this year's Opening Convocation and Honor Induction.
After white supremacist protests shook Charlottesville and UVA last week, there was comfort to be found in the familiar ritual, in which students are officially welcomed to the University and sign the honor pledge.
Following tradition, several UVA secret societies made an appearance. Speakers read letters from the Seven Society – delivered with great fanfare by the Cavalier Marching Band drumline – the Purple Shadows, and the 21 Society. Many of the letters referenced last weekend's violence and encouraged the new UVA students to learn from the diverse voices and perspectives of those around them.
Speaking just before the University Singers choral group performed a special rendition of the Civil Rights anthem "We Shall Overcome," UVA President Teresa A. Sullivan echoed that message and denounced last weekend's demonstrations as contradictory to "our shared commitment to diversity, inclusion and respect for everyone."
She encouraged students to reach out to their new classmates, especially those with a different background from their own.
"The experience of getting to know people from various walks of life will make you a wiser and more empathetic person – and ultimately you will be prepared for the global economy you'll enter after you take your degree," Sullivan said, speaking from the steps of the Rotunda.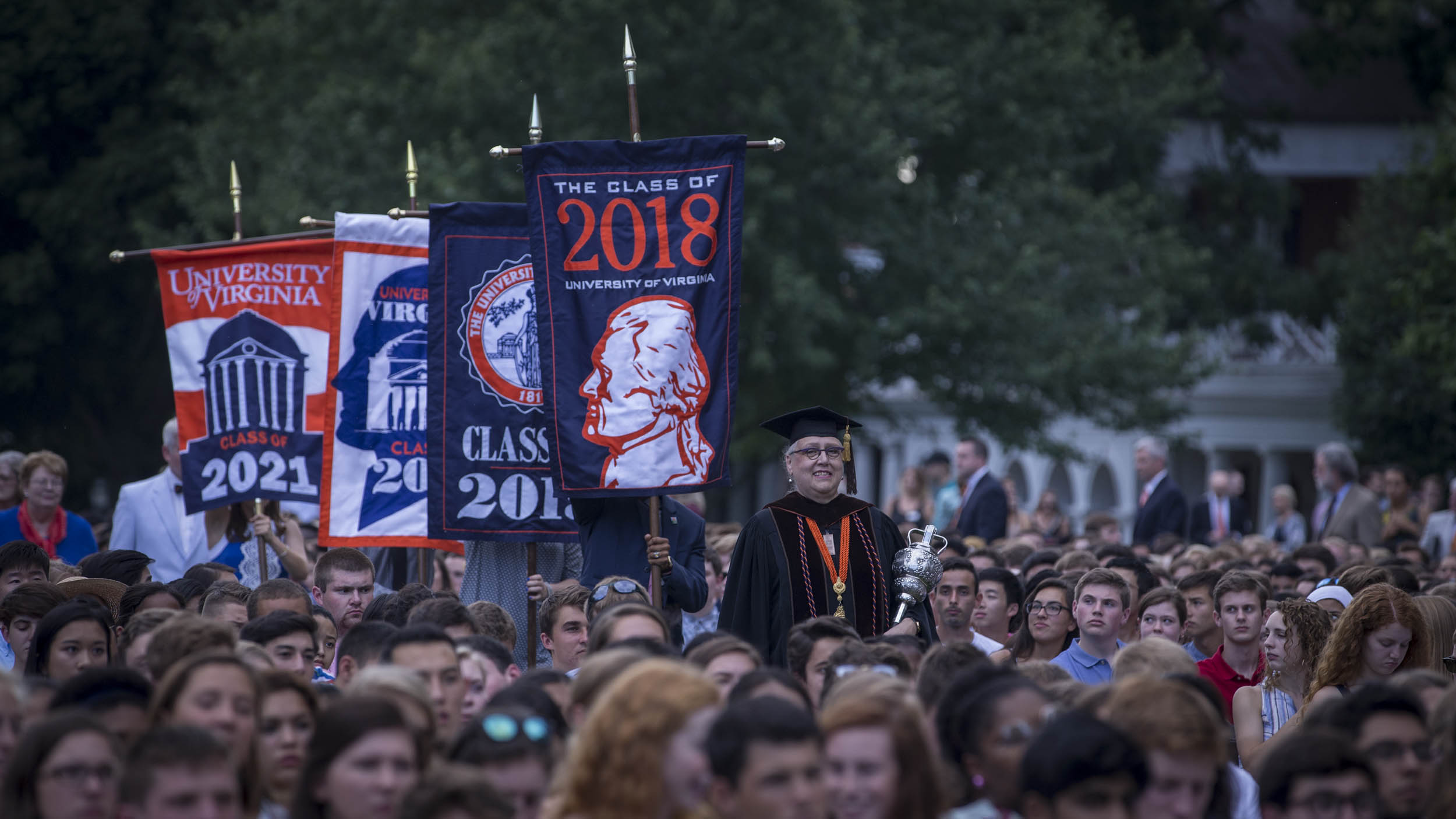 UVA's newest class incudes 3,809 first-year students and 667 transfer students. They hail from 47 U.S. states, the District of Columbia and Puerto Rico, and from 73 countries around the world. Sixty-seven percent are from Virginia, 38 percent are participating in the University's AccessUVA financial-aid program and 570 are the first in their families to go to college.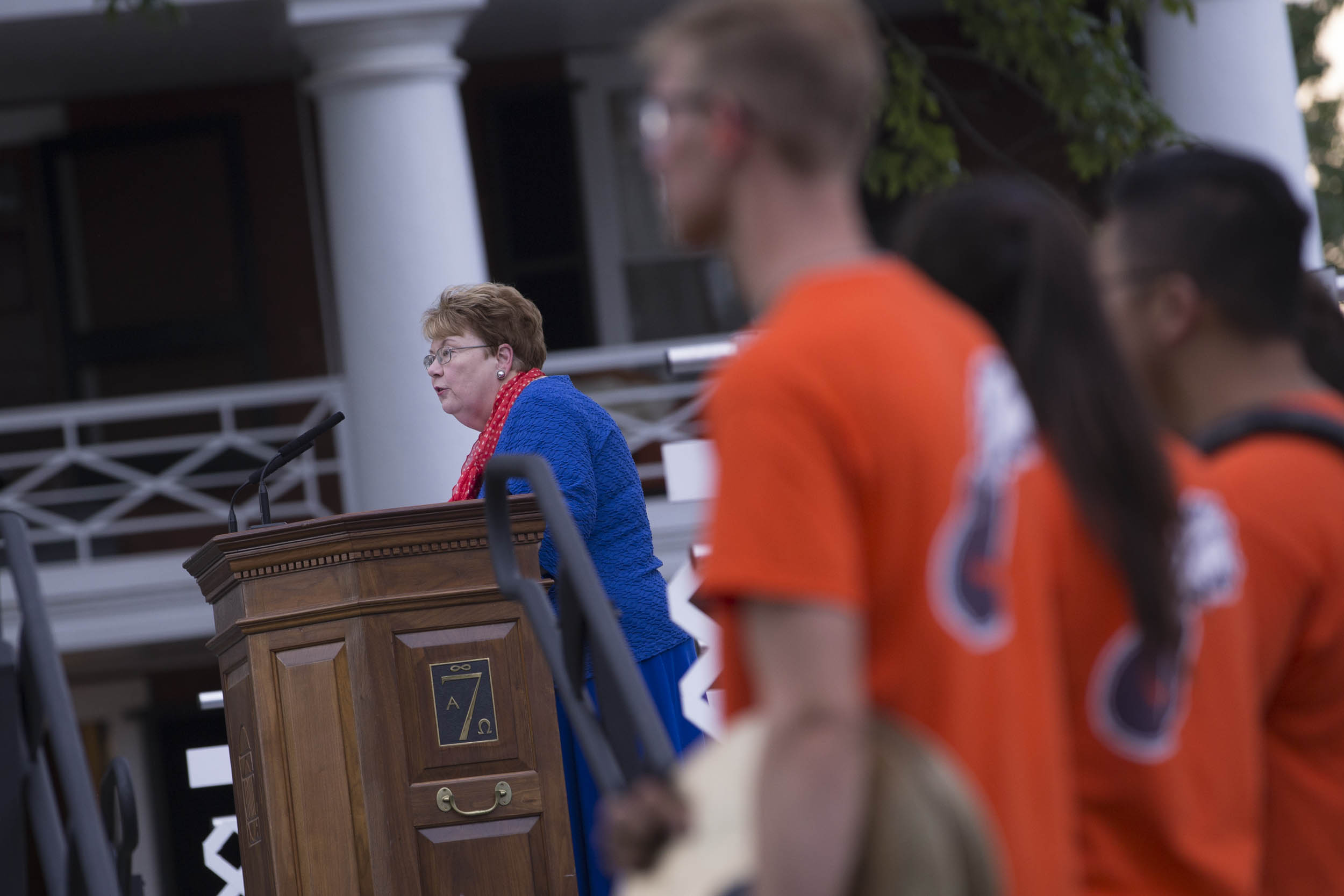 "You are all here because we believe you bring something special to this class and this University," Sullivan said.
She also reminded them that they have the special distinction of attending UVA during the University's bicentennial celebrations, which will officially kick off in October.
"You are coming to UVA as we approach a major milestone in the University's history: about 45 days from now, we will launch the University's bicentennial celebration," Sullivan said. "It is especially important to think about not just the 200 years behind us, but the 200 years ahead of us. You are going to help us define who the University of Virginia will be in its third century."
The convocation ceremony marked the first time that the entire first-year class was assembled in one place, something that first-year student Damon Williams called "breathtaking."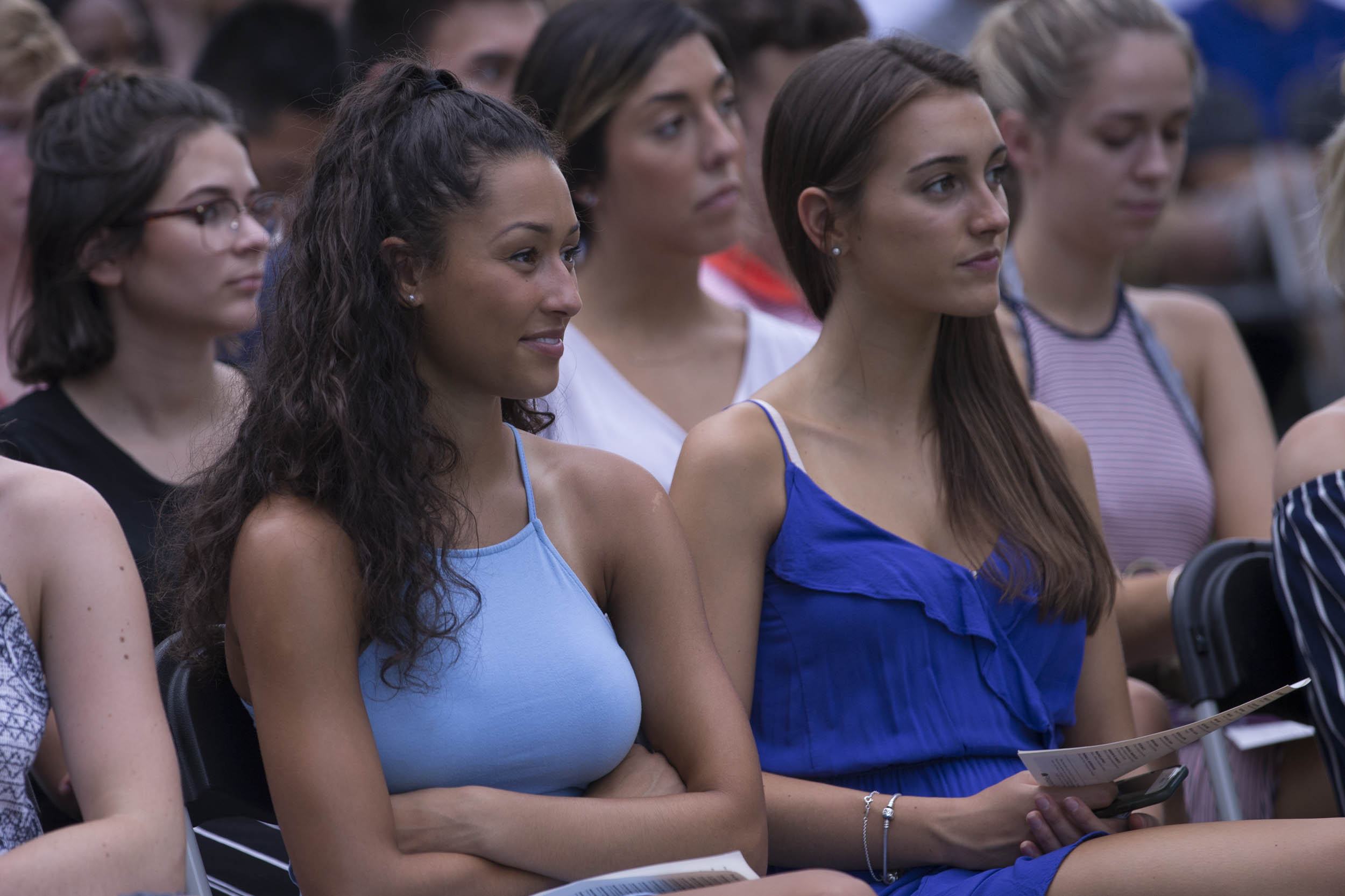 "Having all of these people in one place at one time is great," said Williams, who is from Charlottesville.
His new classmate, Jacob Morris, agreed.
"This more than doubles my high school population," the first-year student from Orange said. "It's really inspiring."
Other new students said they were excited to get started with their classes and get involved with different organizations on Grounds.
First-year student Kayla Light, from Pennsylvania, said she was looking forward to starting classes in philosophy, psychology and political science. Classmates Allie Strosnyder and Sam Zaccack said they were eager to learn more about UVA's history and join clubs and sports teams.
"I'm excited to be a part of all of the tradition and the community," Strosnyder said.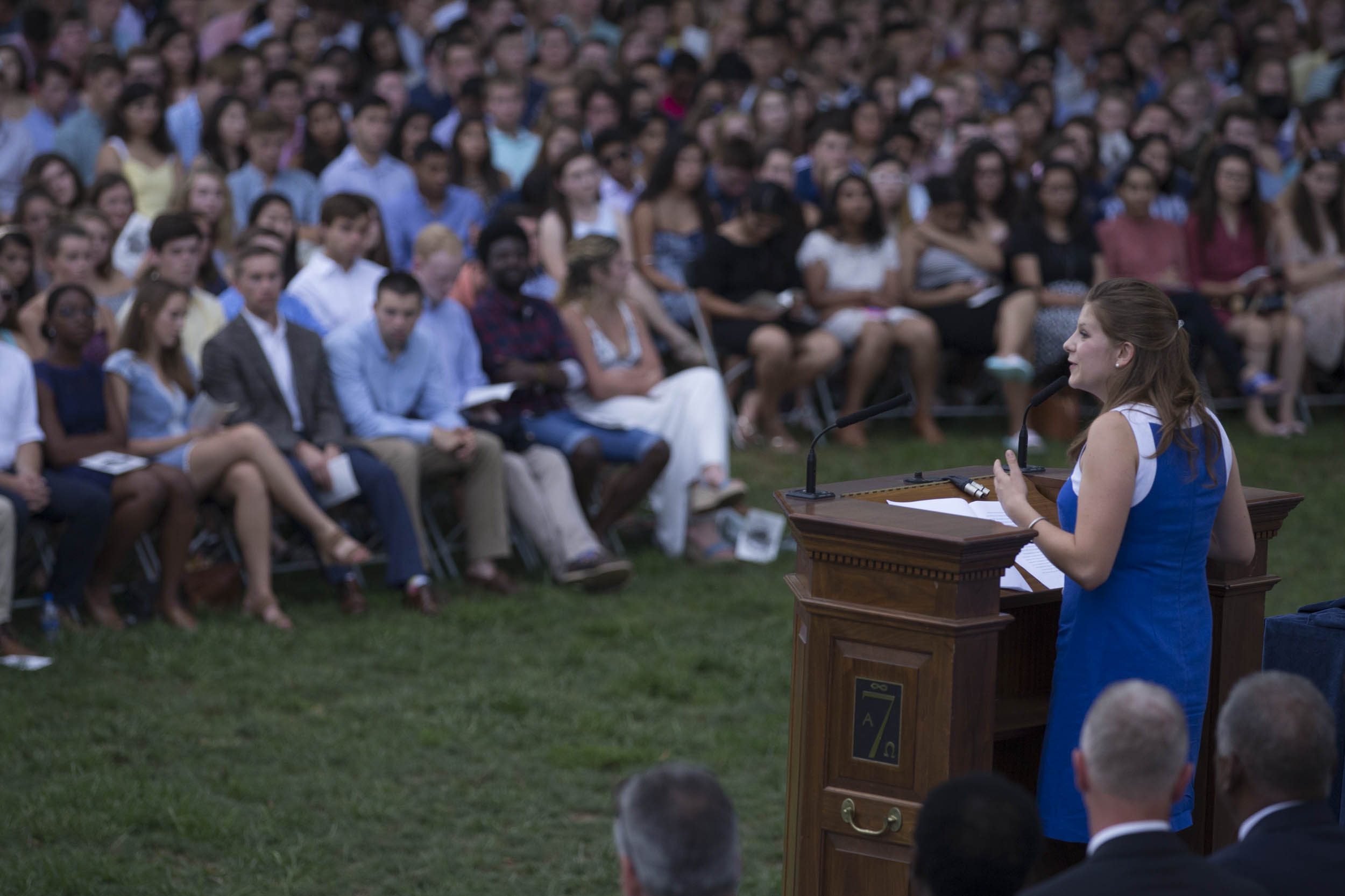 Addressing the importance of student self-governance during her speech to the new first-year students, Student Council President Sarah Kenny encouraged them to get involved right away.
"Upperclassmen are actively seeking your engagement and participation so that we can learn from the invaluable perspectives that each of you offer," Kenny said. "Challenge yourselves to be better, but more importantly, challenge us to be better and to do better as a student body and a university."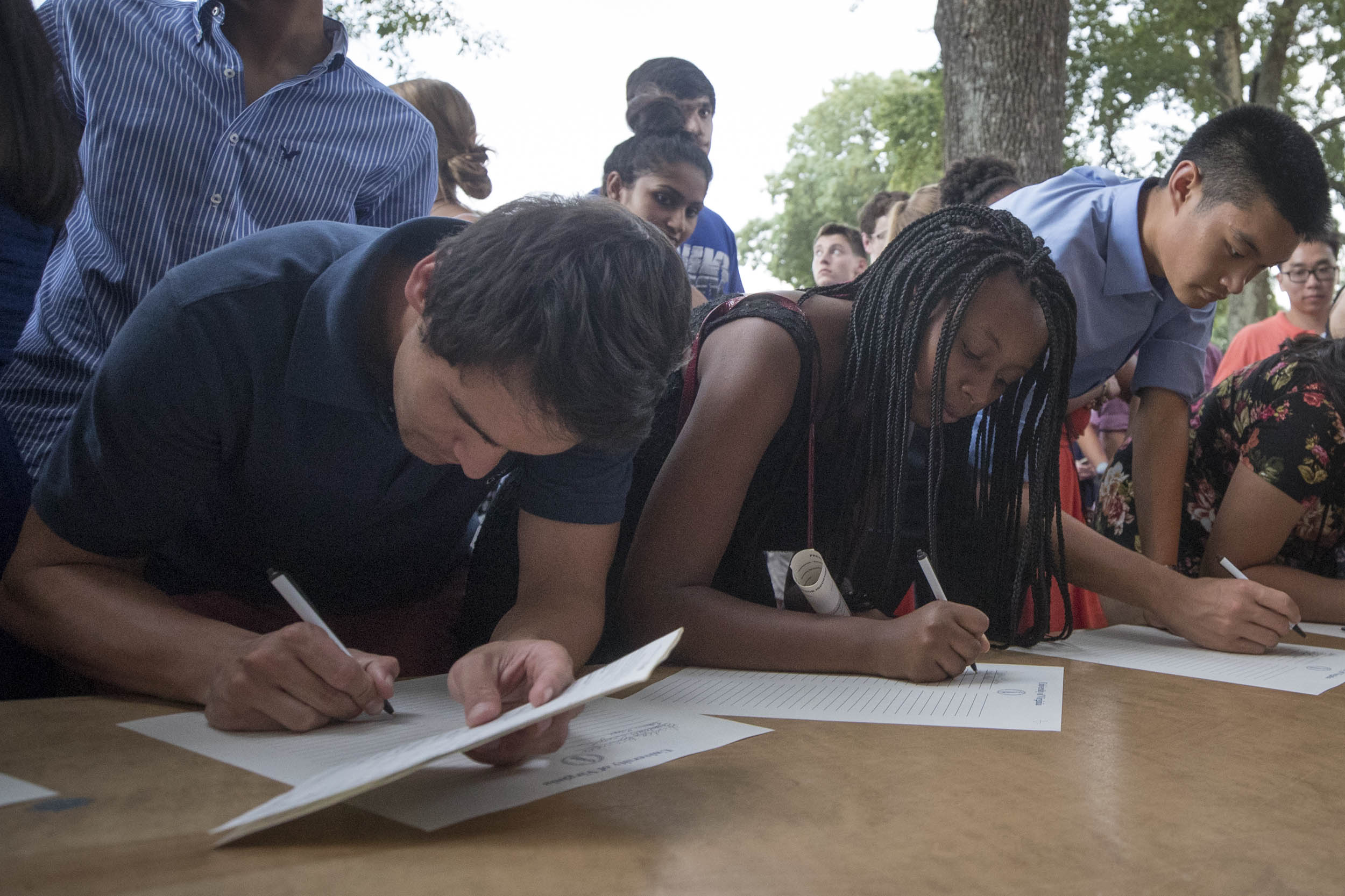 The new students also learned more about UVA's honor code and signed an honor pledge not to lie, cheat or steal. First-year student Vinny Thota said he appreciated UVA's emphasis on its honor code.
"I like how seriously students take it," he said.
Light, the new student from Pennsylvania, said she finds UVA's honor system reassuring.
"It makes me trust everyone more, feel more at home and safer, and know that I am being taken seriously," she said.
Honor Chair Devin Rossin told students that the pledge is much broader than it sounds.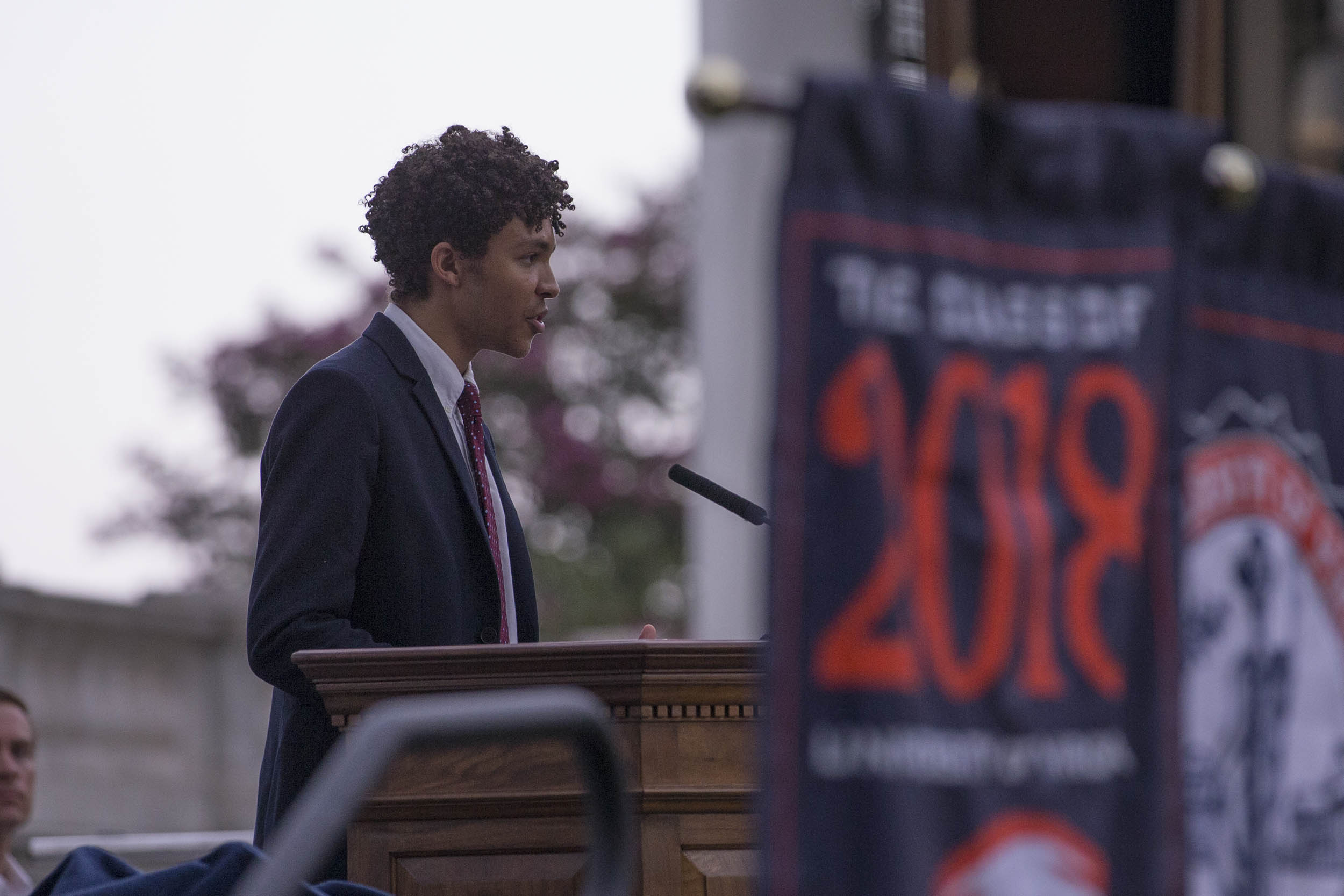 "Students choosing not to lie, cheat or steal is not all that it takes to create a community of trust. That is the bare minimum that honor requires," Rossin said as he addressed the crowd. "It's not just about not lying, cheating or stealing, but about choosing to do what is right, in every situation."
Keynote speaker Karl Racine, a 1989 graduate of UVA's School of Law, ended the program by recounting a time in his undergraduate career at the University of Pennsylvania when a fellow student offered him the answer key to an astronomy exam that he had not studied for. Though he was tempted, Racine said, he came clean to the professor. He failed the exam, but he knew he did the right thing.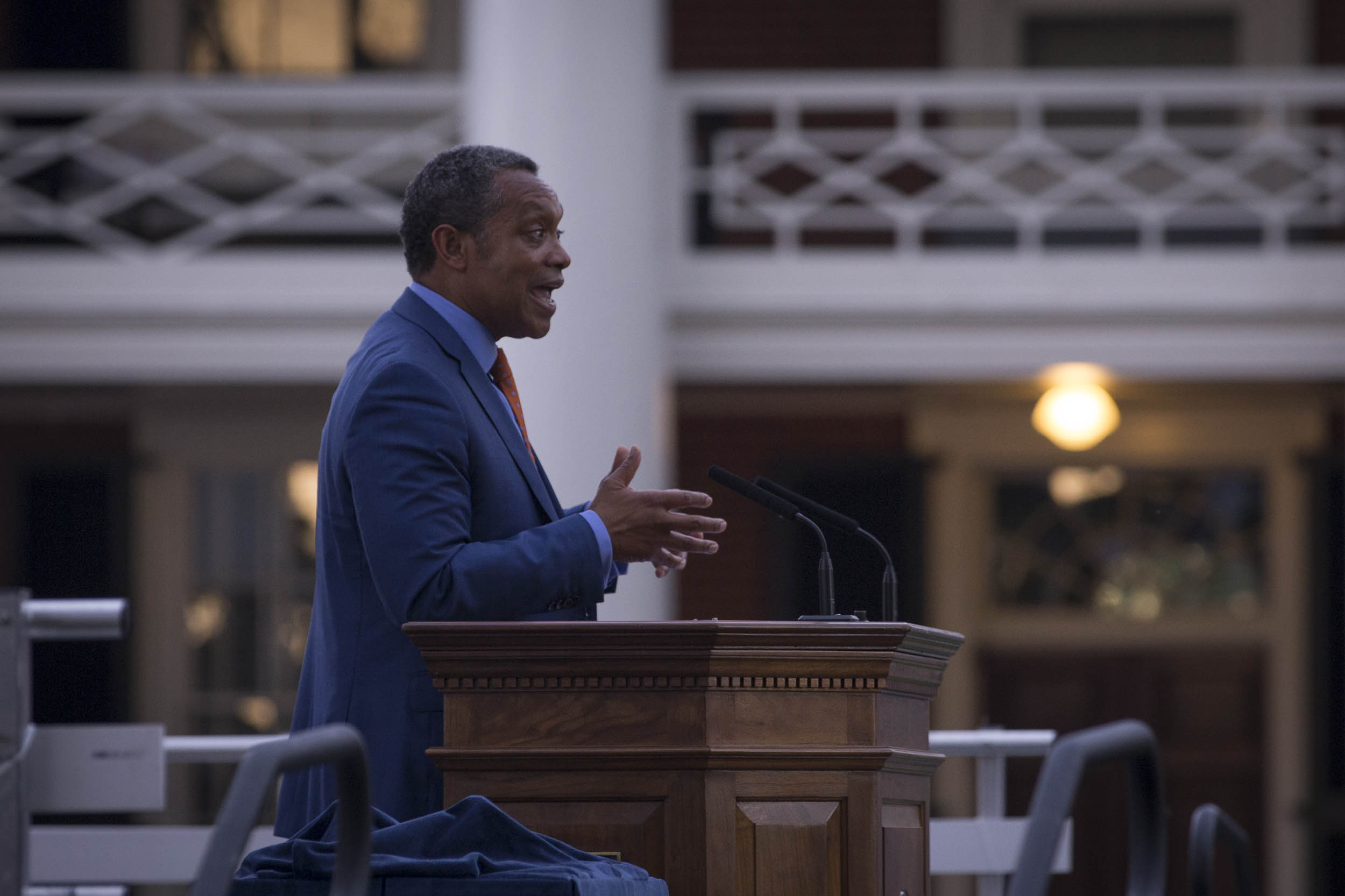 "I learned that when it comes to academics and flat-out honesty, there are no shortcuts," he said. "Be true to yourself, work hard and stand up and live by the fruits of your work, not someone else's."
Racine concluded by reflecting on Sullivan's earlier remarks and again encouraging students embrace new perspectives and to learn as much as they could, not only from their professors, but also from their new classmates.
"This school has so many opportunities available to you," Racine said. "Your colleagues to your left and to your right tonight are only going to make your lives richer."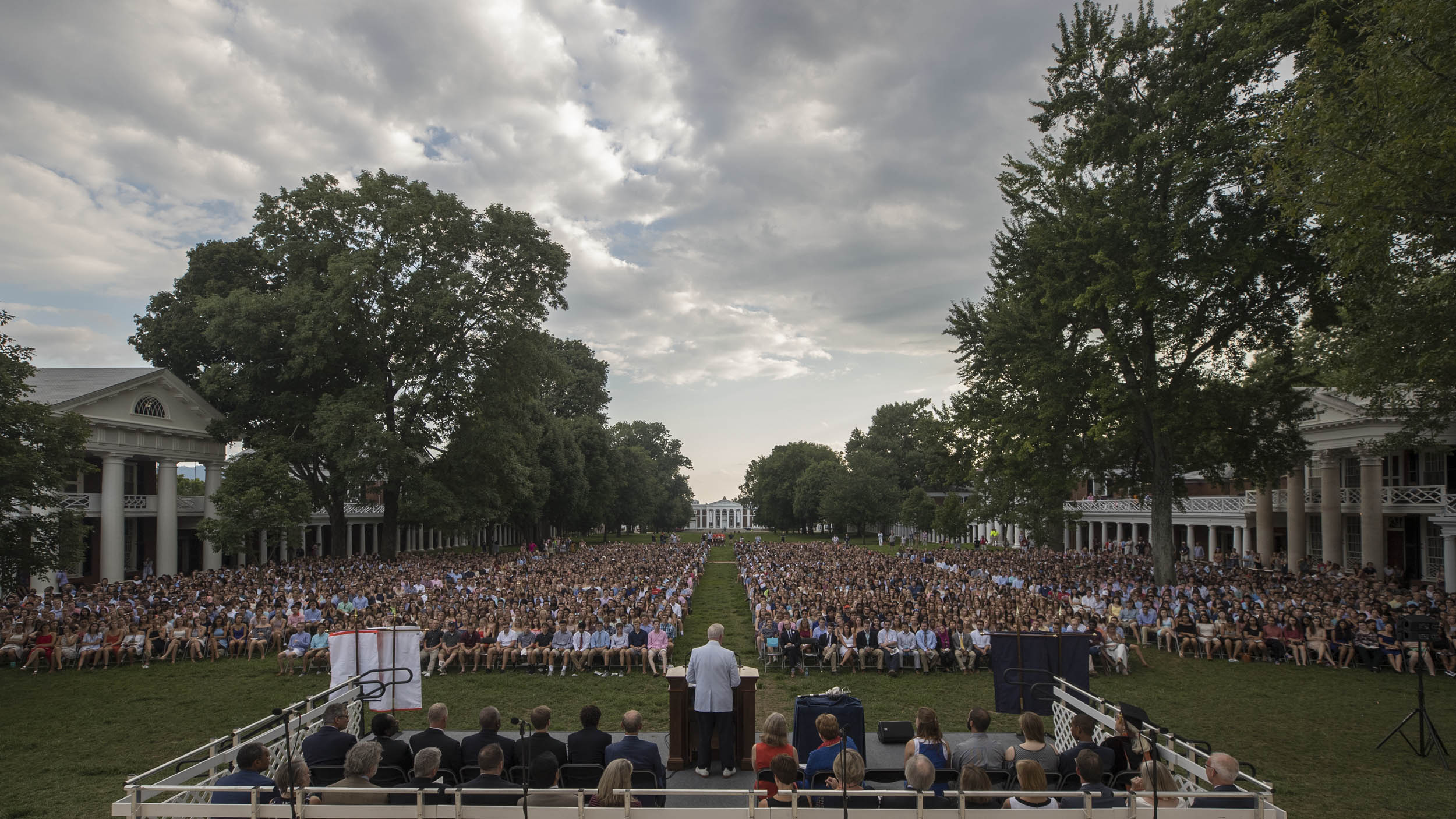 Media Contact
Senior Writer and Assistant Editor of Illimitable Office of University Communications
cfn8m@virginia.edu 434-924-6856