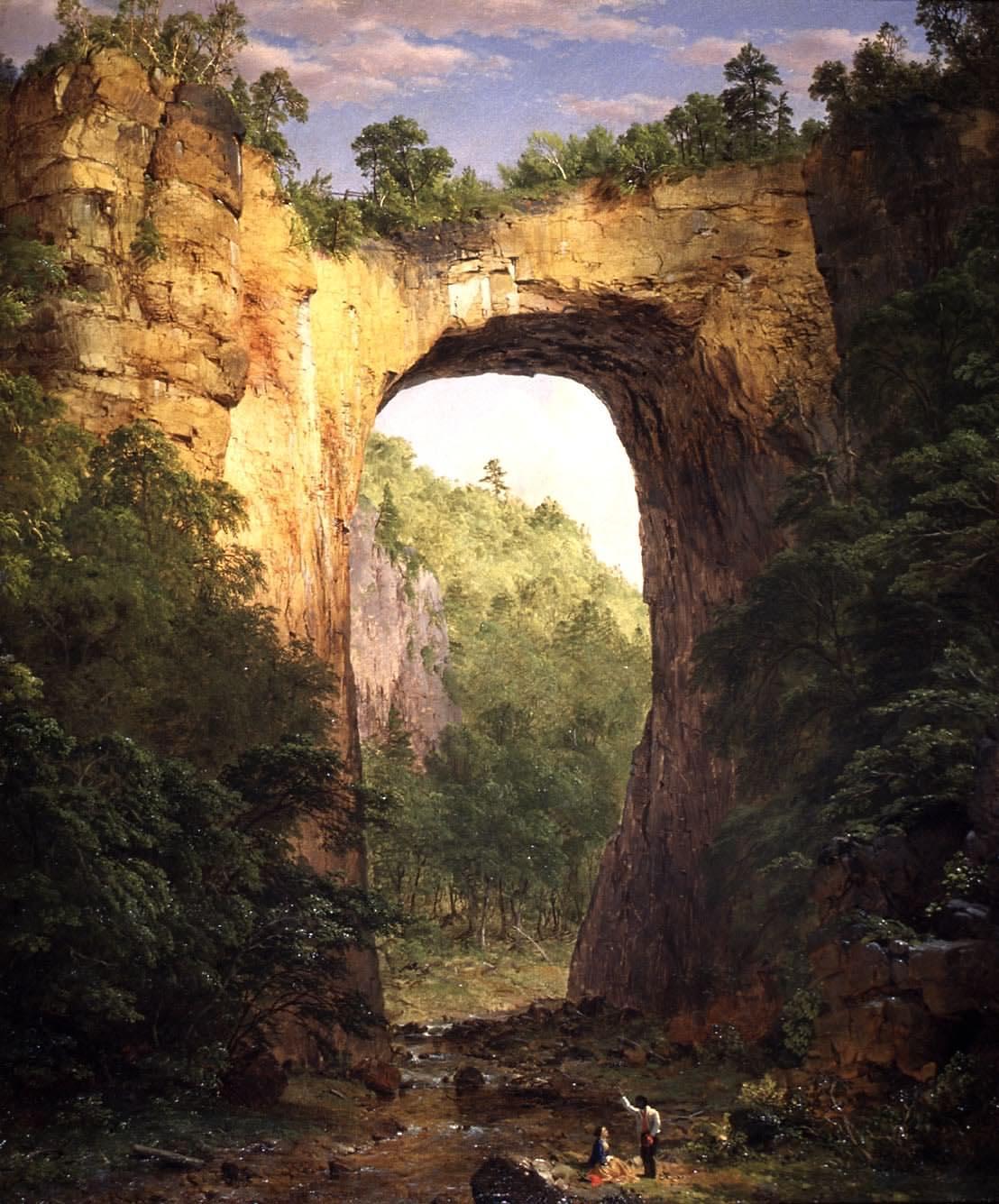 March 2, 2007 -- The University of Virginia Art Museum is home to more than 10,000 objects, and now a select sampling has been included in a Web-based collaboration of museums' collections from universities around the world.
The idea for the Museums Gateway project, part of the Universitas 21 network, was conceived at a conference held at the University of Melbourne in July 2005, "Precious Resources: University Museums in the 21st Century."  Members were asked to contribute images representative of both their collection and institution.
"We assessed the strengths of our collection and selected major pieces in each area," said collections manager Jean Collier, who coordinated the U.Va. Art Museum's involvement in the project. "For example, one significant area is American art, and a primary object in that collection is the painting of 'The Natural Bridge' by Frederic Church."
In addition to this painting, Collier, museum director Jill Hartz and curator Andrea Douglas selected five other pieces: Frank Stella's "Jerdon's Courser," a Greek black-figure column krater (ca. 500 B.C.), an Indian leaf depicting "Krishna as the Ideal Hero and Lover" (ca. 1630-35), a Native American Arapaho pipe bag with beaded motif (1880-1900) and a Senufo helmet mask from Africa's Ivory Coast.
Collier noted that participation in this Web project greatly increases the visibility of the University's art museum.
"If you look at the other collections that are represented, they're international: England, Ireland, Hong Kong, Korea, University of Melbourne, Peking; so there's definitely an international audience, and that's notable for the University of Virginia to be included."
The University is currently the only U.S. member of the U21 network, an invitation-only international consortium of 20 research-intensive universities in 11 countries, established
in 1997.
Law professor Peter Low, University provost from 1994-2001, said that the invitation to join the U21 network in 2001 coincided nicely with President John T. Casteen III's long-term strategic planning project, Virginia 2020.
"One of the major initiatives that came out of Virginia 2020 was the idea that the University should increase its involvement in international activities," Low said. "Just after … the University started to act on that strategic planning initiative, we got an opportunity to join this consortium and it just fit perfectly. Here is a chance to join with 15 or 20 international universities and explore how we'd work together on various projects."
The Museums Gateway project is only one of many ways in which the University contributes to the U21 network; this July, the University is hosting the fourth annual U21 undergraduate summer conference, expecting about 85 students from 20 universities in 11 countries to participate.
"There's a benefit in research exchange, and there's been a huge benefit in the student exchange," said Lavinia Johns, the University's U21 coordinator. The benefits are "not always
tangible, but there's been about 15 University students who have participated in the past three summer conferences, and every one of them has said it's a life-altering experience."
The purpose of the U21 network is to create these collaborations between international universities that might not have been feasible before, and the University is taking advantage of the numerous opportunities.
"One perspective is it's limited only by our own ingenuity," Low said. "We meet together with these other universities to talk about ways in which we can cooperate and do things together that will enhance the educational purpose here, as well as the educational purpose at those universities. We keep coming up with new ideas about how to do it, and this museum project is one of those."
U.Va.'s Museums Gateway Web site is at
http://axel.infodiv.unimelb.edu.au/u21_museums_gateway/museumcollections...
.
For more on U.Va.'s involvement with U21, go to:
www.virginia.edu/universitas21/
.