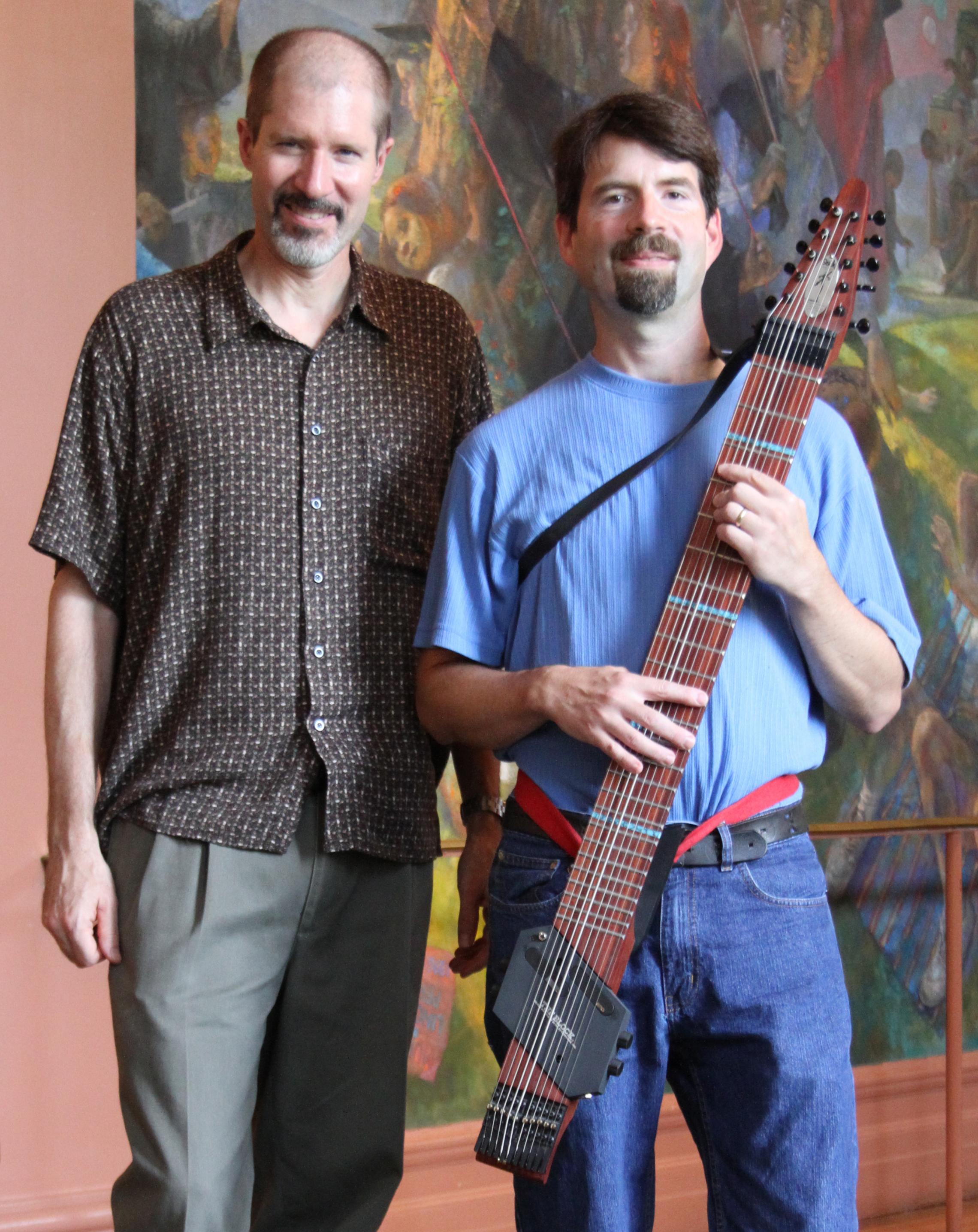 The McIntire Department of Music in the University of Virginia's College of Arts & Sciences has received a gift of a Chapman Stick to add to its collection of musical instruments available for student instruction and performance. The instrument's manufacturer, Stick Enterprises of Woodland Hills, Calif. – headed by the instrument's inventor, musician Emmett Chapman – made the gift.
Chapman's instrument is one of only a few truly American instruments. A member of the guitar family, its amplified strings are played by tapping on the fretboard with both hands, a technique that has as much in common with piano as with guitar and bass. The method of play, called "free hands," was also invented by Chapman in 1969, on a nine-string guitar. He had tuned his guitar in unusual way, with two groups of strings, each ascending in pitch from the center of the fretboard: a bass group in fifths (like a cello), and a melody group in fourths (more like a guitar).
Greg Howard, a member of the music department's music faculty, is one of the world's most active Chapman Stick players.
"What better reason could there be for donating a state-of-the-art instrument from our current production to the McIntire Department of Music than to support Greg Howard's Chapman Stick instruction in their curriculum?" Chapman said. "My interest in designing and building the Stick has always been to make this new way of playing on strings available to other musicians. This new instrument will provide that opportunity to U.Va. students for many years to come.
"Greg's exceptional teaching technique, from the basic physical hand and arm motions to the sophisticated application of music theory, song arrangement and improvisation on the two-handed tapping fretboard, has been proven and recognized by Stick students and performers around the world. Many of his original compositions have by now become 'classics' in the extended Stick community, studied and performed by new generations of tapping musicians."
There are more than 6,000 Chapman Sticks in existence today – still relatively rare compared to more traditional instruments.
"Having an instrument in-house will make it much easier for students who are interested, but who don't own a Stick, to explore this new way of making music," Howard said. "My hope is that other faculty and ensembles will be inspired to include the Stick in performance and compositional situations as they become more familiar with its range and sonic versatility.
"The Stick brings together elements of guitar, bass, keyboards and even percussion, so there's something familiar for many experienced instrumentalists to connect with. It's tuning is very neutral, so it also makes a great pathway to understanding music theory and harmony. For most people, it's a true tabula rasa, so for now I'm focusing on basic technique concepts that can be applied to any genre of music."
Students who wish to give the Chapman Stick a try may email Howard at stickist@aol.com.
Media Contact
Director of Media Management and Managing Editor, UVA Today Office of University Communications
rseal@virginia.edu 434-243-3492