Nicola Bezzo, a University of Virginia assistant professor with joint appointments in the departments of Engineering Systems and Environment and Electrical and Computer Engineering, is used to getting around obstacles.
In UVA Engineering's Link Lab for cyber-physical systems, Bezzo and his researchers work on methods for moving drones and self-driving vehicles – or autonomous systems – out of the lab and into the real world by continuously improving their ability to safely maneuver in unforeseen or suddenly changing circumstances.
Bezzo has also been teaching future engineers, through a mobile robot competition, how to build the best autonomous systems since he joined UVA Engineering in 2016.
"A major focus in our Link Lab is to bring together students and faculty across multiple engineering and computer science disciplines to develop 21st-century, cyber-physical solutions," said John A. Stankovic, BP America Professor of Computer Science and director of the Link Lab. "Team challenges, like Nicola's autonomous mobile robot competition, are incredibly important in educating future engineers."
The competition is the culminating event in Bezzo's "Autonomous Mobile Robots" course. Student teams collaborate to develop their challenger robots, applying the combination of mathematical models and sensors that give the robots their self-driving capabilities. The winning robot exhibits the fastest time while continuously re-evaluating and successfully navigating the competition track.
"Nicola's course is a great example of our focus on providing hands-on educational opportunities for our students to design and build real, complex systems that are able to address the needs of people and communities," said Brian Smith, professor and chair of UVA's Department of Engineering Systems and Environment.
This year, Bezzo's competition that puts robots into action on a physical track inside the lab became a real-world lesson in navigating obstacles.
As the pandemic forced classrooms across the country to go virtual, Bezzo did not let the abrupt pivot throw his competition off course. Instead, he got to work and built a better virtual racetrack.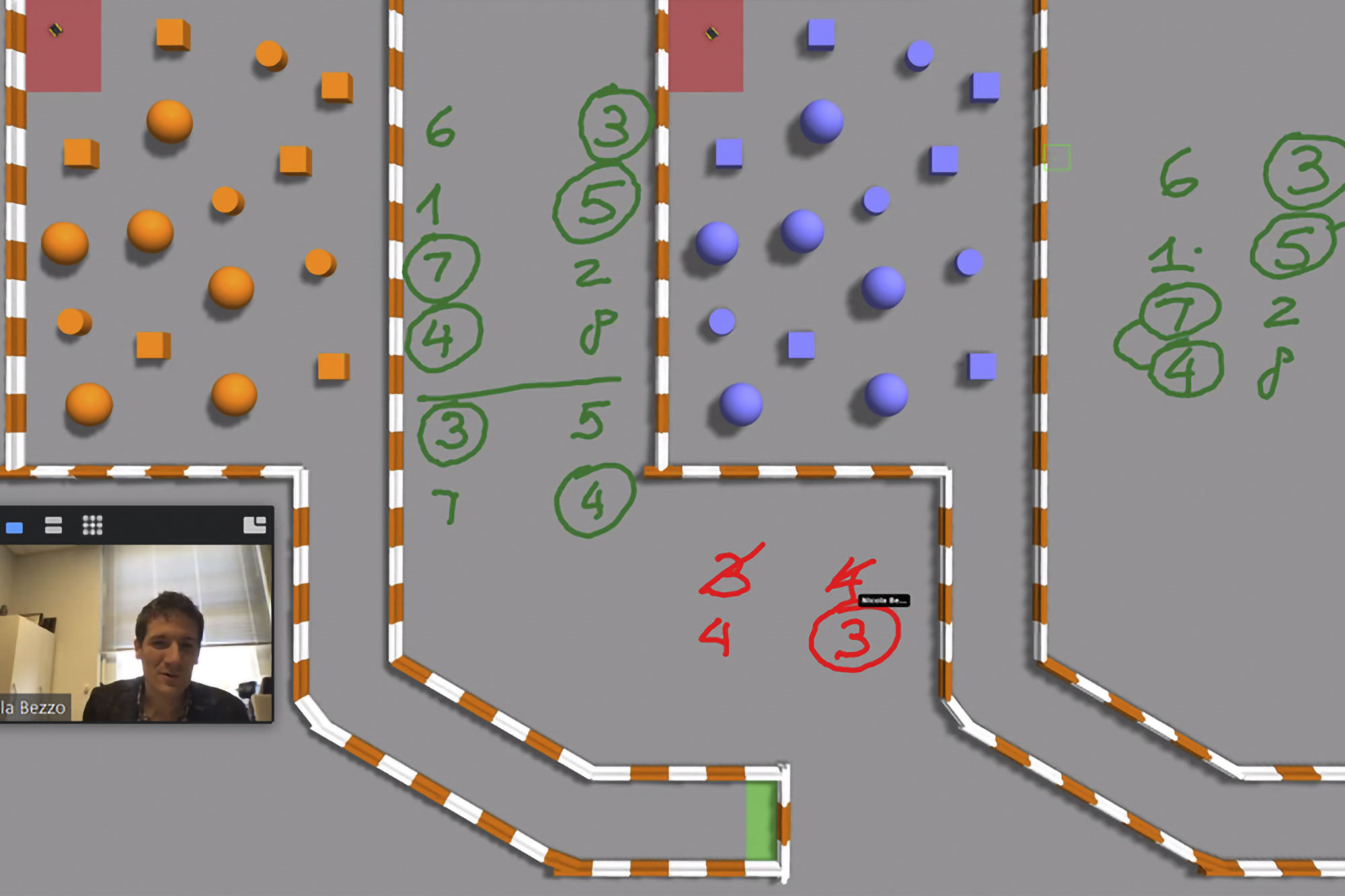 The first competition pitted the student teams' robots against each other on a track they had practiced in simulation throughout the semester. The winner exhibited the fastest time while navigating obstacles on the track.
"Since the format could be anything in simulation, I wanted to increase the extremes and the fun," Bezzo said.
He transformed the competition's usual point A-to-point B laboratory track into a virtual one filled with obstacles, pitting virtual robots in side-by-side competition. Bezzo even threw in a new twist that would turn those obstacles into extreme challenges.
Student teams moved their collaboration into Zoom rooms to work on developing the combination of algorithms and sensors they thought would give their robots an edge in navigating the competition track. The key for any winning robot would be avoiding spheres, cubes and cylinders – the obstacles in its path – all at a winning pace. The teams practiced the simulation throughout the semester.
On Nov. 4 – competition day – eight teams raced each other on the track. Face-offs successively moved from four heats, to two heats, to a final showdown between the fastest robots. Team three was named winner of round one.
Then Bezzo unveiled his twist. He presented a surprise track for another round of competition. Navigating around so many obstacles extemporaneously would be a powerful litmus test for the robots. All eight teams raced each other again in successive heats for the fastest time.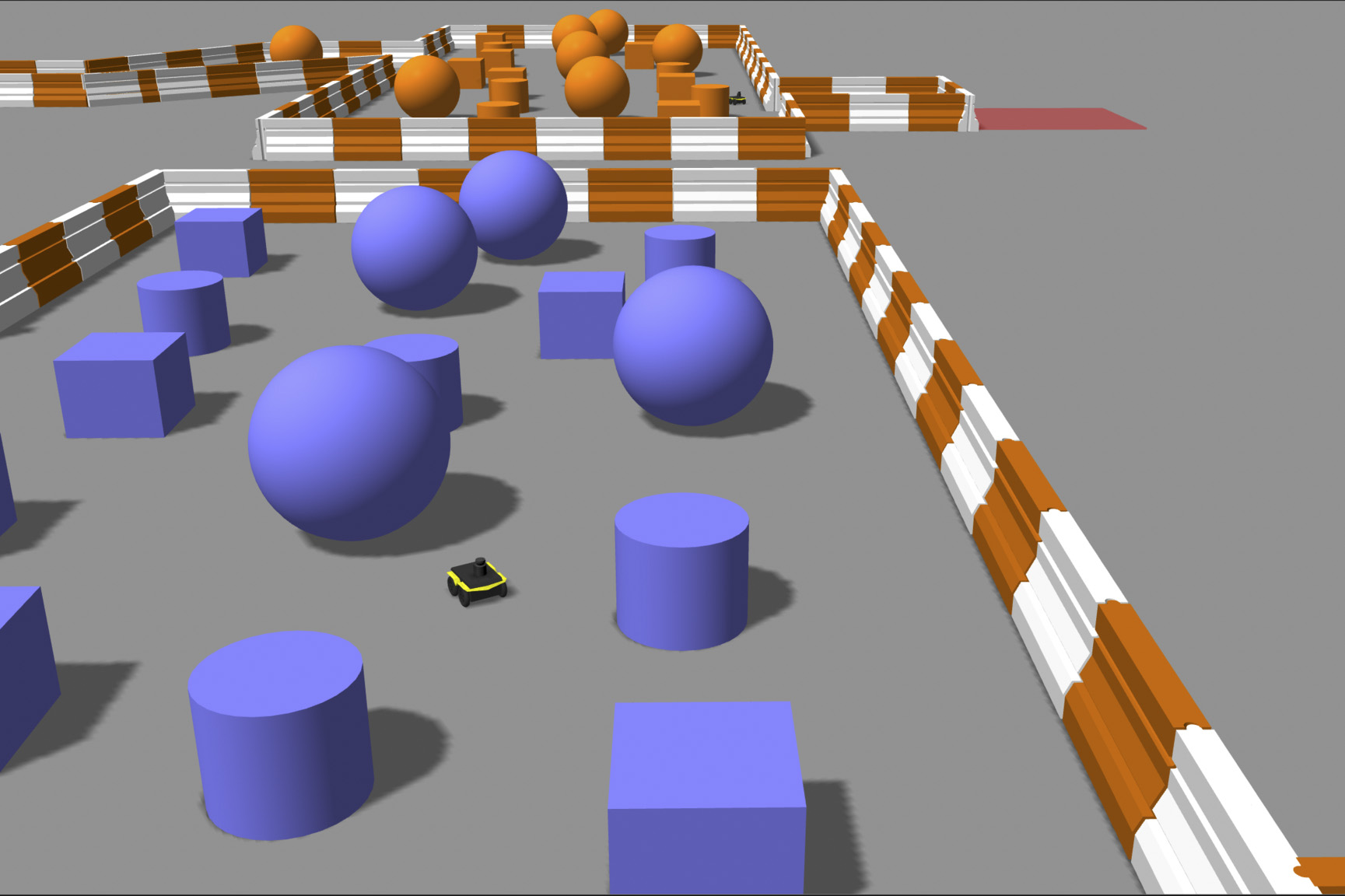 The second round of competition extemporaneously pitted teams against each other on surprise path. The impromptu track turned obstacles into extreme challenges.
The same team was named winner once more, earning three engineering students a competition-day sweep. Teams commingled undergraduate and graduate students across engineering disciplines for multidisciplinary problem-solving.
Angielyn Campo is a biomechanical engineering master's degree student; Nikilesh Subramaniam is a third-year computer engineering student; and, Junyang Xu is a mechanical and aerospace engineering master's degree student.
"I am very appreciative of my teammates, and I learned a lot from their different perspectives and experiences," Subramaniam said. "Junyang, who has previously built physical robots, shared constructive insights, and Angielyn helped me improve my code."
"I was very excited to be able to participate from so far away," said Xu, who joined the competition in real time from China. "I know I will be able to apply the skills I learned in future engineering projects."
"I have always been interested in bionics and wanted to learn more about implementation," Campo said. "You are able to make connections about your work with practical application, and it was exciting to see our team's logic in action the day of the race."
The winners were awarded a golden duck trophy. It's a tradition instituted by Bezzo in homage to an important facet of the International Conference on Robotics and Automation's call for papers. When researchers submit papers to this prestigious conference, to include videos of the functioning robots, rubber ducks are staged with the robot to show its size.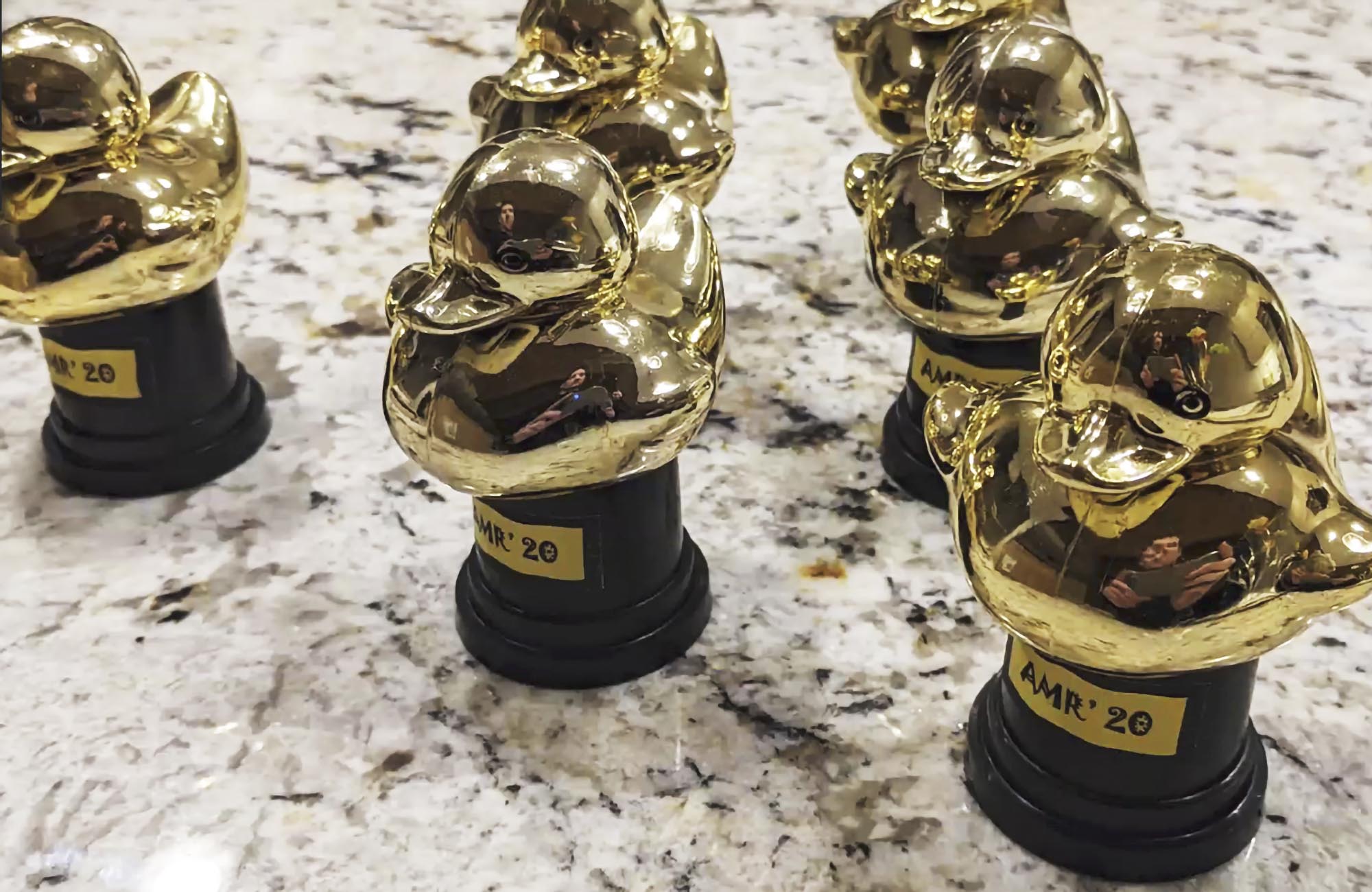 The winners were awarded a golden duck trophy. It's a tradition instituted by Bezzo in homage to the rubber ducks that are placed by researchers next to robots in videos to showcase the robot's size.
All students in the competition receive a grade for their robot's performance, contributing to their overall course grade.
Bezzo credits the difficulties introduced by the pandemic with giving him an opportunity to demonstrate the very response mechanism his research aims to build into next-generation autonomous systems – adaptability when faced with unanticipated obstacles.

"COVID-19 was something no one could have predicted, but was a new reality going into fall 2020. The challenge of figuring out ways to incorporate the same lessons remotely led to a positive evolution in this traditional class lesson," Bezzo said. "Students from all over the world were still able to work together to create interesting behavior for their virtual robots."

"Important lessons were learned in this year's competition when it was transformed into a more challenging task in spite of the COVID-19 crisis," Smith said. "Nicola has set a strong example for these future engineering leaders by turning a real-world problem into the opportunity to engineer a better solution, a skill that is necessary for solving grand global challenges."
Media Contact
UVA School of Engineering & Applied Science
Article Information
December 11, 2020
/content/navigating-obstacles-engineering-students-compete-robot-challenge-virtually