The last time the University of Virginia men's basketball program had three players picked in the same NBA Draft was in 1987 when Olden Polynice, Andrew Kennedy and Tom Sheehey went in the first, second and fourth round, respectively.
On Thursday night, it could happen again.
In what is now just a two-round draft, De'Andre Hunter is projected to go within the first eight picks; Ty Jerome in the 20-30 range; and Kyle Guy possibly in the second round.
If the prognostications hold true, Hunter and Jerome would be the first-ever UVA players to be selected in the first round of the same draft.
For most players, draft night represents a pinnacle – a moment when all their hard work pays off.  
But it can also be quite stressful.
With that in mind, UVA Today reached out to former UVA luminary Joe Harris to see if he had any advice for his fellow Hoos.
Just five years ago, the Brooklyn Nets star was sitting on pins and needles at his family's house in Lake Chelan, Washington watching the proceedings, eventually going in the second round to the Cleveland Cavaliers with the 33rd overall selection.
Q. What's it like on the night of the draft when you're waiting to be picked?
A. It's a little nerve-racking, but at the same time I knew all the work I had put in and should only worry about the things I could control. I couldn't control who was going to pick me or anything like that.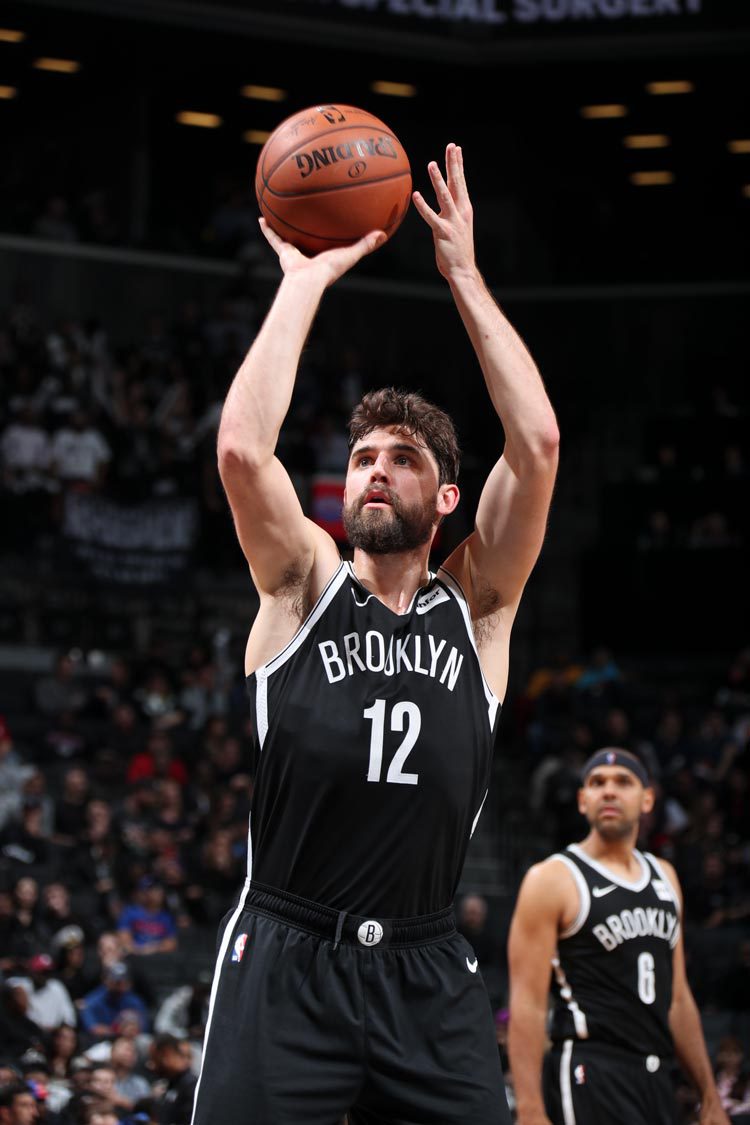 Harris was selected in the second round (33rd overall) by the Cleveland Cavaliers in the 2014 draft before getting traded to the Orlando Magic and subsequently signing with the Brooklyn Nets. (Photo courtesy of Nathaniel S. Butler/NBAE via Getty Images).
I just had to sit back and have trust in the fact that there might be one team out there that wanted to pick me because, at the end of the day, that's all it takes.
Q. What did it feel like to hear your name called?
A. You're just overwhelmed with excitement. I had a lot of the friends that I grew up with and family watching with me. It was a big celebration right after. It was funny though, because right after you get picked, the next day you're flying out to the city where you're going to play and then you go out and play summer league. You have about one day to enjoy it and then it's right back to work.
Q. Any advice for your fellow Hoos who are hoping to hear their names called Thursday night?
A. I would just tell them to enjoy it. Everybody has different paths to making it in the NBA. There's been a lot of work for them up to this point and this is something you've dreamed about for a long time. You should definitely just take advantage of soaking up the moment and not worrying too much about everything else that might be going on or the future. It's just good to be in the moment.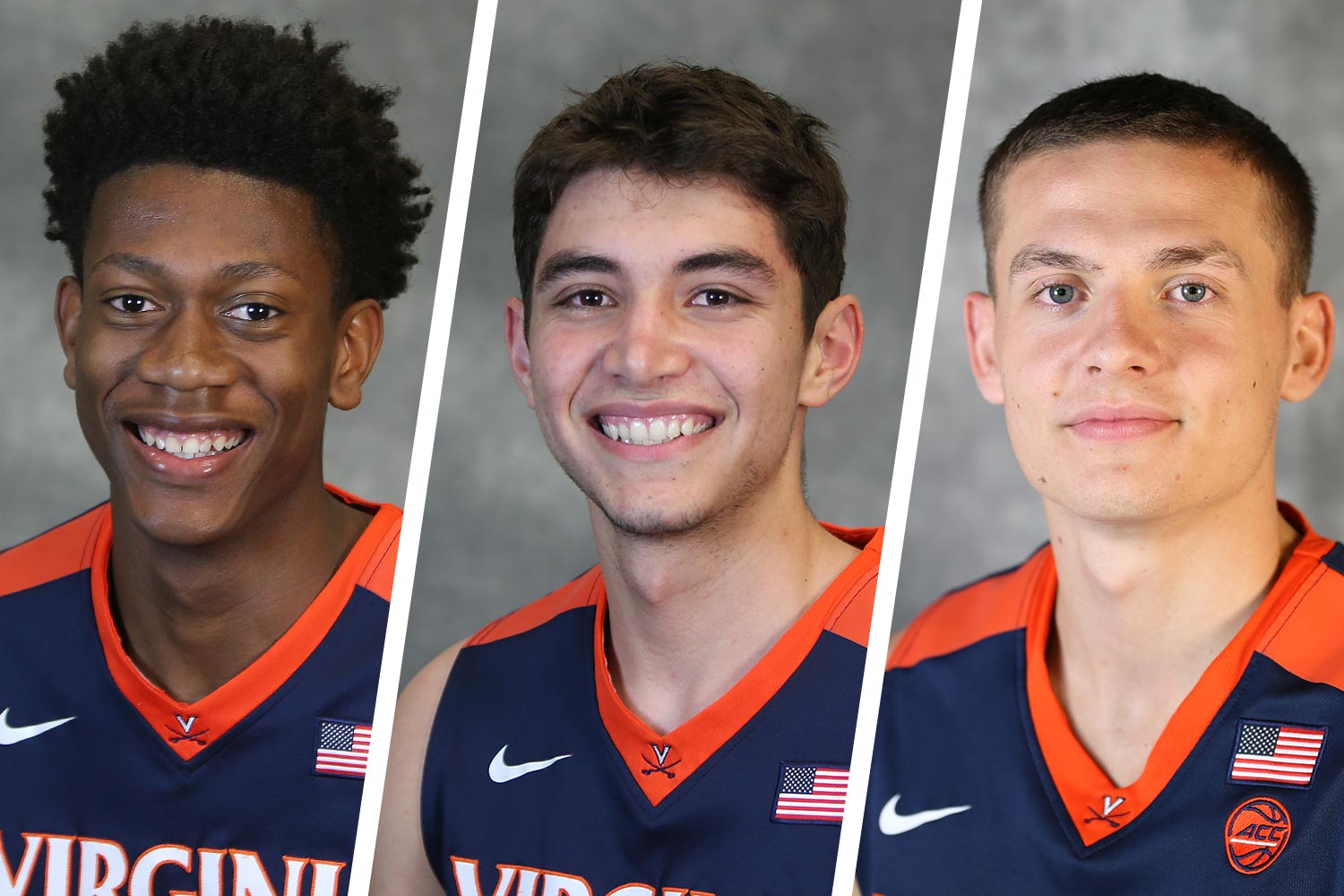 Over two months after leading UVA to a national championship, former Hoos De'Andre Hunter, Ty Jerome and Kyle Guy are taking the next step in their basketball journeys. (Photos by UVA Athletics)
Q. How do you think De'Andre Hunter will fit into the league?
A. I think he'll fit great. He's a perfect size for the 3 and 4 men in the NBA and can guard multiple positions, can step out and shoot it. I think he has a chance to be really good. And I think he'll get an opportunity, based on where he's picked, to really go in and have a chance to play right away.
Q. Some people have compared Ty Jerome to former Maryland player Greivis Vasquez. What do you think Jerome's ceiling as a player is?
A. It's hard to say. You don't want to put unnecessary expectations on people because it's one thing to get drafted and another thing to make it. When I look back on my draft class – there are only like 20 of us who are still playing. That's why it's important to take advantage of the special moment it is to have made it [to the draft] and soak it up and enjoy it.
I think he'll transition well. I think, more than anything, all these guys have the right mental makeups and the toughness that they have. They come from a program under Coach [Tony] Bennett where they'll have really good habits coming into the league, which I think puts them a notch above a lot of other guys. They're all tough, gritty kids and I think that will be an intangible that transitions over.
Q. It's not a definite that Kyle Guy gets drafted. Did scouts not witness his clutch free throws in the Final Four?
A. Yeah, those are the things that separate people – the mental makeup of certain guys. But if you're good enough, you will make it into the NBA. It doesn't matter where you get drafted or if you get drafted at all. 
Q. Do you think that the success you and other former Hoos like Malcolm Brogdon and Mike Scott have had bodes well for these guys?
A. Yes, because teams know if they're going to draft a kid from Virginia, you're not going to have to worry about him a lot. We're all pretty low-maintenance and used to playing in a very disciplined and structured program where guys are punctual, we're not creating stirs in the locker room. We're going to come in and be professional and do our work. I think that stuff sometimes is just as much as an advantage as what you are able to do talent-wise. And they obviously have the talent, but those other things also factor in.
Q. How did UVA prepare you for taking that next step in your life and starting your professional career?
A. I was lucky to go for four years and play for a coach like Coach Bennett and guys on his staff like Ritchie McKay, Ron Sanchez, Jason Williford and Ronnie Wideman, who helped a lot from a basketball standpoint no question, but also prepared me for life. Coach Bennett's whole thing is, "It's great that you're in the NBA, but what kind of person are you, and are you built to have success long after playing basketball?"
I think that's going to be his ringing endorsement when it's all said and done – that all the guys who come through the program are going to have success in life, and it won't have to do with basketball.
Article Information
June 19, 2019
/content/nba-and-uva-star-joe-harris-has-some-draft-tips-his-fellow-hoos