For the first time in 120 years, intricately carved Carrara marble capitals are again visible on the University of Virginia's Rotunda.
Today, workers removed the plastic from the capitals atop the columns on the building's south portico, revealing them for the first time since they were installed in February. Construction crews with Whiting-Turner, the contractor executing the Rotunda renovation, then began dismantling the scaffolding in front of the south portico.
When University founder Thomas Jefferson designed the Rotunda, he commissioned marble capitals from Carrara, Italy, for the south portico. These capitals were destroyed in the fire of 1895, which heavily damaged the Rotunda.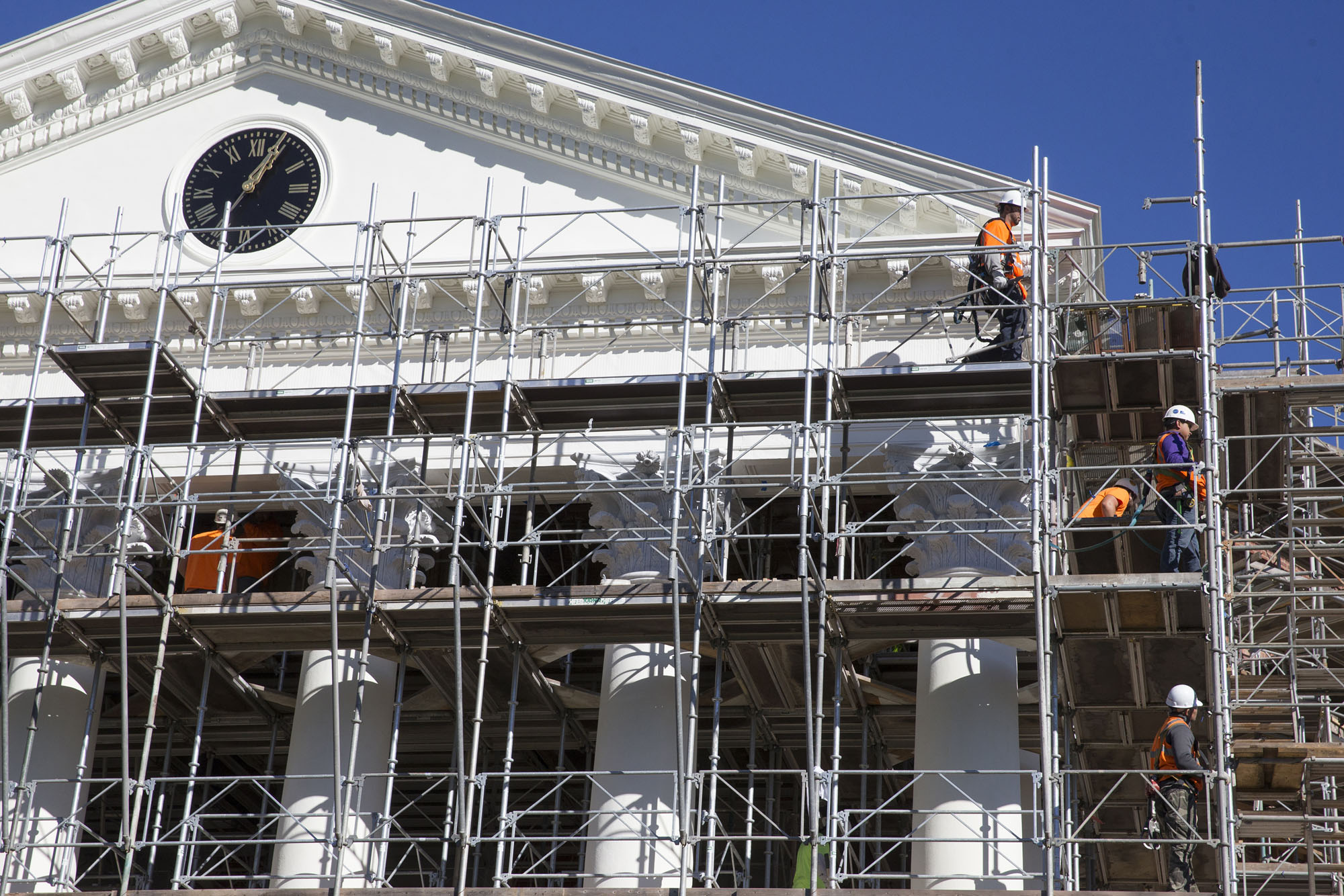 The University then hired New York architect Stanford White, of the firm McKim, Mead & White, to re-envision the Rotunda. In his version of the building, White included capitals made from a softer domestic marble, which were put into place roughly shaped and were later carved in place. Weathering and exposure to other elements gradually wore down those capitals, and after 115 years they had to be replaced.
In planning the current major renovation of the Rotunda, University officials set out to recreate Jefferson's capitals and opted to return to Carrara for the marble. In 2013, Roberto Pedrini and Gianluca Ceccarelli of Carrara's Pedrini Sculpture Studio came to Grounds and laser-scanned the few remaining pieces of Jefferson's original capitals, including three-quarters of a capital displayed on the front patio of the Fralin Museum of Art at the University of Virginia.
Working from those scans, some photos of the first capitals and architectural drawings, the Pedrinis were able to recreate Jefferson's capitals. Computer-controlled lathes carved approximately 90 percent of the capitals, which craftsmen then finished by hand.
Once the capitals were shipped from Italy, Rugo Stone LLC of Lorton used a complex, custom-designed steel structure to perform the installation, beginning on the south side of the Rotunda. Metal scaffolding supported the portico roof; workers built a structure featuring a rolling cart on a track, onto which the old capitals were loaded and removed. A crane then hoisted the new capitals, weighing 6,200 pounds apiece, onto the cart and workers rolled them into place.
After the 10 capitals were installed on the south side, workers dismantled the steel structure and re-assembled it on the north side, where six capitals were replaced.
Jefferson's original Rotunda design featured a portico only on the south side; White's design added the north portico, so this is the first time there have been Carrara marble capitals on the north side of the building.
Once the capitals were in place, workers built protective wooden boxes around them while work continued on the porticos. As the major portico work was finished, translucent plastic replaced the boxes – until today.
Now the new capitals, made of Carrara marble and using Jefferson's original design, are being exposed to unobstructed public view for the first time. 
Article Information
November 20, 2015
/content/new-historic-marble-capitals-rotunda-are-finally-visible