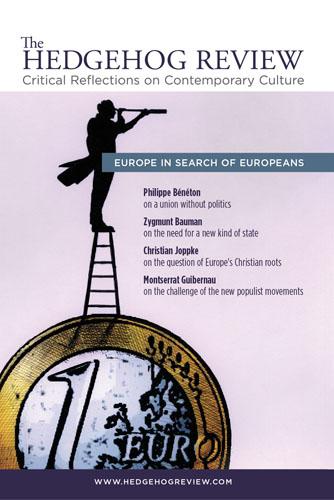 One hundred years after the outbreak of the Great War, Europe is again in crisis. The old cultural questions of Europe and "European-ness" have emerged with renewed urgency: If Europe as a union is to survive, what forms of solidarity and identity might hold it together?
In its spring issue, The Hedgehog Review, an interdisciplinary journal published by the University of Virginia's Institute for Advanced Studies in Culture, draws on an array of European thinkers to explore Europe's precarious situation and its possible paths ahead. The spring issue debuted March 1.
"The European quandary affects us all," editor Joseph E. Davis writes in the introduction to the Europe essays. "The question of governance in a globalized world, to which the Union however debatably seeks to respond, is not going away. Nor can we non-Europeans be indifferent to the pressing and contested questions of 'European values,' which are generally those of liberal democracy."
"Europe in Search of Europeans" opens with an essay by Philippe Bénéton, professor emeritus of political science at the University of Rennes in France. Bénéton discusses how Europe's focus on proceduralism and principles has failed to generate social cohesion or a sense of collective political identity. "An agreement on the rules of the game does not suffice to make a strong society," Bénéton points out. "Who would risk his life to defend procedures, either those of the political regime or those of the market? And can this agreement itself be solid if the members of the society have nothing in common?"
Zygmunt Bauman, professor emeritus of sociology at the University of Leeds, contributes an essay on the particular problems facing nation-states in our globalizing era, problems for which the European experiment offers at least possible solutions: "All modern states are forced to seek local solutions to globally generated problems – a task far transcending the capacity of all except a handful of the richest and most resourceful among them."
And Christian Joppke, chair of general sociology at the University of Bern in Switzerland, explains the logic, but ultimate futility, of attempting to undergird today's European polity with a Christian identity.
"Europe's current crisis was inevitable," executive editor Jay Tolson said. "The effort to build a union on largely economic foundations has yielded benefits to all members – not to mention the greatest benefit of a durable peace among once-fierce enemies. But the political deficit now poses huge problems, even on many economic fronts, and the political deficit can't be addressed unless Europeans confront the social and cultural challenges of shaping a collective, or at least more broadly appealing, European identity.  Those are the challenges our issue explores."
The spring issue also contains two new regular departments. The Notes and Comments section will open each issue with tightly focused commentaries on cultural questions raised by events, trends and new research and thinking. The journal includes a new Signifiers section that closes each issue with an essay that attempts to unlock the meaning behind a culturally significant word, phrase, image or artifact.
Several essays, as always, fall outside of the issue's theme.
In "Grappling with Evil in Our Time," sociologist Paul Hollander explains why modern efforts to explain away evil repeatedly fail.
Noted medical ethicist Donna Dickenson contributes an essay on personalized medicine that examines the turn toward the privatization of health. 
The issue also features several book reviews, including Jeffrey Guhin's review of "Do Muslim Women Really Need Saving?" by Lila Abu Lughod.
The journal publishes three issues a year. The summer (July 1) issue will delve into America's cultural problem with attention; the fall (Nov. 1) issue will examine poverty and the poor.
To subscribe, visit here. The journal is also for sale for $12 at U.Va.'s main bookstore and at select Barnes & Noble bookstores around the country. Select essays from the spring issue and three blogs – THR, The Infernal Machine and Common Place – are available here.