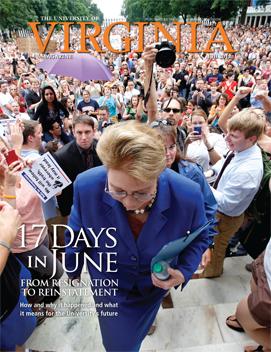 The staff of The University of Virginia Magazine had just finished planning the fall issue when U.Va. President Teresa Sullivan's resignation was announced on June 10. As they watched the events unfold over the next two weeks, they decided to scrap their original plans and devote the bulk of the fall issue to Sullivan's resignation and reinstatement. The magazine hits mailboxes this week and is also available online.
"We have tried to present a balanced assessment of what happened during June, and we hope to provide our readers with a clear picture of the larger issues facing higher education across the country," said Robert Viccellio, the magazine's editor and vice president for communications at the Alumni Association. "We're pleased that many people from the U.Va. community contributed to this issue, giving different perspectives on what this all might mean for the future of U.Va."
The magazine opens with a timeline of the June events, a look at some of the materials the University Library gathered to create an archive, photographs of the rallies and Board of Visitors meetings, a compilation of Thomas Jefferson quotes that were used in speeches, and a guide to understanding the University's finances.
Next, the magazine provides national context for the problems facing higher education, and shows the way that the University is affected by these larger trends. Public universities across the country are struggling with similar challenges – limited state and federal funding, rising tuition and changing technology – and several university presidents have found themselves in situations much like Sullivan's.
In a personal perspectives section, the magazine features opinion pieces from faculty members Ken Elzinga, Siva Vaidhyanathan and Larry Sabato; Executive Vice President and Provost John Simon; and former Board of Visitors member Heywood Fralin, as well as students, alumni and education experts. Sullivan outlines her main areas of focus – faculty, curriculum, and research and scholarship – and Rector Helen Dragas discusses a variety of topics in a Q&A, including lingering questions she hopes to put to rest.
In other feature articles, Virginia Gov. Robert F. McDonnell answers questions about what he considers when making Board of Visitors appointments, as well as whether he considers politics when making those choices, and Sullivan discusses how the University will move forward from the divisive summer. 
Virginia Magazine is published quarterly by the Alumni Association, an independent, University-related foundation. In addition to print issues, the magazine is available online at uvamagazine.org and for iPad on the Apple App Store.