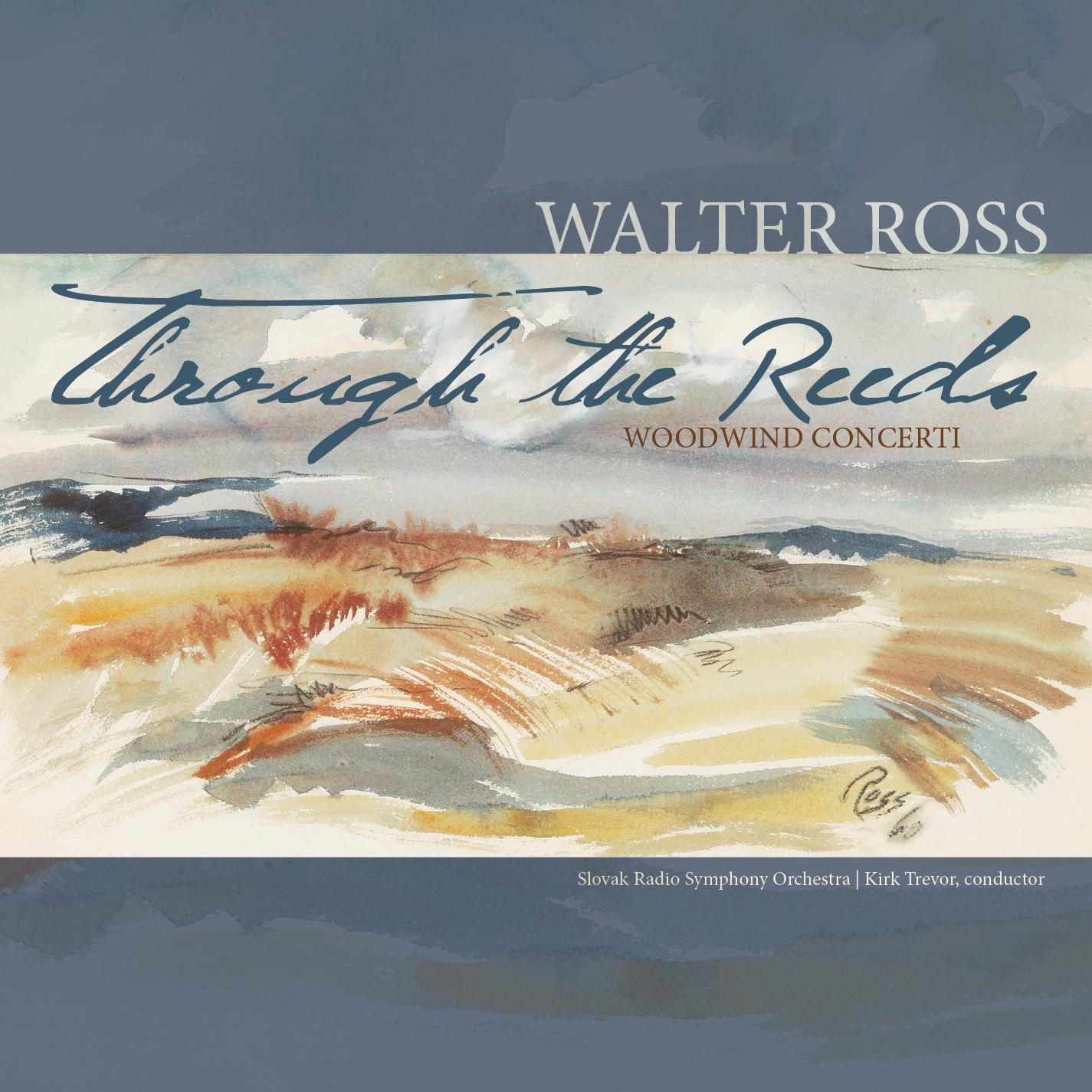 Walter Ross, professor emeritus of music composition and theory in the University of Virginia's College of Arts & Sciences, has more than 150 works to his credit.
With the release this fall of the CD and download "Through the Reeds," some of those compositions can now be heard by a wider audience.
Released by Ravello and distributed through the classical label Naxos, "Through the Reeds" consists of woodwind concerti, including the compositions "Oboe D'Amore Concerto," "Concerto for Bassoon and String Orchestra," "Concerto for Flute and Guitar" and "Concerto for Oboe, Harp and String Orchestra."
As a lifelong musician and composer, Ross has historically worked most closely with instruments in the woodwind family. All four of the concerti on this album feature woodwind solos, and highlight his ability to compose works for oboe, bassoon and flute. As this collection attests, Ross prefers the concerto form to that of the symphony because of its more varied possibilities for solo artistic expression.
The recordings on "Through the Reeds" are performed by the Slovak Radio Symphony Orchestra with conductor Kirk Trevor and soloists Michael Sintal (oboe), Ramon Mesina (bassoon), M. Turner (flute), Radka Kubrova (guitar), Igor Fabera (oboe) and Adriana Antalova (harp).
The music can be downloaded or purchased as a CD from Amazon, iTunes or ClassicsOnline.
Composition requires a thorough understanding of musical structure and technique, and as an adolescent, Ross began his education in these disciplines as a professional French horn player for the community symphony orchestra in Lincoln, Neb.
Ross started teaching at the University in 1967 and retired from U.Va. in May 2003.  Along with Ernest "Boots" Mead, then chairman of the McIntire Department of Music, he played an important part in forming the Charlottesville and University Symphony Orchestra.
During his years at U.Va., Ross composed numerous pieces for the University, for visiting performers and for special events.
"Walter was a mainstay of the U.Va. music department for over 30 years, teaching composition and music theory and serving as the department chair," said Richard Will, associate professor and the department's current chair. "He earned a University Outstanding Teacher Award, and through his teaching, he influenced generations of music students."
Though Ross no longer teaches in the classroom, he continues to compose. His website lists his extensive body of work in both alphabetical and chronological order, as well as by type or featured instrument.
Ross maintains a long list of the known performances of his compositions, which have been performed in more than 40 countries.
"Walter's imposing body of music has been performed worldwide and has helped establish U.Va. as a center for music composition," Will said.
Ross' compositions convey a real purpose: each is written for a specific group or soloist, allowing him to best utilize a performers' skills and abilities.
"I like to write music that musicians like to play and that people like to listen to," Ross said.
As a testament to this populist approach, on Dec. 8 at Christ Episcopal Church in Charlottesville, the Blue Ridge Chamber Orchestra performed three Ross compositions – "Fantastic Dances," "Sinfonietta Concertante" and "Shenandoah Rhapsody" – at its fall concert, titled simply "A Tribute to Walter Ross." Afterward, there was a party and celebration in the composer's honor.
Since 1988, the Blue Ridge Chamber Orchestra has been Charlottesville's community classical string ensemble, consisting of approximately two dozen musicians who love playing and performing in camaraderie with other like-minded practitioners and enthusiasts. For many years, Ross played string bass with the orchestra.
His influence as a composer continues to be felt in the U.Va. community and around the world.  
"It is difficult to imagine where the U.Va. Music Department would be today without Walter's many contributions," Will said.
Media Contact
Director of Media Management and Managing Editor, UVA Today Office of University Communications
rseal@virginia.edu 434-243-3492