Joining in age-old traditions, first-year and transfer students attended the University of Virginia's Opening Convocation and Honor Induction Sunday evening on the Lawn – where a new tradition was perhaps created.
For the first time, CavMan, most often spotted at sports venues, rode on horseback to the Lawn to deliver the Seven Society's annual letter to new students; the previous tradition was to hide the missive under the seventh chair in the seventh row.
Instead, U.Va. President Teresa A. Sullivan asked the student sitting in the seventh front-row seat, center aisle, to come up to the lectern and read the letter.
The society pledged $1,777.77 to the Class of 2019. It also said, "You have something special in common – the community at U.Va. When you graduate, we hope you have come to love this place because you have challenged it and changed it."
Sullivan and several other speakers offered their perspectives on why the student-run Honor System has been a crucial foundation of University life in recreating and upholding a unique community of trust for more than 170 years. They also urged the new students to watch out for each other and respect each other; to get to know someone unlike themselves; to reach out to faculty; and to take their responsibilities seriously while having a good time responsibly.
"In a sense, Thomas Jefferson has been expecting you," Sullivan said. "Nearly 200 years ago, he said that he wanted students at this University to reach for 'destinies of high promise.' … Tonight you will sign the University's honor pledge. With this pledge, you promise not to lie, cheat or steal while you're a student here.
"Although I endorse the Honor Code, I do not enforce the Honor Code; the Board of Visitors delegates that responsibility to the students. This is your pledge and your community – and now this is your responsibility."
Also welcoming the new class, Allen W. Groves, associate vice president and dean of students, said, "This Opening Convocation and Honor Induction is an important rite of passage that signals your formal entry into the University community." He quipped that CavMan is "our version of Batman."
"Now, some people will say your college years are the best years of your life. You should hope that's not true, because peaking at 19 probably isn't a great life plan," Groves, a U.Va. Law School graduate, said. "But what is true is this: Your college years are like no other period of your life. And by that, I mean: You will never again have the opportunity you have been given starting today."
That opportunity includes working with an exceptional group of fellow students and top faculty. He encouraged students to make the time to take courses that will expand their minds and challenge their beliefs, and not just fulfill requirements.
In his remarks, Student Council President Abraham G. Axler also combined a sense of humor with that sense of responsibility. "I'm going to talk to you about three things: student leaders, privilege – and blazers." He said in his first year, he noticed that leaders at every level seemed to wear blazers, often blue, and he pondered the meaning of this apparel.
"While many people might be comfortable with student leadership, with wearing blazers, many might look up at this stage and say to themselves, 'This isn't me.'"
Feeling the pressure to buy his own blue blazer when he was elected Student Council president last year, the third-year government and foreign affairs major disclosed that he had a message embroidered in orange on the inside of his jacket: "Student Council cares."
Axler also announced that from now on, no student will be rejected from participating in Student Council in some way. "I want you to come and join us, and you can leave your blazers at home."
More seriously, he advised his fellow students to treat each other with mutual respect. "If you see a friend putting something on Yik-Yak [an anonymous social media website], if you hear someone make a joke that could be insensitive, say something."
Thomas Hall, also a law alumnus, as well as a graduate of history and government in the College of Arts & Sciences, and Faith Lyons, a fourth-year student in the McIntire School of Commerce who chairs the Honor Committee this year, spoke about the responsibilities and benefits of taking the Honor System seriously as members of the U.Va. community and beyond students' time on Grounds.
"The Honor System will follow you beyond Grounds," said Hall, who was twice the Honor Committee chair. As a prosecutor for the U.S. Department of Justice, where he handles mostly financial fraud cases, he said it comes up in his job every day.
"Every time I stand up in front of a jury for the first time, I tell them the case they'll be deciding is about lying, cheating or stealing. That's an extreme example. … But I hope that all of you will leave Grounds with an ethical education, something that won't be reflected on your transcript or your résumé."
That ethical education in joining the University community of trust "means that you will enjoy greater benefits, but also potentially take on greater costs than students at peer institutions," Lyons told the students. "It means that you will be asked on a daily basis to strive for an ideal that many will call antiquated and out of place – especially in a world where it's rare for a week to go by without a headline exposing corruption in government or the business world.
"This ideal [of honor] that we strive for is such a core part of this University, that even in the face of challenging times, when we could have abandoned it or shied away from the burden it places on each of us, we've held onto it," she said. "We hold each other to this higher standard day after day because we know that each and every one of us is capable of aspiring to the ideals upon which this University was founded."
The other traditions introduced to students at the event included each receiving a shiny Jefferson nickel from the U.Va. Alumni Association (to remind them to support U.Va. after they graduate) and linking arms as they sang U.Va.'s anthem, "The Good Ol' Song," as well as signing the honor pledge.
First-year student Rawda Fawaz of Richmond said she finds the Honor System "reassuring." She said cheating was rampant in her high school, and it was frustrating to her and others honestly working hard that no one would report cheating.
For New Jersey native Derrick Etienne, whose family is from Haiti, signing the pledge "was a very big honor," joining a tradition that so many people have done for so many years.
They were among throngs of students headed to Sullivan's home at Carr's Hill for a reception complete with ice cream, Jefferson's favorite dessert.
"When you eat ice cream at Carr's Hill tonight, you will be engaging in your first Jeffersonian tradition at U.Va.," she said.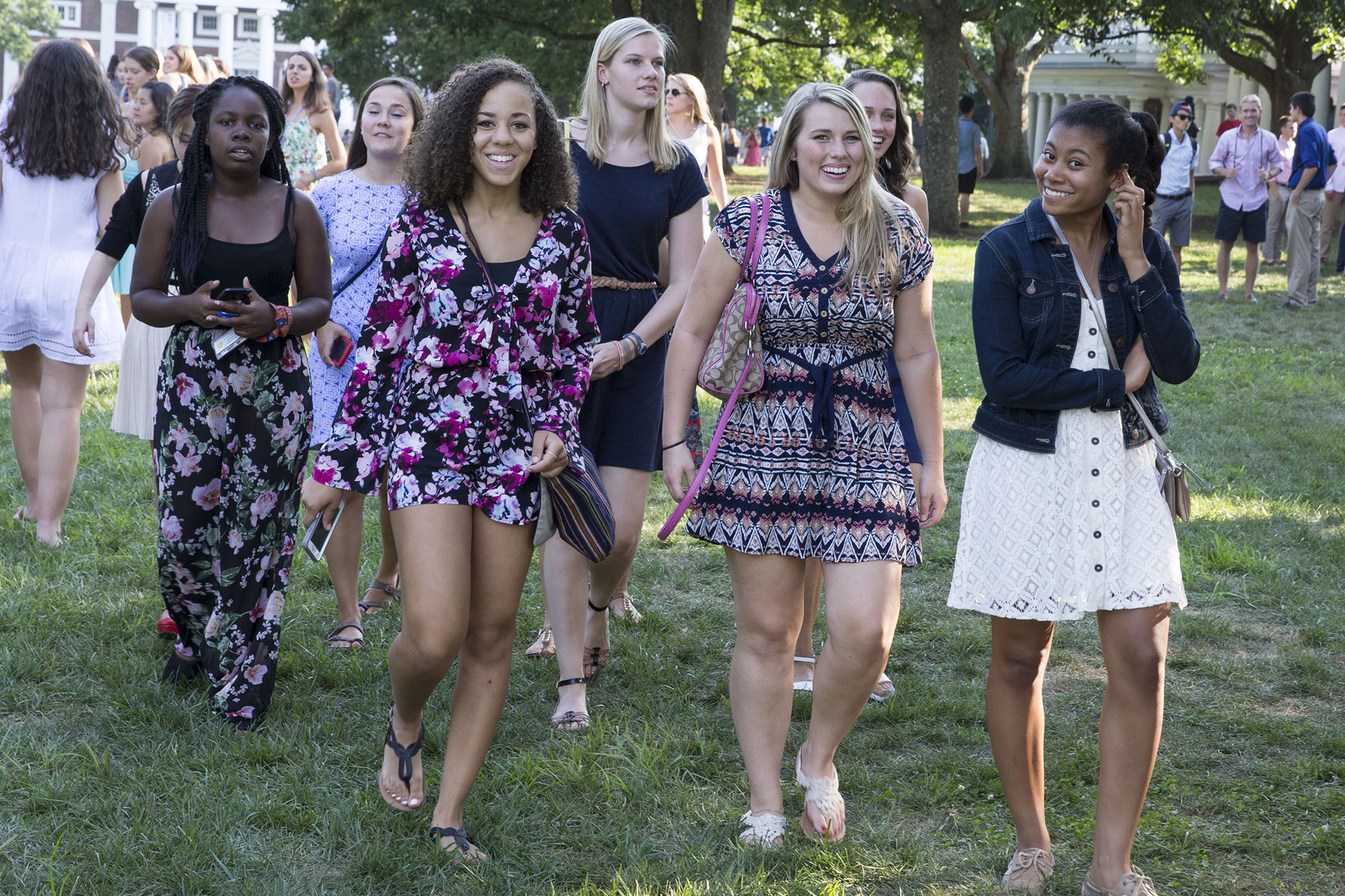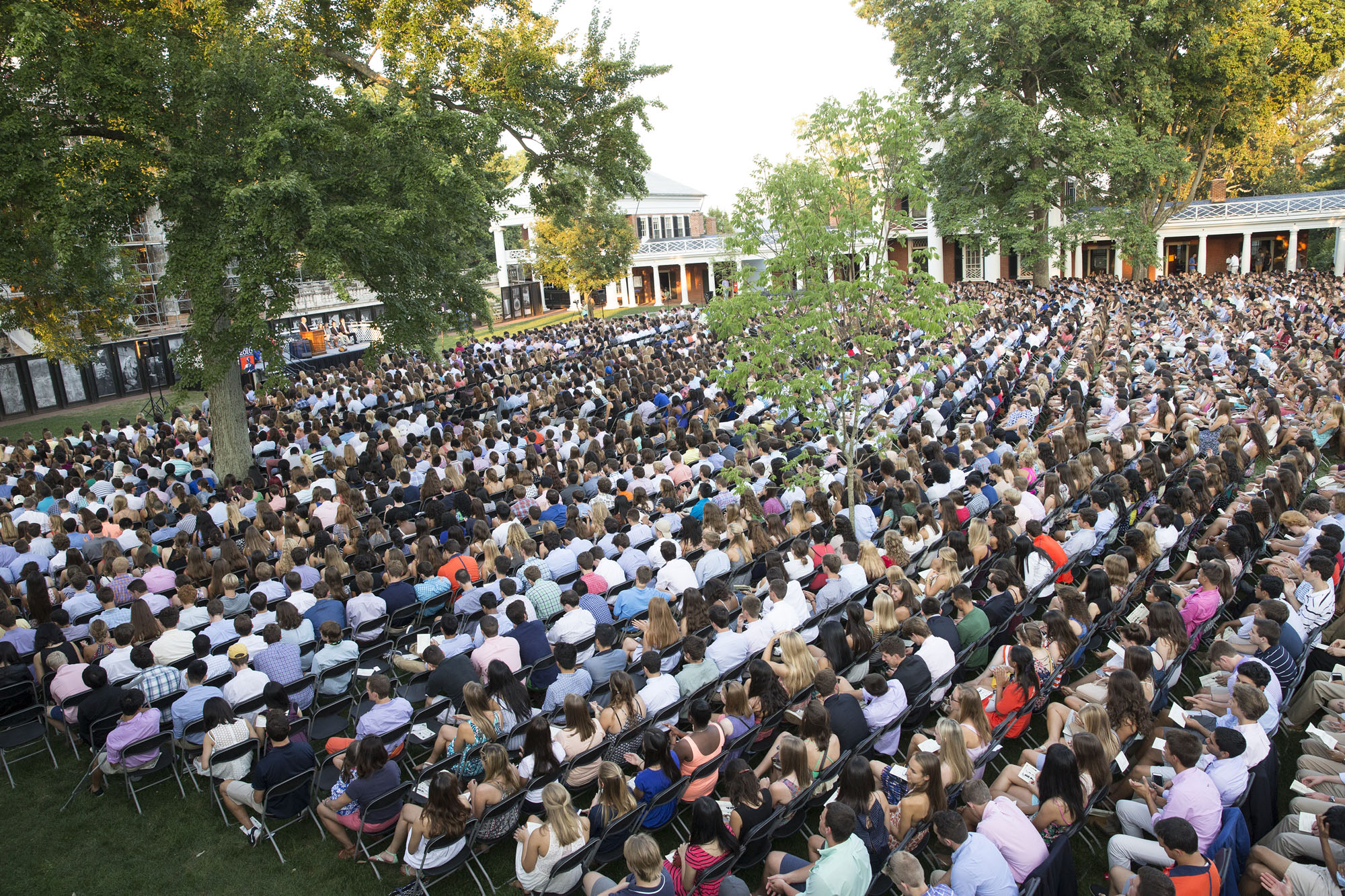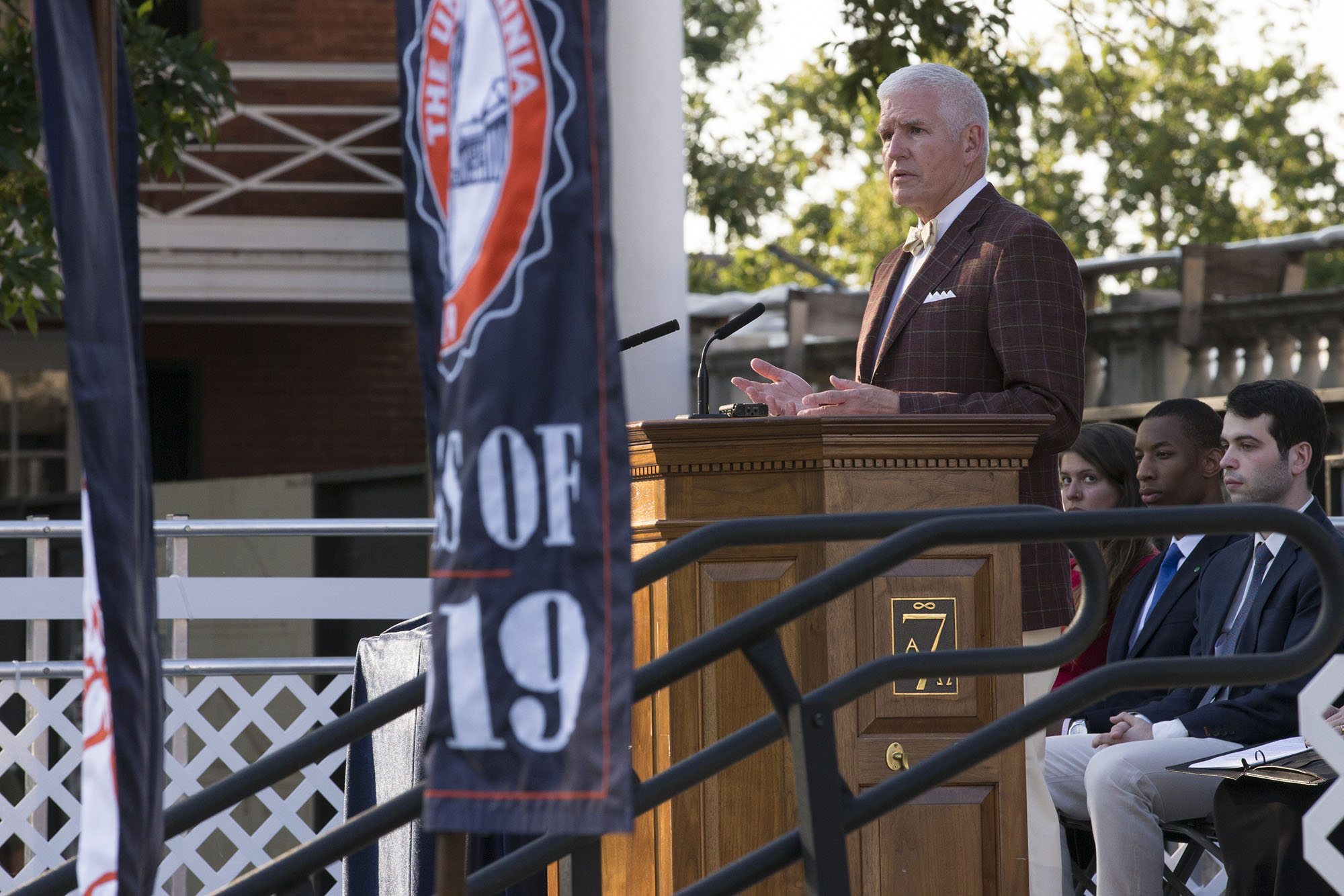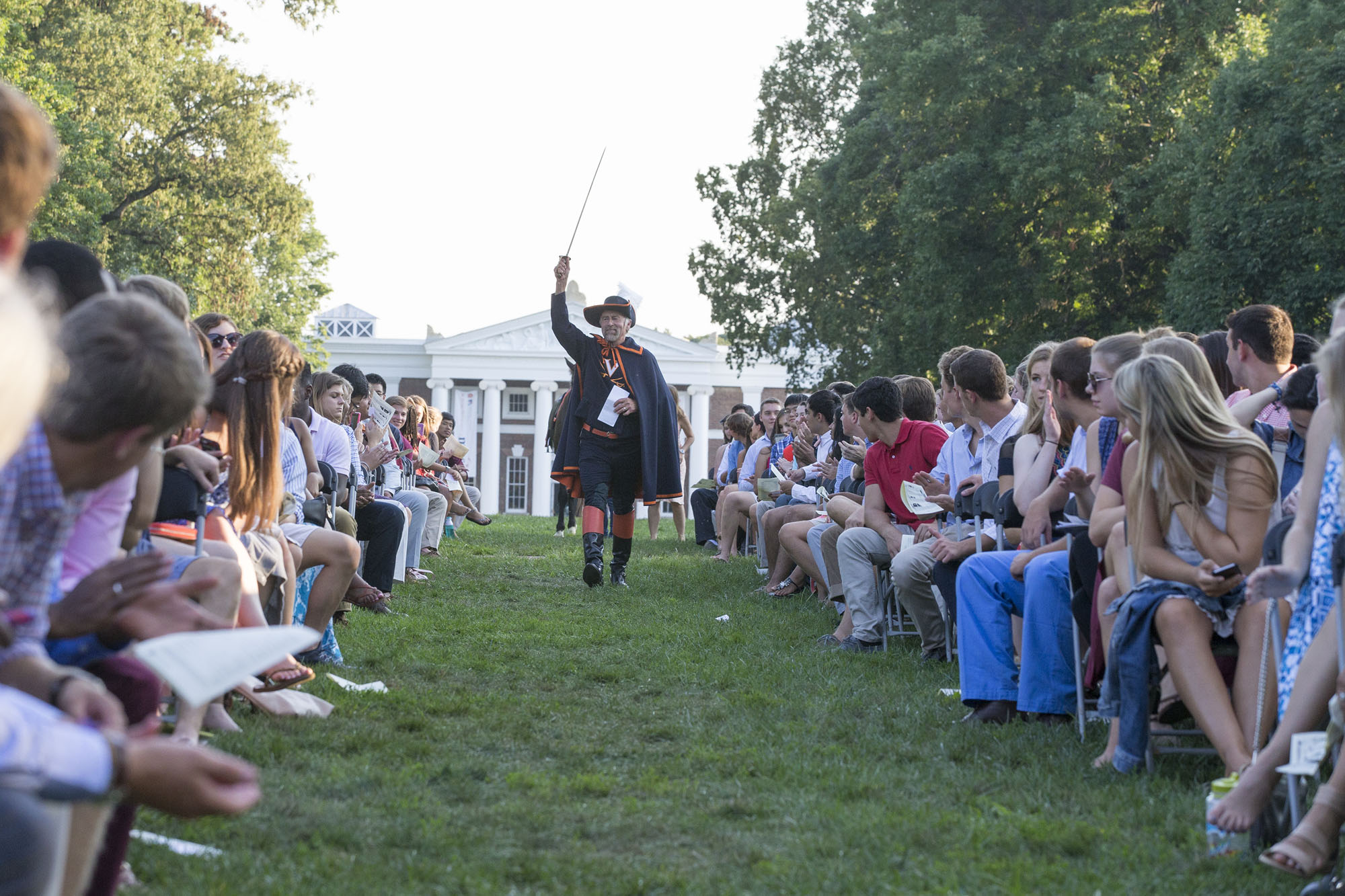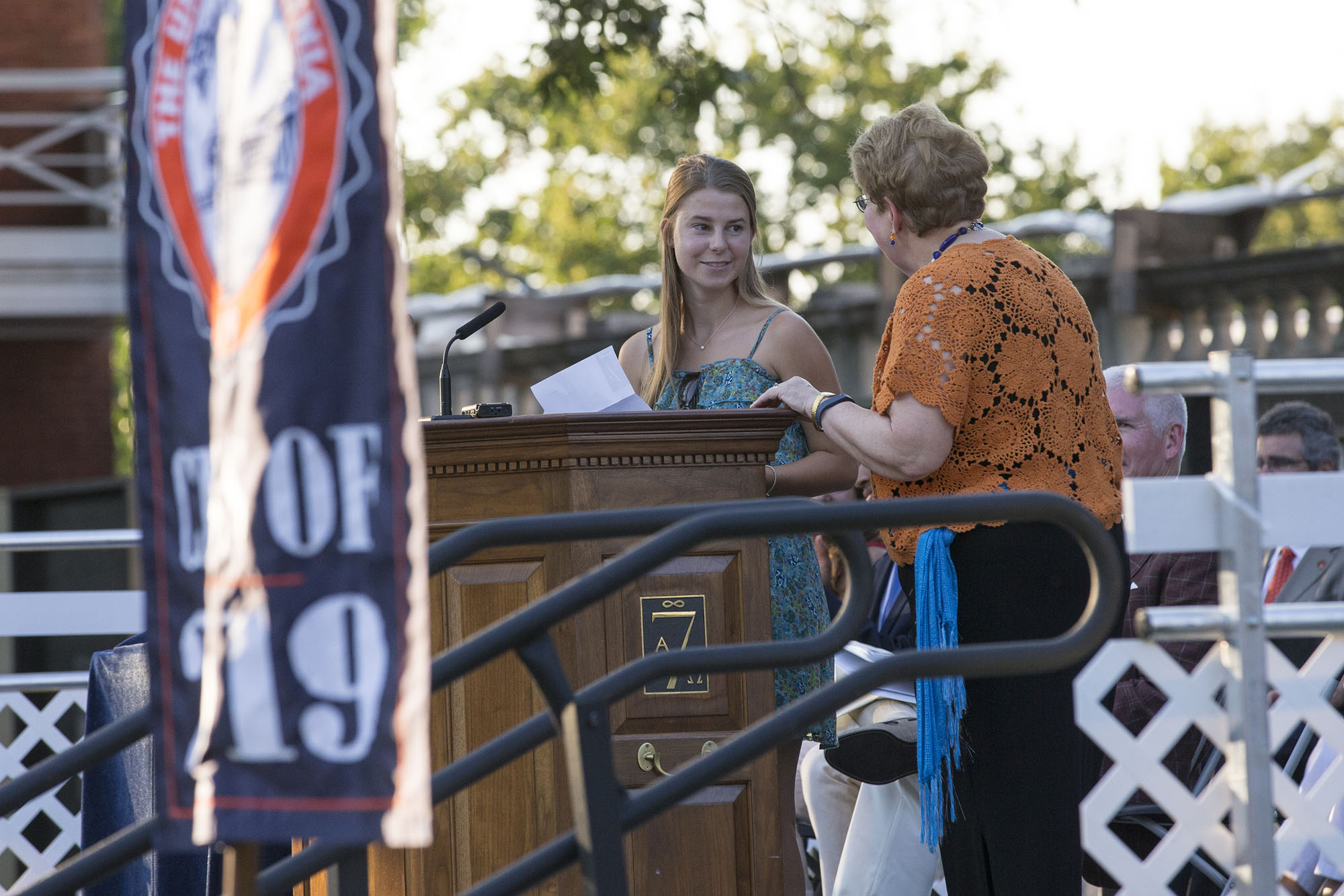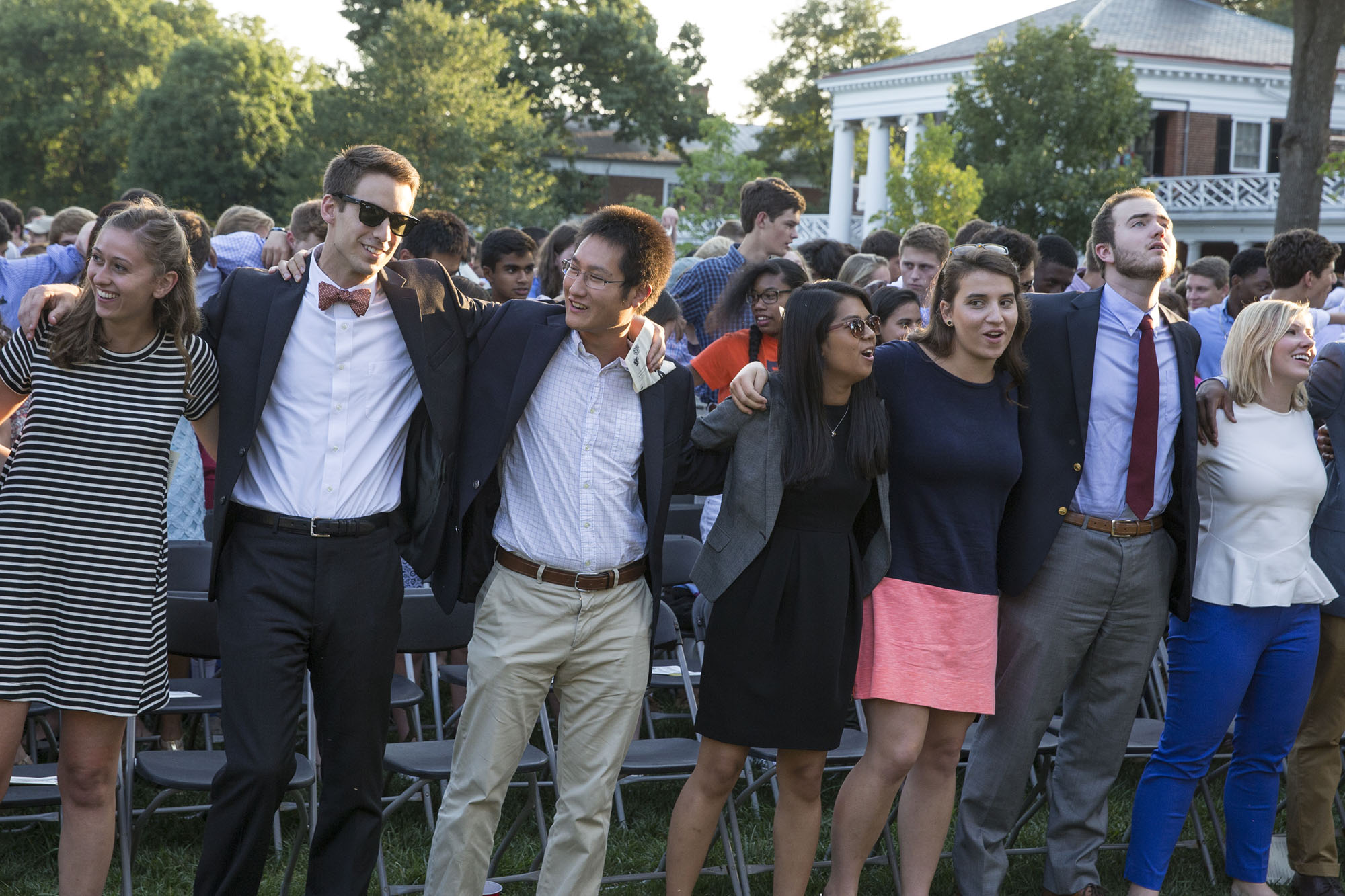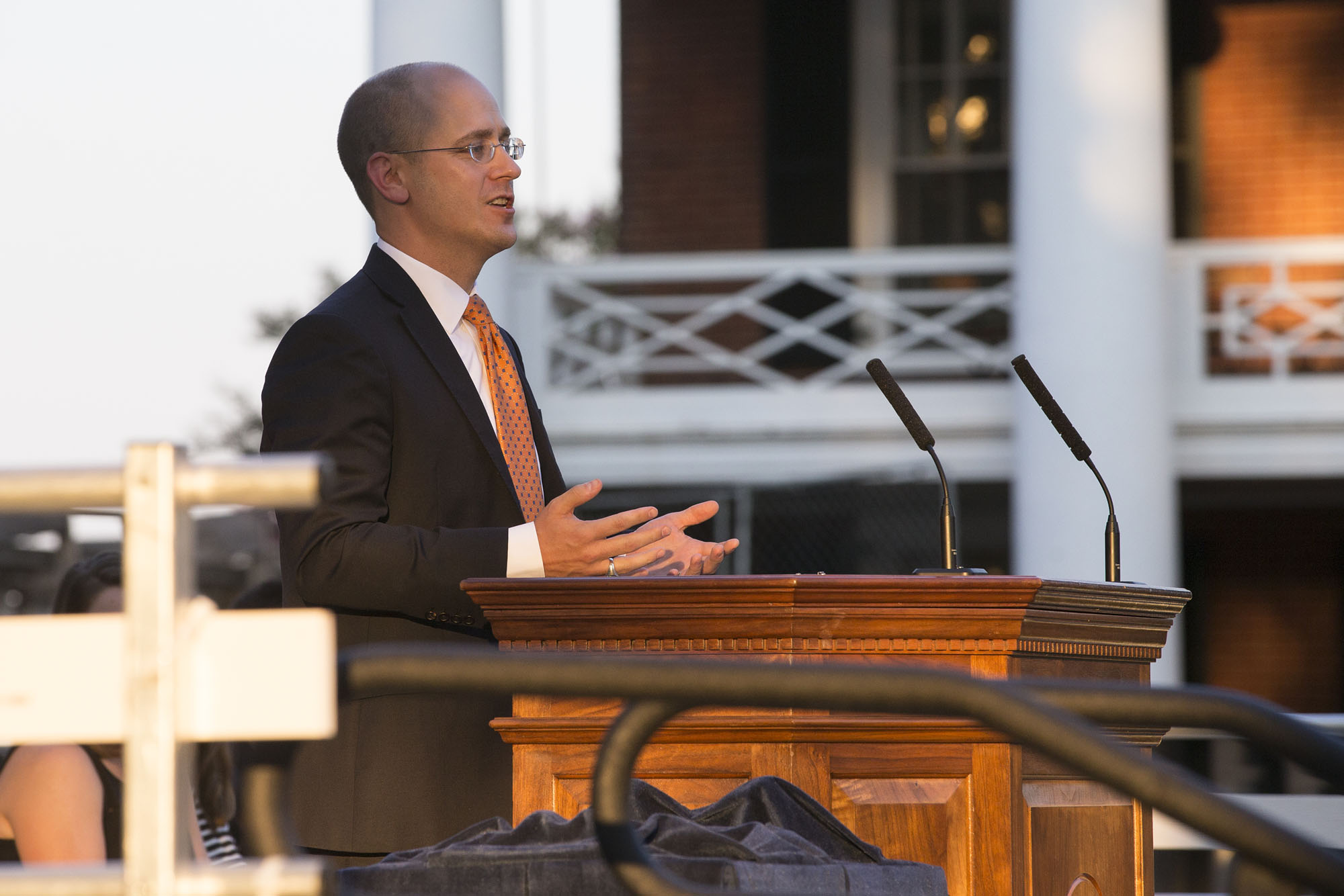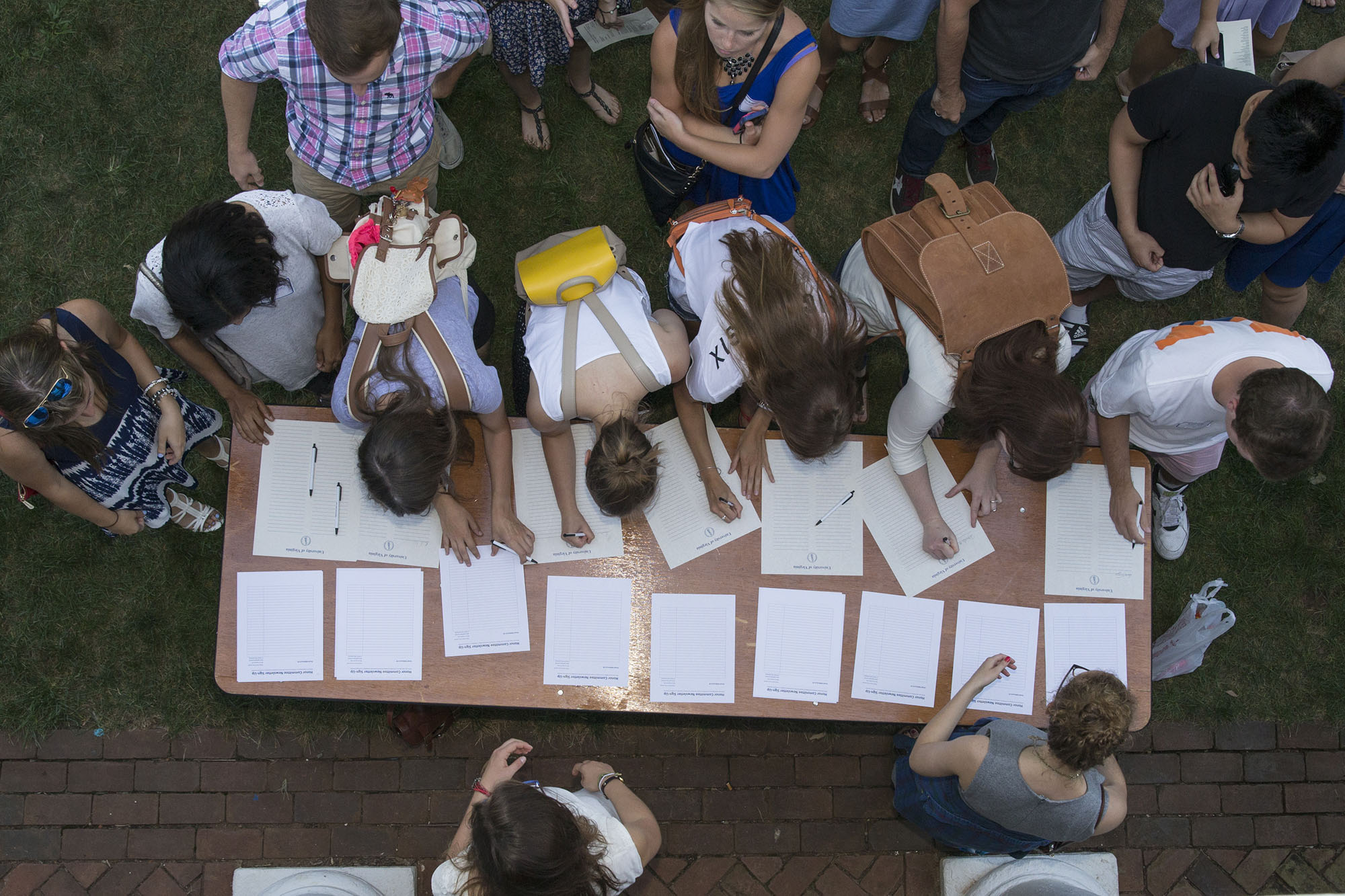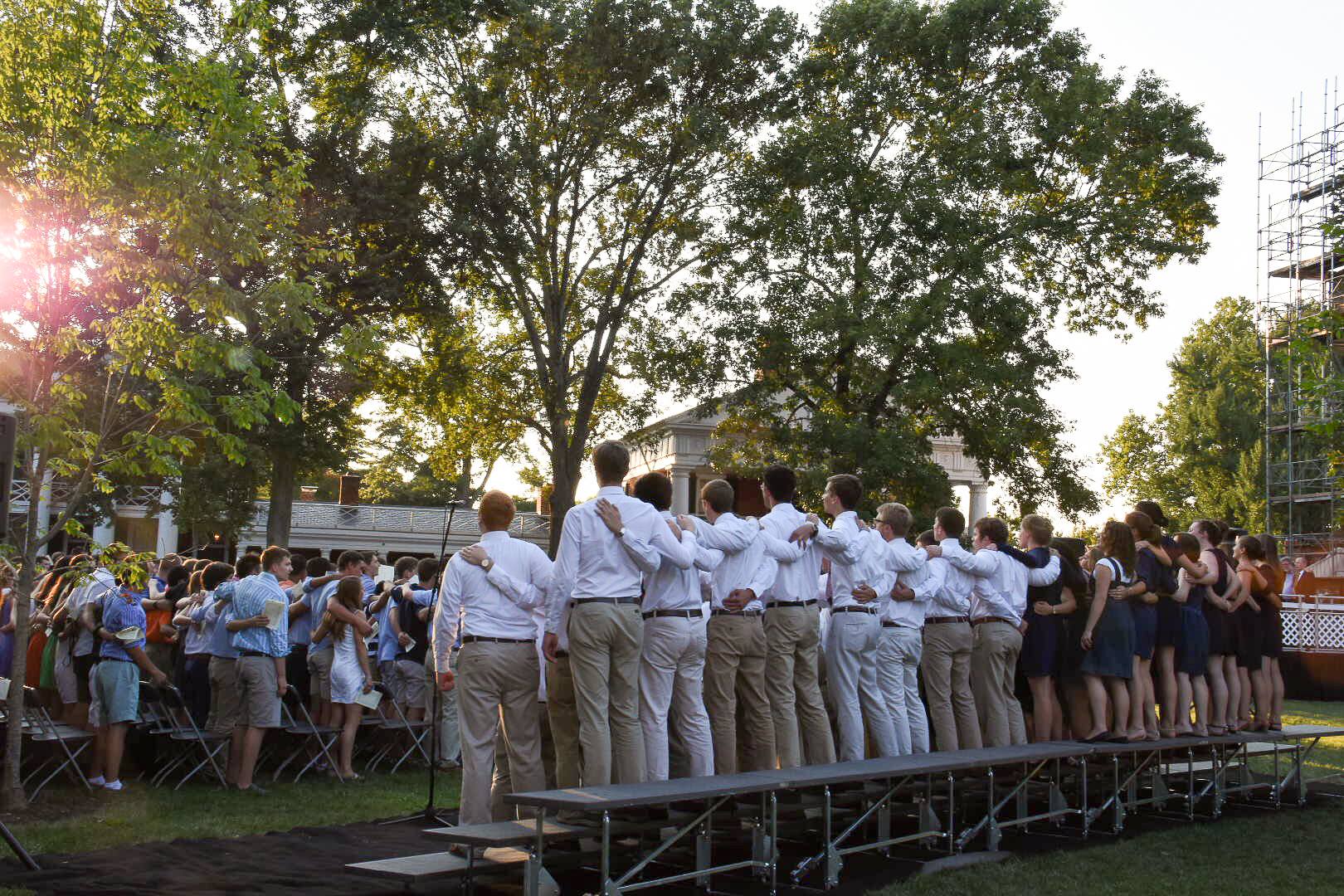 Article Information
August 23, 2015
/content/new-students-introduced-uva-traditions-opening-convocation