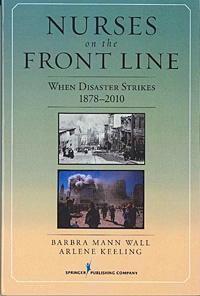 October 21, 2010 — During the beginnings of Hurricane Katrina in 2005, University of Virginia nursing professor Arlene Keeling was at a conference for the American Association for the History of Nursing.
Listen to the UVA Today Radio Show report on this story by Jane Ford:

She and her colleagues watched the endless news stories focused on the efforts of the American Red Cross, the U.S. Public Health Service and volunteers, and noticed that one key group of players was missing: Rarely did she hear about the nurses on the scene.
"Nurses have been overlooked because they are doing their routine work," Keeling said. "They're always on the front line. They're just invisible sometimes."
From the yellow fever epidemic in 1878 to the San Francisco earthquake and fire of 1906; from the tragedy of 9/11 to the Haitian earthquake, nurses have been present and working hard to restore stability, though these are the stories the public seldom hears. 
Inspired by the conference setting and reminders of tragedy, Keeling suggested a book depicting the role of nurses in past man-made and natural disasters. Colleague Barbra Mann Wall, a professor at the University of Pennsylvania, jumped at the idea and quickly began the process.
As faculty in nursing history at their respective universities, Wall and Keeling were well-connected to experts on the role of nurses during historic disasters. Their resulting book, "Nurses on the Front Line: When Disaster Strikes, 1878-2010," is now published and ready for the general public and nursing students.  
It features 13 chapters, each pertaining to a historical disaster, beginning with yellow fever in 1878 and ending with this year's Haitian earthquake.
Joining Keeling and Wall is a long list of contributing writers, including U.Va. colleague Audrey Snyder and John C. Kirchgessner, a former U.Va. nursing professor. Excerpts from letters, surveys, media reports and other primary sources add to the credibility of the text, and study questions following each chapter make it a tool for the classroom.
The chapters not only credit nurses, but also examine their changing role in the community and the effectiveness of response of care during crises in a way that will benefit future efforts. Context is critical in disastrous situations, and this book paints the whole picture.
It also discusses the importance of race, gender and class, and how they affect the care people receive – another reason Keeling said it would be a perfect text for the nursing classroom.
Keeling knows this insight into history is not just a way to illustrate the work nurses perform. The information is a tool that will be applicable in current times as emergency relief teams study the effectiveness of past response and adjust as needed.
"As in many other cases, we can learn from the past," she said.


— By Jone Brunelle