Dr. William Petri has maintained his morning routine of running with friends, followed by an outdoor gathering with sips of coffee and casual conversation.
Yes, even in frigid temperatures.
"We have blankets," Petri said.
Petri, the vice chair for research in the University of Virginia's Department of Medicine, has developed his own "new normal" of life amid the coronavirus pandemic and the recent surge in cases caused by the omicron variant.
Meeting outside, masking indoors and doing work virtually have been a few of the strategies employed by Americans since March 2020 and the dawn of COVID-19.
So, when's it all going to end? Petri, recently named a Maxwell Finland Award winner for scientific achievement by the National Foundation for Infectious Diseases, said he, naturally, gets that question all the time.
And while that's seemingly impossible to answer, Petri offered some points of optimism during a recent interview with UVA Today.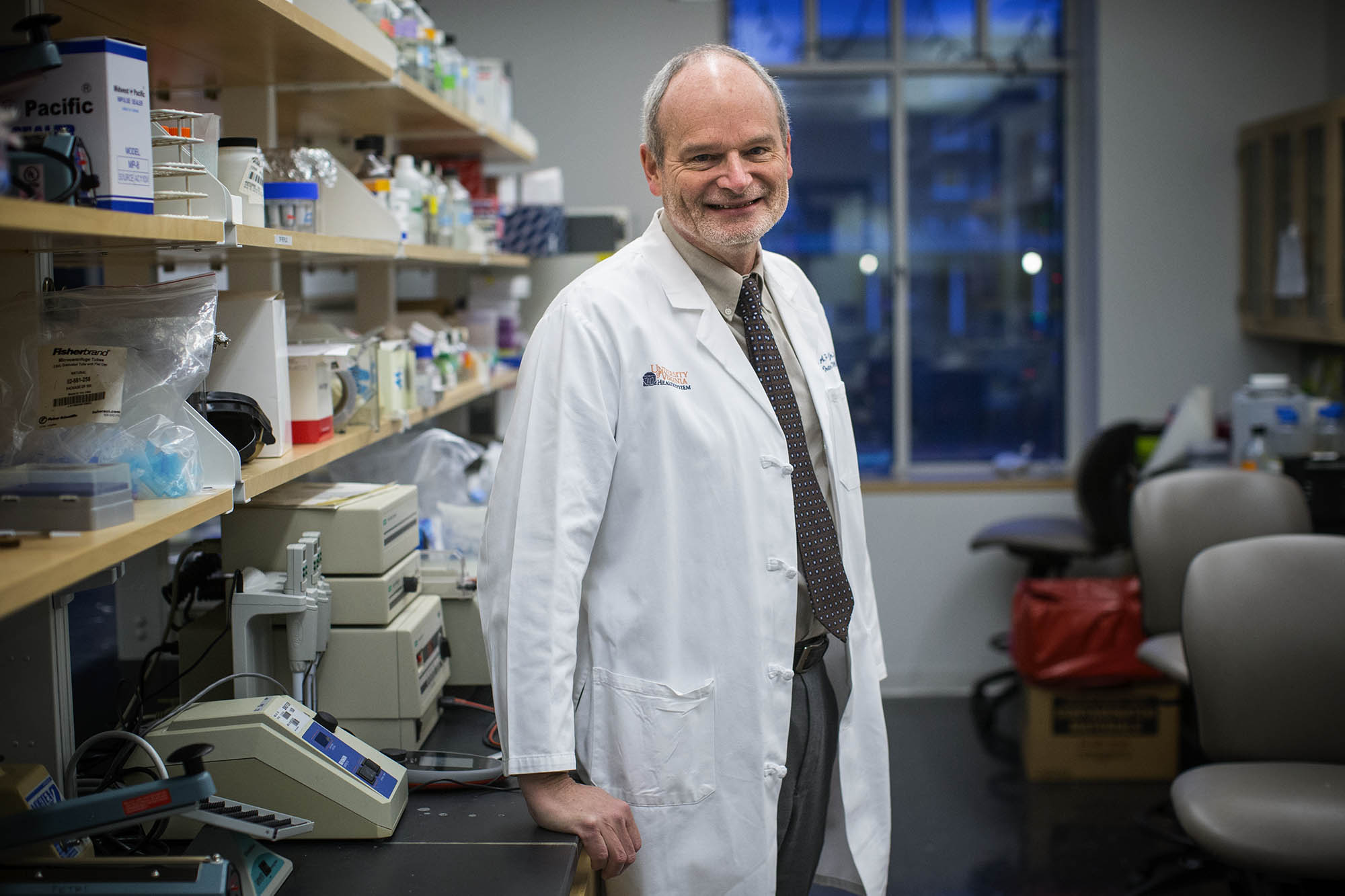 Q. According to a recent report by The Wall Street Journal, omicron cases have reportedly peaked in South Africa and the United Kingdom. What can that mean for the U.S.?
A. I think it's hopeful that we'll see something similar here. Peaking in the U.K. is good because the U.K. is much more like the U.S. than South Africa. South Africa, the population is much younger on average, and fewer people are vaccinated. So South Africa could have been a unique case.
The U.K.'s population is more similar to the U.S., and the reach of vaccination is comparable and maybe even better in the U.K. So that does bode well for us.
Q. In 2021, COVID cases seemed to peak in the winter and then decline in the spring and early summer. Do you see that pattern repeating itself for 2022 and the foreseeable future?
A. I do. There are many things changing all at the same time. In 2021, we saw the advent of vaccination, which changed things. We went to the emergence of the alpha variant early in 2021 and then that was replaced by at the beginning of the summer by the delta variant, which peaked in September and then declined. And then of course came omicron.
So there are a lot of things changing – the degree of the population that is vaccinated, if there'll be a new variant that is even more effective at evading the vaccine or more effective at transmission than omicron – but, in general, I think we'll end up with (COVID) as a wintertime epidemic and not a pandemic.
With more than 700,000 people officially getting infected every day (now), we're going to run out of uninfected people in the U.S. It's going to change things, where it'll be more like influenza, where everybody has some degree of pre-existing immunity. We're going to be in a much better place a couple months from now as we get out of winter and into spring, where there's much less indoor transmission.
Q. What is the shelf life of the booster shot?
A. Coming from the United Kingdom, it looks like the Pfizer booster is starting to wear off about four months after you get it. The Moderna, maybe not.
This is looking for protection against the symptomatic infection. It's not as clear if the protection against being hospitalized wears off as quickly as four months. It's clear for the U.K. that getting the booster is protecting the over-65-year-old age group from hospitalization. So it's doing more than just protecting you from being infected or from having a sore throat; it's actually protecting the high-risk individuals from being hospitalized.
Q. Do you see a second booster shot as a future necessity?
A. I don't know if it's a necessity. We really need to weigh risk versus benefit. It would be nice to know the degree a second booster adds for protection. With the mRNA vaccines in young men, we worry about myocarditis or inflammation of the heart. It's sort of a recognized complication of the vaccine, and that's an acceptable complication when you have an infection-naïve individual and you're protecting them from coronavirus. But if you're just giving them like 10% more protection than without the second booster, you need to rethink risk versus benefit.
Maybe what we do is we get a good, standardized way of measuring the antibody response to the second booster and then get it to the 65-year-olds or the immunocompromised individuals, those who need it.
Q. Beginning this week, the White House is distributing half a billion free, at-home COVID-19 rapid tests to Americans. How accurate are these tests compared to those PCR (polymerase chain reaction) tests, performed at a lab?
A. Both the at-home antigen and the PCR tests are accurate. It would be rare for either to be falsely positive. For both antigen and PCR tests, it makes sense to repeat them a couple days after a negative result if you have symptoms that could be COVID-19, or if you were exposed, as we are sometimes seeing the tests go from (falsely) negative to positive in the first few days after infection with SARS-CoV-2.
Article Information
January 19, 2022
/content/omicron-nearing-its-peak-second-booster-necessary-uva-expert-weighs