For hundreds of University of Virginia student volunteers, Saturday was one BIG day to give a BIG thanks at The BIG Event, the largest day of community service for college students nationwide.
Madison House, UVA's student volunteer center, organized Charlottesville's version of The BIG Event, bringing together members of the University and local communities for the day of volunteering.
"The BIG Event gives hundreds of UVA student volunteers the opportunity to come together and show their gratitude for the incredible support of the Charlottesville community,"  fourth-year student Emily Brown said. As The BIG Event's head program director, Brown managed a leadership team of 11 students and more than 350 volunteers.
Take a look at some of the day's activities, in photos captured by Madison House's Mary Shea Valliant.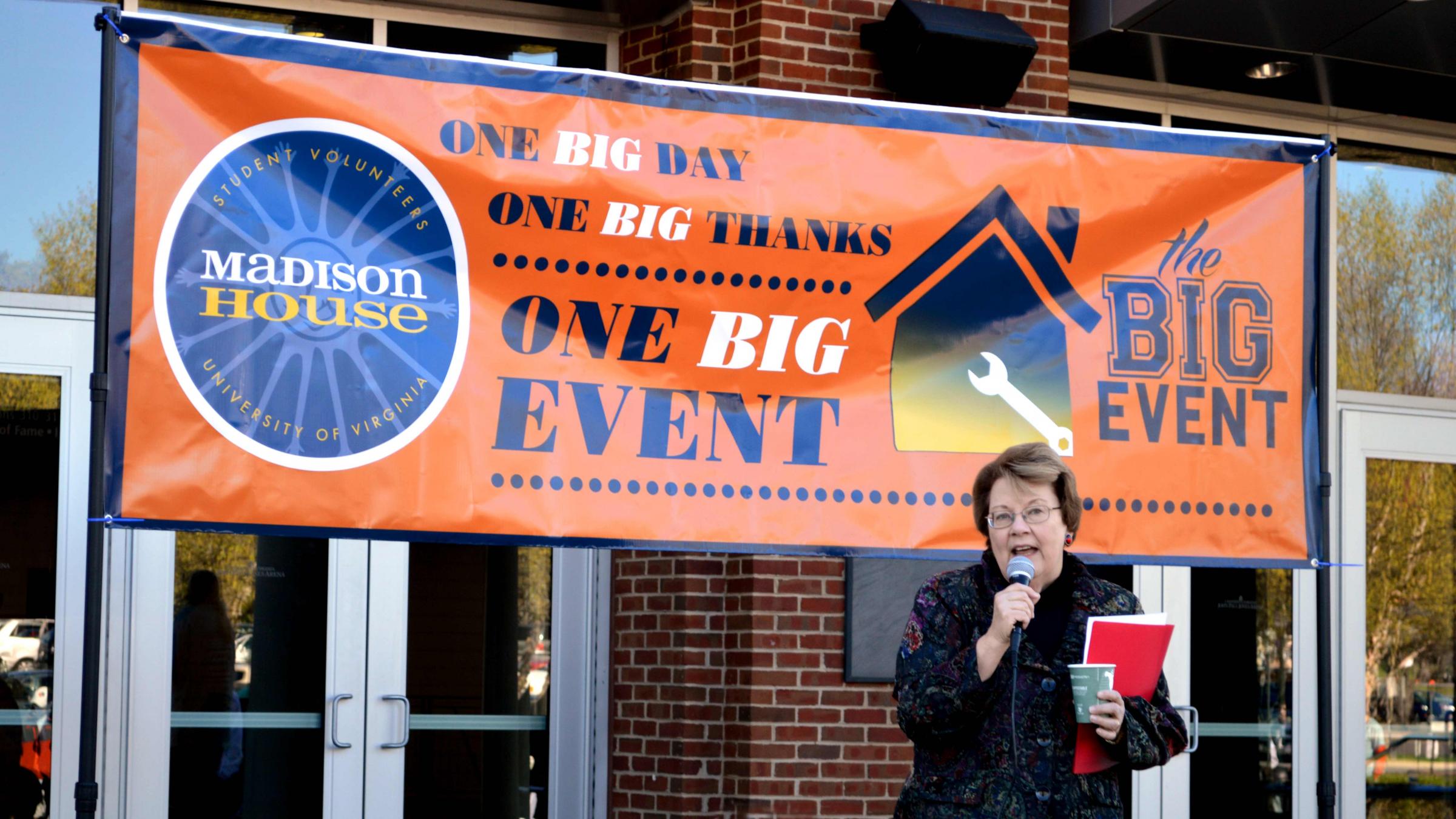 UVA President Teresa Sullivan kicked off the day of service Saturday morning at John Paul Jones Arena, saying, "Ensuring that students have opportunities for 'high-impact' educational experiences, such as those afforded by volunteer service, is a major focus of our plans for UVA. These experiences include the kinds of social entrepreneurship, community engagement and co-curricular service opportunities that Madison House offers.
"As a hub for student-volunteer activity at UVA, Madison House provides an essential service to both the University and the Charlottesville community. Through its programs, students meet the needs of others while learning the value of service. In fact, many community partners say they would not be able to deliver their services well without the assistance they receive from Madison House volunteers."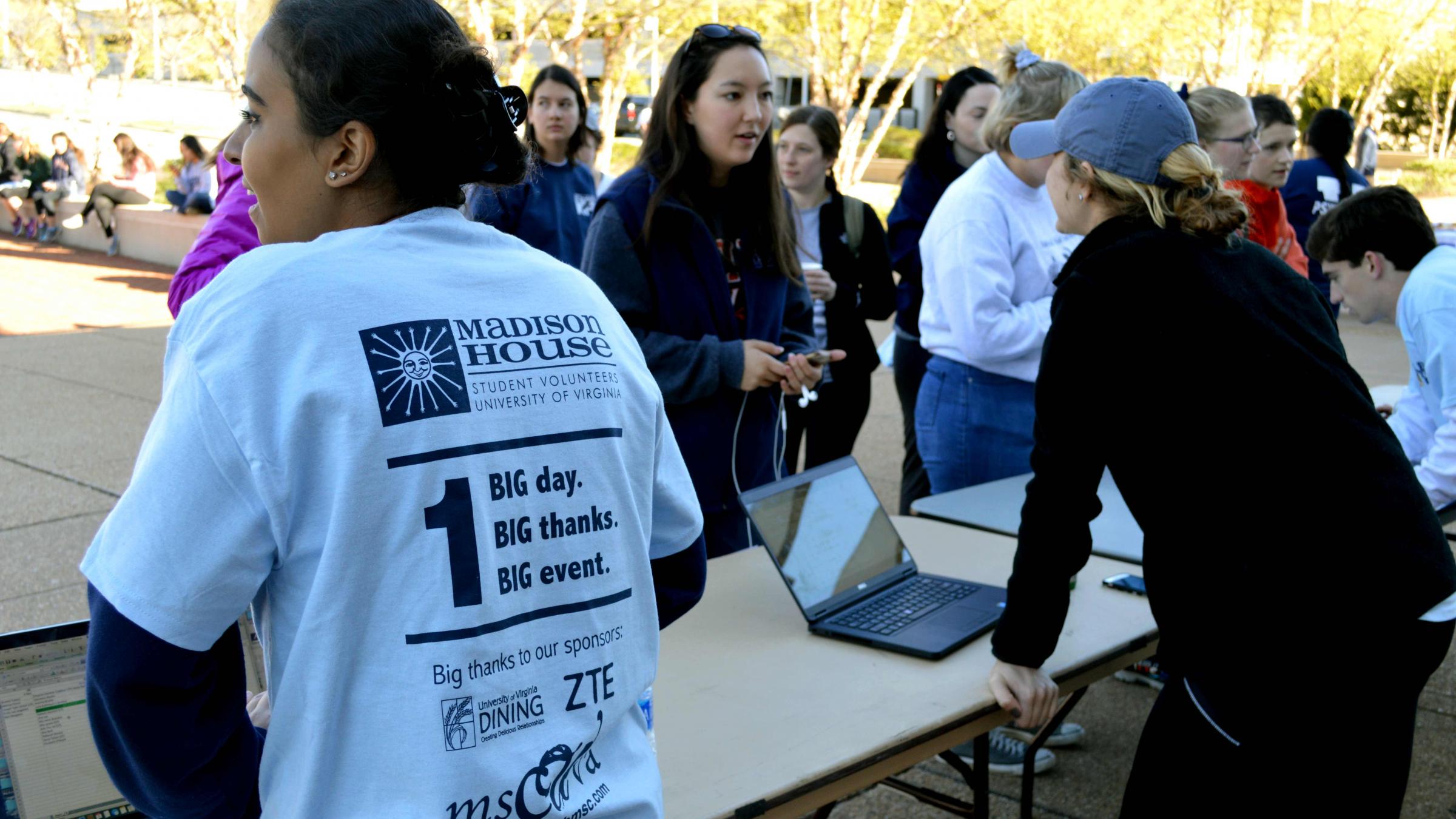 Fourth-year student Rawan Abdelrahman, left, who serves as a program director for The BIG Event, helps sign in volunteers at JPJ Arena, where student groups gathered before heading to their volunteer sites. Madison House student leaders began working with a community member from each job site months in advance to plan dozens of projects.
The volunteers helped complete projects at sites throughout Charlottesville, including local schools and churches, nonprofit organizations and private homes. A wide variety of UVA-affiliated clubs and student organizations, from the Alternative Spring Break group to First Year Players to the Virginia Women's Chorus, volunteered to join Madison House for this day of service.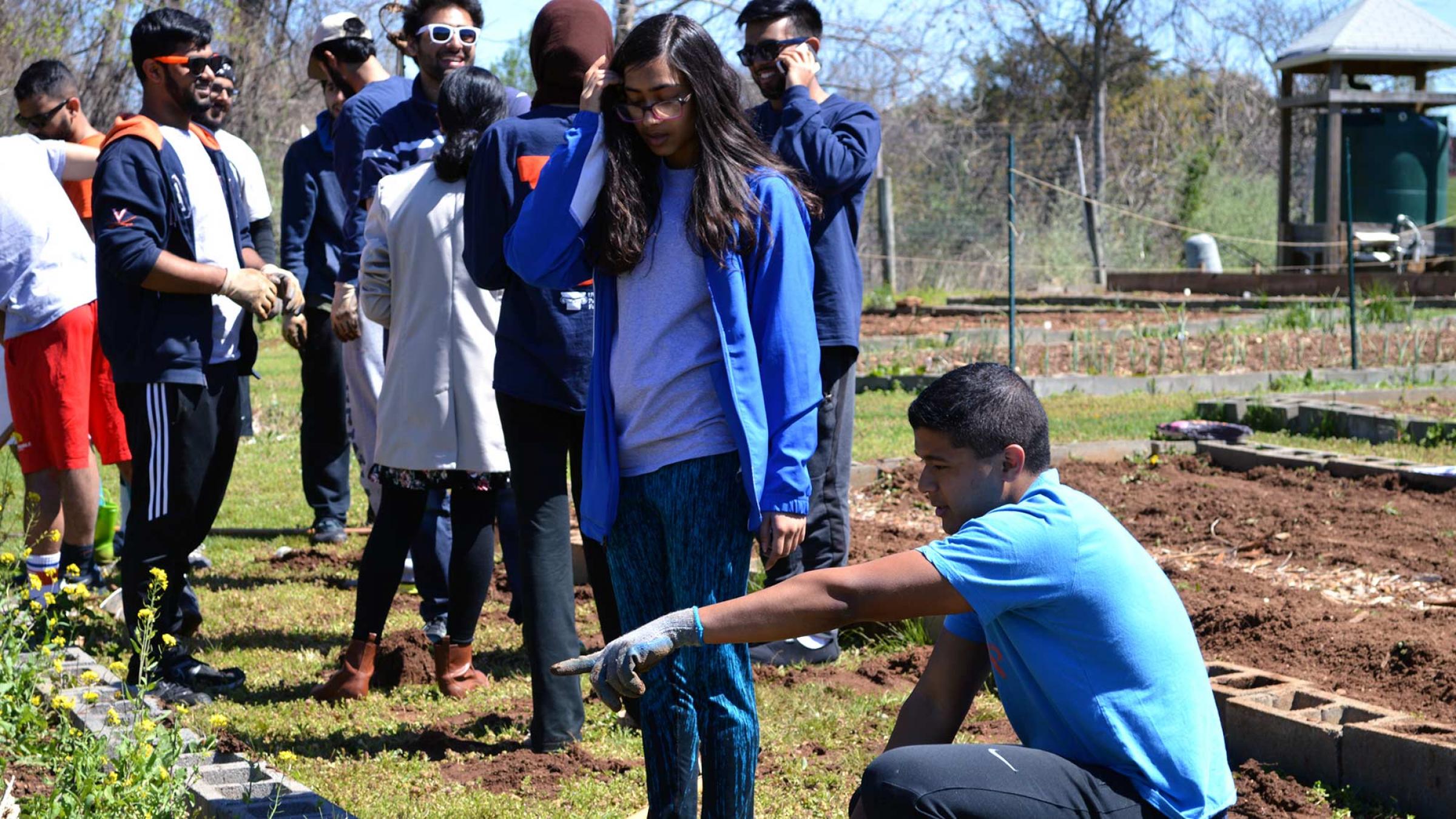 Several student groups got into the dirt at local gardens.
Members of the Muslim Student Association, including Tariq Jaser, kneeling, and Tehmeena Salahin, standing to the left of him, helped clear plots of Piedmont Virginia Community College's community garden.
At the Sojourners Church of Christ, the Virginia Women's Chorus worked in a rain garden, a specific type of garden using deep-rooted native plants and grasses near a runoff source of rainwater. A rain garden not only creates habitat, it also prevents local flooding and water pollution.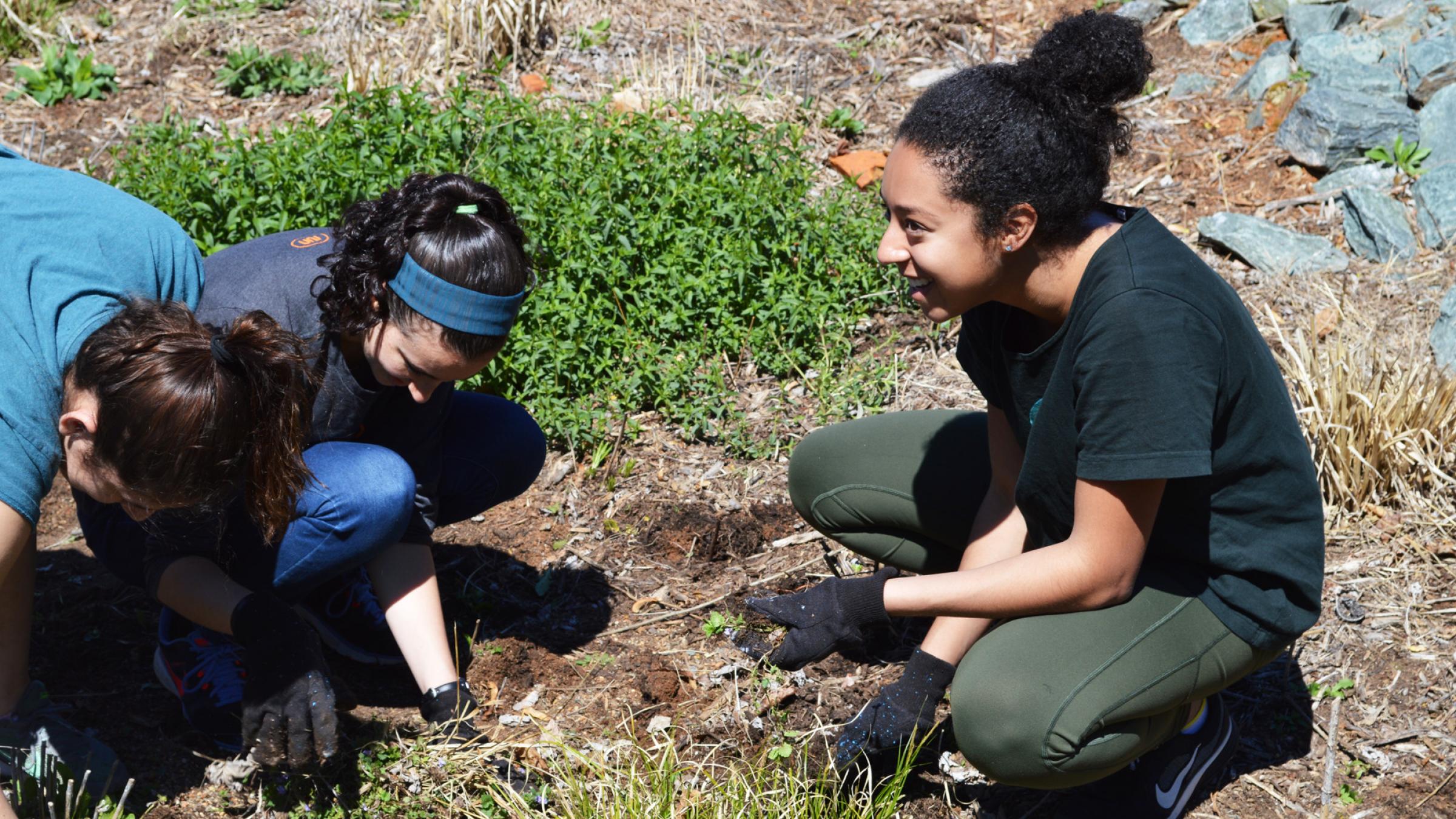 The Vietnamese Student Association raked and planted at the city's Burnley-Moran Elementary School's City Schoolyard Garden.
A nonprofit organization, City Schoolyard Garden manages eight garden spaces – one at all six Charlottesville public elementary schools, at Buford Middle School and at Charlottesville High School.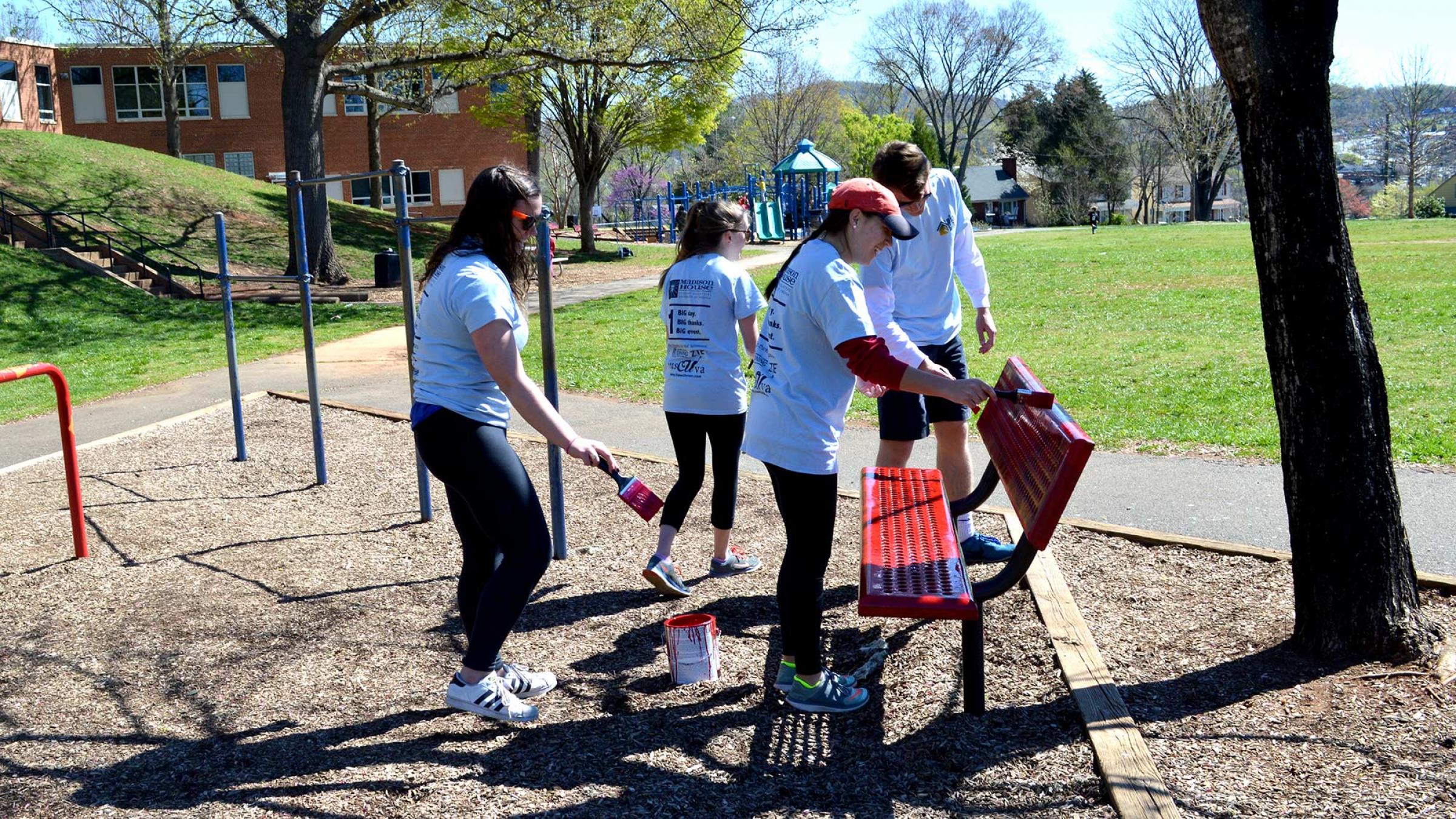 Also at Burnley-Moran, students painted benches and sorted paint for the school's upcoming "Color Run," a family-friendly, one-mile race to be held Saturday.
During the "Color Run" school fundraiser, participants wear complimentary white T-shirts and get splashed and dabbed with paint as they run the course.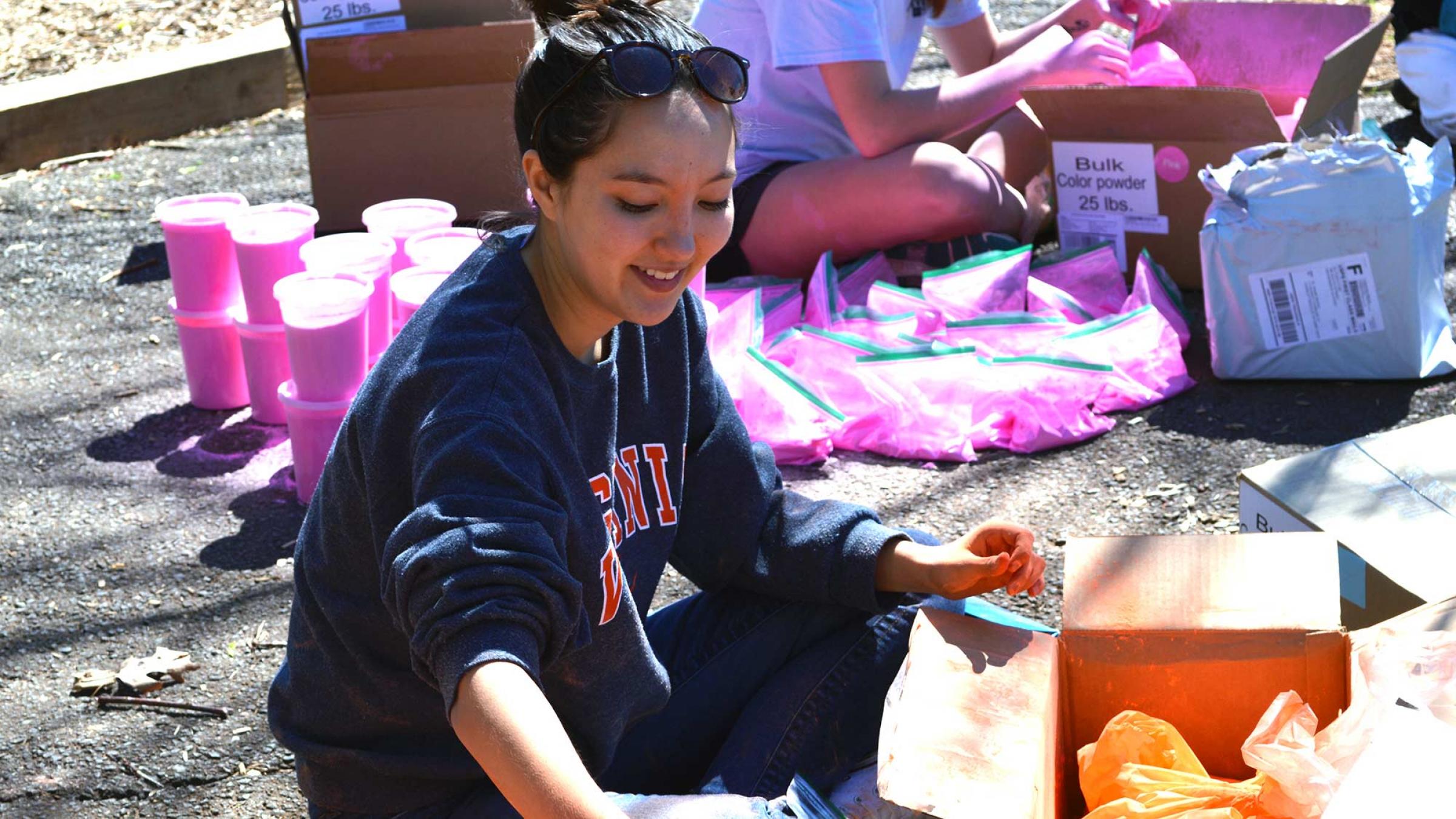 Other project hosts included the American Red Cross, Barrett Early Learning Center, Charlottesville Parks & Recreation, Crescent Halls low-income apartment building, Morven Farm, University Montessori School and Wildrock, a nature center for outdoor play-based learning.
"The BIG Event furthers Madison House's goal of building partnerships with individuals and organizations throughout the area," Madison House Executive Director Tim Freilich said. "We are proud to bring hundreds of individuals together in a day of service to build relationships and make tangible differences in the community."
This was Madison House's third year organizing The BIG Event, which has its roots as a Cavaliers Care initiative, now an optional alumni volunteer service event for UVA clubs. In 2014, the effort transitioned into the student-led initiative that is now The BIG Event.
Media Contact
University News Associate Office of University Communications
anneb@virginia.edu (434) 924-6861
Article Information
April 10, 2017
https://news.virginia.edu/content/one-big-day-uva-students-thank-community-day-service