"After 9/11, the FBI and all of our intelligence-community partners had to figure out ways to work better together, and knock down barriers to information-sharing. This is what we're pushing here at the Behavioral Threat Assessment Center," he said. "The same type of approach that helps us counter the terrorism threat is what's needed now to counter this whole host of threats that are out there."
UVA Today recently visited with Wyman to talk about how 9/11 influenced his life and career and how, through it all, his experiences as a UVA student have continued to serve him.
The following has been edited for length and clarity.
Q. Where were you on Sept. 11, 2001, and what were you doing when you heard about the attacks – and specifically the Pentagon attack?
A. My partner and I had been out early that morning making an arrest. We were on our way driving back into the office and listening to the radio, and I started hearing some of the reports of what was going on up in New York. We were heading back to the Washington Field Office, which is right in downtown D.C. We then heard reports of an explosion at the Pentagon. So we redirected from the office and went directly over to the Pentagon and saw the chaos that was underway and quickly tried to figure out a way that we could interject and help.
Q. What were your mental and emotional reactions at the time?
A. I've worked terrorism, obviously, before 9/11 and was aware of the threat that was out there, but really in that early time on the morning of 9/11, there was so much confusion. On the way over to the Pentagon, it was very difficult to piece together or to connect the event any one particular thing. But once we arrived at the Pentagon, it was clear that at least what had happened at the Pentagon was something huge.
Q. What did you do when you arrived?
A. One of the things in a crisis situation, or critical incident response, that you're trying to do is to establish some sort of some sort of command structure. How do we organize our people? Where do we get them to come in? We were able to link up with a couple other FBI folks in an area that gave us a clear view of the face of the wall which had been struck and to then really begin right away with interviews and reporting back into our office to try to give them some sense of ground truth. They're relying on people like us who are on the ground who can piece some of it together and start giving them some of that critical information.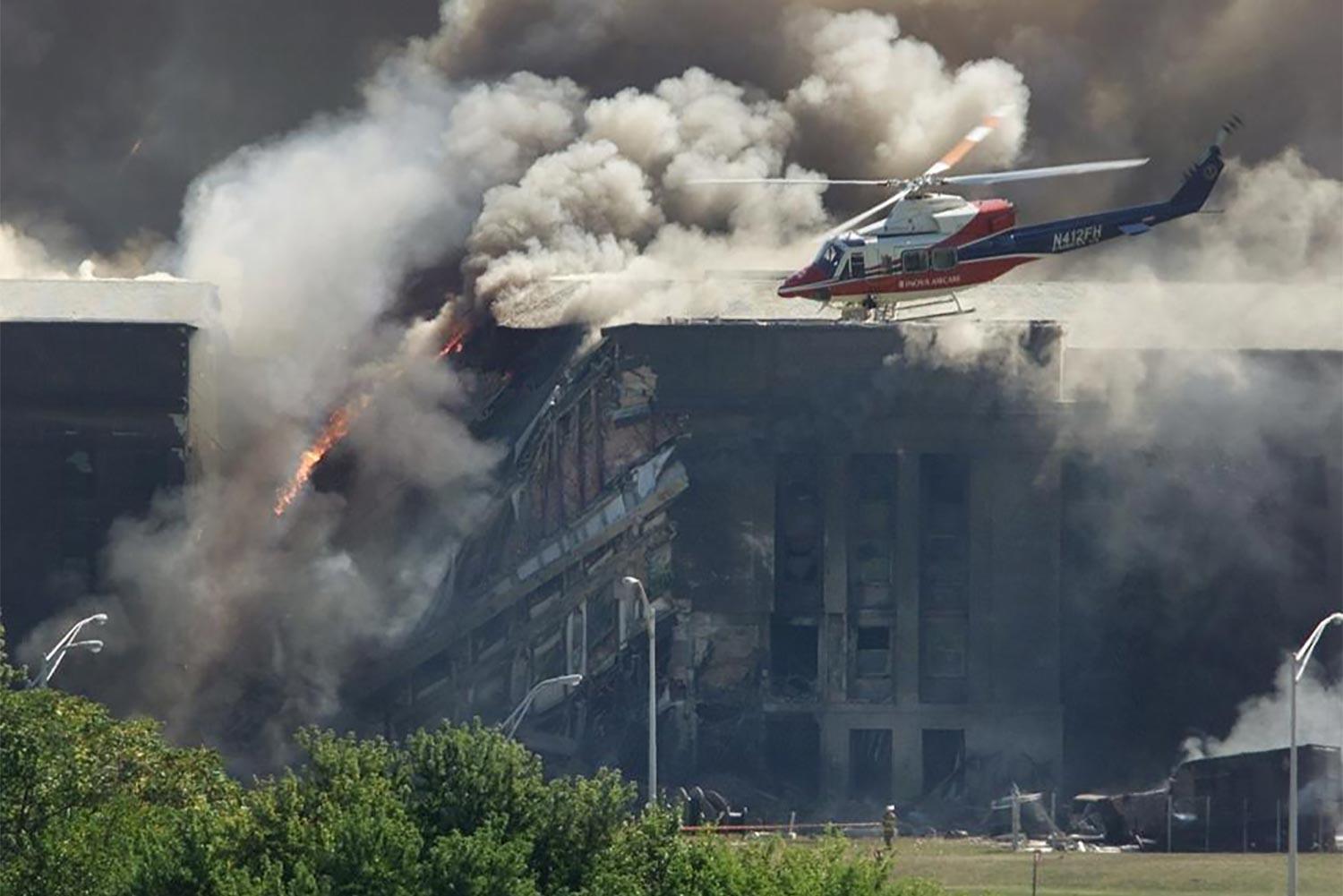 Arriving at the Pentagon after the 9/11 attacks, Wyman recalled the massive fire and smoke, and thought to himself that the moment would loom large for America, just as the Pearl Harbor attacks that drew the country into World War II.
Q. When you arrived, how much earlier had the plane crashed into the wall?
A. Probably about 30 minutes, maybe even maybe even a little bit less. There were a lot of people evacuated already and evacuating. But we were some of the first FBI agents on scene.
Q. Was the Pentagon engulfed in flames at that time?
A. Absolutely. Huge fire. Debris all over the place.
One of the first interviews I remember doing was the guy who sat in the air traffic control tower or booth for the helipad next to the Pentagon. He had a bird's eye view of the plane coming in. It's that kind of first-hand information that that you're getting right off the bat, back to the office. And that's going into the whole machine to figure out what's really happening.
Q. Why is it so important to get on-scene like that and to talk to people so quickly?
A. You have to accept in critical incident response that there's going to be that chaos. But as quickly as you can, you want to try and get things organized. How many do I need to go to the Pentagon? What's the role there? We've got to start standing up an investigation as to what actually happened. This is going to be a huge thing. This is probably connected to New York. We've got to start getting initial leads from our people on the ground at the Pentagon to start following up. What flight was it that went in? We've got to get people out to the airport, start gathering info there and start gathering video footage. All those decisions that can make the investigation move quickly and efficiently require having your people on the ground.
Q. When you got there, was your gut saying this is a terrorist attack? Were you worried about more attacks?
A. Absolutely. There was an air raid – some sort of an announcement that went out that advised a plane was inbound. This was the one, we found out later, that went down in Pennsylvania. There was concern that it was coming in as a second plane to our location. So there was a call to take cover. Basically, everyone tried to figure out, 'How do you take cover from a plane that's about to hit right on top of us?' So we huddled up under a bridge with people who had evacuated, people who worked there, and responders.
I remember about that time looking kind of down at the Pentagon and the fire and thinking that this is the magnitude of Pearl Harbor. I mean, this is going to change everything – that type of feeling. Things are going to change from this day on and seeing it, especially seeing the huge amount of damage and destruction, combining that with what I knew from my work previously on terrorism, that it was a game-changer. That's for sure.
Q. After the first day you ended up sticking around the Pentagon for some period of time. Why did you do that and what did that work entail?
A. I ended up staying there for about 10 days, and the initial work was really what we can do on the outside to gather, retrieve evidence. We needed to get in and get to the pieces of the plane that were embedded inside the building, because that's where the identities of the hijackers, things on their persons at the time, were going to be discovered. I wasn't on the [Washington Field Office's] formal evidence response team, but this job exceeded the personnel that they had so I helped. Part of my role in evidence recovery was to document the locations of victims and to retrieve them. [The intentional crashing of American Airlines Flight 77 killed 125 people in the Pentagon, and all 64 people on the jet.]