Many University of Virginia students had internships abruptly canceled last summer as the COVID-19 pandemic hit the United States. This summer, opportunities remain more scarce than usual.
Undaunted, the staff at the UVA Career Center got creative to generate opportunities for students. In March, the Career Center announced the Hoos Internship Accelerator, an internship program designed to reconnect students to employers through virtual internships.
"Thousands of internships were cancelled last summer," said David Lapinski, director of employer relations and experiential education for the Career Center, "and the numbers for this summer were going to be down considerably. We knew it was coming."
The UVA Alumni Association and the UVA Career Center worked together, using $700,000 from various funding sources to place as many students as possible in mostly virtual internships, giving them valuable work experience that they can put on their rèsumès and use to inform future career choices.
For internships that were not funded by employers, UVA provided a financial stipend for both four- and eight-week internships. Students could also apply for additional financial aid and UVA was able to provide assistance to offset living expenses during the summer.
Lapinski said that the UVA Alumni Association was "instrumental in spreading the word about the Hoos Internship Accelerator."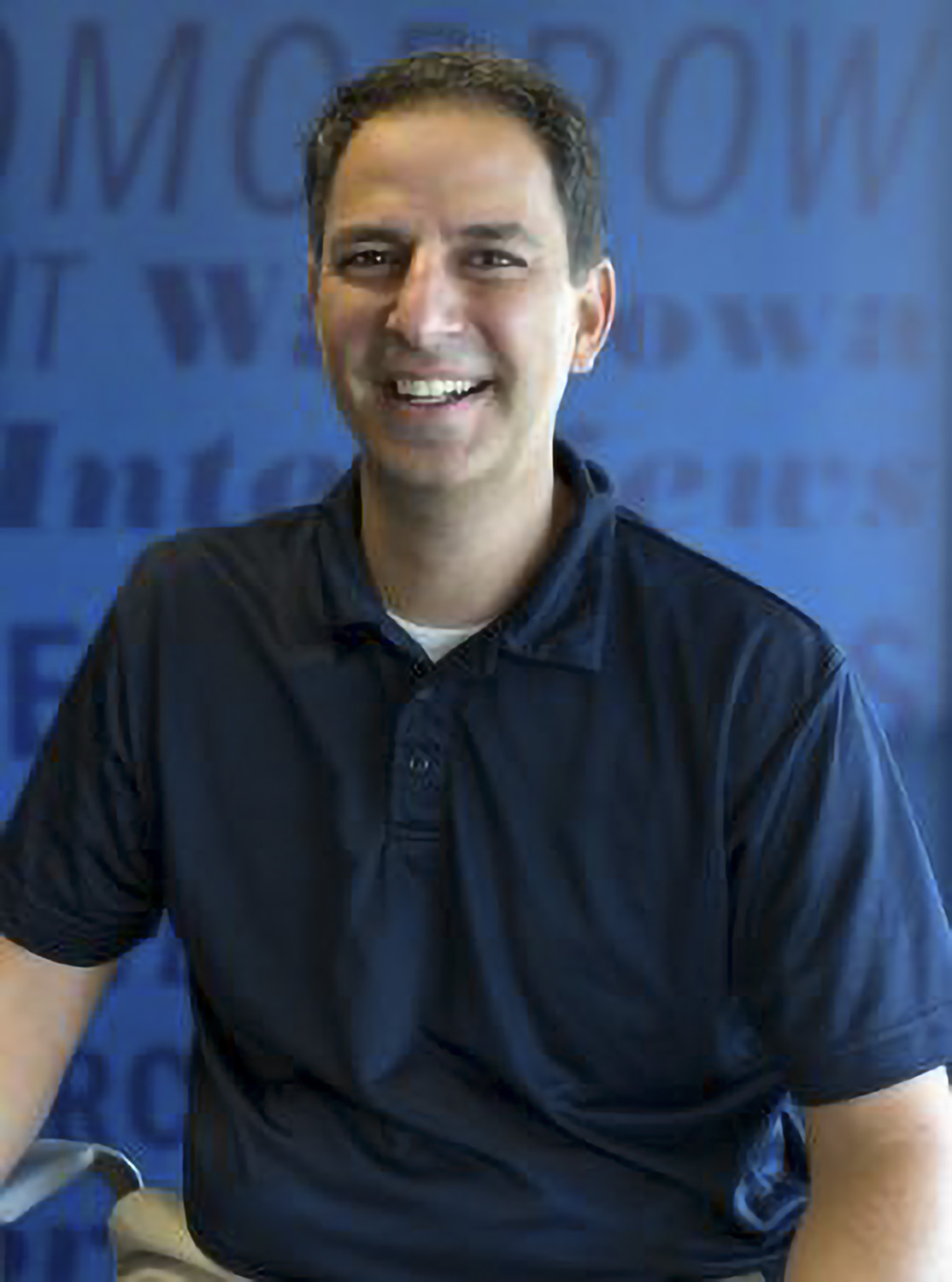 David Lapinski worked with the UVA Alumni Association to place hundreds of students in summer internships. (Contributed photo)
"We felt that the most rewarding experience would be an alum working with students," said Lapinski, so the Alumni Association spread the message to its 240,000 members, encouraging them to submit internships for students.
"The goal was to get the resources where we put the money in the hands of the students," Lapinski said, "and to help nonprofits, start-up companies and smaller businesses. We had $700,000 that we had to work with. … We are working our way toward allocating as many of the dollars as we can."
The program received nearly 6,000 applications, as one student could apply to up to 10 positions. Ultimately, nearly 350 students accepted internships with a wide range of institutions. Nearly 90% of the internships are virtual, allowing for flexibility with location. Many employers are within the Charlottesville community, while several are across state lines.
The application process prioritized rising fourth-year students, many of whom had internships canceled last summer and want more work experience before graduation. Ultimately, Lapinski said, he hopes the data will show that around 95% of participants were fourth-year students.
Internship fields range from software development and podcast editing to small-scale fishery improvement, landscape planning and archaeology.
Fourth-year student Caleb Bodishbaugh is interning with RevArt, a digital platform started by Darden School of Business graduates to connect artists with brands.
"COVID prevented me from finding an opportunity [last summer]," said Bodishbaugh, who is studying computer science. "I think it demoralized me as well. I knew a lot of people who lost internship opportunities because of COVID … even after having gone through the application process."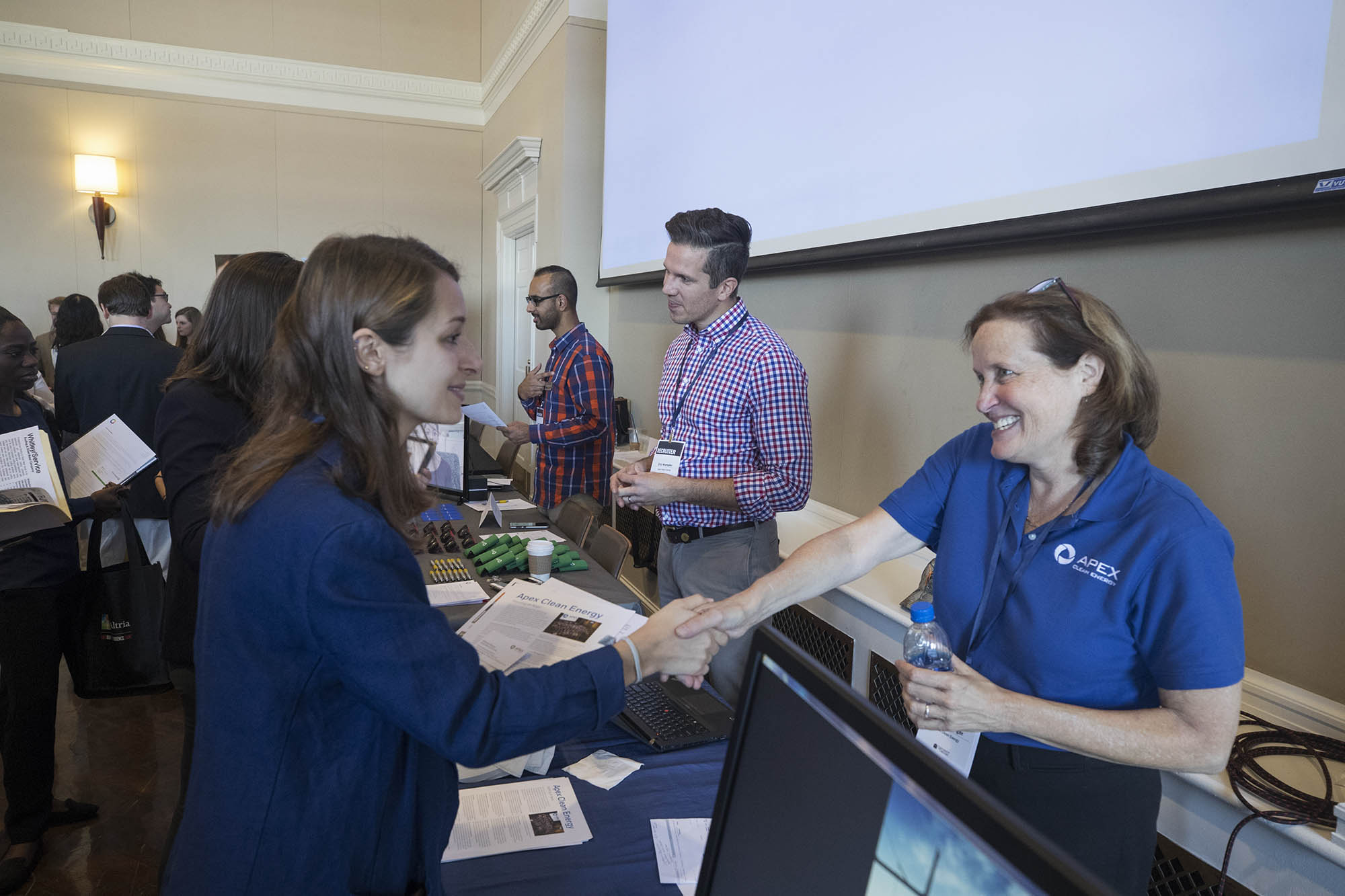 Career fairs, like this one from a few years ago, are mostly on hold, so the Hoos Internship Accelerator fills an important gap. (Photo by Dan Addison, University Communications)
He was particularly eager for web development experience.
"The RevArt position was focused on that, and on top of that, I've taken a few art classes and I really enjoy art," Bodishbaugh said. "It's nice to be involved in two different things that I'm interested in."
Vaheed Talebian, a fourth-year student interning with the Live Arts theater in Charlottesville, was excited to get started.
"It's a combination of work experience in the theater," said Talebian, who hopes to go to graduate school for musical theater composition, "but then also the networking aspect."
Apart from the internship itself, student interns can access a wealth of resources throughout the summer. Interns are required to attend a professional development series hosted by the Career Center and Alumni Association to complement their internship experience and enhance their professionalism.
The series gives students tools and resources to prepare for post-graduate endeavors. The first session established a basic understanding of what students can expect during their internship, including a guide filled with etiquette tips, goal-making practices, skill-building resources and other advice.
"The mid-point session is focused on networking and engaging with professionals in your field," Lapinski said. "We want to give students interested in public service or students interested in health care a forum where they can connect with alums in those areas." 
The last session helps students to tell the story of their summer experiences.
"The final session is a wrap-up one, where they learn how to sum up those experiences, how to put them on your rèsumè, how to get prepared to tell your story," Lapinski said.
Students use VMock, an online rèsumè review tool, and practice producing an "elevator pitch" describing their experiences and goals in a concise and compelling manner. The program also incorporated a skills survey tool, which assesses competencies for career readiness established by the National Association of Colleges and Employers.
Employers and students discuss these competencies, such as critical thinking, problem-solving and global/intercultural fluency, at the beginning, middle and end of the internship. Post-internship, employers formally evaluate students on eight competencies, and students complete a self-evaluation to reflect on their growth. 
Lapinski hopes to continue the program in future years, as demand has been high and both students and employers are excited about it.
"With more than 6,000 applications that we received for the positions, it shows that there is incredible demand among students for summer experiences," he said. "My hope is that we are able to sustain this model going forward and that we have continuous University support to create these opportunities for students."
Media Contact
Article Information
June 24, 2021
/content/perseverance-creativity-fuel-hoos-internship-accelerator-during-covid-19