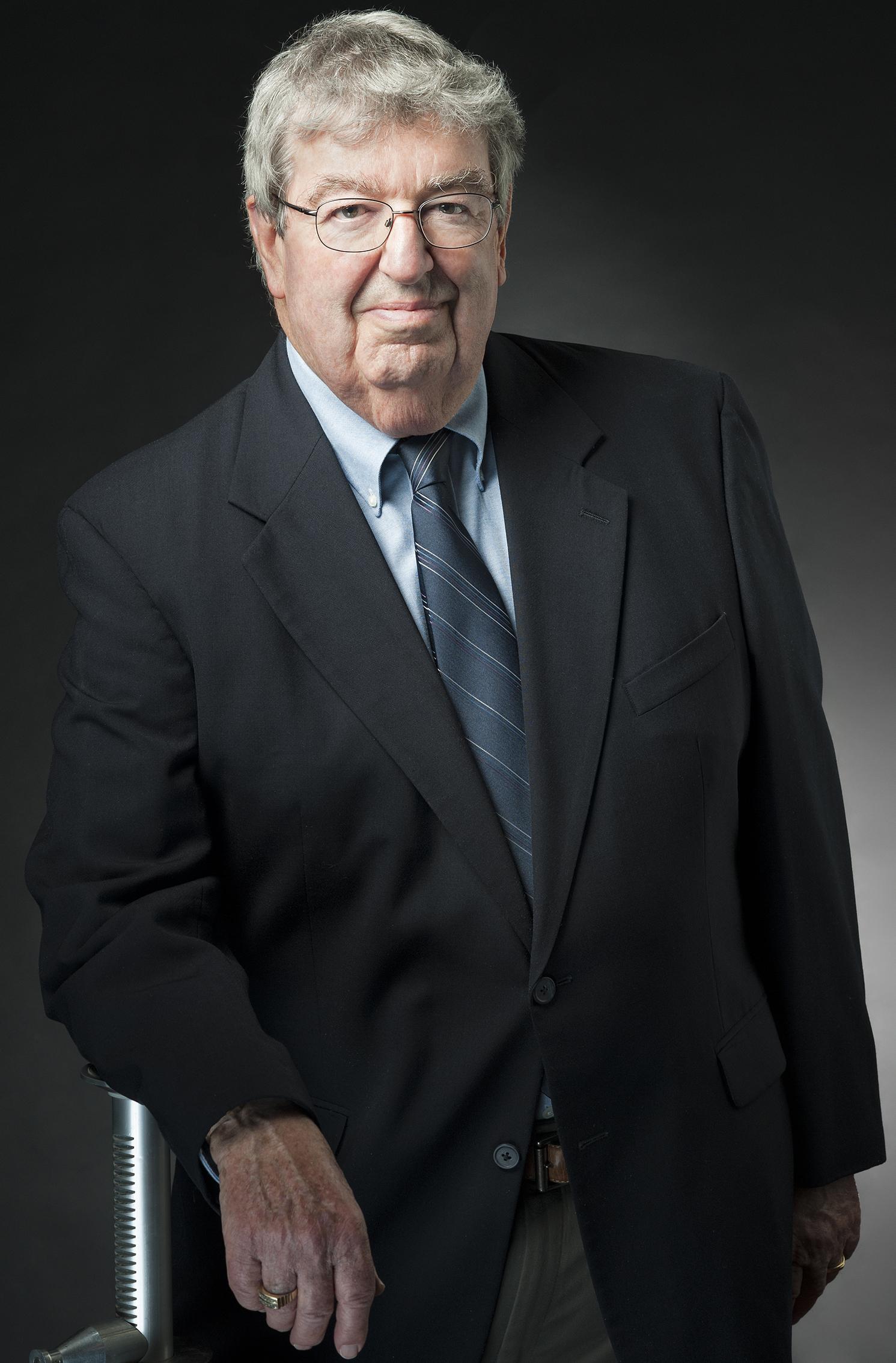 Peter Low, who retires this month after 50 years on the faculty of the University of Virginia School of Law, has worn many hats over the course of his career: Supreme Court clerk, law reformer, associate dean, U.Va. provost and professor.
No matter which hat he wore, he aimed to improve everything he worked on, whether it was his teaching or the criminal justice system.
"One of the great things about academic life is that it's a constant learning process," Low said. "That's the joy of legal academia in many ways – struggling with hard problems and trying to find better answers."
Low, who served as vice president and provost of the University from 1994 to 2001, joined the U.Va. Law faculty in 1964, just a year after graduating from the Law School. During the academic career that followed, he participated in efforts to improve the criminal justice system, taught at the FBI Academy and co-authored popular casebooks in criminal law, federal courts and civil rights litigation. He also spent many years shepherding the Law School's curriculum and students toward success.
"Peter Low was, for 15 years, the linchpin of making this institution work. He was almost like the chief operating officer for the Law School – a title no one thought of then," U.Va. law professor and former Dean John C. Jeffries Jr. said. "He's a critically important person in the life of this institution."
From the Classroom to the Supreme Court
After studying philosophy at Princeton as an undergraduate, Low married and started law school at U.Va. in the fall of 1960.
"They weren't paying philosophers very much at the time," he joked. "At the end of the day, law deals with some of the most deeply difficult political and moral dilemmas that people have to face."
You can debate moral questions forever in philosophy, "but you can't do that in law," he added.  "In law you have some of the same deep problems, but you've got to have an answer tomorrow."
Though most Supreme Court clerks today first work for a federal appeals court, Low went straight from the classroom to clerking for the most powerful judge in the country, Chief Justice Earl Warren.
In that term, 1963-64, President Kennedy was assassinated, the Warren Commission was established, and the justices made several landmark rulings, including New York Times v. Sullivan, a key decision supporting freedom of the press, and Reynolds v. Sims, the one-man, one-vote decision requiring that districts for the election of state legislators be roughly equal in proportion (Warren called it his most important opinion). That term also marked the last of the sit-in cases, involving challenges to racially based exclusionary policies in public places, such as restaurants. The Supreme Court ultimately decided the cases on narrow grounds because the Civil Rights Act of 1964 resolved the issue by statute.
"The court dealt with an incredible list of cases while we were there," Low said. "We realized it was historic times. It was a great term to be there."
The 'Year or Two' That Turned Into a Career
Though Low intended to practice law after his clerkship, he accepted an invitation to join the faculty instead – "for a year or two that turned into a career." He came to the faculty along with fellow clerk Professor A. E. Dick Howard.
At first, Low taught classes with as many as 150 students, some of whom were older than he.
Rather than finding it intimidating, "I thought it was fun," he said.
McGuireWoods attorney Lucius Bracey, 1967 Law School alumnus, took Low's criminal law course. Bracey said two-thirds of the professors at U.Va. Law then had decided to teach following successful careers working on Wall Street or in Washington. Low was among a new breed of teachers focused on theory. They started teaching early in their careers, after a clerkship.
"He was a wonderful teacher; he was very enthusiastic. I would say he's pretty passionate about criminal law and it being understood and applied," Bracey said. "Students had a great respect for him because of his obvious intellect."
Low said the first-year criminal law course included criminal procedure when he started, and criminal procedure was not taught separately as it is today. The field of criminal procedure expanded rapidly in the 1960s and 1970s, as more and more Supreme Court cases on the subject were decided.
"The whole idea of applying the Bill of Rights to the states was in the process of happening," Low said. "It wasn't necessary at that time to have a separate course in constitutional criminal procedure."
Jeffries, who graduated from the Law School in 1972, took Low for "Criminal Law," "Federal Courts" and a seminar on the Supreme Court.
"He was very gifted at making analytical complexity clear," Jeffries said. He is a "genuine expert on federal criminal law and the sentencing apparatus that attends it."
Soon after Jeffries joined the faculty he began collaborating with Low, including co-writing casebooks on criminal law, federal courts and civil rights litigation.
"He's a wonderful colleague," Jeffries said. "He's the person I go to when I am analytically confused."
Striving to Improve the Criminal Justice System
Low said his career was unconventional by modern academic standards, as it was punctuated by projects that tied into his dedication to improving the criminal justice system.
From 1965 to 1968, he served as a reporter for the Advisory Committee on Sentencing and Review, part of the American Bar Association's Project on Standards for Criminal Justice, which was spearheaded by then-ABA president Lewis Powell Jr. (who was later to be appointed to the Supreme Court). Other participants in the project included Herbert Wechsler, a Columbia law professor known as the "father" of the Model Penal Code, and then-Circuit Court Judge Warren Burger, who became chief justice of the Supreme Court in 1969. The resulting publications proposing bar-endorsed standards in a number of areas were important ABA contributions to improvements in the criminal justice system, Low said.
He also was a consultant for the Commission on Reform of Federal Criminal Laws, which was established by Congress to rewrite federal criminal laws using the Model Penal Code and the newly revised New York Penal Code as templates. The group was also known as the Brown Commission, after its chairman, Pat Brown, the former attorney general and governor of California and the father of current California Gov. Jerry Brown.
"The commission produced an integrated and consistent proposed federal criminal codification to replace the inconsistent and, in many ways, incoherent hodgepodge of alphabetically listed offenses adopted by Congress over the years and spread throughout many volumes of the federal code," Low said.
The Brown Commission proposals led to a decade of bipartisan federal criminal law reform efforts that ultimately failed.
"The project was almost doomed to failure from the beginning because of all of the different special interests that must be accommodated in legislation as all-encompassing as a criminal code, and as visible as it necessarily is at the federal level," he said.
Low contributed to the legal system in other ways. He served as a consultant at the FBI National Academy in Quantico for 30 years, and from 1972 to 1982 he lectured about the Supreme Court to more than 10,000 state and local police officers, and at numerous training sessions for FBI lawyers. The focus on state and local police was part of a college credit-granting program established through a relationship between the FBI and what was then the U.Va. School of Continuing Education.
"At one point a vast majority of police chiefs in the country had gone through this program," Low said. "What the U.S. Supreme Court did had a big impact on what they did, and so they could ask really hard questions. Dealing with them helped a lot in my teaching here."
Leading the Law School and U.Va.
At the Law School, Low became a central figure in the school's administration at a time when faculty managed many duties now handled by full-time staff. As assistant dean from 1965 to '69, Low served in a role similar to that of the assistant dean for student affairs today.
"I was the person students came to when they had problems," he said.
Then from 1969 to '76 and again from 1989 to '94 he was associate dean, a role similar to the vice dean today through which, among other things, he managed the curriculum.
"It's hard today to imagine just how central Peter Low was to the operation of this institution 25 years ago," Jeffries said. "He had so many administrative responsibilities and discharged them so well."
In January 1994, then-U.Va. President John T. Casteen III tapped Low to become provost, the academic head of the University. In that role, Low said he oversaw the University-wide faculty tenure and promotion process and played a central role in assuring that the right people were selected to lead the various schools and other academic units of the University.
Because the University is so decentralized, Low said getting the right people into the right jobs was key to its success.
"Whether the English Department is any good is going to depend on the people in the English Department and the central administration of the College of Arts & Sciences, and not the provost," Low said. "The academic leadership from all schools at the University comes from the faculty."
Casteen praised Low's work on everything from working with deans on new building projects to creating – with Leonard Sandridge, then the executive vice president and chief operating officer – new budget models and financial structures to make the best use of the University's increased visibility and growth during that time.
"Peter was in charge in times when U.Va. was alone among the public universities in the popular top-25 rankings, when faculty work here came to be a gold standard for the nation, and when a new generation of deans came to us, largely because of Peter's supervision of searches and his uncommon quality of listening critically to advice from faculty leaders and delivering search results that made faculty work stronger and more durable," Casteen said. 
He added that working with Low was "powerfully rewarding."
"The combination of intellect with the gifts of sound self-discipline and a love for the best things in life makes Peter a rare and wonderful colleague," Casteen said.
Apart from his time as provost, Low has seen many changes at the Law School over the years, among them a quadrupling of full-time faculty, the Law School's move from Clark Hall to North Grounds, increased diversity in a larger student body, and an explosion in the number of elective classes and adjunct faculty. (More at 50 Years at U.Va.: Professors Howard and Low Look Back at Evolution of Law School)
Turning the Page on Teaching
Though Low is retiring from teaching courses, "my life will not change very much," he said. He will keep an office at the Law School and will continue to write.
Low's fourth edition revision of the casebook "Criminal Law," co-authored with Jeffries and U.Va. law professors Anne Coughlin and Richard Bonnie, will be submitted to the publisher next January. The eighth edition of his Federal Courts casebook, co-authored with Jeffries and Duke Law Professor Curtis Bradley, is currently in press and will be published in May.
He has an article coming out in the Virginia Law Review in December, written with third-year law student Ben Wood, and another planned for completion next spring to be written with second-year law student Joel Johnson. Both students took his elective "Criminal Law and the Supreme Court," and both articles deal with issues that were developed in that course.
Wood asked Low to supervise his Law Review note, but Low suggested co-writing an article instead.
"Of course, I was totally delighted," Wood said. "He has an encyclopedic knowledge of all these different topics that tied into the paper, so it was a great learning experience."
Low said he will miss interacting with students. He estimates he has taught more than 5,000 over the years.
"The quality of the students here is incredible," he said. "Even the first day of a first-year criminal law class, you're dealing with very, very smart people, and they can challenge you with questions. Constant interaction with people of a different generation keeps you younger, no doubt about that."
Media Contact
Chief Communications Officer University of Virginia School of Law
mmw3v@virginia.edu (434) 924-3786