Photos: UVA Defeats Duke in an Unusual Opener Marked by Pandemic Restrictions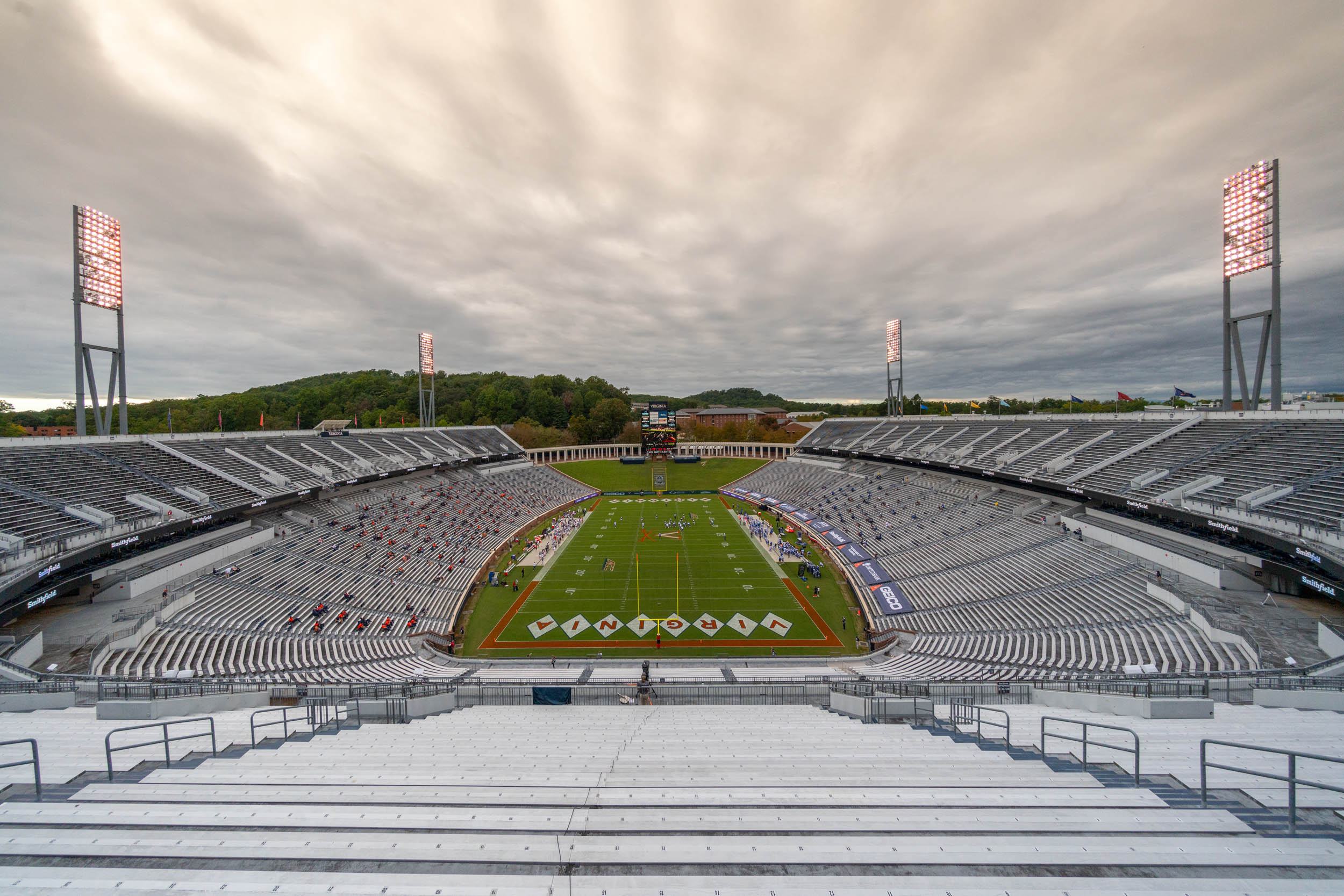 It was far from normal, but for a few hours on Saturday afternoon, University of Virginia players and fans were once again able to enjoy college football, even amid the strangeness of a global pandemic that left Scott Stadium nearly empty.
The Cavaliers defeated the Duke Blue Devils 38-20 in front of a very small crowd that, per public health regulations imposed by the Commonwealth of Virginia, was limited to 1,000 people. Tickets were limited to players' and coaches' families, who sat safely spaced apart and were required to wear masks. No tailgating was allowed on Grounds.
It was UVA's first game of 2020, after last weekend's match with Virginia Tech was rescheduled due to COVID-19 cases among Tech's players. Speaking after the game, UVA head coach Bronco Mendenhall called his team's debut "surreal."
"What a journey it has been just to play football," Mendenhall said, speaking via videoconference in his post-game press conference. "It was a pretty surreal experience. There were many times throughout the game where I couldn't believe we were playing and that it counted and it was for real."
Despite the obstacles of this offseason, the Cavaliers looked strong, as new starting quarterback Brennan Armstrong led the offense to a 38-point showing, while a tough defensive unit forced seven turnovers, including five interceptions.
And, Mendenhall noted, his players have continued to be extremely diligent about public health protocols. Players on both teams were tested for the virus before the match and cleared to play.
"I wanted so desperately for our players to have success on the field and have a tangible result to show for it, because of how diligent they've been in all the [COVID-19] protocols," he said. "It could change for us tomorrow but to this point, they've really done a nice job."
Check out some more photos of the game from University photographers Sanjay Suchak and Ziniu Chen, and UVA Athletics photographer Matt Riley, who were on hand to capture this very unusual gameday.
Delivered Right to Your Inbox
Article Information
https://news.virginia.edu/content/photos-uva-defeats-duke-unusual-opener-marked-pandemic-restrictions