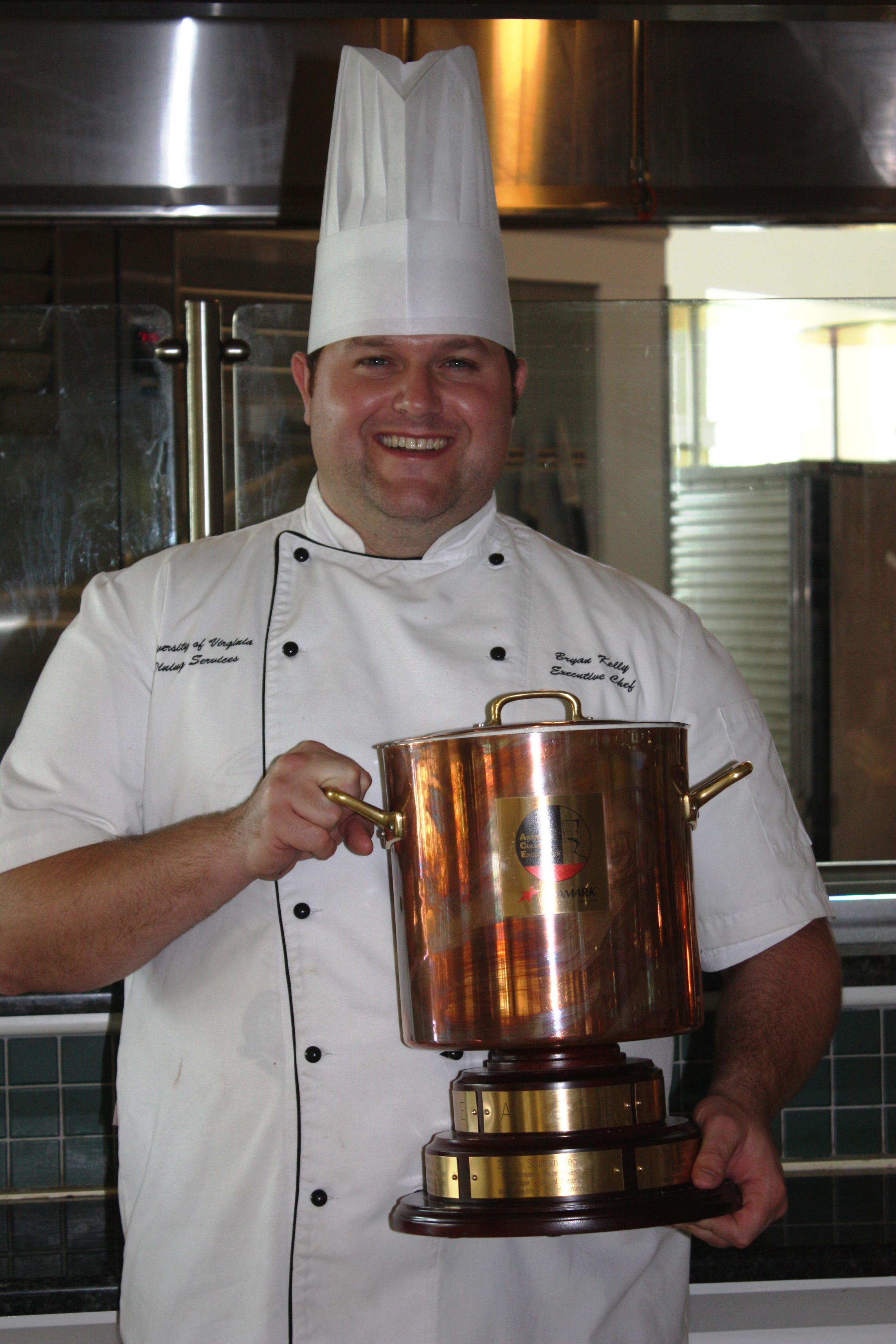 July 27, 2011 — What can you do with a pig's ear? Chef Bryan Kelly of the University of Virginia used it to flavor a pot of beans.
The pig's ear was one of the ingredients presented to Kelly, the district executive chef for Aramark at U.Va. Dining Services, during the 2011 Aramark Culinary Excellence competition, held in Tampa, Fla.
He was part of the Mid-Atlantic team, which brought home the Aramark Culinary Excellence Gold Medal and the coveted Copper Pot, as well as a $1,000 continuing education award to the Culinary Institute of America and a $500 gift card to Williams-Sonoma. The other team members were Brandon Rudisill from James Madison University in Harrisonburg, Va., and Anthony Baker of Muskingum University in New Concord, Ohio.
About 150 Aramark chefs from colleges, universities and conference centers across North America vied in the Culinary Excellence competition, which culminated at the National Competition held July 10. All 30 finalists earned medals from the American Culinary Federation, the largest professional chefs association in North America.
"Once we were presented with the basket of ingredients, we had 30 minutes to prepare a three-course menu," Kelly said. "Then we had three hours to prepare the food and 15 minutes to plate it and present it to the judges."
The basket of ingredients included a yellow-tailed snapper, three shrimp, an asparagus bunch, a Cornish game hen, a pig's ear, chicken livers, figs, peanuts and red beans. The chefs also had access to standard kitchen ingredients, such as onions, garlic and salt.
From this, Kelly's team composed a menu of an appetizer of seared yellow-tail snapper with pickled shrimp salad and asparagus puree, an entree of pan-roasted Cornish game hen with braised red beans and pork and a tomato coulis, and for dessert, a terrine of vanilla-scented white and dark chocolate with port ice cream and bruléed figs.
Kelly enjoyed the challenge of the ingredient basket.
"This is like a jigsaw puzzle with the pieces thrown on the table," Kelly said. "You have to know how they fit together. Sometimes you struggle. I knew what I was going to do pretty easily this time."
Kelly, who is 33 and has been with Aramark for five years, three at U.Va., placed first four years ago when he was working for Aramark's business services division, making him the first Aramark chef to take first place in both the business dining and higher education dining competitions. After his first place four years ago, he had two consecutive years in second place and now has first place again.
"This is stiff competition, and second place is not bad, but it is nice to win," Kelly said. "I'll probably defend the title next year. I love competing."
Part of the draw of competition is that he has an opportunity to create out-of-the -ordinary dishes.
"I make macaroni and a cheese and meatloaf and I do it well," he said. "But it is nice to have an outlet for my creative side."
Kelly said he arrived in Tampa two days before the competition, and worked to keep himself focused. He said he was cordial and friendly to the other competitors, and he tried to strike a balance. "I try not to take it too seriously, but it reflects well on you when you do well," he said. "I take this seriously from a personal and professional standpoint."
A camera crew filmed the chefs cooking, but the judges did not watch. "The judges just see the completed process," Kelly said."
He said he also learns from what the other contestants did with their ingredients. While he used his pig's ear to add flavor to a pot of beans, one of the contestants braised it and sliced it as a protein course.
Kelly's victory in the contest carries benefits for U.Va. Dining, according to Brent Beringer, its director.
"This underscores not only Bryan's culinary skills, but also his ability as a leader, working with two younger chefs who had never competed before," Beringer said.
The enthusiasm of Kelly's contest win is contagious among the other chefs at the University, Beringer added.
"They have written some wonderful menus since Tampa and we've tried them out on the families coming here for orientation," Beringer said. "We've gotten a lot of good feedback."
Kelly, who oversees the food production and menu development at the Aramark facilities at U.Va., started cooking out of high school. He took a job at Gettysburg College in Pennsylvania, and fell under the tutelage of Gary Brautigam, currently the director of dining services there and someone whom Kelly still counts as a mentor.
"He took me under his wing and I worked for him for three years," Kelly said. "I was enjoying it so much I was cutting classes to go to work."
Kelly worked briefly for the Hotel Hershey and then moved into an apprenticeship at the Greenbrier Resort, where he worked for more than six years.
"This is pretty rewarding," he said of cooking professionally. "It's more difficult than I thought. I have to keep pushing myself and motivate people who may not have the interest I have in this."
— By Matt Kelly
Media Contact
University News Associate Office of University Communications
mkelly@virginia.edu (434) 924-7291