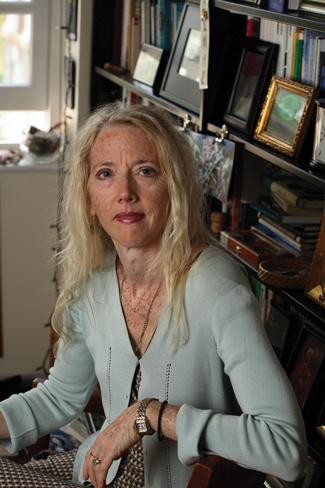 "We live in a time of rampant, mercurial self-portrayal," writes English professor and poet Lisa Russ Spaar of the University of Virginia's College of Arts & Sciences in her new book, "The Hide-and-Seek Muse: Annotations of Contemporary Poetry."
"We can, if we wish, post, profile, tag, chat, friend, transform, lie, project, stalk, date, connect, complicate, simplify, vex, blog, tumble, pin, like and identify ourselves with dazzling velocity through a protean real-time landscape of social networks."
With all the rapid changes in electronic communication and other technologies, Spaar's book of poems with short essays shows how poetry persists in expressing what is uniquely human, she said.
"For emotional, psychic, intellectual sustenance – for inspiration, solace and a reminder of what it means to be fully human – nothing quite affects us like poetry," Spaar writes in the book's introduction.
Asked in 2010 to write a weekly blog about a new poem by a contemporary American poet for the Chronicle of Higher Education's Arts & Academe section, Spaar said her ideas and choices arose from 35 years of teaching, as well as writing poems for even longer.
A 1982 alumna of U.Va.'s Creative Writing Program, Spaar returned to Grounds 10 years later to teach poetry and manage the program. Another decade later, she founded – and still directs – the undergraduate Area Program in Poetry Writing.
Writing the Chronicle blog posts, plus another essay about poetry about once a month – each piece being less than 1,000 words – became a regular practice for her, like meditation, she said.
In the new book – comprising a selection of the Chronicle blogs and essays – she invites readers to stop for a moment and savor the messages in poems, whether playful or painful or whatever part of the human predicament they portray. Spaar said she'd often consider the seasons and holidays when she chose a particular poem and what she wrote about it. One section is called "Spring & All: Poetry & the Seasons."
In her poem, "March," poet Laura Kasischke writes, "Always, in spring/you'll find/someone with regrets/she's allowed herself/to forget."
Spaar comments that the month of March "is rife with several meanings."
"No wonder poets are captivated by its messy thrall," she writes. "To Linda Pastan ("March Snow") it is 'no more/than another promise, soon to be broken.' For Ted Hughes it is the month when 'the earth, invalid, dropsied, bruised [is] wheeled/Out into the sun.' [Emily] Dickinson refers 21 times to the word in her oeuvre, calling March 'the Month of Expectation.'"
When Spaar focuses on Kasischke's stanza above, she writes "... the flux of awakening to a renewed spring brings its psychological stirrings as well, including those 'regrets' we might choose to bury or forget."
In another section of the book, "Verse's Rich Web Portals," Spaar addresses the positive changes technology has wrought on writing and publishing: the proliferation of poetry on the Internet. She's grateful for the community of writers both in and outside of the halls of higher education, she said.
A Google search one afternoon yielded 4.7 million poetry websites and almost 8 million poetry blogs, she records.
One of the poems in this section, "Went Viral," by Michael Rutherglen, begins with a scene all too easy to imagine these days:
"It was for you
alone I wrote the song
I sang into the screen and sent
to you alone, that someone else
then saw and sent among
their friends, their friends among
still others still beyond
me ..."
Writing is itself a technology, Spaar reminds readers, always requiring some kind of tool and space to make the markings of language. She suggests, however, that the rapid spread of messages online – intended or not – is similar to the oral culture when poetry was primarily transmitted that way than when it became bound to the pages of books.
Spaar hopes her book reaches people who might even be afraid of poetry, she writes in the introduction, and she strived "to represent the range of poetry out there now – in backgrounds and gender, in style from formal to experimental."
For readers who are poets, and for her putting together the collection, it serves as a reminder "to make a more active practice of reading, and even writing, poems outside my comfort zone." 
Novelist Ann Beattie, who doesn't write poetry, endorsed the book, saying "for people who are a bit wary of poetry, this is the perfect antidote: the poems are amazing, and so are Lisa Russ Spaar's short essays in the 'Hide-and-Seek Muse.' ... Anyone who cares about an inner reality that might be somehow communicated – nailed; set free; amplified; questioned – would embrace the chance to read poems that elucidate so much about the mind and the heart. ... I loved every minute of reading this book."
Although the Arts & Academe section was discontinued last fall, Spaar continues to review contemporary poetry, writing about poets' second published books for the Los Angeles Review of Books.
In addition to her new book of poems, "Vanitas, Rough," published this spring, Spaar has published four collections of poetry: "Satin Cash," "Blue Venus," "Glass Town" and "Cellar." She also has edited two anthologies, "All That Mighty Heart: London Poems" and "Acquainted With the Night: Insomnia Poems."
Spaar has been honored by the Academy of American Poets and the Virginia Commission for the Arts, and won the Library of Virginia Award for Poetry in 2009 and the Carol Weinstein Poetry Prize for 2011-12. In addition, she is the winner of a Guggenheim Fellowship and an All-University Teaching Award in 2009, a Harrison Award for Undergraduate Advising, a Mead Honored Faculty Award and the State Council of Higher Education for Virginia Outstanding Faculty Award in 2010.
Media Contact
University News Associate Office of University Communications
anneb@virginia.edu (434) 924-6861