The University of Virginia offers the most generous financial aid packages of any public school in the nation, according to the Princeton Review's "Best Value Colleges for 2021" rankings.
UVA's No. 1 national ranking for financial aid is just one of five superior rankings the education services company announced Tuesday.
The Princeton Review ranked UVA the second-best value public school in the country, just after the University of California, Berkeley. And UVA is ranked the third-best value public school for students with no demonstrated financial need.
"I was delighted to see that UVA's steadfast commitment to financial support, especially for historically underrepresented groups, is reflected in the Princeton Review rankings," said UVA President Jim Ryan. "Students and families should feel confident that UVA offers tremendous value not only because of our ability to meet full financial need, but also because of the life-changing academic and co-curricular experiences that UVA offers, which foster our close-knit and engaged alumni community. I look forward to continuing to make progress in increasing access to a UVA education for more Virginians and for students and families from around the world."
The University's alumni network is No. 3 among all public schools in the country, and it is the third-best public school for career placement.
The Princeton Review said its financial aid ranking took into account a combination of school-reported data on the amount of delivered need-based aid and how happy students say they are with their award packages. The average need-based scholarship at UVA is nearly $25,000.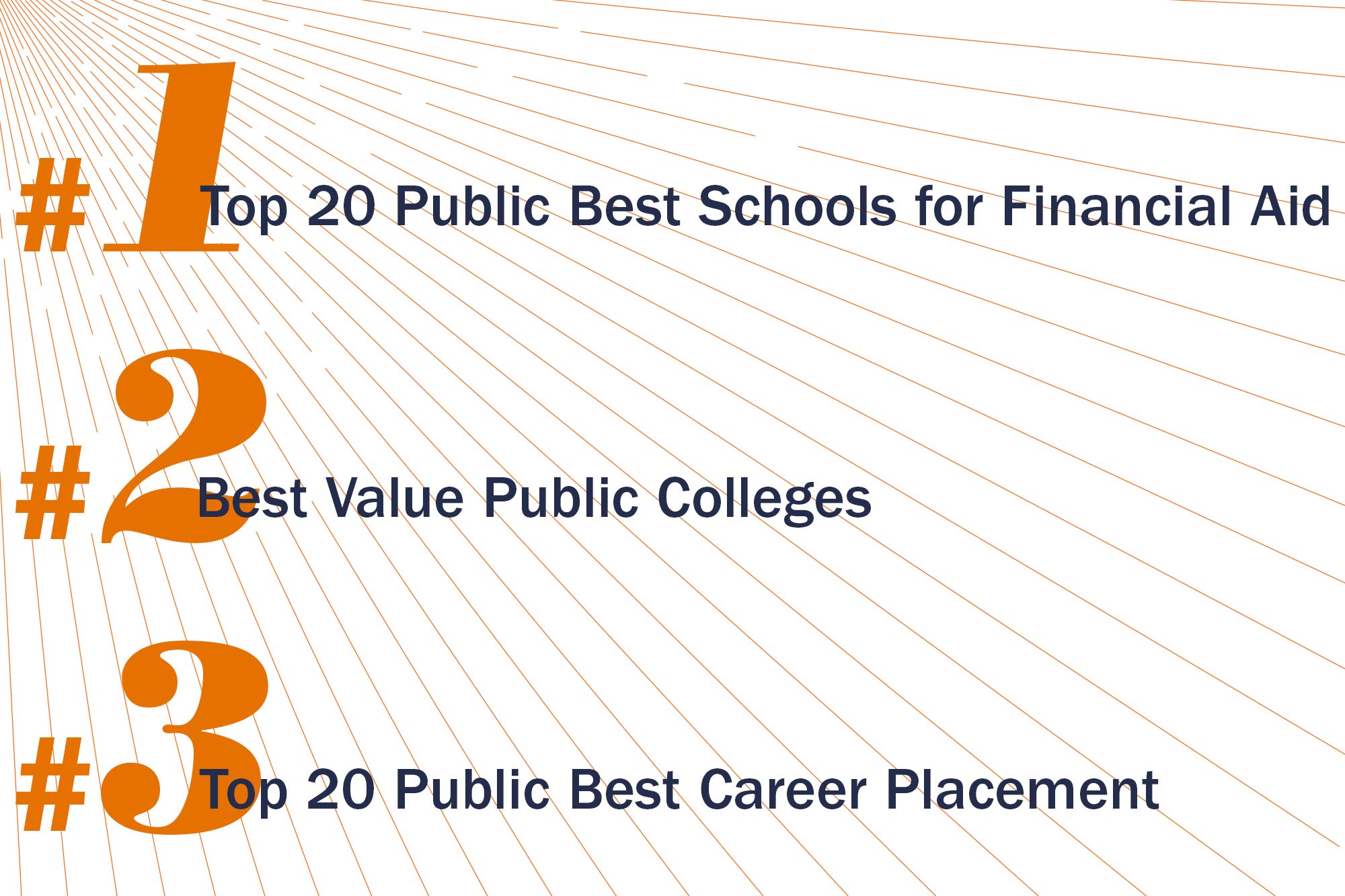 The review's value rankings took into account PayScale.com data collected through April 2020 from alumni surveys covering starting and mid-career salaries, and career social impact.
UVA, which recently announced it was freezing base undergraduate tuition for the 2021-22 academic year, offers the most generous financial aid program in the commonwealth, meeting 100% of undergraduates' demonstrated financial need. The University is just one of two public schools in the country to offer admission to students without regard to their ability to pay tuition.
UVA also fully covers tuition and fees for students from Virginia families who earn less than $80,000 per year and have typical assets. The University pays full tuition, fees and room and board for in-state students coming from families earning less than $30,000 a year and having typical assets.
Need-based loans are capped at $1,000 per year for low-income Virginians and $4,500 per year for other in-state students with demonstrated need.
Last year, UVA's financial aid program, Access UVA, provided approximately $132.5 million in need-based financial aid grants to undergraduate students. Fifty-three percent of undergraduate students received some level of financial assistance, and 66% of UVA undergraduate students graduate with no debt.
The Princeton Review also placed UVA on its unranked list of the 200 best-value schools in the country, saying all offer a superb education with wonderful career preparation at an affordable price. The 200 schools were drawn from a list of more than 650 institutions the company considered and surveyed.
One goal of UVA President Jim Ryan's "Great and Good" 2030 strategic plan is to offer one of the best values in higher education. Under its SuccessUVA initiative, UVA is has been working to significantly expand its financial aid program to enable more low- and middle-income, first-generation and underrepresented students to attend.
"The colleges that we designate as our 'Best Values' this year are truly a select group: they comprise only about 1.2% of the four-year undergraduate institutions in the U.S.," Rob Franek, editor-in-chief of The Princeton Review, said.
"These exceptional schools differ in many ways, yet they are alike in that all offer outstanding academics and excellent career services. As important to today's college applicants and their parents: These colleges have a comparatively low sticker price and/or generous financial aid offerings. We recommend and commend them highly for everything their administrators, faculties, staff and alumni are doing to educate their students and to guide them to post-college success."
Article Information
April 20, 2021
/content/princeton-review-names-uva-nations-no-1-public-school-financial-aid