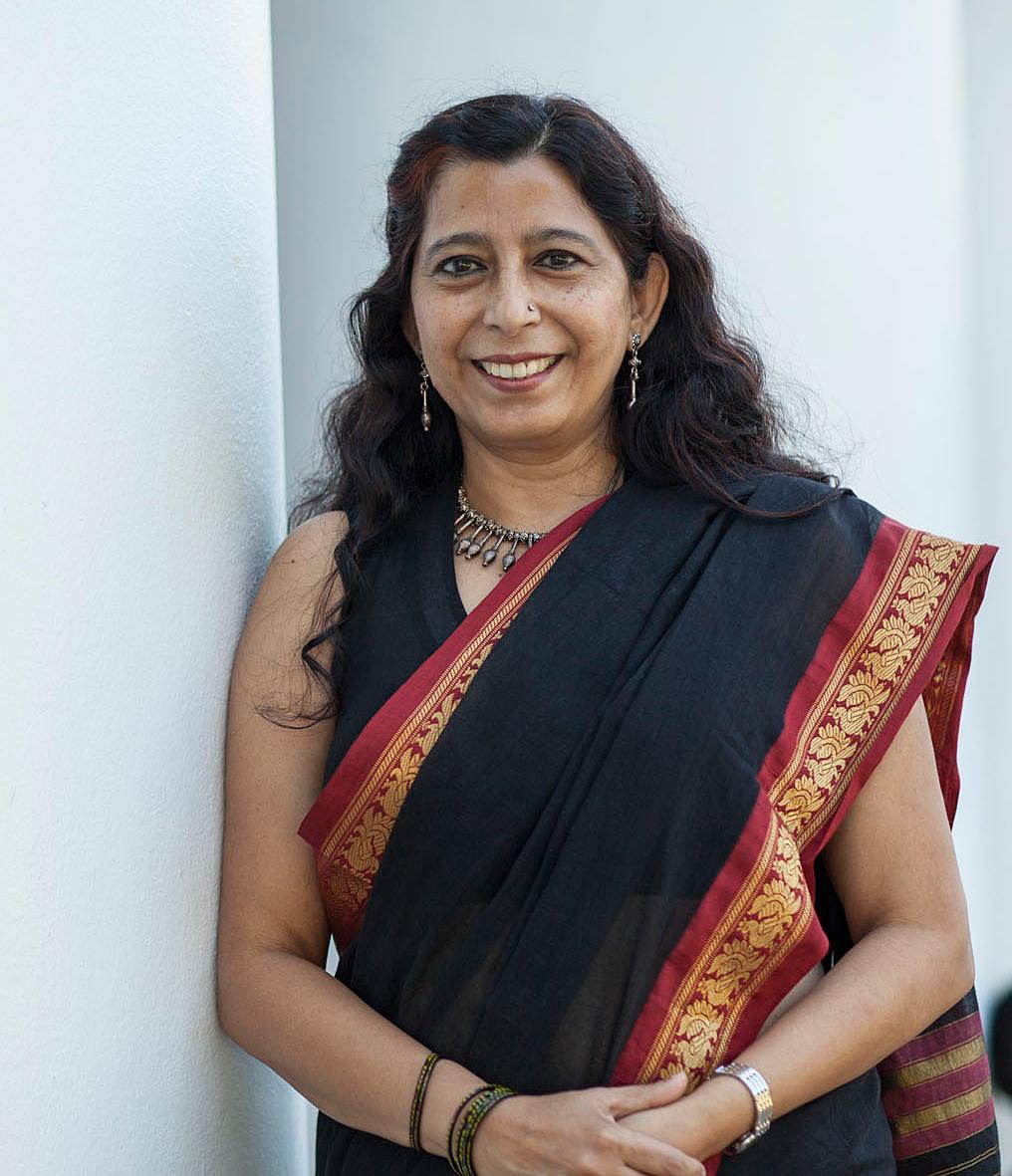 The Indian subcontinent's 20th-century political upheaval, including the end of colonialism and the separation of India and Pakistan, had a powerful impact on its literary culture, a University of Virginia professor writes in a new book.
In "Urdu Literary Culture: Vernacular Modernity in the Writing of Muhammad Hasan Askari," assistant professor Mehr Farooqi of the Department of Middle Eastern and South Asian Languages and Cultures in the College of Arts & Sciences, examines the life and writings of Askari, a man she describes as the "first and finest" modern critic of Urdu literature.
Urdu, the national language of Pakistan, is similar to and mutually intelligible with Hindi; taken together, they constitute the fourth-most-spoken language in the world. Askari, who was born in India in 1919, helped identify and legitimize an indigenous poetics and literary culture long subdued and repressed by British colonial authorities, Farooqi said.
The author recently answered some questions about her book, which was simultaneously published by Palgrave-Macmillan, as part of its Literatures and Cultures of the Islamic World series, and by Oxford University Press, for markets in South Asia.
Q. What sparked your interest in modern Urdu literary culture?
A. As far as literary studies were considered, most scholars in this area wanted to work on the classics. They wanted to study Sanskrit and Persian and Arabic, and the early 18th-century stuff. There were very few people who were doing scholarship on modern material. I felt almost compelled to take up the study of this area of literary production.
There really is a dearth of Western study of modern Urdu writers. In my classes, I always ask students which Indian writers they are aware of. The only name that regularly comes up is Arundhati Roy. So American high school students may know Roy, but they will not know some of the very important writers who are writing in Hindi and Urdu.
Q. How did the politics of the area – the end of British rule in 1947 and the separation of India and Pakistan – affect its literary culture?
A. We have to step back and look at the colonial period in Indian literary history. During this roughly 200 years, the British very quickly realized that it was too difficult for them to learn all the important languages of India. As early at 1835, it was decided that English should be introduced in the schools in a big way. English was also connected to the job market, and people who learned English could get better jobs. This created a very strange period in literary production, because the writers who were writing in Urdu, or in Persian or other languages, were being judged by Western paradigms. This created a body of students who were pursuing an education for very immediate economic purposes, but were also losing their connection with their own classical heritage.
Then, after 50 or 60 years, there came a clutch of scholars who had studied English and had advanced degrees in English literature, but who at the same time realized that they needed to reconnect with their own cultural past, because the kind of degradation of the self that had happened in colonial times was very difficult for the intellectual mind to bear.
Q. Your book focuses on literary critic Muhammad Hasan Askari (1919-78), who grew up in India but moved to Pakistan after the split. What was his role in this cultural and literary shift?
A. Askari was sort of an early post-colonialist, long before post-colonial theory became a cutting-edge theory.
He began writing in the 1940s about how the current generation had lost its cultural bearings because they hadn't read their own classics. So he started to provide some kind of a model with which to critique both modern and classical writings. Keep in mind that Western scholars, school administrators and colonialists had sort of pooh-poohed Indian literary production. They'd say, "One shelf in a library in the West is enough to contain all of the important things that have been written in these traditions."
Askari was trying to write back to that idea, and it was a very difficult task for him, because it was a very tumultuous time and values were changing fast. There was Indian nationalism, and Hindi and Urdu were splitting – Urdu was being labeled as Muslim and Hindi was being labeled as Hindu. In the face of all of this, a literary critic had to think about how to project a unity in Indian literature, and take Urdu as part of that unity, not as something that was moving away from it.
Partition happened and Pakistan was created, and many Muslims in India were forced to migrate, including Askari. His life was literally split into two: The first part lived in India and the second part lived in Pakistan.
Being such a brilliant mind, once he accepted the reality of Pakistan, he came up with this simple-yet-complicated question: What would be the literature and culture of Pakistan, and how would it be different than Indian literature?
Askari began to write a lot about Pakistani literature and about how this literature would be different in that it would tell the story of the birth of a nation, and how it would also relate to the common past it shared with India.
Later, he started drifting toward an anti-West attitude, which I found very interesting. He began as somebody who admired the West and who learned from the West, and who developed his critical tools by a very close study of Western critical thought.
But then he begins to blame everything that is going wrong with Pakistan on the West, and plenty began to go wrong just after 1955. So he starts moving toward giving Urdu some kind of Islamic-Sufistic identity. Maybe this was because he wanted to make the language stronger by associating it with the metaphysics of religion. That's a weak argument, but it seems to be one explanation.
Q. What does your book aim to accomplish?
A. All of Askari's writings were locked in Urdu. He needed a translator to bring all of this material into English. His ideas had to be connected to the post-colonial mainstream discourse, and the only way to do that, it seemed to me, was to present him in English to the audience.
Q. How has the reception been so far? What's next for you?
A. I'm very pleased to have been invited to the Karachi Literary Festival to speak about the book. Also, a leading newspaper in Pakistan, Dawn, has asked me to submit a literary column every month, which is very similar to what Askari used to do.
I also plan to have a book of translations of Askari's writings out in 2014.
Media Contact
Director of Media Management and Managing Editor, UVA Today Office of University Communications
rseal@virginia.edu 434-243-3492