When the COVID-19 pandemic hit, University of Virginia medical students were pulled out of the hospital, where many would normally be completing clinical work, and moved to online courses.
The transition was necessary – for patient and caregivers' safety and to conserve protective equipment – but it left the medical students looking for new ways to help.
"The School of Medicine has done a really good job, working so hard to shift online and get us curriculum materials, but it is just not the same as being in the hospital wards," third-year medical student Michael Salomon said. "But, without clinical work, we suddenly had more time – and the opportunity to do something helpful with that time."
And so, UVA's medical students banded together to help their colleagues – the doctors, nurses and staff working on the front lines at UVA Health. Together, they created the VMED COVID-19 Initiative, organizing and distributing information on student-led volunteer efforts in the Charlottesville community.
Some students are sewing masks, and creating infographics to demonstrate their proper use. They recently delivered more than three dozen masks to a local hotel, now converted into a shelter to help people safely quarantine.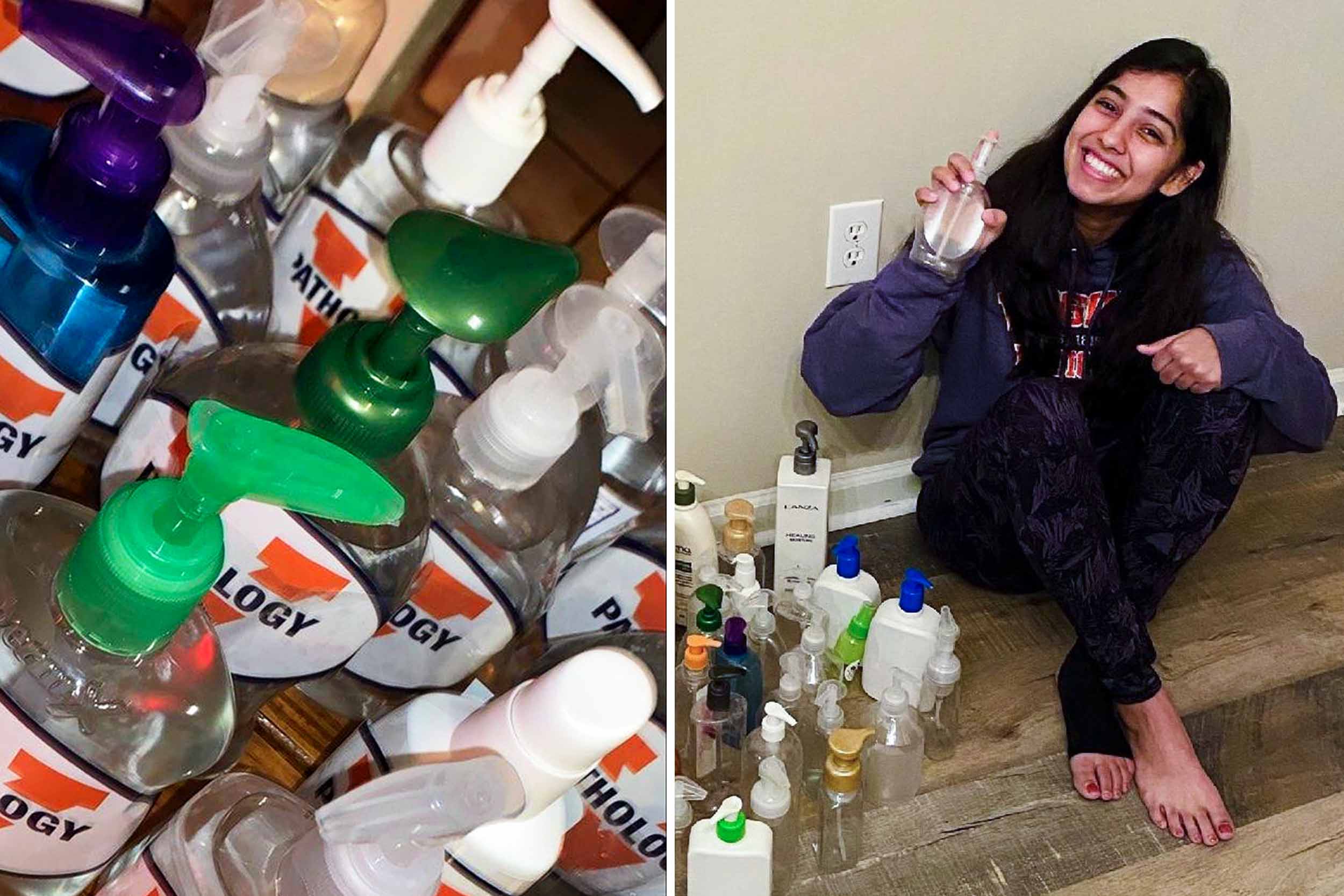 Students, including Shalini Subbarao, collected and donated bottlesof hand sanitizer from Silverback Distillery to restock hospital workstations and offices. (Contributed photo)
Others have worked with community and faculty partners to establish a community call line, which residents, especially those without a primary care provider, can call with medical concerns. The effort was led by Dr. Amy Salerno at UVA and the Piedmont Housing Alliance.
The line – 434-982-6843 – is staffed by doctors and more than 75 third- and fourth-year medical students, all with clinical experience, who have been trained to answer questions, triage needs and connect patients to on-call physicians at UVA. It is open from 8 a.m. to 5 p.m.; the initial consultation is free.
"We have had all kinds of questions from callers, many related to COVID-19, and we've been in constant communication with both the volunteers and the faculty to improve our ability to respond," fourth-year medical student Margot Mellette said. "We want to make it as useful as possible to the communities that asked us for this resource. As we've started to advertise, we've seen an increase in community members calling in who are without primary care and really stand to benefit from this service.
"It's been a privilege to answer some of these calls, take in what people are trying to manage in this difficult time, and hear the relief in their voice as we connect them with a doctor."
The list of medical students' COVID-related volunteer projects goes on. Students are organizing a bone marrow drive, calling and writing cards to senior citizens isolated in retirement communities, working with the Blue Ridge Juvenile Detention Center to make cards for health care workers, organizing thank-you deliveries for School of Medicine staff, raising money for local coffee shops and collecting artwork, poems and other creative projects related to the pandemic.
They also made a video thanking the faculty and staff who worked hard to transition courses online.
"There are people in need, and that is why we went to medical school in the first place – to help people, to help make a difference," Salomon, who is the public relations director for the initiative, said. "This is a natural extension of that."
In addition to giving students a way to help, the projects help area residents make a personal connection with the medical community.
Twice per week, for example, more than 30 medical students call up elderly residents in Charlottesville who have been isolated in care facilities or at home.
Jessica Little and Lydia Prokosch started the effort, both inspired by relationships with their own grandparents and knowing that elderly residents are particularly vulnerable to COVID-19.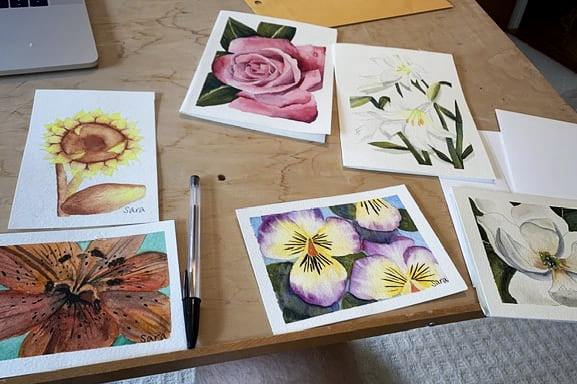 Students are calling and writing cards to residents at the Westminster-Canterbury Blue Ridge retirement community. (Contributed photo)
"For me personally, I was additionally motivated to start the project by the loss of my grandfather this past October. He was my last living grandparent, and I felt his loss more acutely when the pandemic forced me to take a step back from my usual busy schedule and take time to reflect," Little said. "I was also in the middle of my geriatrics rotation when we were pulled from clerkships and was really enjoying working with and learning from the residents at Westminster-Canterbury Blue Ridge."
Little reached out to her preceptor at the retirement home and began sending cards and arranging phone calls there.  
Prokosch pointed out that the twice-weekly talks are helpful for medical students, too, and teach important communication skills that the future doctors will rely on long after this pandemic is over.
"Personally, I have also had an enriching relationship with my grandmother and value learning from people who have a wealth of stories and wisdom to share," she said. "Medical students are well-poised to communicate with seniors because empathetic listening and trust-building are values of medical education. So far, I have learned about resilience and hope from my senior partner, as well as the power of humor in combating challenging situations."
Similarly, organizers hope that the call line will help community members connect with medical care providers, both now and after the pandemic subsides. 
"A key to protecting the health of our community is ensuring residents can get timely access to care," Sunshine Mathon, executive director of the Piedmont Housing Alliance, said in a press release. "This will be a valuable resource for community members who haven't regularly seen a doctor."
"We just want to be able to give back," Salomon said. "There are so many different ways that students can get involved and so many roles that need to be filled. We are fortunate to have a talented, diverse student population that can address those needs and contribute to so many different things. It's been great to be a part of it."
Media Contact
Article Information
May 21, 2020
/content/pulled-clinical-work-medical-students-mobilize-huge-volunteer-effort