When you think about some of the paradigm-changing technological advances over the last two or three decades – the internet, mobile phones, GPS systems and DNA testing, just to name a few – it can be difficult to fathom that there is so much more to come.
A major part of University of Virginia alumnus Umair Javed's job involves planning for whatever that may be.
On Tuesday, Javed was part of a Federal Communications Commission contingent – including Commissioner Jessica Rosenworcel and former Commissioner and Acting Chair Michael J. Copps – who gave a talk at the University of Virginia's Department of Media Studies on the future of digital life.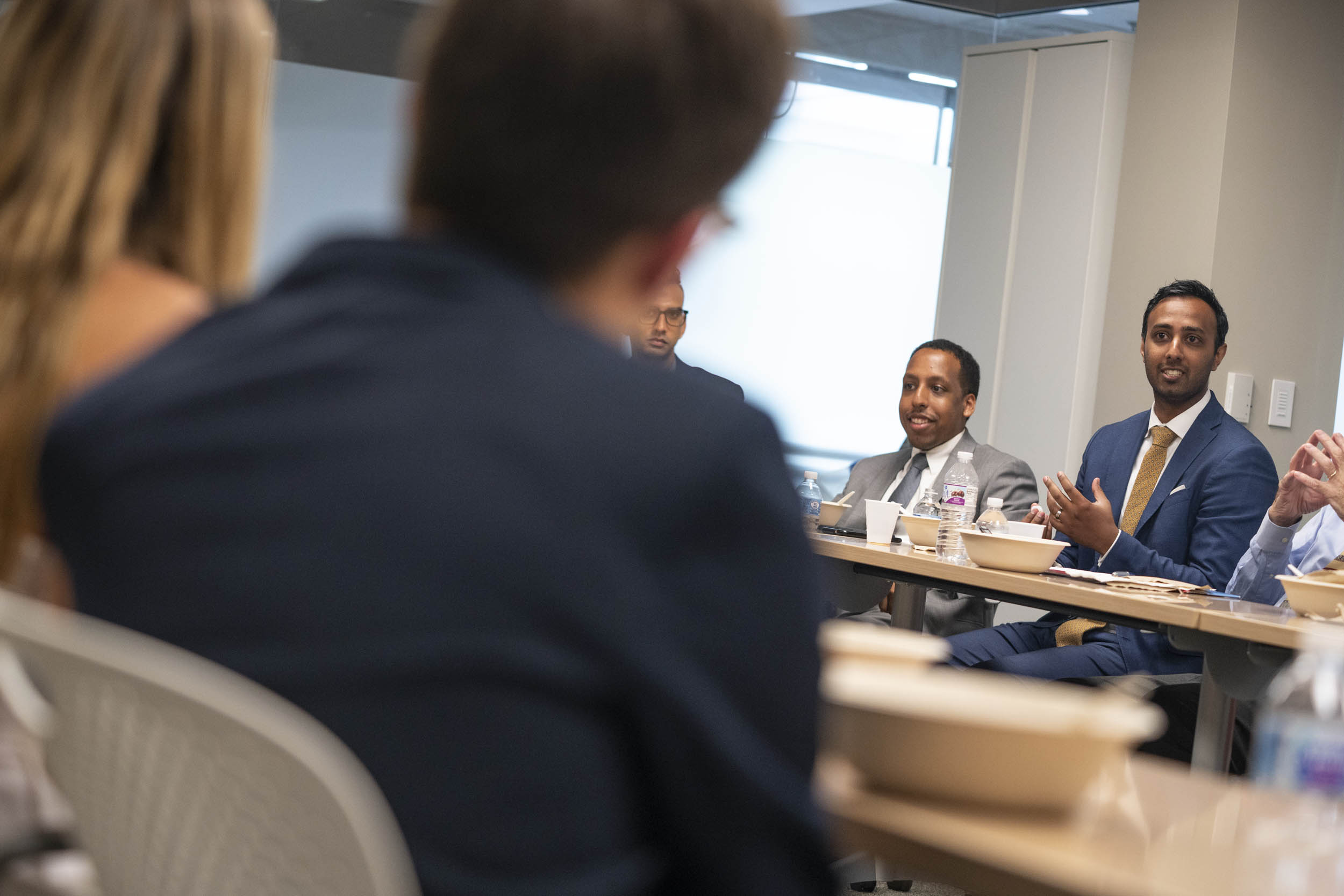 Umair Javed says the rollout of 5G will accelerate a technological revolution that could be more disruptive than the Internet was 30 years ago.
Before the talk, UVA Today caught up with Javed, who graduated from the College of Arts & Sciences in 2007 and the School of Law in 2010, and is now the legal adviser to Rosenworcel.
Q. So you're like a legal techie?
A. If the shoe fits! I like to say I'm a lawyer who also plays an engineer on television. 
For a long time, the FCC was considered an obscure technical organization, dealing with things like radio spectrum, satellite orbits and telecommunications. But lately it's become a battleground for complex technology policy issues like net neutrality, industry-transforming mergers, consumer privacy, cybersecurity and more. These are issues that impact our everyday lives – and in the future, the stakes will be even higher.
I'd say 50% of what I do is focused on these kinds of issues before the FCC and devising actionable policy and strategy to deal with them. The other 50% is thinking big about what smart, progressive digital policy looks like. That means thinking about how the FCC can ensure growth and broad-based prosperity in the new digital economy, help U.S. companies respond to the competitive challenge of a fast-changing global marketplace, and empower people to navigate the digital age.
Before joining Commissioner Rosenworcel at the FCC, I was a telecommunications, media and technology attorney at a D.C. law firm.    
Q. What do you love most about your job?
A. Across every important policy area, I get to ask how the FCC can better enable technology that can help people live their lives as they choose and deliver more opportunities for people to flourish and succeed. It doesn't get much better than that. 
As a day-to-day matter, I love that this job requires thinking outside the box – sometimes when the box hasn't even been invented yet. 
Q. What excites you most about the future of digital technology?
A. Right now, we are on the cusp of something truly transformational, and that's the next generation of wireless services, known as 5G. 5G is the next step in the march through wireless connectivity, which started with 1G analog networks, progressed to 2G and 3G digital networks that enabled both talk and text and introduced the mobile internet, and culminated in today's 4G LTE networks, which brought higher speeds and more sophisticated applications, including video. 
But unlike these prior generations, 5G will be much more than just a wireless upgrade. It will be the unifying fabric that connects billions of devices in some of the fastest, most reliable and most efficient ways possible. Its rollout will accelerate a technological revolution that could be more disruptive than the Internet was 30 years ago. This revolution will change the way we live, work, manufacture goods, fight wars and communicate. It will meld the digital world with the real one, creating new possibilities for artificial intelligence, big data, robotics, biotechnology, advanced manufacturing, the Internet of Things, and more.
We have a long way to go and a lot of challenges to overcome, but I'm optimistic and enthusiastic about the future we can build on 5G networks.
Q. Does anything concern or scare you about the future of digital technology?
A. A lot of people feel like the pace of technological change is accelerating – because it is. A little more than a decade ago, smartphones didn't exist. Four decades ago, no one owned a computer. Today we're testing self-driving cars, designing lifelike robots and exploring new frontiers in space.
There's a lot to be excited about for the future of technology and this rapid pace of change. But I do wonder whether there is enough discussion about the effect new technologies can have on societies from a political viewpoint. 
It seems like some new technologies might simply obscure many of the political decisions that citizens and governments need to make. By that, I mean a lot of issues that should be subject to democratic scrutiny and participation get labelled as "technology," and as technology are seen to be something neutral. Many decisions then pass on autopilot because they are presented as apolitical questions of efficiency – seeking the most optimal solution to a problem.
But this overlooks the fact that some technology privileges certain groups over others and discriminates against other groups, or enables certain political forces to take greater control over individuals.
I think there is growing recognition of these kinds of concerns in debates about algorithmic bias and facial recognition. But across the board, we need to be sure we are asking the right questions about the potential impacts of new technologies.
Q. What would be your advice to UVA students who are looking to follow a similar career path?   
A. Stay open to chance and the unexpected. I was already on a stable career path when the opportunity to join Commissioner Rosenworcel's office came my way. I had a hundred reasons to stay put, but I seized the opportunity without knowing where it would lead. I have no regrets.
Also if you get the chance, consider government service. The country needs you.  
Q. How did UVA prepare you for what you're doing now?
A. The professors and students at UVA inspired in me a lifelong commitment to use whatever talents or abilities I have to help others. This has been the most important thing I took with me from Charlottesville.
Article Information
September 10, 2019
/content/qa-alum-now-fcc-peers-future-digital-life-5g-and-beyond